As a baker, I look forward to festivals and all food-related days on the yearly calendar because that's when the most magic happens in my kitchen! Every special day brings with it a new excitement of baking something absolutely delicious and the joy of sharing it with my baking family, aka you all.
Today is a rather special day for me, because it's World Baking Day. The most anticipated day of the year for every baker, when we are all feeling nostalgic and grateful for the skills and opportunities we have as bakers. Whether it's for yourself or for others, baking is nothing but pure joy. And to celebrate this wonderful day, I have combined a list of 5 celebratory desserts for you. Let's bake together today, to share this joy with our loved ones. Happy World Baking Day!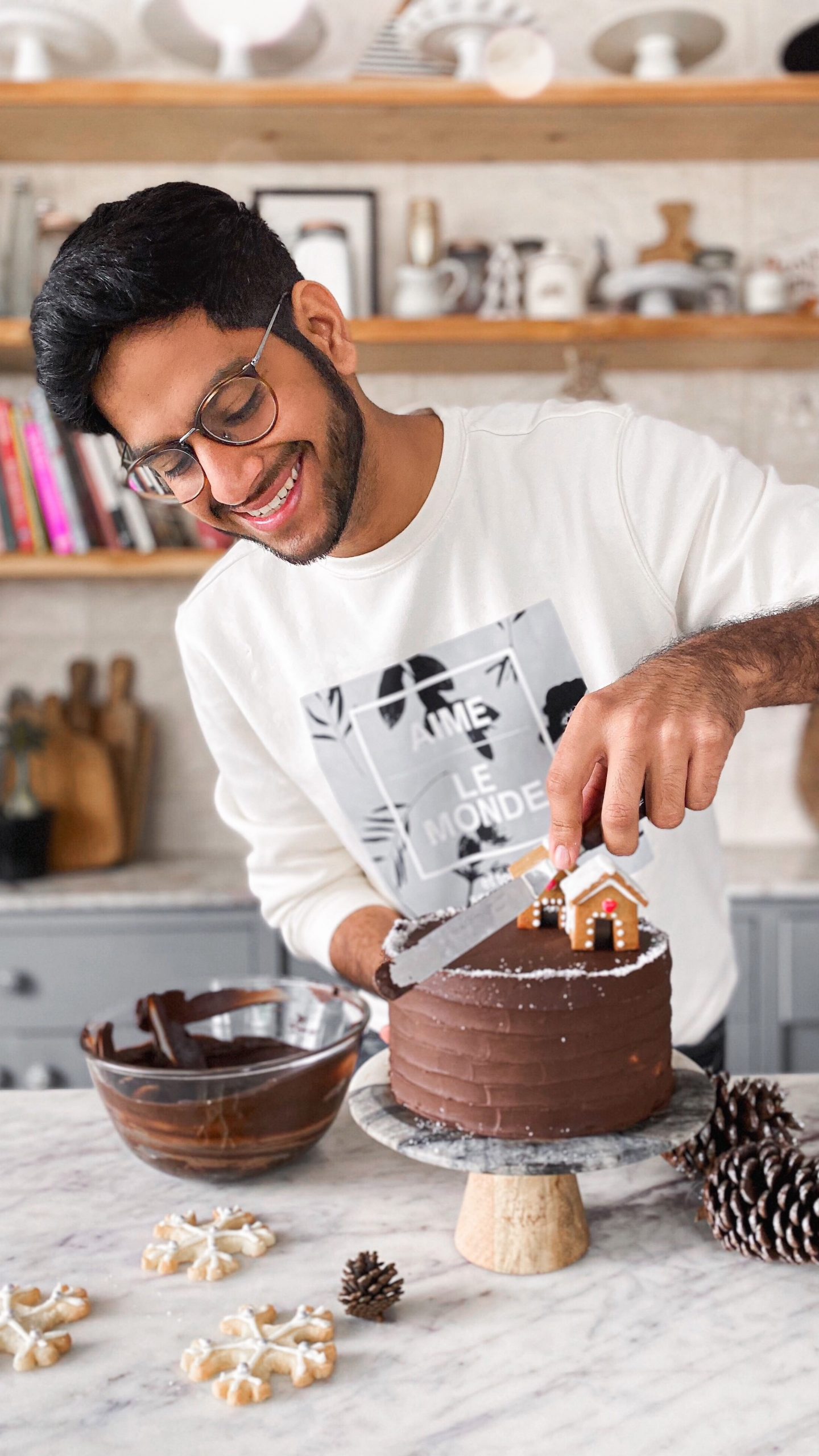 Significance of World Baking Day
Let's understand the true relevance of this day. Every third Sunday in May, World Baking Day inspires people to bake for their loved ones – relatives, friends and neighbors. Many people also donate their baked items in gratitude to celebrate the joy of baking.
People have been baking for years now! Back in the days, baking was mostly related to making bread for daily survival. The history of bread baking can be traced back to 600 BC. But the term "cake" comes from the 13th century. Do you know that the original cake used to be more like bread? Bakers just added more sweetener to increase the sweetness. In the 16th and 17th centuries, baking changed due to globalization. There were lots of syrups, spices and dry fruits, which make the baked desserts even more delicious.  Sugar was cheap in the 17th century. As a result, people began to make minced meat pies with sugar and spices. Over time, more and more other ingredients were used in making desserts, such as eggs, flour and baking powder. Today, baked goods are popular all over the world. Some of the favorite desserts are apple pie, black forest cake, baklava, pancake rolls, Yorkshire pudding, rye bread, brownies and pretzels.
Desserts you can bake to celebrate World Baking Day
Now that we know what is World Baking Day all about, here are my 5 favorite desserts which will make for a perfect celebration today!
1. Chocolate Butter Cake
This is probably the best chocolate cake recipe you'll ever come across and rightly so, because it's Chocolate and Butter. A marriage made in heaven. This Chocolate Butter Cake is all kinds of warm, fuzzy (slightly fancy) hugs in a cake. It starts with a chocolate butter sponge which is rich and just the perfect amount of chocolatey. Topped with my favorite frosting ever – a luscious chocolate fudge frosting and then garnished with some beautiful pink dark chocolate ganache macarons. It couldn't possibly get chocolatier than this, could it?
Here are a few notes if you decide to make this cake –
When you're combining wet and dry ingredients in the cake, make sure you do-not over-mix. Mix only until everything is well combined. If you over-mix, you will end up knocking out all the air, resulting in a dense cake. A good quality spatula helps immensely in mixing of the ingredients.
Use the best quality ingredients you can your hands on – good maida, good cocoa powder, baking powder and baking soda that work. You know the drill by now!
For the chocolate fudge frosting, I used fresh cream by Amul which is easily available in all grocery shops across India
I used dark chocolate in the frosting. You can use milk chocolate instead of dark chocolate.
Find the recipe here.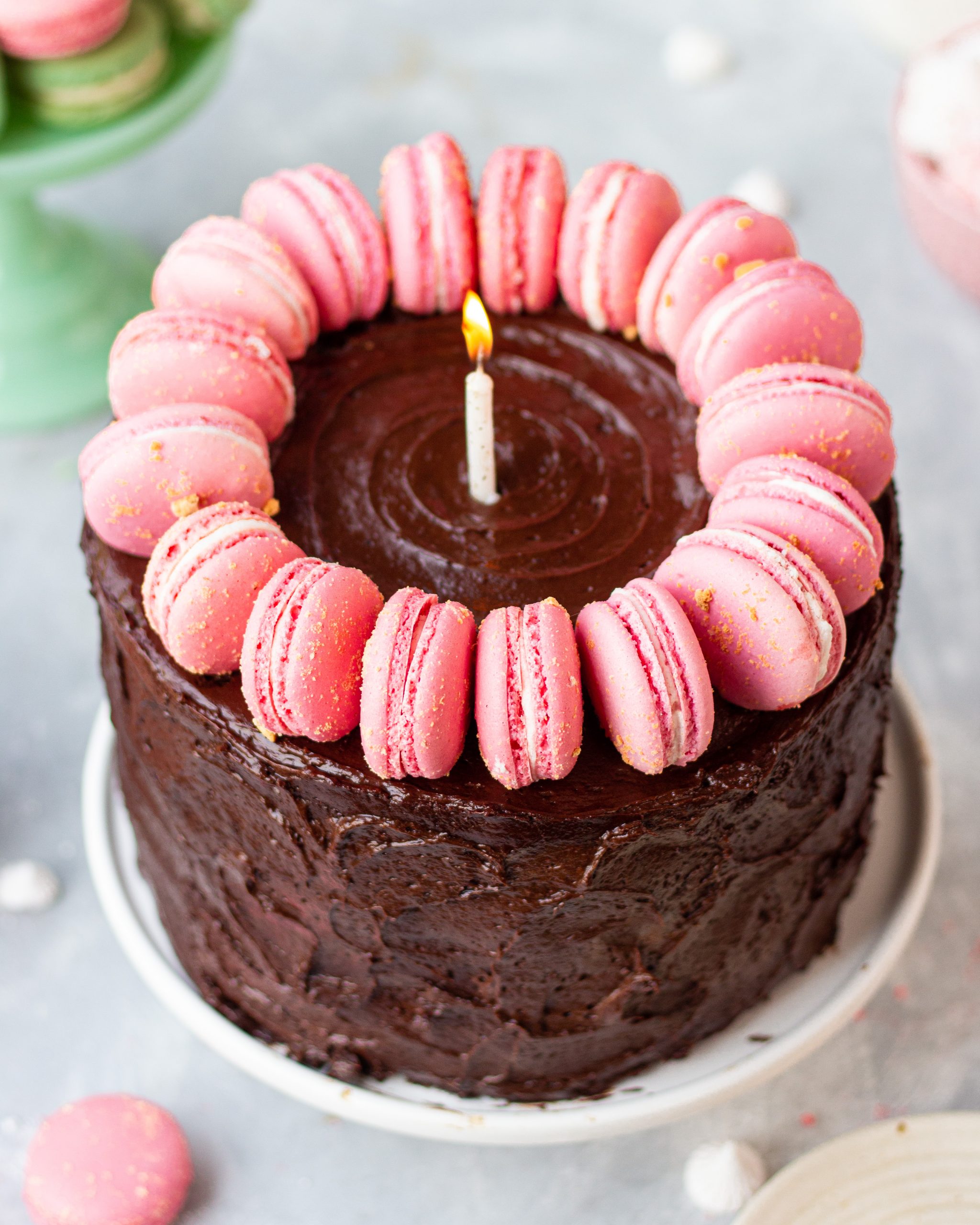 2. Oats and Walnut Skillet Cookie
A giant cookie is honestly my go-to for any celebration because it is so perfect for a group of people. Everybody can get their spoons and dig in, making the dessert taste even better. Cookies are so versatile- you can make them with sugar, brown sugar, jaggery or anything you want. Moreover, you can mix anything into a cookie dough, chocochips, cranberries, walnuts or some yum toasted cornflakes. The world is your oyster when it comes to a cookie dough!
But a cookie is an indulgence. It has sugar, flour and a whole lot of butter. So I came up with a slightly healthy version of a giant oats and walnut skillet cookie for you. It is refined sugar free, has rolled oats and is still absolutely delicious!
This oats and walnut skillet cookie has some very simple ingredients that you will find in your kitchen pantry easily –
Jaggery – Let's face it, nobody likes consuming refined sugar on a daily basis. And jaggery comes to the rescue. The flavor of jaggery is so wholesome and subtle at the same time. You can add it to anything you want as a replacement of sugar and it tastes absolutely perfect in this pizookie!
Rolled oats – This is one another healthy addition to this cookie dough. Adding rolled oats makes this taste like a giant oatmeal cookie and I don't think we mind that!
Toppings – I add chopped walnuts, chocolate chunks and cranberries to this cookie dough because I love the flavor of these things in the cookie. But you can add anything you have in hand- chocochips, almonds or colorful sprinkles!
Find the recipe here.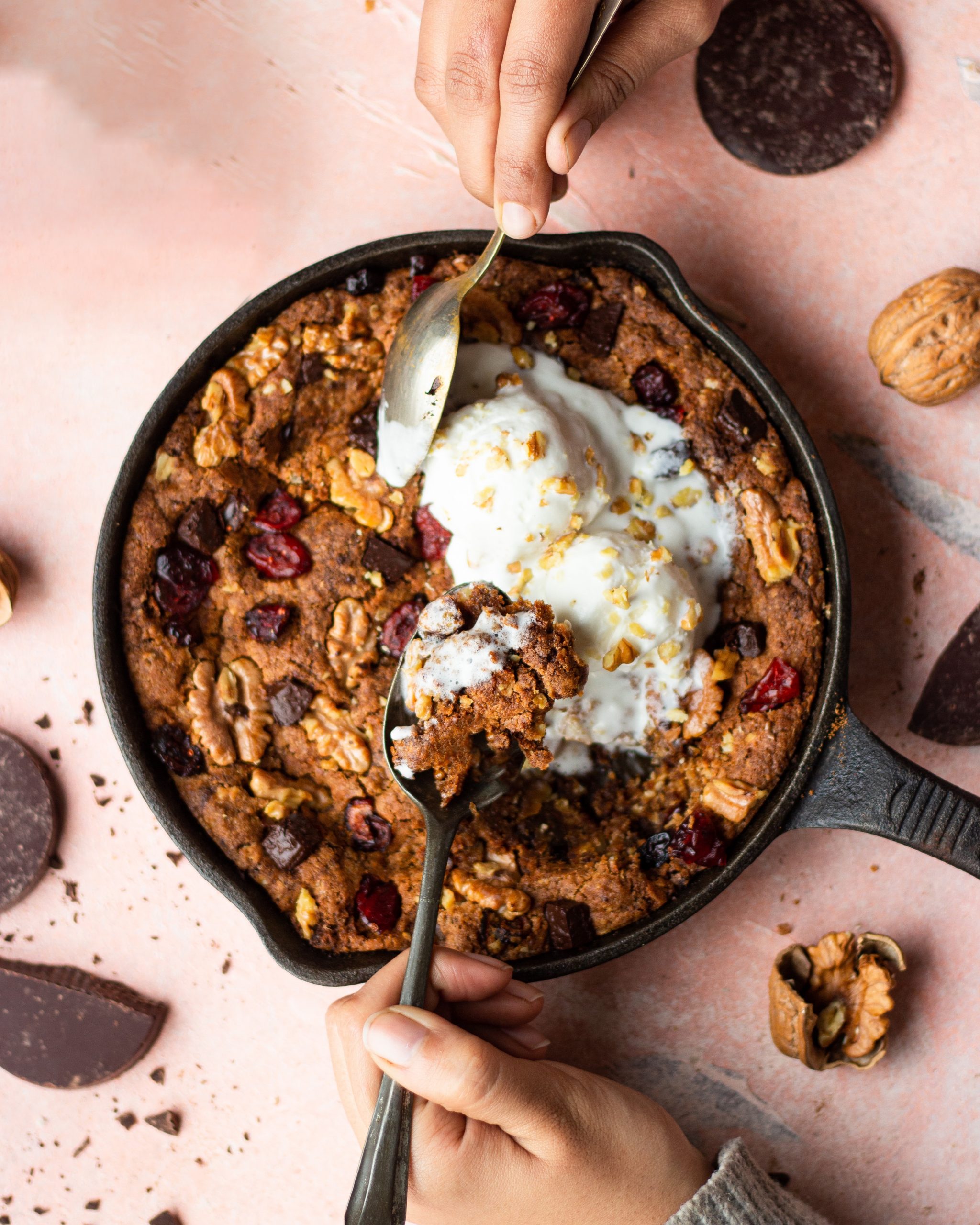 3. Snicker Brownies
Ain't there no good day to eat a brownie, and World Baking Day is my excuse to eat A LOT of them! These are not regular brownies, even though they are equally awesome. These are snickers brownies with a generous bout of salted caramel goodness because it is a celebration! For all you brownie lovers, these snicker brownies are going to knock your sock off! They're delicious, gooey, heavenly, and they melt in the mouth.
These snicker brownies have three amazing layers of sweet goodness. The first layer are gooey brownies. They literally bring a death to your diet BUT SO WORTH IT! The next level is some crunchy peanut butter with marshmallows. And, the last, best layer is the salted caramel. I have lastly topped these with some roasted peanuts. Can I count this as my fourth layer? Haha. Find the recipe here.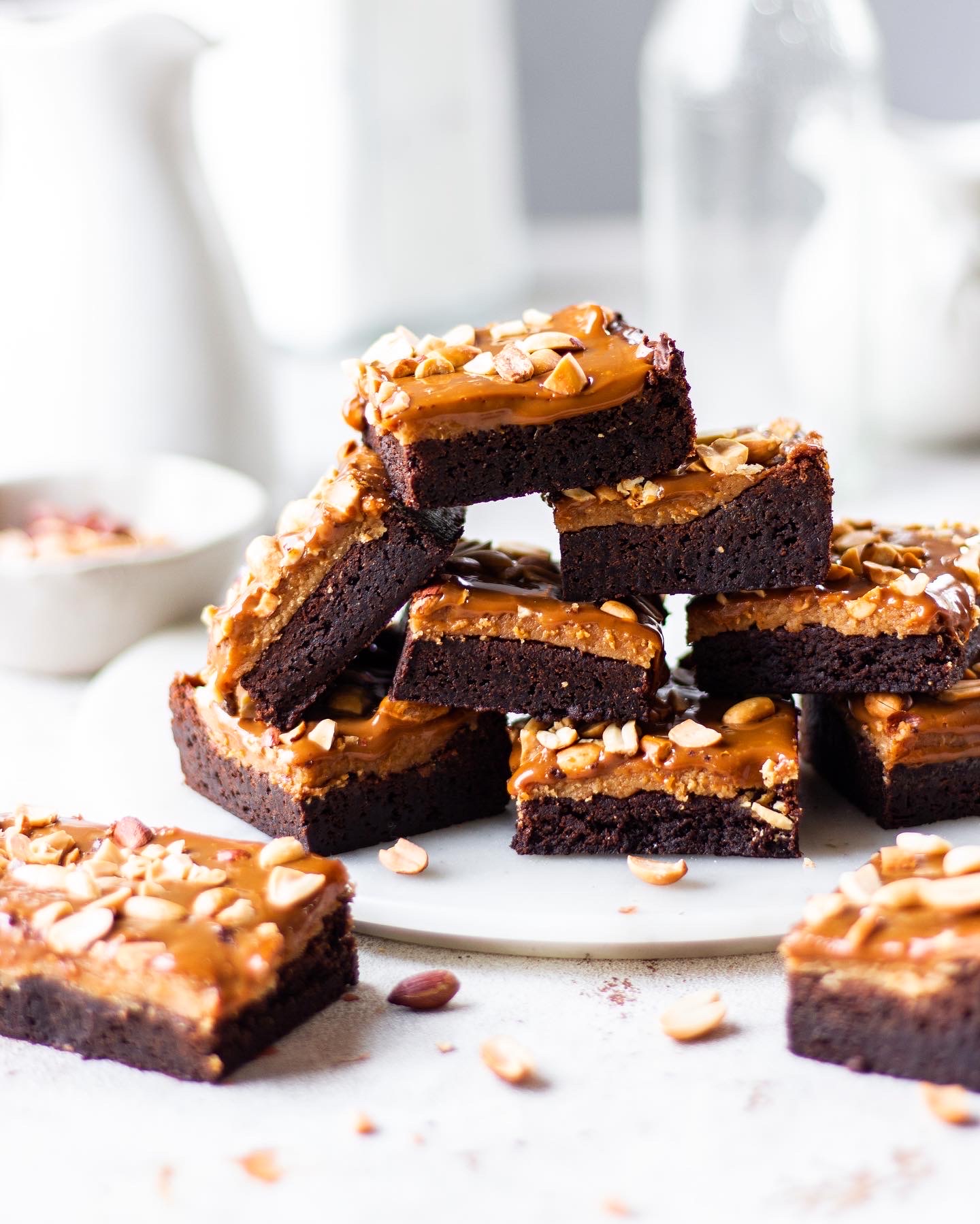 4. Eggless Mango Cake
Mangoes are in season and I'm pretty sure we all have one extra mango in our house that we can bake with. If you do, then this is going to be your celebratory dessert for the day because nothing says love and joy more than a mango cake! In case you don't, don't worry because you have many options to choose from this list.
As much as I like my strawberries in winters, I have an insane attachment to mangoes in summers. Maybe, secretly, I like my mangoes even more. What's there to not like – sweet, full of flavors and SO versatile! No matter what you put it in, it takes the dish one level up and this is how I can best describe my eggless mango cake recipe.
The best part of this cake is the delicious frosting. For the frosting, I beat cream cheese with butter, icing sugar, vanilla extract and the star of the frosting- CARDAMOM POWDER. Oh, the flavor burst this brings to this cake is incomparable! I recommend you to not skip this ingredient if what you want is a dessert that is a true showstopper! Find the recipe here.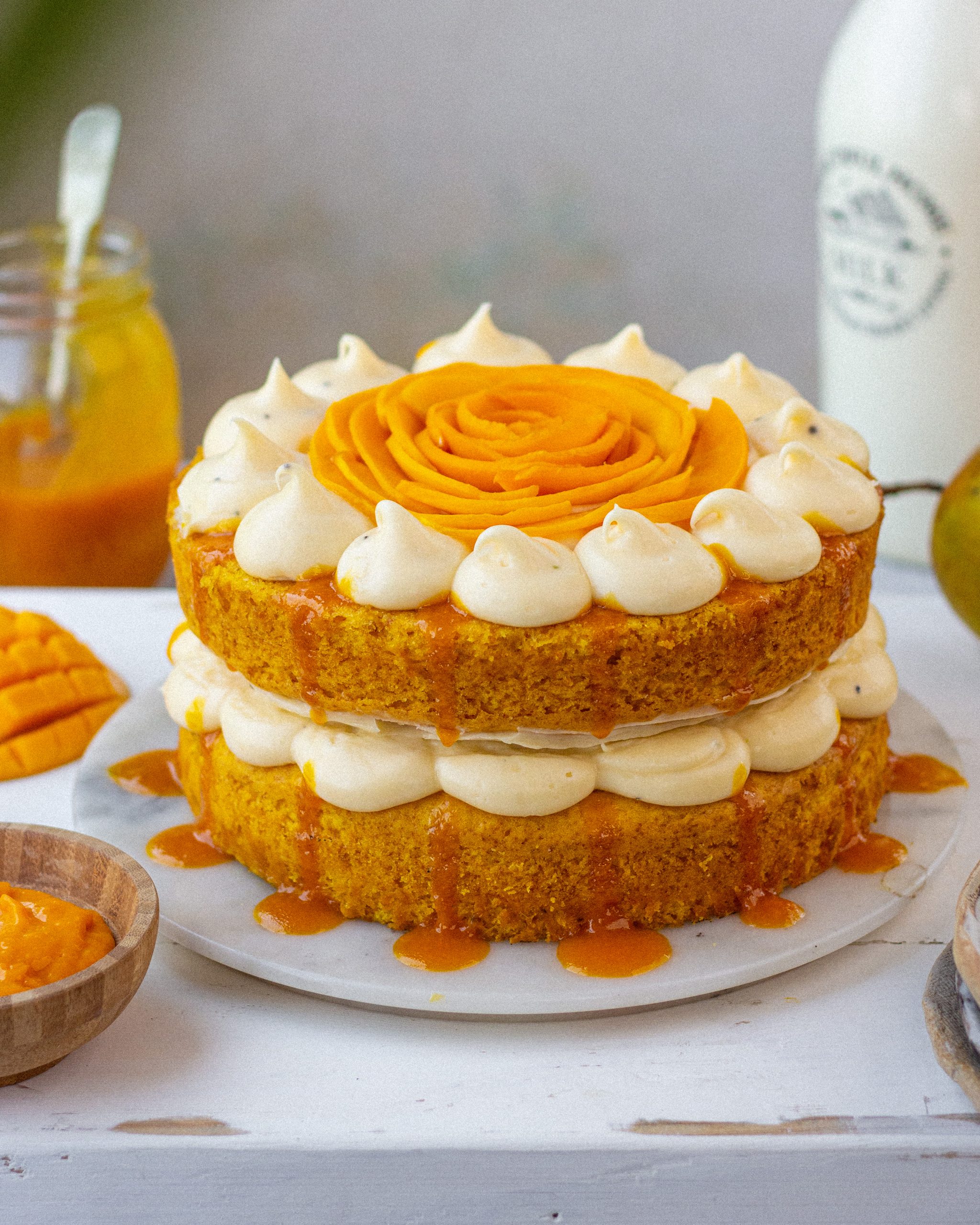 5. Eggless Red Velvet Cupcakes
Cupcakes are the cutest desserts ever because you cannot ever just make one. You end up making a dozen to share with your loved ones and that's what true celebration is all about. So today, I want you guys to bake these red velvet cupcakes and send them over to whoever inspires you the most!
These smooth and velvety eggless red velvet cupcakes don't only look beautiful, they taste wonderful too! They are rich and creamy chocolatey cupcakes and are truly a work of art! There is something extremely alluring about these eggless red velvet cupcakes. And trust me when I say this, they are going to be perfect for today. Actually, these Eggless red velvet cupcakes are perfect for any occasion whatsoever.
Find the recipe here.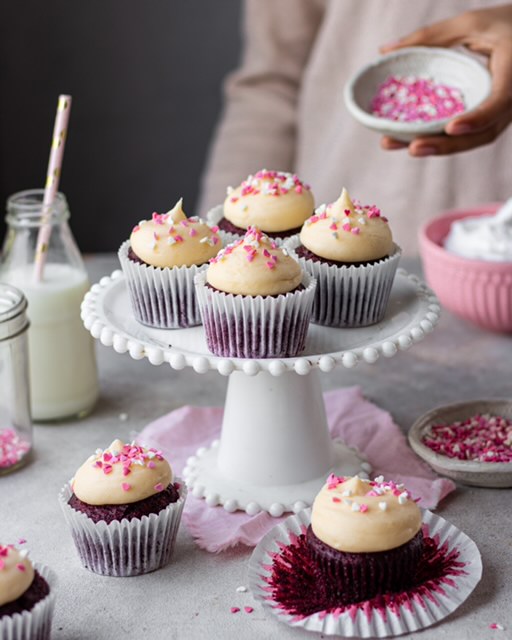 Now that is my recipe list that I've curated for you guys to enjoy today. I just want to say a big thank you for being the biggest joy of my life! My World Baking Day is special and worth it because of you all. If you happen to make any of these recipes today, do share your creations with me by tagging me on Instagram / Facebook using #bakewithshivesh.