Making homemade eggless donuts is always on my to-do list. I was craving them so badly a few weeks ago. but I didn't have any eggs. So I did some searching and came up with this recipe. It was extremely simple to prepare and tasted delicious. You should give it a try; it's addictive.
My most favourite thing about donuts is how versatile they are, you can top with anything from chocolate, caramel, fruit preserves, matcha, whipped cream or just have as old fashioned donuts. For all the matcha fans you can check out my Glazed Golden Matcha Donuts.
You will love the eggless donuts I made in this recipe, which have a custard filling and a caramel topping.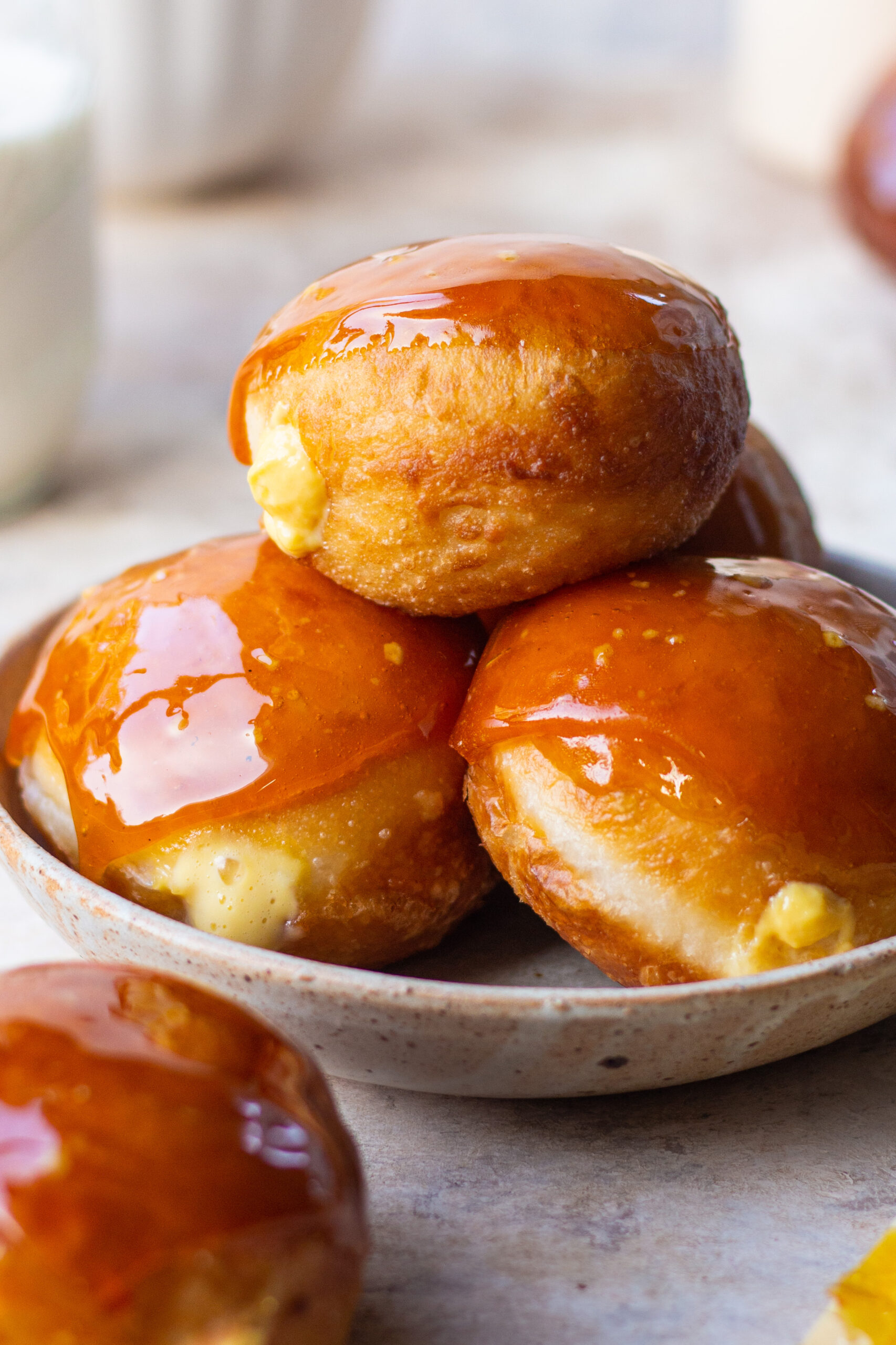 INGREDIENTS USED IN EGGLESS DONUTS
One thing that most of us shy away from is yeast! It's actually a very simple ingredient to work with and once you know how to use it correctly, you'll be sorted to make all kinds of breads and donuts at home!  It feeds on the sugar and creates carbon dioxide and alcohol and that is what makes the baked goods rise. This process of creating carbon dioxide is what is referred to as alcoholic fermentation. While you are "proofing" your dough , fermentation is taking place and all the carbon dioxide is getting produced and giving the rise to your dough.
Since the grains of the castor sugar are small, it is easier for it to dissolve in the dough. I use castor sugar from the brand Solar. If you do not have castor sugar, you can simply use powdered sugar. I would strictly steer away from granulated sugar though because of how big the granule size is. It would be difficult for the sugar to dissolve in the dough and would leave an unwanted crunch.
For making these air fried donuts I have used maida, as it helps in gluten formation and makes the dough super soft and elastic same as the bread dough. Replacing it with wheat flour or any other flour is not recommended in this recipe. You can use any other gluten free donuts recipe for making them healthier.
I have used room temperature milk in this recipe. Using cold milk is not recommended as it slows the proofing process and dough takes a lot of time in rising.
The role of adding fat to a bread dough is to make it softer and fluffy. I'm adding butter in my air fried donuts which will help in building a great texture and taste. Replacing butter with oil or margarine is not advisable.
EQUIPMENTS USED FOR MAKING EGGLESS DONUTS
I've made the dough in my borosil glass bowl.
Measuring Cups and Measuring Spoons. are an integral part of any baker's kitchen and its very important to measure ingredients with precision.
Finally, I've fried these donuts in my stahl kadhai.
OTHER RELATED RECIPES FROM THE BLOG
TIPS TO MAKE EGGLESS DONUTS
While making the dough it will be slightly on the sticker side and that is okay.
Do not forgot to do window pane test to check that the gluten is formed.
What is window pane test ? Take a small ball of the dough and stretch it into a square. Keep on stretching until it becomes a thin film in the middle without breaking. The dough must be thin enough to pass light through it. If it is obtained without any tear, then your dough is properly kneaded.
Rest the dough for 30-40 minutes so that the leavening agents can get activated and our donuts turn out pillow-y.
Make sure the frying oil is at the right cooking temperature which is usually between 185-190C. The oil will be VERY hot, so please be careful and ask for help if need be.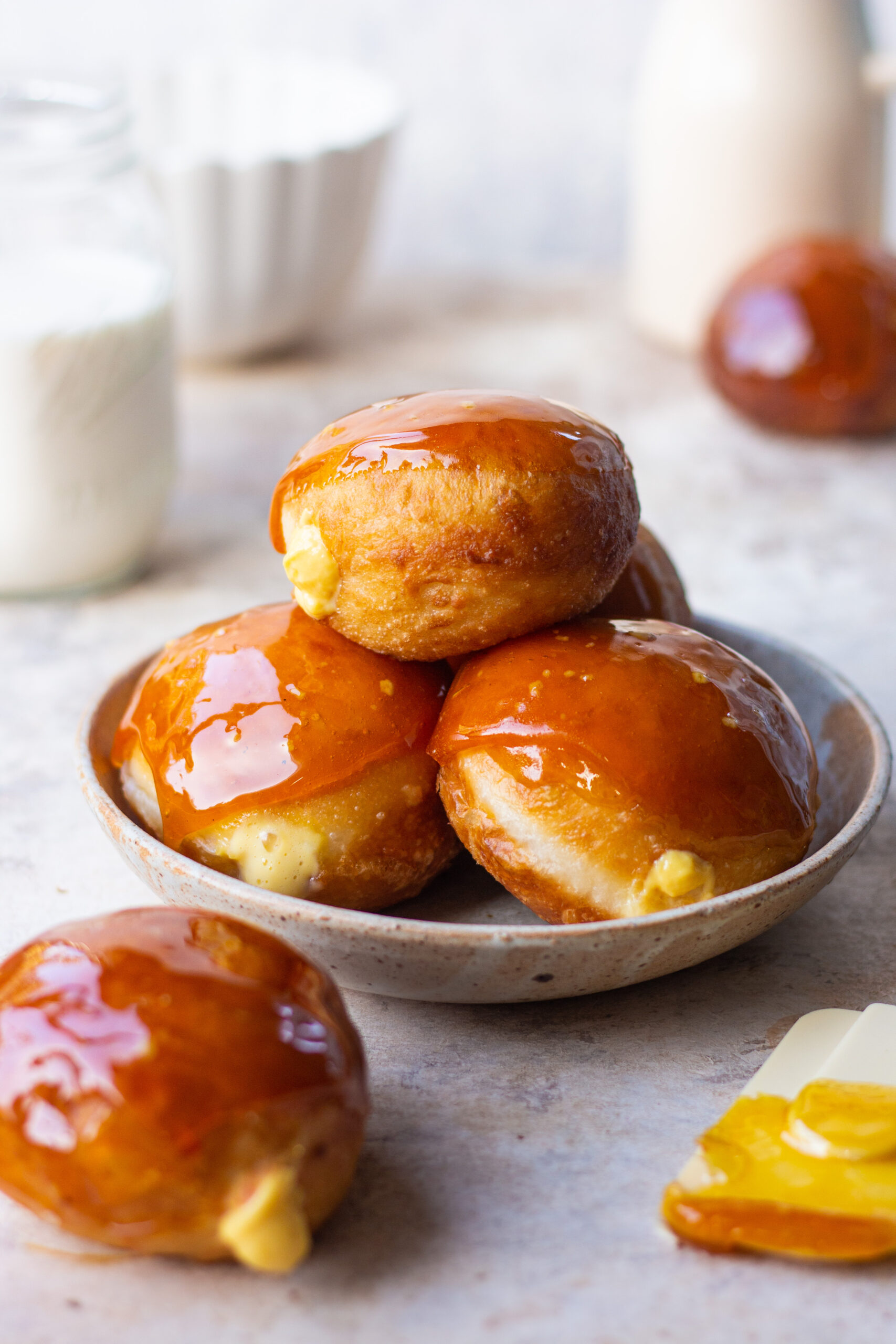 EGGLESS DONUTS
Ingredients
1 cup warm milk
¾ tsp instant dry yeast
2 tbsp sugar
2 + ¼ cup all purpose flour
¼ cup melted butter
Oil, for frying
Filling
Pastry cream/ custard filling
Caramel top
1 cup sugar
¼ cup water
Instructions
Add flour, sugar, yeast, milk and melted butter in a bowl. Knead the dough using a stand mixer or your hands till it all comes together and forms a smooth, non sticky dough.
Do the window pane test to check if the dough is ready.
Line another bowl with oil and place the rolled dough carefully in it. Cover it with a damp cloth and let it proof in a warm place for 1-2 hours till it is doubled in size.
Once the dough is double in size, knock down the dough and place it on a floured surface to knead again.
Knead for a minute and divide it into equal portions (70-75g each)
Place these divided dough balls onto parchment paper and let it proof again for another 30-60 mins till doubled it size.
Heat the oil for frying and once it is hot enough, carefully fry the doughnuts on each side till a nice golden brown colour is achieved.
While the doughnuts are cooling, make the caramel for the top coating in a heavy bottom pan using the given quantities.
Make small holes on either side of the doughnuts and fill them with pastry cream or custard using a piping bag.
Carefully dip the top of the doughnuts in the caramel till it's nicely coated and let it cool for a few mins.
Your eggless doughnuts are ready! Enjoy!
If you like my Eggless Donuts recipe and happen to make them in your kitchen, do tag me on Instagram and share pictures with me using #Bakewithshivesh. Happy Baking!