If you are craving for Nutella and cookie at the same time and you don't want to hustle much then I have got you covered!
This 60 sec microwave cookie recipe is unquestionably the best! These Nutella-filled chocolate chip cookies are extremely rich and fudgy. Each cookie you split opens to reveal a lava of melted Nutella and surprisingly in 60 seconds only. Isn't it crazy!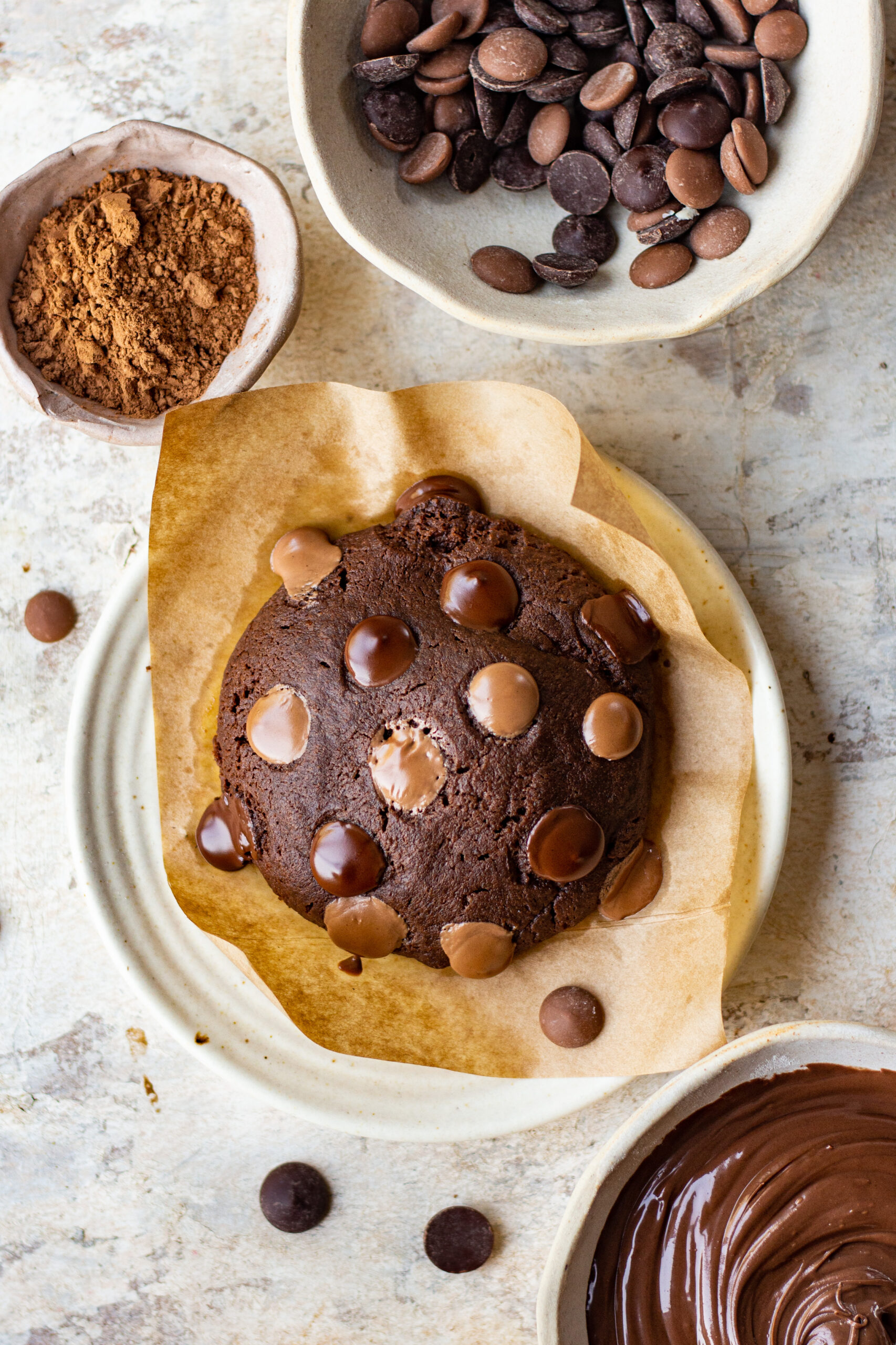 INGREDIENTS USED IN MICROWAVE COOKIE
Butter
It contributes milk solids to our cookie which helps in making it chewy. It mixes much easier with flour and sugar in cookie dough than hard, cold butter or even melted butter.
Caster Sugar
Creaming softened butter and caster sugar together incorporates air into the dough, helping cookies rise, puff up, and become lighter as they bake.
Cocoa powder
It provides a rich chocolate flavour to the cookie. Also helps in the colour and absorbs the moisture from the cookie.
Baking soda
Baking soda is also used in this recipe as it helps the cookie to spread as evenly as possible and gives it volume.
TIPS TO BAKE 60 SEC MICROWAVE COOKIE
Do not overmix the dough otherwise it will form gluten and the texture of the cookie will not be good.
Before baking the cookie dough ball in the microwave, be sure to chill it for a sufficient amount of time so that it hardens and maintains its shape.
It is crucial to place it over parchment paper, therefore don't forget to do so.
After cooking, the cookie can still be hot, so wait 2 minutes before transferring it to a dish with the parchment paper it was baked on in the first place.
EQUIPMENTS USED IN THIS RECIPE
I've made the dough in my borosil glass bowl.
Measuring Cups and Measuring Spoons. are an integral part of any baker's kitchen and it's very important to measure ingredients with precision.
For baking the cookie I used my microwave
OTHER RELATED RECIPES FROM THE BLOG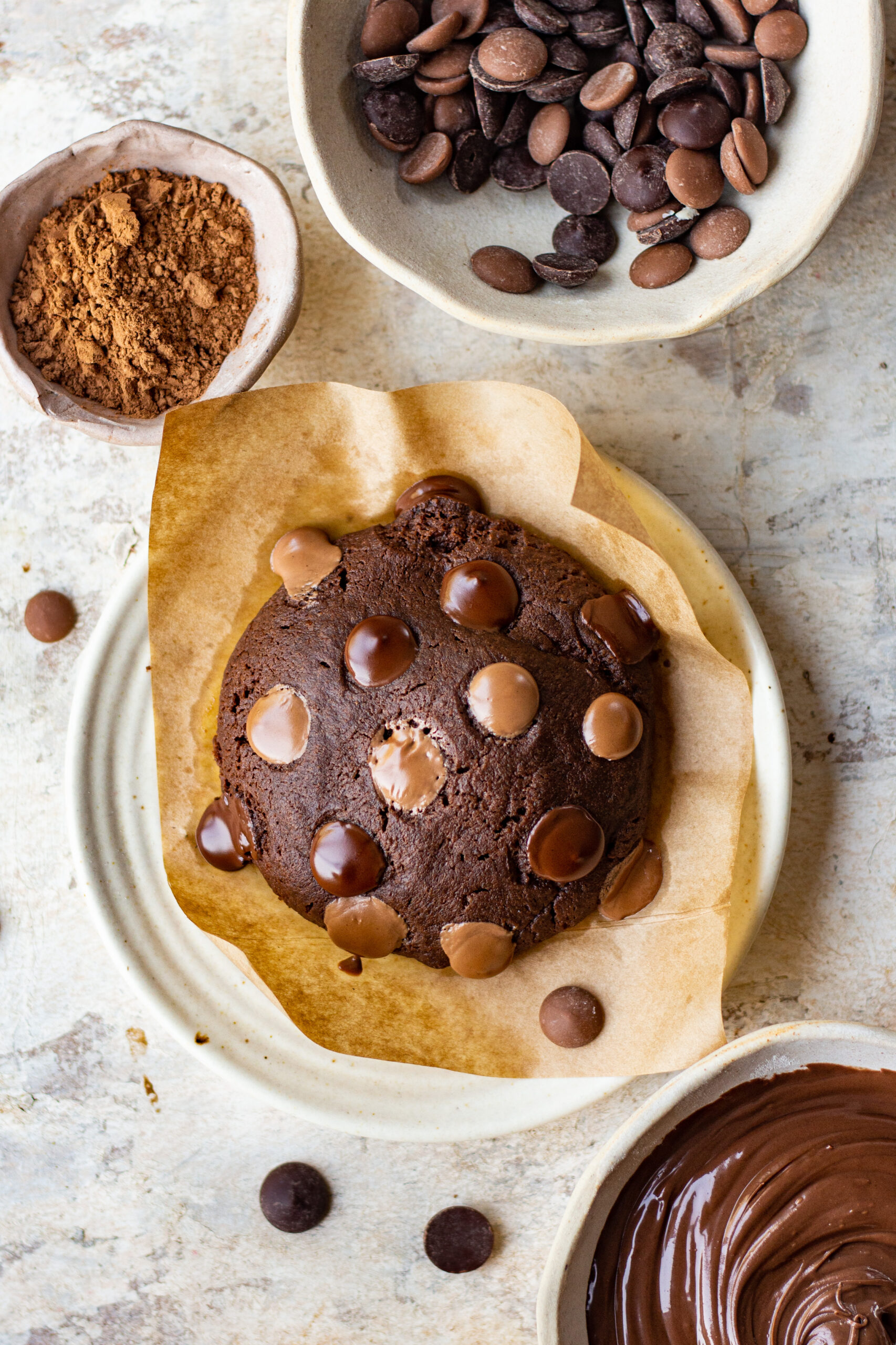 60 SEC MICROWAVE COOKIE
Ingredients
2 tbsp butter
1 tbsp caster sugar
½ tsp vanilla extract
¼ cup all-purpose flour
1 tbsp cocoa powder
⅛ tsp baking soda
3 tbsp nutella
Milk and dark chocolate chips to top
Instructions
In a bowl, take the softened butter and add caster sugar in it and mix properly.
Add vanilla extract into this and give it a good mix.
Into this, add all-purpose flour, cocoa powder and baking soda.
Mix this all together, till everything is properly combined and no flour specs are visible.
Now make a round ball of nutella and put it inside the shaped dough.
Place it over a parchment paper square and stick the milk and dark chocolate chips on it and freeze it for 15 minutes.
Once it hardens, place this into the microwave and set the timer to 60 seconds.
Once it is done, cool it for some time and enjoy your 60-second microwave cookie!
If you like my 60-second Nutella Microwave cookie recipe and happen to make them in your kitchen, do tag me on Instagram and share pictures with me using #Bakewithshivesh. Happy Baking!