For a long time, churros have been my go-to favourite treat. Oh! My absolute favourite part of it is the crispy and crunchy texture.
Instead of making the typical shape for Valentine's Day, I tried a heart-shaped Churro. I am in utter love with the way the heart shape design turned out.
I made the egg version for the heart churros on Valentine's Day. On the blog, there is also an eggless Churros recipe. It's located here. Please let me know on Instagram if you bake these!
Make your loved one feel special on this Valentine's Day by trying my heart churros recipe .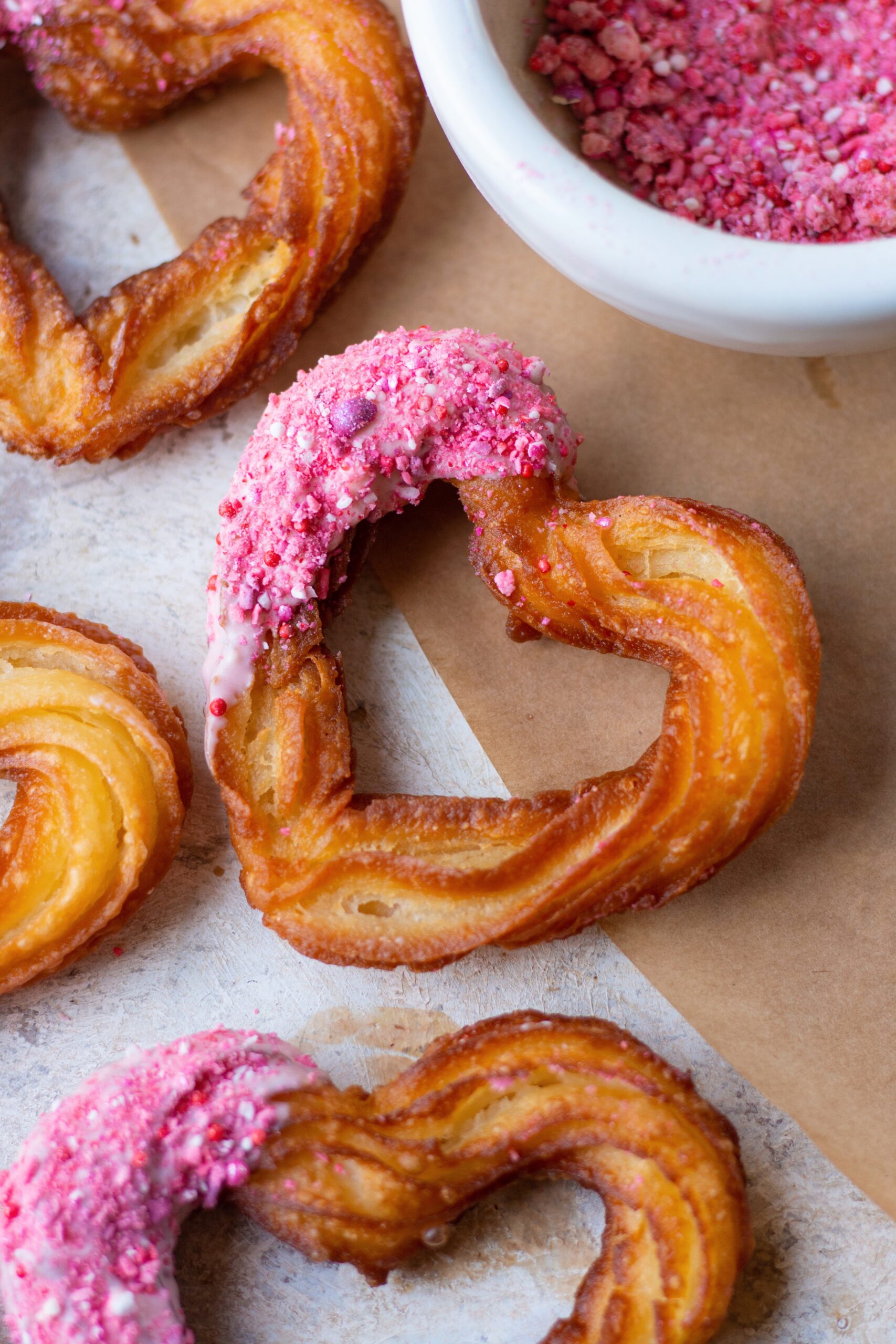 INGREDIENTS USED IN HEART CHURROS
Butter add richness and tenderness to the churros.
All-purpose flour gives the churro dough structure.
Eggs are added to churros for a number of reasons. First, eggs help to bind the ingredients together, which results in a more uniform and consistent final product. Additionally, eggs add richness and flavor to churros, and help to create a more tender texture. Finally, eggs also act as a leavening agent, which results in churros that are light and fluffy.
EQUIPMENTS USED FOR MAKING HEART CHURROS
To combine all the ingredients for this recipe, I have used Stahl saucepan .
Measuring Cups and Measuring Spoons. are an integral part of any baker's kitchen and its very important to measure ingredients with precision.
I have used star nozzle to pipe churros in a heart shape.
OTHER RELATED RECIPES FROM THE BLOG
TIPS TO MAKE HEART CHURROS
You'll get a scrambled mess if you mix the egg into the hot dough. Allow the dough to completely cool at room temperature for the best results. Only when it has cooled down, you will you add the egg. As you proceed to stir in the eggs, you notice that they won't fully incorporate into the mixture. Just continue mixing at this point.
FOR THE SHAPE
Put the churro dough in a piping bag with a star tip nozzle for the shape. Create heart-shaped churros on the parchment paper by cutting squares of parchment paper and using a piping bag. (For a better shape, draw a heart with a pencil first on the parchment.)
FRYING THESE CHURROS
Please avoid using any flavored oils for frying these. They will impart their own flavor which becomes undesirable in the end product. Warm some oil- about 1 to 1.5 cups- in a rather deep saucepan/kadhai. Don't throw in the dough in a haste. First, start with a small amount. As soon as it bubble and comes up, then proceed to add the churros to the oil.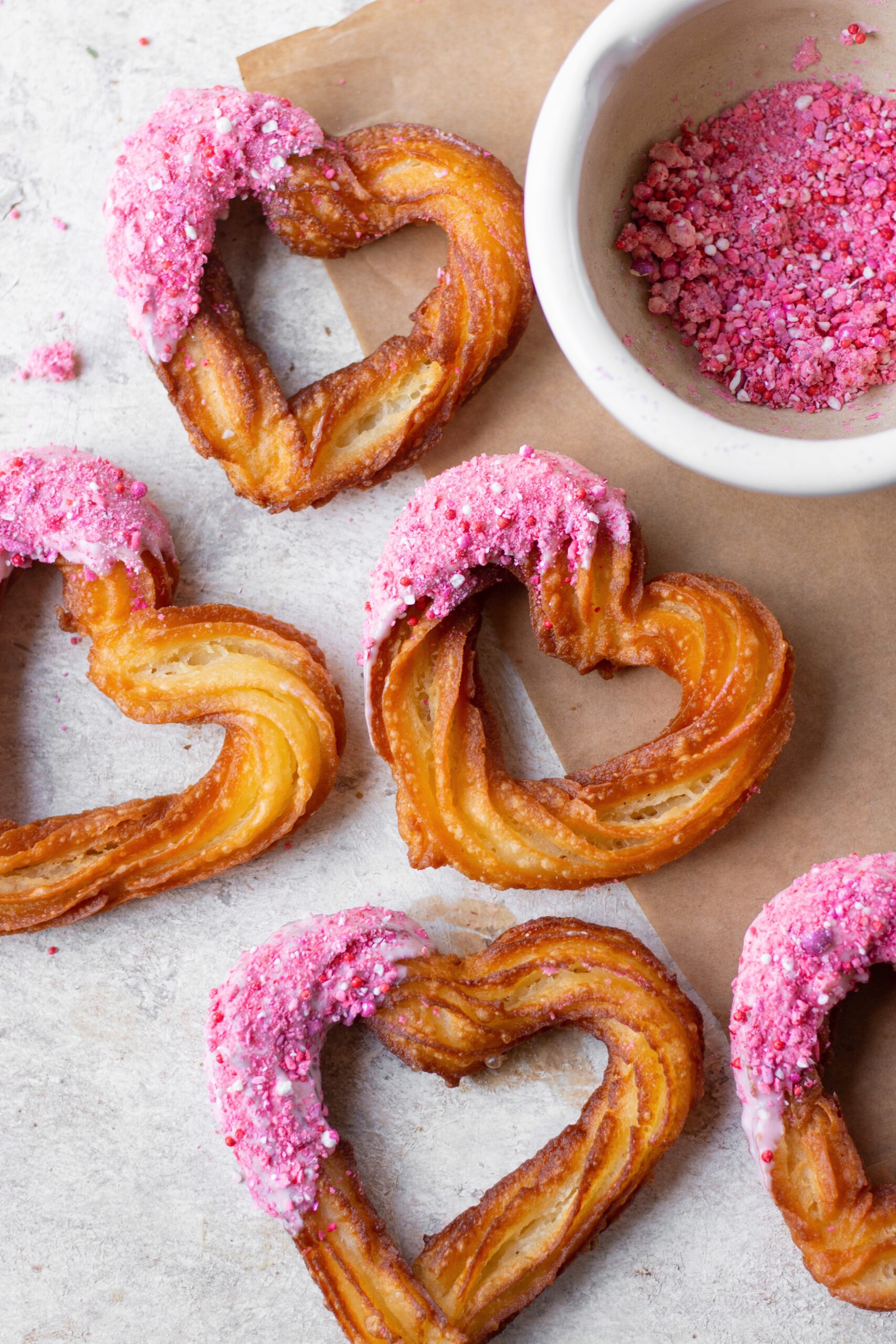 HEART CHURROS
Ingredients
1 cup water
¼ cup butter (54g)
3 tbsp sugar
¾ cup all purpose flour
1 egg
1 + ½ cup oil for frying
Instructions
Pour water into a saucepan set over medium heat. Add in the sugar and butter.
When the mixture comes to a boil and butter and sugar have completely dissolved, take it off the heat and add all the flour at once.
Mix well until the flour is incorporated and there are no lumps. Allow the dough to cool at room temperature.
When the dough has sufficiently cooled down, add the egg and mix well until everything comes together.
Meanwhile, transfer the dough into a piping bag with a large tip.
Pipe the dough onto parchment paper in a heart shape. This recipe will make 5 large hearts. Freeze the dough for atleast 30 mins.
Now, in a kadhai, add the oil and let it come to 150*C temperature. Carefully fry the churros untill they're golden brown.
Now dip the churros from one corner in melted chocolate and decorate with sprinkles.
If you like my Heart Churros recipe and happen to make them in your kitchen, do tag me on Instagram and share pictures with me using #Bakewithshivesh. Happy Baking!