With all the sweetness surrounding February 14th, it's no wonder that Valentine's Day desserts are some of our favorites! Sweethearts, sweet desserts, sweet date ideas… it never stops.
Over the past few days, I was brainstorming and then I came across these cute teddy bear cookies and it is something with which you can surprise your loved ones. These teddy bear cookies are made with four ingredients and trust me they are so easy and quick to make without any hustle. It is undoubtedly the perfect addition to your Valentines baking.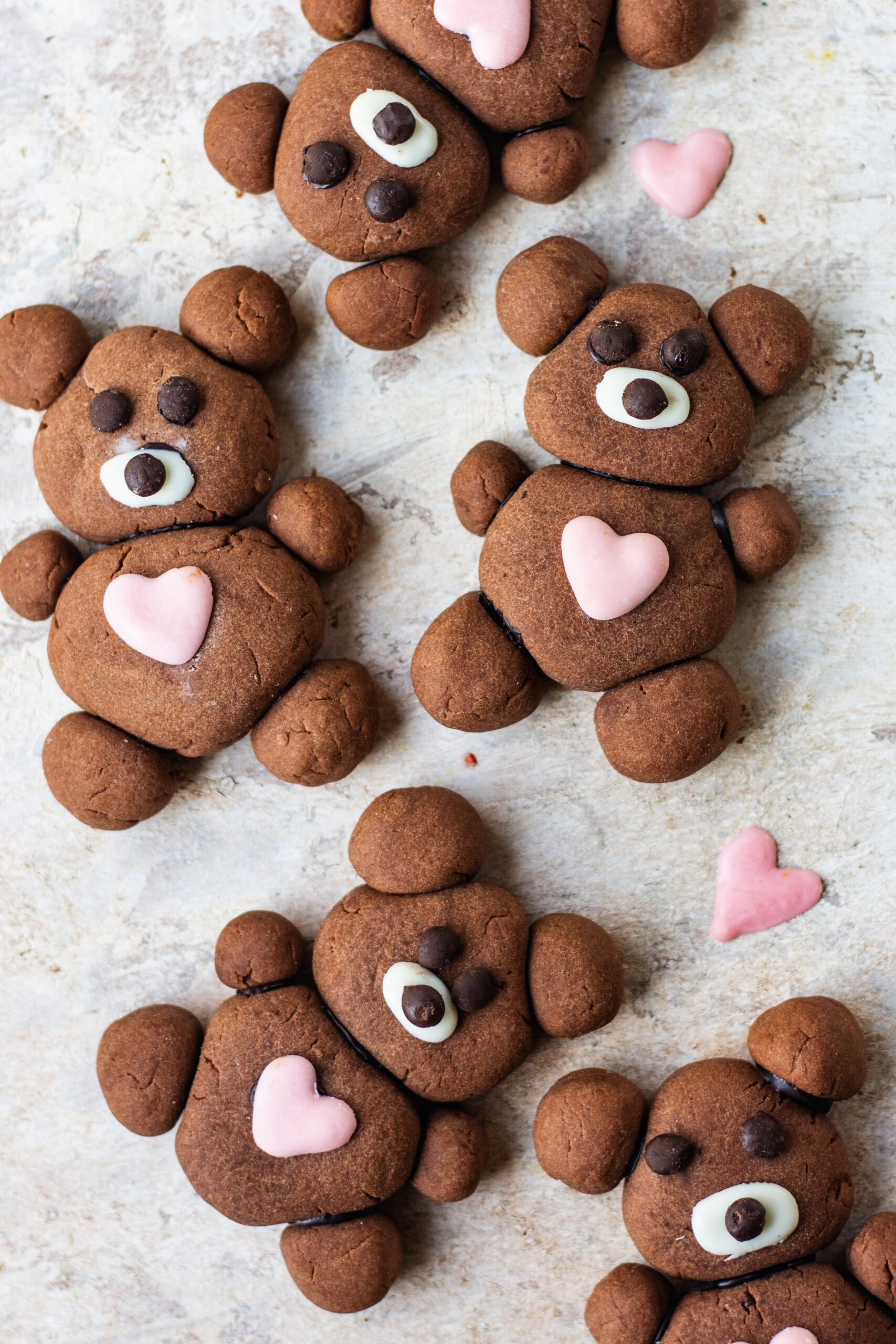 INGREDIENTS USED IN TEDDY BEAR CHOCOLATE COOKIES
Butter is the main ingredient in making cookies as it gives richness and tenderness to the cookies. It helps in giving the melt in mouth texture. We alter the way butter works in a recipe by using the cold temperature and for these teddy bear chocolate cookies, I have used this salted butter.
Using a good quality cocoa powder is very important. I personally really like using Hershey's but you can use any good dark cocoa powder. Cocoa powder is actually one of the most significant ingredient in this teddy bear chocolate cookies.
It is the prime ingredient in these cookies. It adds sweetness, richness  and moisture to the cookies. It also helps in binding the dough together. Here I'm using this condensed milk. You can use Amul mithai mate also, or any condensed milk.
EQUIPMENT USED FOR MAKING TEDDY BEAR CHOCOLATE COOKIES
This recipe is made using just 4 ingredients and hardly needs any equipment.
Not a single day goes in my kitchen when I don't use a Silicon Spatula, this is the one I recommend.
Measuring Cups and Measuring Spoons. are an integral part and its very important to measure ingredients with precision.
Finally, I baked this delicious teddy bear chocolate cookies in my Borosil 60L oven.
TIPS TO MAKE THESE CHOCOLATE COOKIES
Make sure the butter is very cold. To check this, touch the butter with your finger and if it doesn't stick to it it's good to go.
Mix flour, cocoa powder and butter with Rubbing method until you get a nice Sandy texture. If making in a stand mixer, use the paddle attachment.
There shouldn't be chunks of butter in the batter.
Freeze cookies for 10-15 mins before baking.
Be sure not to over bake the cookies, the cookies are done when you gently press on them in the middle, it should be soft and not sticky. They will continue to bake on the baking sheet when removed from the oven.
OTHER RELATED RECIPES FROM THE BLOG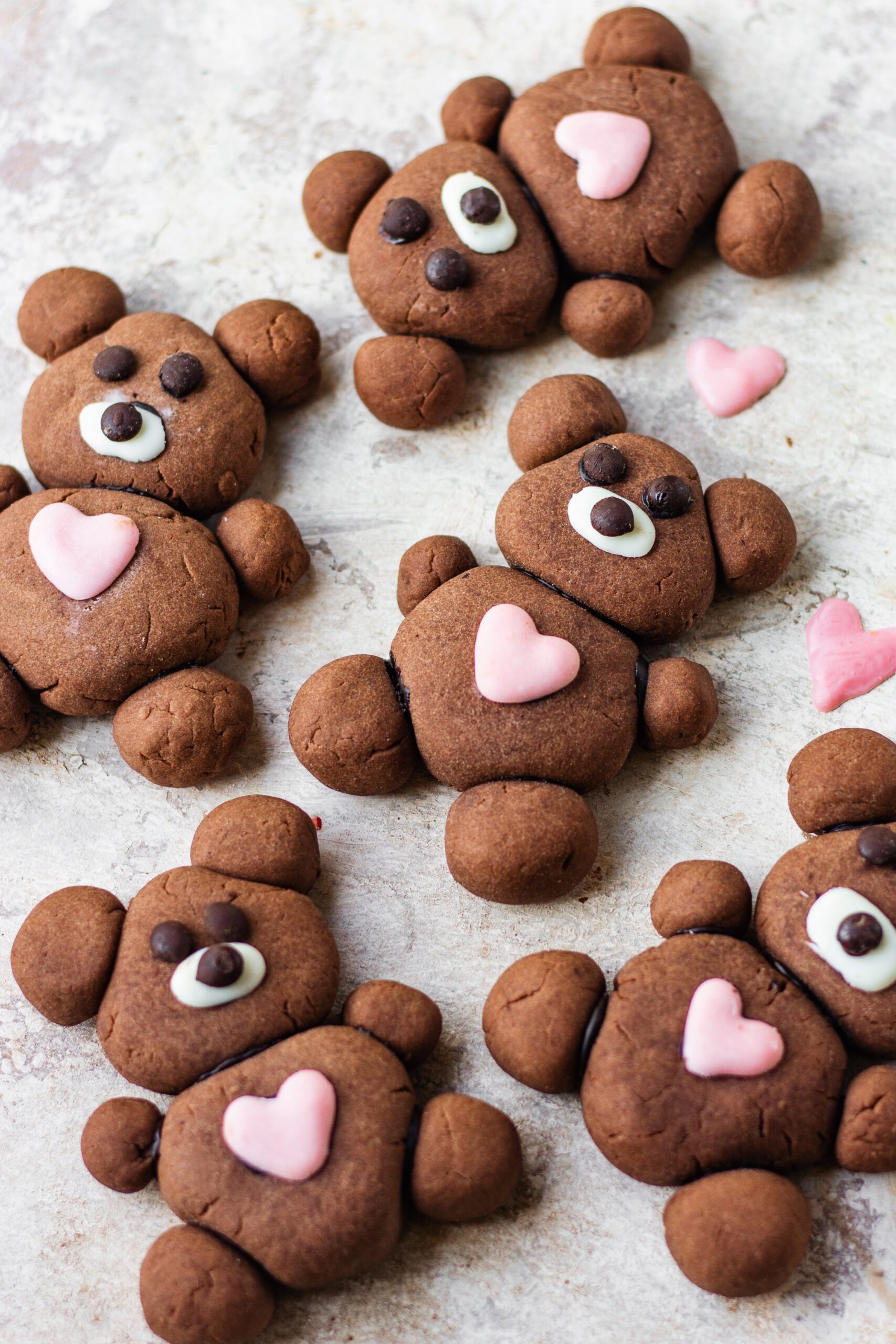 TEDDY BEAR CHOCOLATE COOKIES
Ingredients
1+1/4 cup all purpose flour
¼ cup cocoa powder
5 tbsp (75 gms) cold butter
½ cup condensed milk
Chocolate chips
White chocolate
Pink color
Instructions
In a bowl add in flour and cocoa powder. Rub in cold butter with dry ingredients using your fingers until it resembles a sandy mixture.
Lastly add in sweetened condensed milk and form a dough.
Grease your palms using some oil and make balls of different sizes out of the dough to form the body of the teddy bear on the lined tray.
Freeze the dough for 15-20 minutes.
Bake the cookies in the preheated oven at 180 degrees celsius for 12-15 minutes on a tray lined with parchment paper or silicon mat and let them cool. If the body of the teddy bear falls apart, stick it with melted chocolate when completely cold.
For decoration- melt white chocolate and pipe the bear's muzzle on the silicon mat.
For hearts, add a drop of pink colour to the white chocolate and pipe mini hearts on the same mat.
When the cookies get cool down, stick the muzzle, chocolate chips for eyes and nose and a pink heart with the help of melted chocolate. Your teddy bear cookies are ready to serve.
If you like my TEDDY BEAR CHOCOLATE COOKIES recipe and happen to make them in your kitchen, do tag me on Instagram and share pictures with me using #Bakewithshivesh. Happy Baking!