The 5th day of Valentine's week, they promise to love and be together for the rest of their lives. By the way, you can celebrate this day not only with your partner but also with every person who is close to your heart whether it is your friend, parent or sibling.
I have come up with an idea of small serve desserts which you can try at home without investing much of your money. It's the month of love and I thought of making red velvet cake using circle tin which is easily available instead of using a heart shape tin. This small serve red velvet cake recipe comprises of basic ingredients.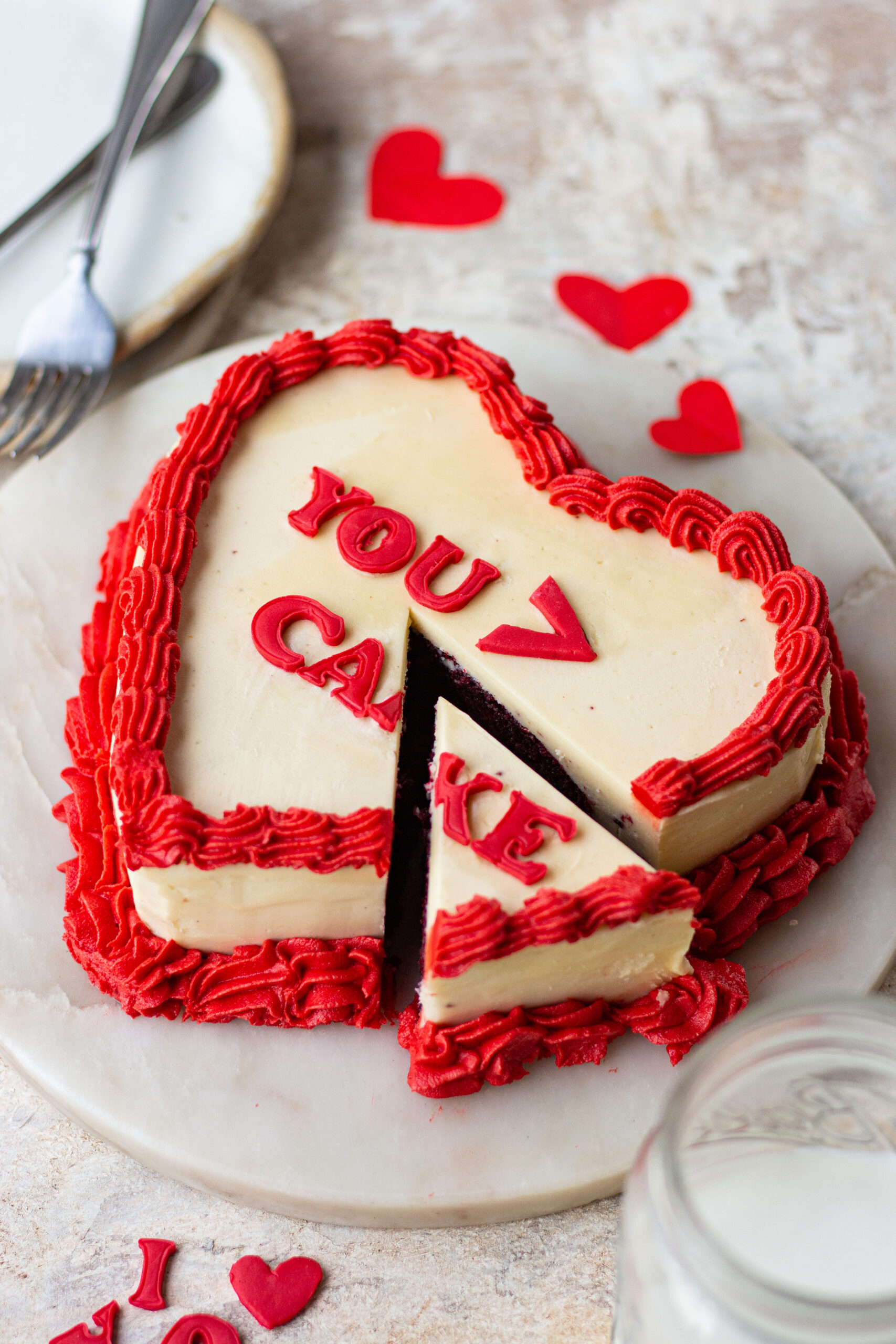 INGREDIENTS USED IN RED VELVET CAKE
While you can use store-bought buttermilk as a substitute for eggs in this red velvet cake recipe, I have seen how cakes come out better with home-made buttermilk. In this recipe, I've used ½ cup milk + ½ tbsp. vinegar. Buttermilk is something that makes or breaks your red velvet cake!
Liquid color is super-duper important for this red velvet cake. Take care that you are using a good quality gel color or liquid color. The thing about liquid color is that if it is of a good brand, it is highly pigmented and very less quantity has to be used. There are endless low quality colors available in the market. Make sure you don't get them as not only are they practically useless in dispensing colors, they are also harmful to the health.
Cocoa powder is a very important ingredient in this small serve Red Velvet Cake. A lot of professional bakeries use dark, rich cocoa powder and that does not work here. The red color- if it's not of an extremely good company, your dark cocoa powder will turn this Red Velvet Cake into a chocolate velvet cake. Hehe.
Baking soda, or sodium bicarbonate, is an alkaline chemical leavener that reacts with acid and heat to leaven food. In this recipe, buttermilk and cocoa powder are the examples of acidic components that activate baking soda.
EQUIPMENTS USED FOR MAKING RED VELVET CAKE
To combine all the ingredients for this recipe, I have used Borosil mixing bowl.
Measuring Cups and Measuring Spoons. are an integral part of any baker's kitchen and its very important to measure ingredients with precision.
I have used a 6'' circle tin for baking this heart shape red velvet cake instead of using heart shape tin and is baked in my Borosil 60L oven.
OTHER RELATED RECIPES FROM THE BLOG
TIPS TO MAKE HEART SHAPE RED VELVET CAKE
Make sure you whisk all the ingredients properly to avoid lumps. Bake this recipe in 6" circle tin to get the perfect size of the sponge. Let the cake cool down completely before cutting it for the heart shape.
To make the heart shape- Cut two side halves from the bottom half of the cake that meets the centre. Now stick the two halves on the top of the cake with the help of the buttercream frosting to make it look like a heart. Refrigerate the cake so that the shape is stable enough to frost the entire Heart Shape Red Velvet Cake.
To make the buttercream frosting- Make sure the butter is softened before you start to beat. The icing sugar should be sifted before you mix it with the butter to avoid lumps.
Note- If your buttercreams looks curdled, take a small portion and melt it. Now mix it using a spatula with the entire batch of frosting.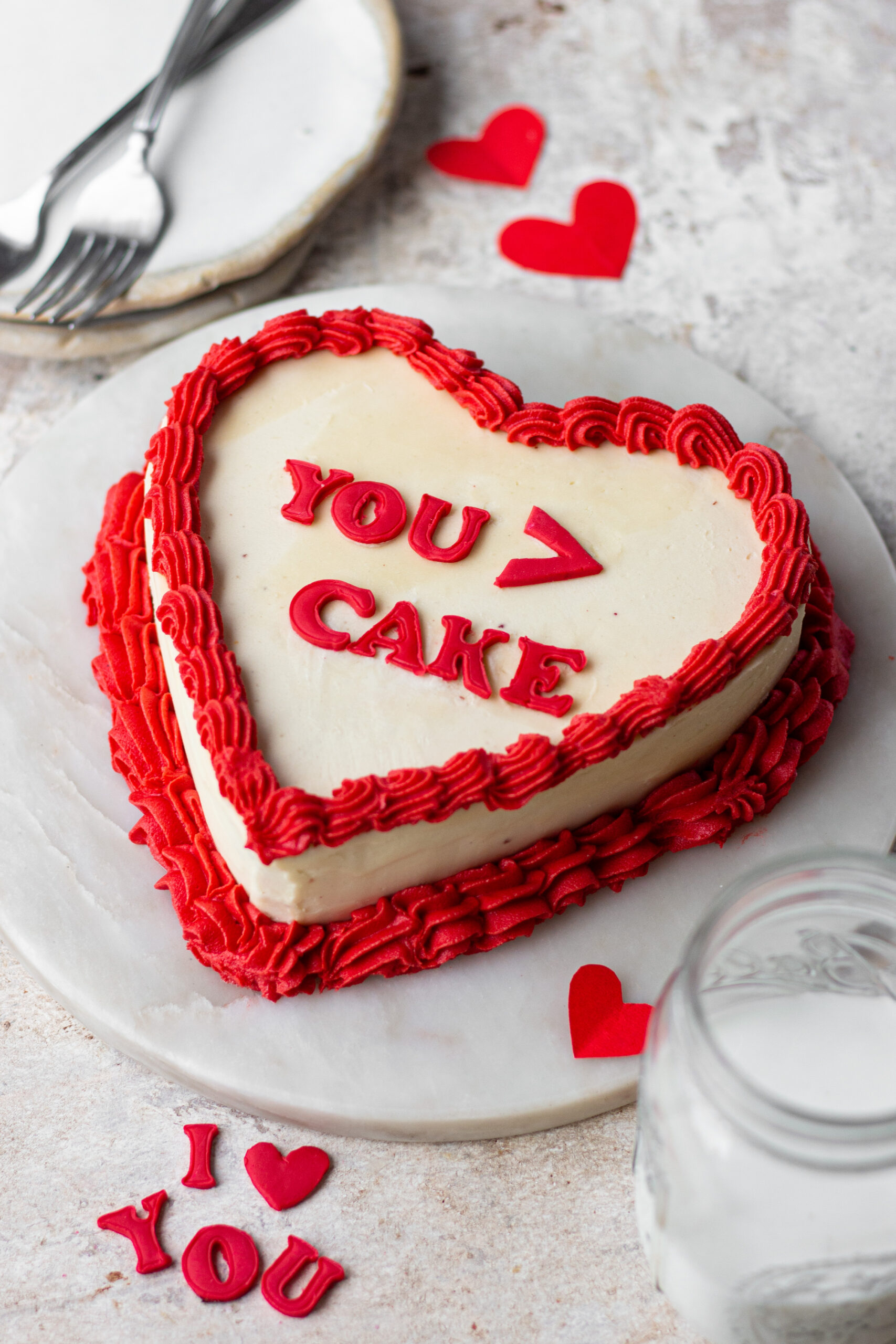 SMALL SERVE RED VELVET CAKE
Ingredients
½ cup sugar
¼ cup oil
½ cup milk + ½ tbsp vinegar (buttermilk)
2 tbsp curd
½ tbsp red liquid colour
¾ cup flour
1 tbsp cocoa powder
½ tsp baking soda
1 cup butter, softened
2 cups icing sugar
½ tsp vanilla extract
Instructions
Preheat your oven at 180*C and line a 6" circle tin with parchment paper.
In a bowl, add sugar, oil, milk, curd and red food colour and whisk them well.
Sift in flour, cocoa powder and baking soda.
Mix the batter properly to avoid lumps.
Pour the batter into lined tin and bake at 180*C for 25-30 mins.
Meanwhile, make the buttercream frosting- In a bowl beat softened butter till light and fluffy.
Add sifted icing sugar in batches. Beat it till you get smooth consistency. Add vanilla extract and mix untill combined.
For the heart shape- Cut two side halves from the bottom half of the cake that meets the center as shown in the reel. Now stick the two halves on the top of the cake with the help of the buttercream frosting to make it look like a heart.
Cover the heart shape cake with the frosting and enjoy!
If you like my Small Serve Red Velvet Cake recipe and happen to make them in your kitchen, do tag me on Instagram and share pictures with me using #Bakewithshivesh. Happy Baking!