Valentine's Day comes with a lot of responsibilities, which is why this ILY SKILLET COOKIE is a great addition to make your Valentine's Day extra special. The best part about making this ILY skillet cookie is that you don't have to scoop and roll the dough; instead, make the dough, press it into your iron skillet, and bake! This  gooey and warm Skillet Cookie is ready to eat right out of the oven. If you top the cookie with vanilla ice cream, you'll be in dessert heaven.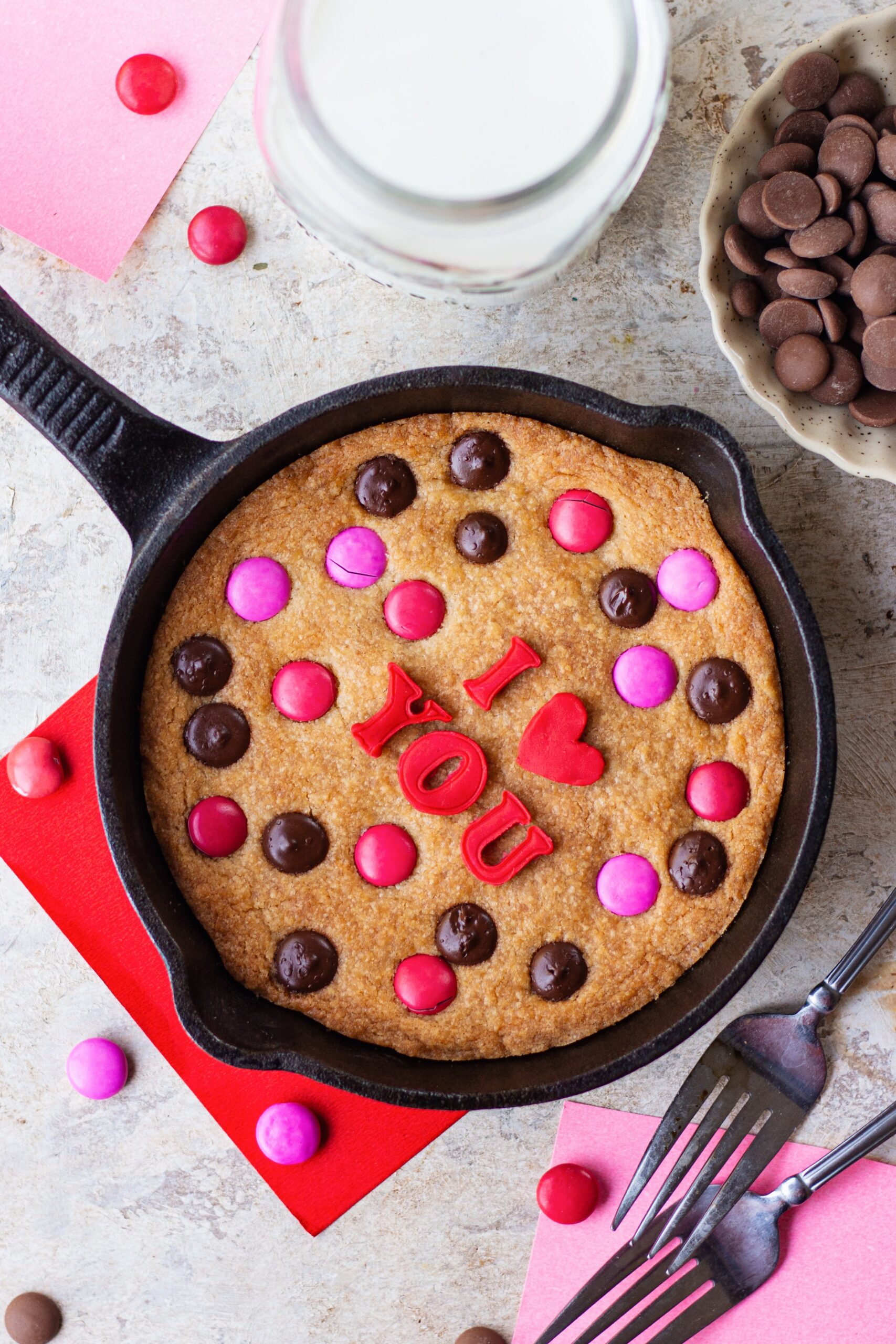 INGREDIENTS USED IN ILY SKILLET COOKIE
Butter is the main ingredient in making cookies as it gives richness and moisture. I have used room temperature salted butter which will give a soft and gooey structure to the cookie.
It gives colour and texture to my ILY SKILLET COOKIE. If you don't have brown sugar, you can substitute it with the same amount of caster sugar.
Cornflour helps the cookie giving a crumbly and dessert like texture. It helps in providing the body to the skillet cookie.
The baking soda helps create a soft fluffy cookie.
EQUIPMENT USED FOR MAKING ILY SKILLET COOKIE
The kind of equipment you use when you're baking makes a huge difference to the end result! I would recommend you to use good quality mixing bowls and other equipment so that your skillet cookie comes out delicious!
To mix all my ingredients together in, I'm using Borosil's 100% Borosilicate Glass Bowl which is microwave and oven safe, plus the bowls are super easy to clean and handle, which makes my baking process totally hassle free!
I am using this skillet to bake my cookie dough. This is the best iron skillet I have come across and I recommend you all to go for it.
Not a single day goes in my kitchen when I don't use a Silicon Spatula, this is the one I recommend. Same goes for my set of Measuring Cups and Measuring Spoons.
And it is ready in less than 20 mins in my oven.
ADVANTAGES OF MAKING ILY SKILLET COOKIE
1.Simply prepare the cookie dough and put it into the skillet—no chilling is necessary. In less than 10 minutes, it is prepared for the oven!
2.Simple and speedy; all you need is a bowl, a few ingredients, and your skillet.
3.Serves Everyone: Cut this delicious delicacy into pieces and give one to each person or just take your spoons and dig in!
Warm, gooey, ILY SKILLET COOKIE with crisp edges and a soft middle.
TIPS TO KEEP IN MIND WHILE MAKING ILY SKILLET COOKIE
Butter should be softened. Microwave the butter for 10–12 seconds if it's cold.
I used regular Amul butter as usual. Add a little salt if you're using unsalted butter.
The skillet cookie may appear undercooked in the centre, but once the edges are golden brown, stop baking it. As it cools, it will continue to cook.
Eight-inch skillet cookies can be made using this recipe. If you wish to make a larger/smaller batch, you can cut the ingredients in half or double them.
OTHER RECIPE FROM THE BLOG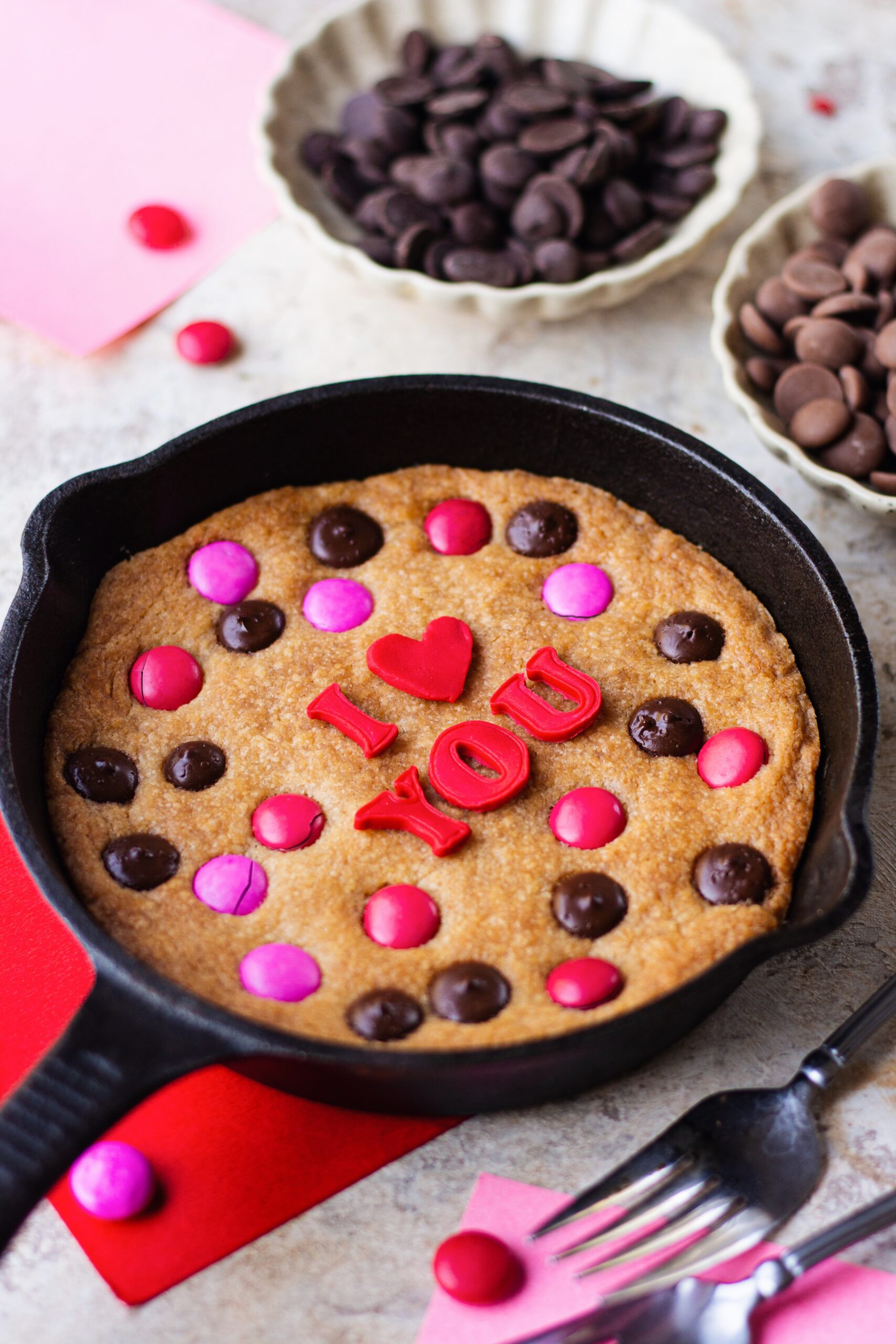 ILY SKILLET COOKIE
Ingredients
¼ cup butter,softened (54g)
2 tbsp caster sugar
2 tbsp brown sugar
¼ tsp vanilla extract
¼ cup all purpose flour
½ tbsp cornflour
⅛ tsp baking soda
1-2 tbsp milk ( only if the dough is dry )
Instructions
Preheat the oven at 180*C
In a bowl, add butter, caster sugar, brown sugar and vanilla extract. Mix it well.
Dump in the flour, cornflour and baking soda in the bowl and give it a final mix to form the dough.
If the dough seems dry then add milk and combine it together.
Spread the dough into a 4" cast iron skillet or cake pan in an even layer and decorate it with chocolate chips and gems.
Bake it at 180*C for 15-20 mins.
Cut out ILY letters using fondant and place on the cookie.
Serve it warm!
If you like my ILY SKILLET COOKIE recipe and happen to make them in your kitchen, do tag me on Instagram and share pictures with me using #Bakewithshivesh. Happy Baking!