Small Serve Tres leches is a must-try for your Holi party if you're searching for a show-stopping dessert! Before you drenched in colour, this recipe is a must try. While my mom is busy preparing traditional gujiyas and thandais for holi desserts, I've made this dessert if you're looking for a fun fusion dessert for your Holi celebration. 
This cake is rich and tender and a distinctive take on the well-known Indian dessert "RasMalai." It's a wonderful dessert for gatherings and parties.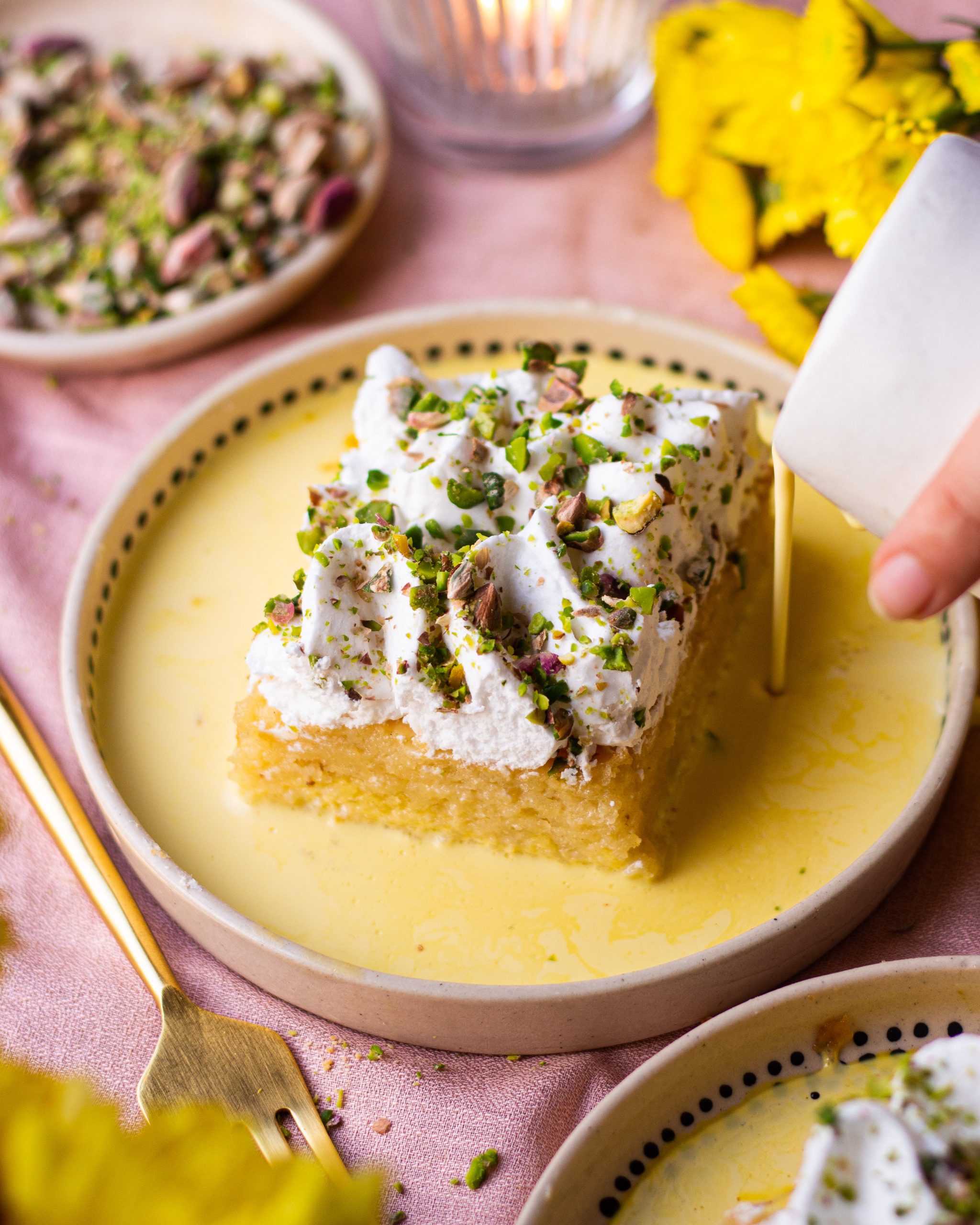 WHAT IS TRES LECHES?
It is borrowed from Spanish tres leches "three milks," referring to the three milk products used in the cake. Note: The name of the cake in Spanish is pastel de tres leches, torta de tres leches, and other variants. 
Tres Leches Cake has a soft and ultra-moist crumb. It is soaked with a 3 milk mixture and topped with a lightly sweetened whipped cream. This is an authentic Tres Leches Cake recipe and the best we have tried. It beats any store-bought version all day long! 
COMPONENTS OF SMALL SERVE RASMALAI TRES LECHES
RASMALAI, these two terms don't require an explanation in India! It is the treat that every family loves the most and the centrepiece of every holiday. Ras malai is simply spongy ricotta (paneer) dumplings that have been mixed with delectable saffron milk and sprinkled with chopped pistachios. Ras malai, a sweet that is dear to many people's hearts, forms the ideal fusion with this Tres Leches recipe.  
THE SPONGE
This recipe is eggless sponge because it's the holiday season and most of you won't be eating eggs. A Tres Leches cake is typically prepared with eggs, which add a lot of air and improve the sponge's ability to absorb milk. However, since it's the holiday season and Indians typically don't eat eggs during this time, I've created an eggless variation that is just as good! Baking soda and yoghurt work perfectly as an egg substitute when I prepare this sponge. It elevates the softness to a new level and serves as the foundation of this treat. Also, I added kewra essence to enhance the flavours of rasmalai in my small serve rasmalai tres leches.
THE MILK MIXTURE
Our cake is infused with three kinds of milk as well as the beneficial properties of saffron and cardamom. Whole milk, condensed milk, and heavy cream are the three kinds of milk used to make the Rasmalai liquid. This provides the cake a tonne of flavour and the necessary texture for a tres leches cake. To give the three milks the celebratory atmosphere and flavours of rasmalai, I mix saffron and cardamom powder into them. When preparing this liquid, warm milk is crucial. This milk is then combined with premium heavy cream and sweetened condensed milk, and thoroughly stirred. Now, now! You'll notice that the dish contains a LOT of liquid. 
WHY SMALL SERVE RASMALAI TRES LECHES
?
Is a simple treat to prepare for Holi.

 

Small serve that means no wastage

 

Is flavoured with saffron, rose, and cardamom.

 

Eggless and prepared ahead of time

 

Made from basic components

 
TIPS FOR MAKING SMALL SERVE RAS MALAI TRES LECHES
Before making the sponge

, make sure you line your baking tin with parchment paper.

 

Make sure all your ingredients, are at room temperature when making the sponge.

 

The milk mixture needs to be added to the cake while it is still hot and don't forget to prick the cake before adding the liquid!

 

Don't be afraid of using all the milk mentioned in the recipe, that's what makes the cake taste divine!

 

Set the small serve rasmalai tres leches in the fridge in the cake tin itself and it has to be demoulded only when it has set!

 
POSSIBLE SUBSTITUTES OF INGREDIENTS
If you don't have condensed milk at home, you can skip it and use milk and heavy cream.

 

For the essence, you can totally skip it. Also, you can some edible rose water.

 

You can use a pinch of turmeric in place of food colour.

 
EQUIPMENTS USED FOR MAKING SMALL SERVE RASMALAI TRES LECHES
To combine all the ingredients for this recipe, I have used Borosil mixing bowl. 
Measuring Cups and Measuring Spoons. are an integral part of any baker's kitchen and its very important to measure ingredients with precision. 
I have used my 4 inch square pan to bake these saffron cupcakes in my Borosil 60L oven. 
OTHER FESTIVE RECIPES ON THE BLOG
SMALL SERVE RASMALAI TRES LECHES
Ingredients
6 tbsp all purpose flour
¼ tsp baking powder
¼ cup curd
⅛ tsp baking soda
3 tbsp sugar
2 tbsp oil
¼ tsp kewra essence
¼ tsp cardamom powder
Yellow food colour
Milk mixture-
6 tbsp milk
2 tbsp condensed milk
3 tbsp heavy cream
⅛ tsp saffron strands
Garnish-
Whipped cream
Chopped pistachios
Instructions
Pre -heat the oven to 180 degree C and line a 4 inch square cake pan with parchment paper leaving handles on all 4 sides so that the cake comes out easily.
In a bowl, add curd and baking soda and let it rest for a few minutes.
To the same bowl add oil, sugar, essence and colour and give it a good mix using a whisk.
Sift in the flour and baking powder into the mix and whisk till no lumps of flour are visible. Do not overmix at this stage.
Sprinkle some cardamom powder over the batter and give it one final mix.
Transfer the batter to the prepared cake pan. Bake at 180C for 15-20 minutes or only until a skewer inserted in the center comes out clean.
While the cake is baking, make the milk mixture by combining warm milk with saffron
Add the heavy cream and condensed milk to this milk mixture and whisk well.
After the cake is baked, prick it with a fork while it's still hot.
Pour the milk liquid on the cake and tilt the pan so that the milk covers the entire cake. Let it set in the fridge for one hour.
After one hour, demould the cake from the pan. Top with whipped cream, pistachios, some more liquid and serve!
This is one recipe which I've had the most fun making this festive season and I hope you do too! Do tag me on 
Instagram
 using the #Bakewithshivesh, I'd love to see you guys recreating this in your kitchens