Every Father's Day, we celebrate the day by treating my father to some of his favorite desserts and then taking him out for a nice dinner. Even though I'll still be making him a delicious treat this year, the pandemic has changed how we look at celebrations and staying in and celebrating at home has now become more precious than ever.
If like me, you're also at home, you can still make the day incredibly special for your father because the best gift you can give to your dad this Father's Day is a home-baked dessert. After all, we know that nothing expresses love better than something sweet right? From a good seasonal cheesecake to some great breakfast dessert ideas, this list has something for every dad!
1. Almond Vanilla Cake
This is one of my favorite desserts on this list because the flavor profiles of this cake are insane! You have a fluffy vanilla sponge, a beautiful caramel almond layer and some smooth custard in the middle – what's not to like?
This cake has a few elements but it's still rather easy once you get the hang of it. You will make the cake batter and bake the cake according to recipe instructions. While the cake is baking, you need to prepare your caramel layer so that once the cake is out of the oven for the first time, you can top it off with the almond caramel layer.
Make sure to evenly spread the caramel layer all over the top surface of the cake.
Once that is done, the cake goes inside the oven again for another 10 minutes so that the caramel layer can cook further and set. After 10 minutes, you need to let the cake cool down completely and make the custard filling. I chose to cut the cake in half and make two layers out of it. You can also do the same or you can simply add the custard filling on top of the cooled cake. Once layered and filled with filling, cut into the cake and enjoy!
Find the full recipe here.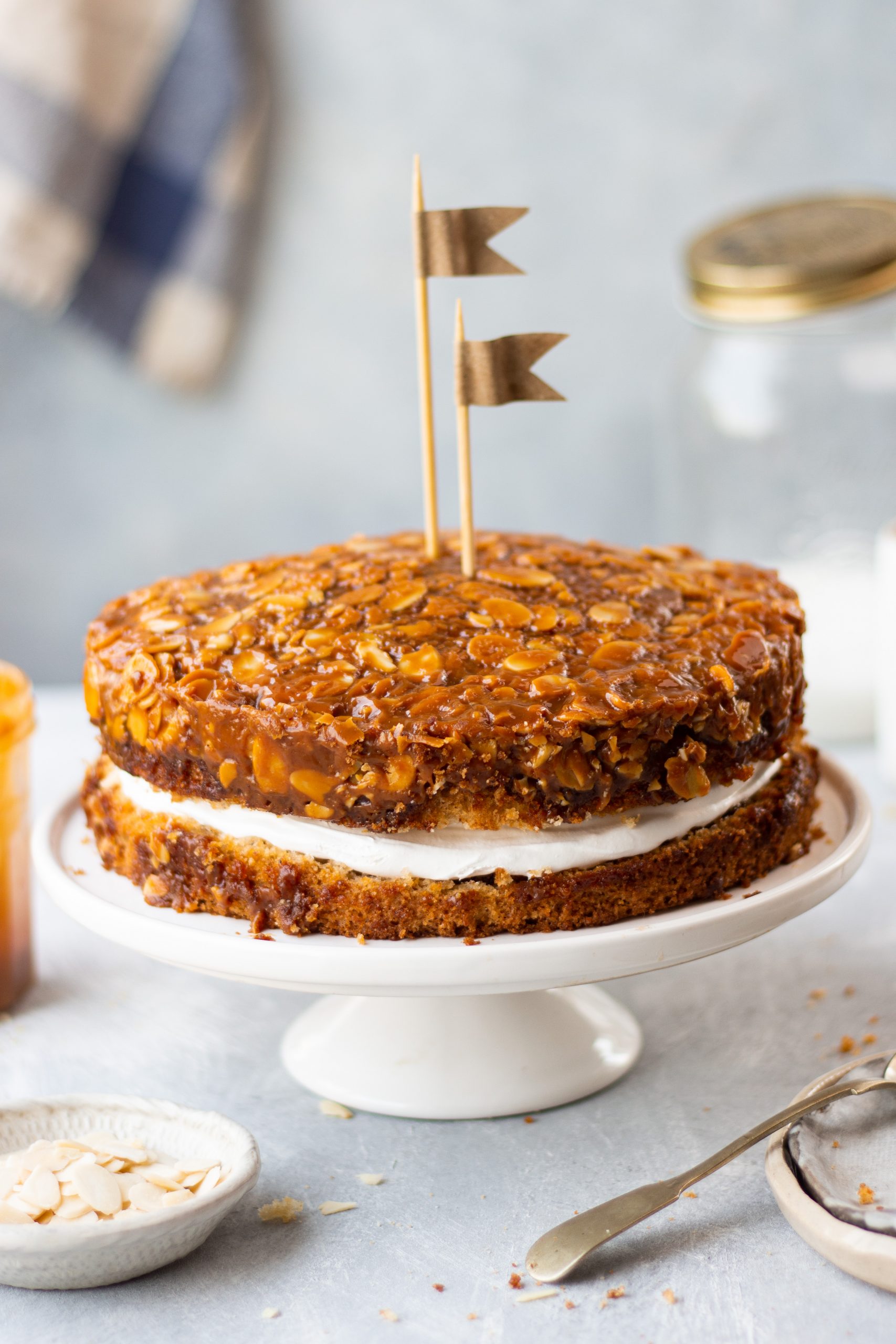 2. Churros
What says happy Father's Day better than some amazing churros and coffee! Get your pans out and oils heating for this one because I can assure you your dad will be the happiest man on earth after tasting these churros. The best part of these churros being on this list is that I made them for my father last year on Father's Day and he absolutely loved them! You can watch the full video here.
Churros are also known as Mexican fritters. They are thought of to be an easy recipe and it definitely is- once you get the hang of it. But, for some of you, mixing the flour into the warm mixture can be a little overwhelming. Please ensure that you are doing so with the utmost patience and love- the best ingredients for desserts. Basically, with all recipes, just give in all your heart and love. These are the desserts that taste the best!
Find the full recipe here.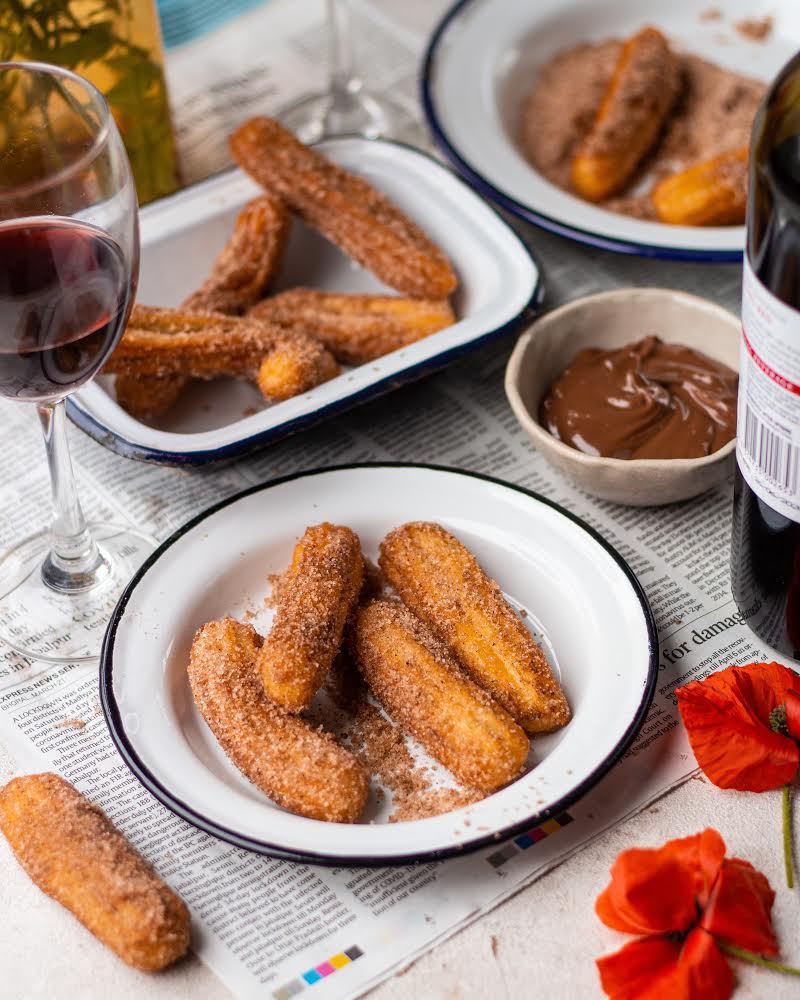 3. Black Forest Cake
This cake has been one of my new additions to the repertoire, but it's definitely an old classic that is liked by everyone in the family! Believe it or not, this is an eggless cake, with lots of whipped cream, cherry compote, a silky chocolate ganache and of course, some fresh cherries and lots of chocolate shavings.
To maximize the cherry flavor in the cake, I made a cherry syrup and a cherry compote from scratch. To make the syrup, all you need to do is cook pitted cherries, sugar and water till all the sugar dissolves and you end up with a thick and slightly sticky mixture. Then you sieve out the cooked cherries and the leftover liquid is your cherry syrup.
These cooked cherries have a lovely flavor so we are going to use these to make our cherry compote and reduce them down further. For the compote, again you need some water, sugar and the cooked cherries along with some fresh cherries. You want to cook down this mixture till it is thicker and the cherries have broken down to smaller chunks and that is the secret to my awesome Black Forest cake!
Find the full recipe here.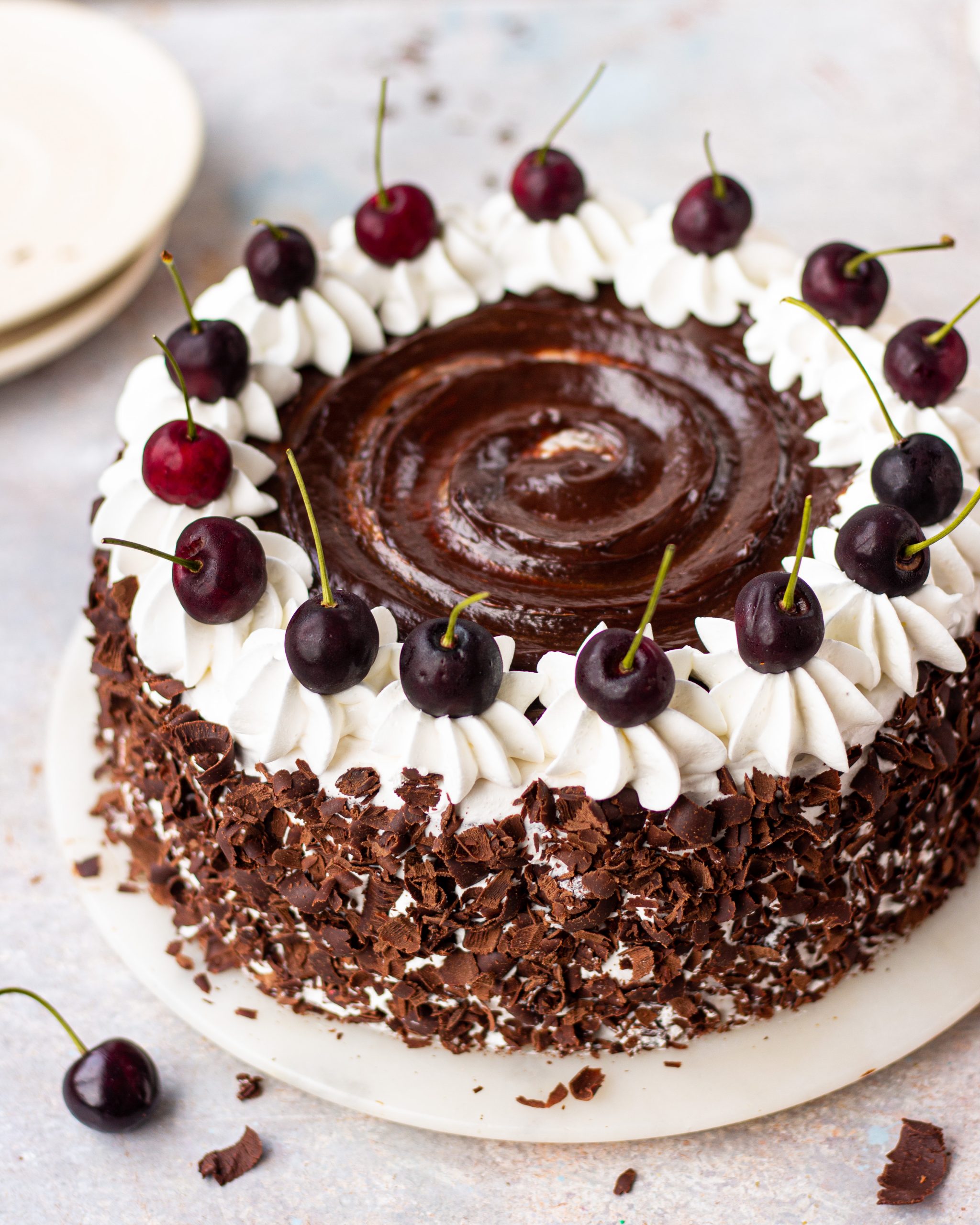 4. Classic French Toast
A hearty breakfast for dad on Father's Day? I'm all game and have you covered with this delicious French toast recipe. This recipe is one of those that you'll love with a warm cup of coffee maybe topped with hazelnut or caramel syrup.
I love quick and easy recipes and I am sure so do you guys. If you're planning to keep it simple this Father's Day, this classic french toast recipe is quick, easy, effortless, and hardly takes any time. Plus, what is best with this recipe is that you can customize it according to your tastes and preferences. If you like spices, go ahead. If you like some caramel or some caramelized nuts, just go ahead. Decorate your classic french toast as you like, be it with choco chips or some fresh maraschino cherries- all up to you!
Find the full recipe here.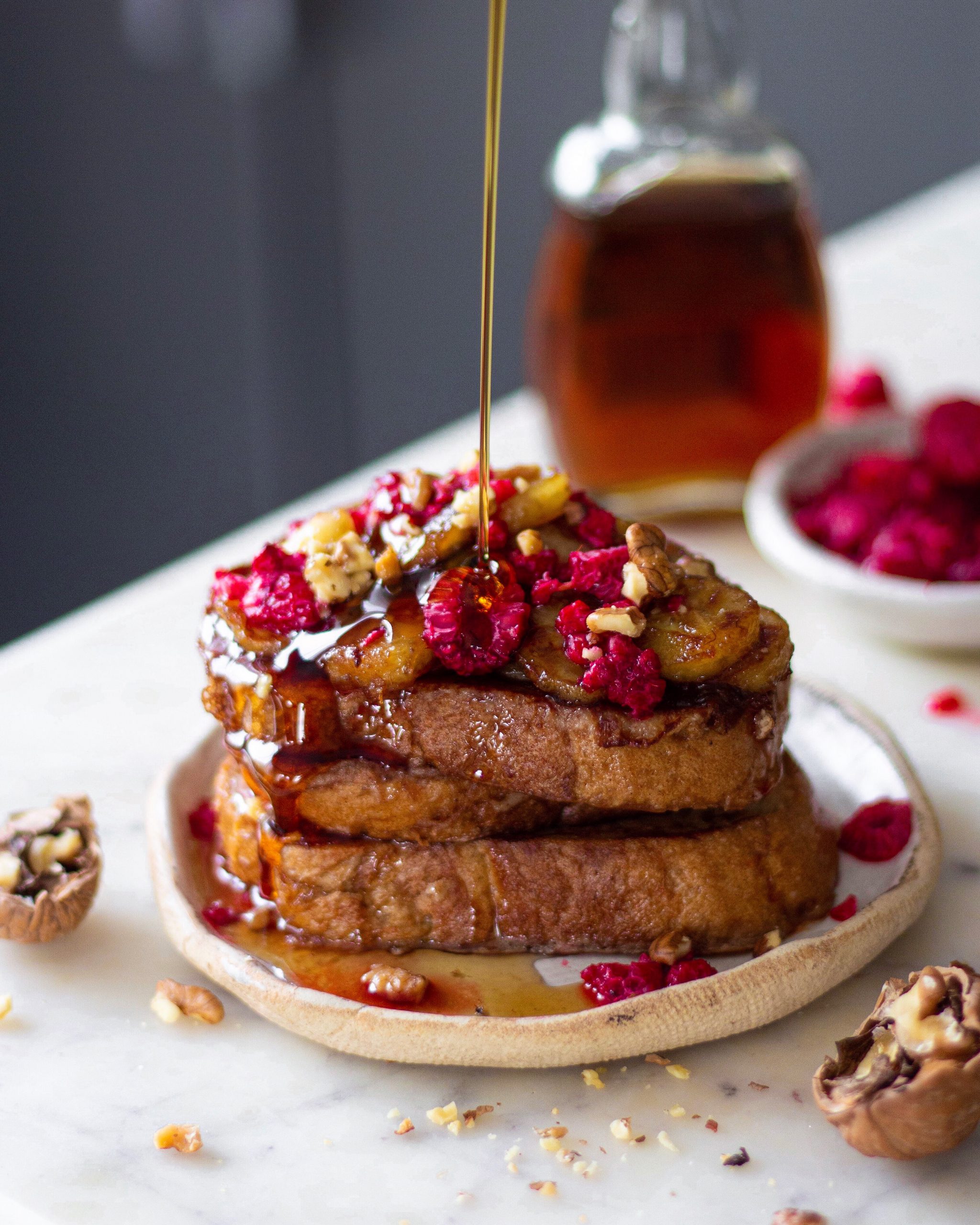 5. Eggless Madeleines
There are some simple and small things in life that bring you nothing but joy. These Eggless Madeleines are one such thing. They make use of the most basic ingredients and come together so easily. That being said, madeleines do require your attention and precision if you want them to come out perfectly. They're the fluffiest cookies EVER and are definitely one of the most delicious. Your father will absolutely love these great little treats.
The process of making madeleines with or without egg is such that there are a multiple flavor possibilities that you can play with. This is just another reason to love madeleines! These eggless saffron-infused madeleines are the perfect example of the same. Such a subtle yet delicious flavor addition was made possible just by adding half a teaspoon of saffron into the warm honey and butter mixture. Another way to play around the flavors and make similar additions is by making these additions once madeleines are fully baked. This means you can dip them in dark, white, or milk chocolate. Add some crushed nuts on top, or toffee pieces, or whatever your heart desires!
Find the full recipe here.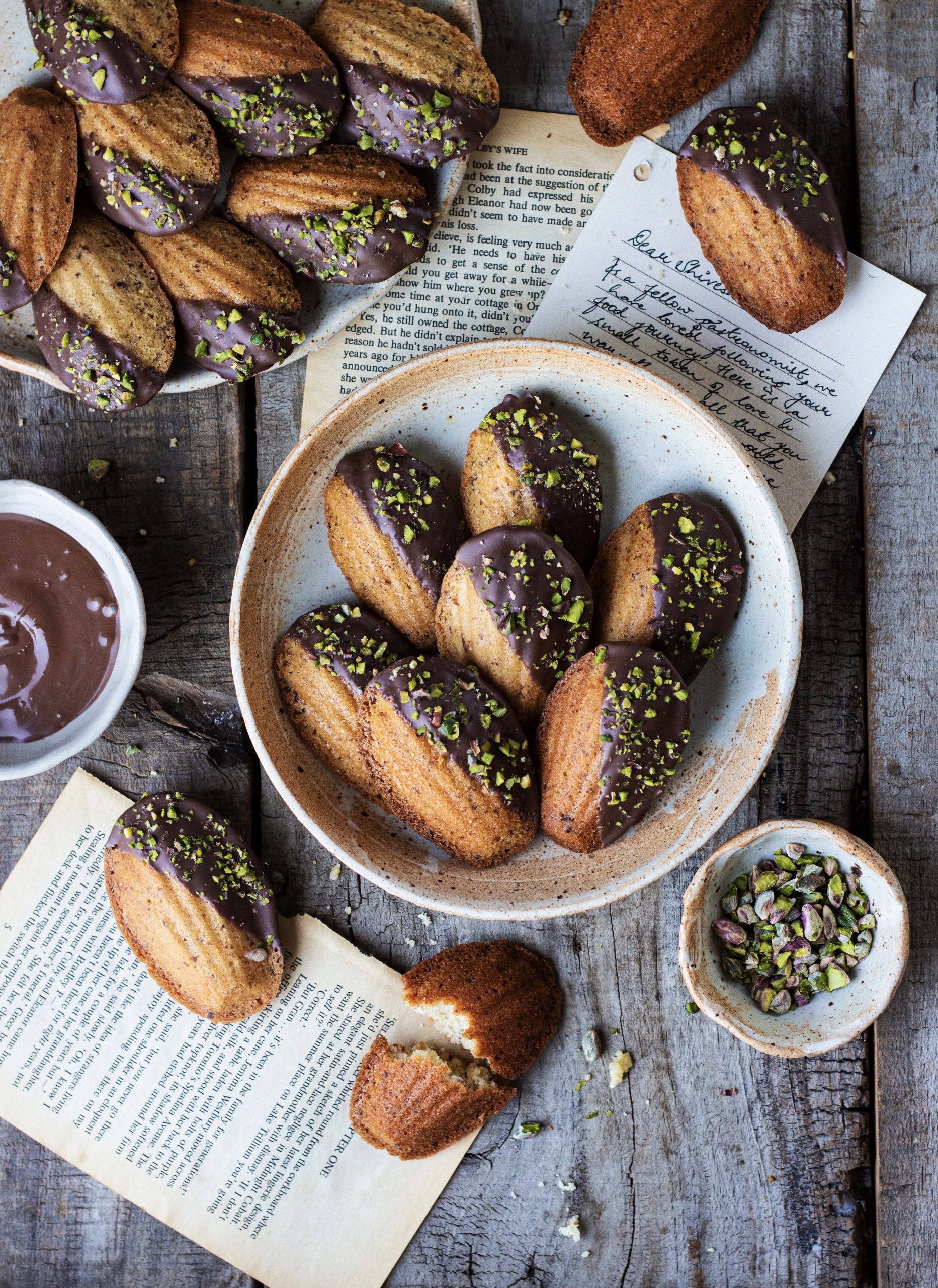 6. Pineapple Cake
I think this is one flavor that is liked by all fathers the same. A fresh, sweet, citrusy pineapple cake- perfect for a celebration!
This cake has layers of our sponge cake, whipped cream, and the gorgeous pineapple compote. On top of each cake layer I also brushed some pineapple syrup but you can brush it with some simple syrup instead.
This recipe makes a two layered 8inch cake. Pipe whipped cream just on the edges of the cake and fill the center with the compote, spreading it evenly in one thin layer. Then put some more whipped cream on top of the compote and cover the entire surface with it. Then put the second cake sponge on top and put some more whipped cream on top and garnish as you wish!
Find the full recipe here.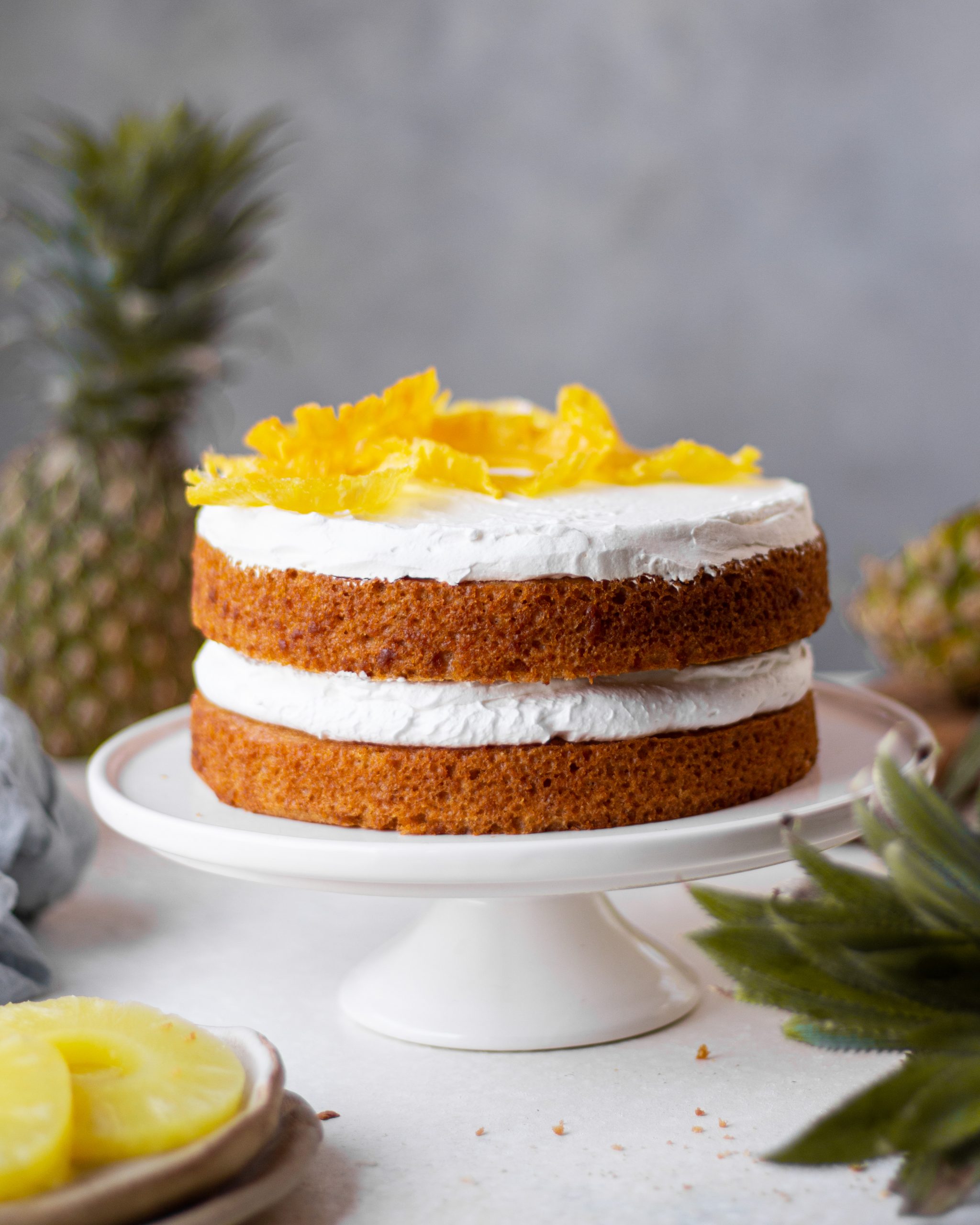 7. Mango Ice Cream Cake
Mangoes are in season and if you haven't made a mango dessert yet, I encourage you to make this mango ice cream cake for Father's Day! It's the marriage of two family favorites – ice cream and mangoes!
My favorite part of making this cake is where all that is left to do is decorate the cake, make it look pretty and then slice and eat! I used some beautiful fresh mangoes, strawberries, blueberries and passionfruit puree to garnish my cake and it ended up looking super cute! But you can use any garnish you wanna use- more than a recipe, this cake is all about innovating and experimenting what works best for you. So go crazy with flavors and looks!
It's so easy to make, no-bake and the best part about this recipe is that you can choose any flavor of ice cream you want and any biscuit / cake you like as the base. The sky is your limit when it comes to experimenting with this mango ice cream cake. You can ever garnish with anything you like, like I chose a good combination of colors and freshness by adding fruits.
Find the full recipe here.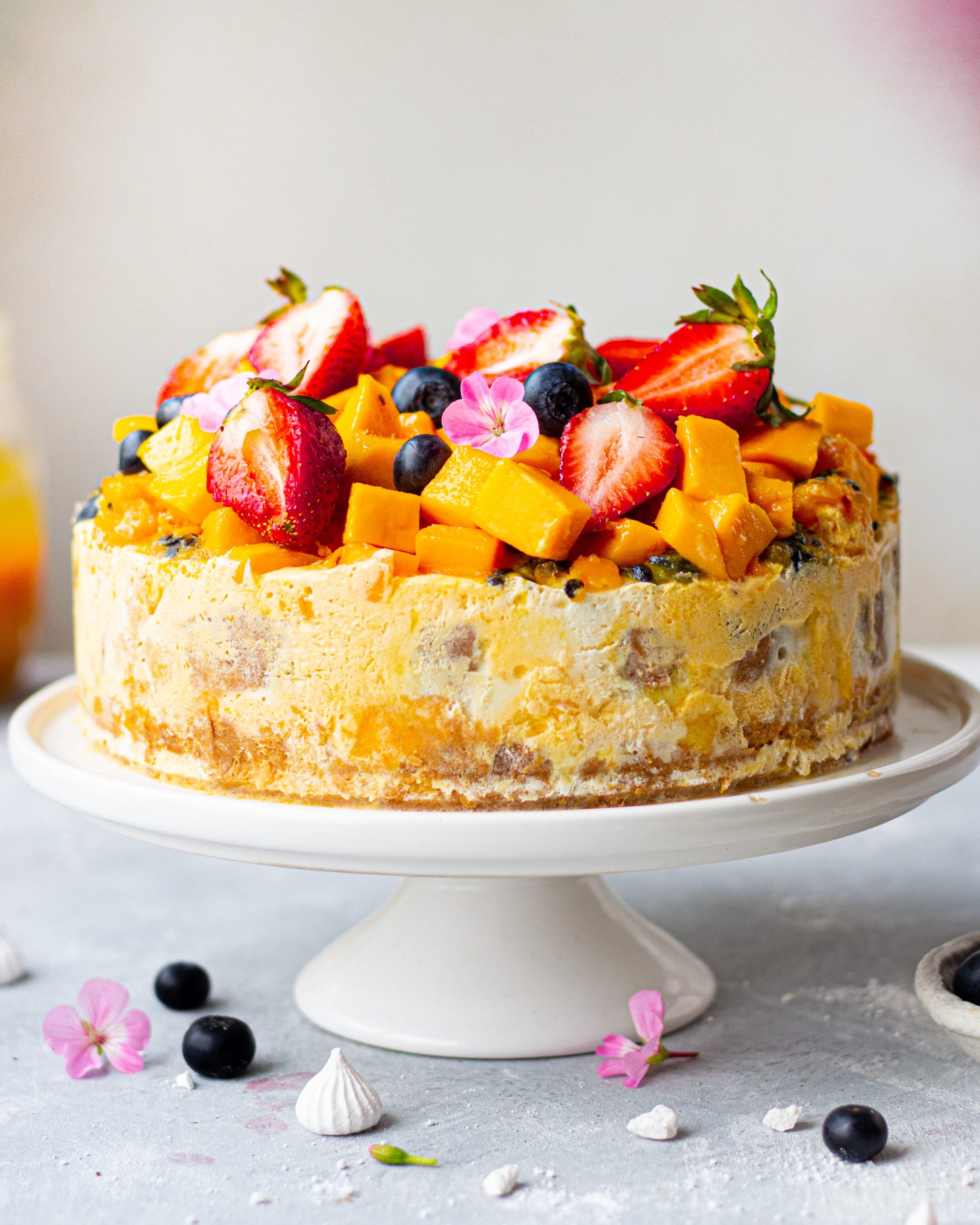 8. Chocolate Biscuit Pudding
Let's face it, nobody hates a pudding as long as it's delicious and easy to make. And this recipe is one of my favorites on the list because of how simple it actually is! You don't need to be a baker to make this Eggless Chocolate Banana Biscuit Pudding recipe because it is a super simple, no fuss dessert recipe that you should definitely make for your dad this Father's day!  I promise he will love it.
If you are just starting out with making desserts, this chocolate pudding recipe is perfect for your first experience! It has all the beauty that comes from chocolate, bananas, and some coffee dunked biscuits.
The thing to keep in mind is the pudding element for this dessert – pudding is supposed to be extremely smooth and creamy. This is why it becomes important for you to make sure there are no lumps in your mixture while you are cooking the pudding base.
Each bite into a pudding should give you a clean, silky, and smooth spoonful of deliciousness. Ready made pudding mixes are so common these days but I am telling you, making pudding from scratch is ten times better and involves almost the same effort.
Find the full recipe here.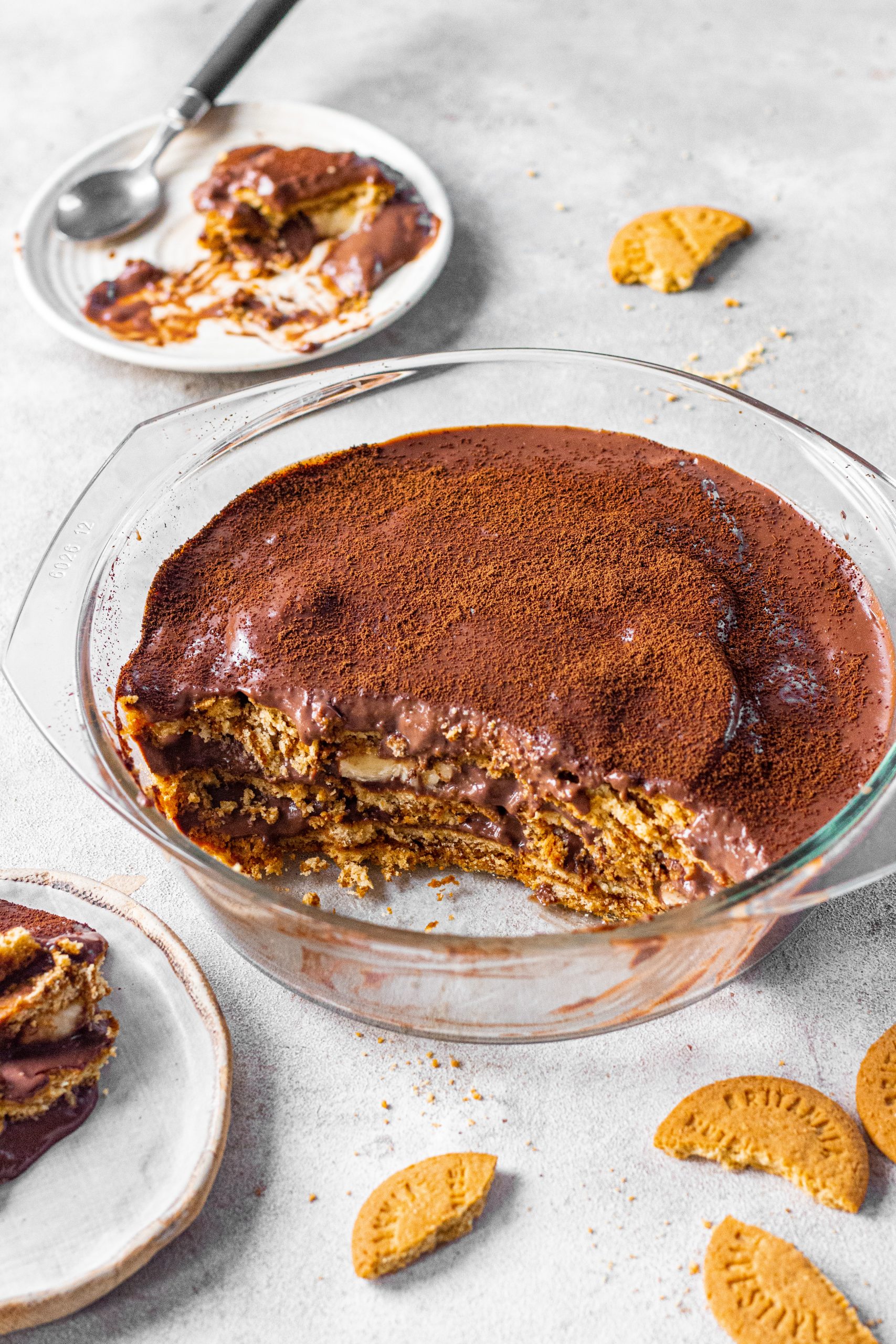 9. Fresh Fruit Cake
This recipe has me ecstatic every time I've made it. SO. BRILLIANT. It's a classic cake that has stood out since as long as I can remember, it's a cake I grew up eating. So obviously, there's so much nostalgia associated with this cake and I know you'll also feel it when you're preparing this cake for your father on Father's Day.
I made this cake as a two layered cake with the flavors of almond extract and fresh orange zest. This is a great alternative to your everyday vanilla sponge and this really helps take things to the next level. Almond extract can be found in your local grocery stores but if you do not have access to it, you can simply replace it with vanilla extract.
Find the full recipe here.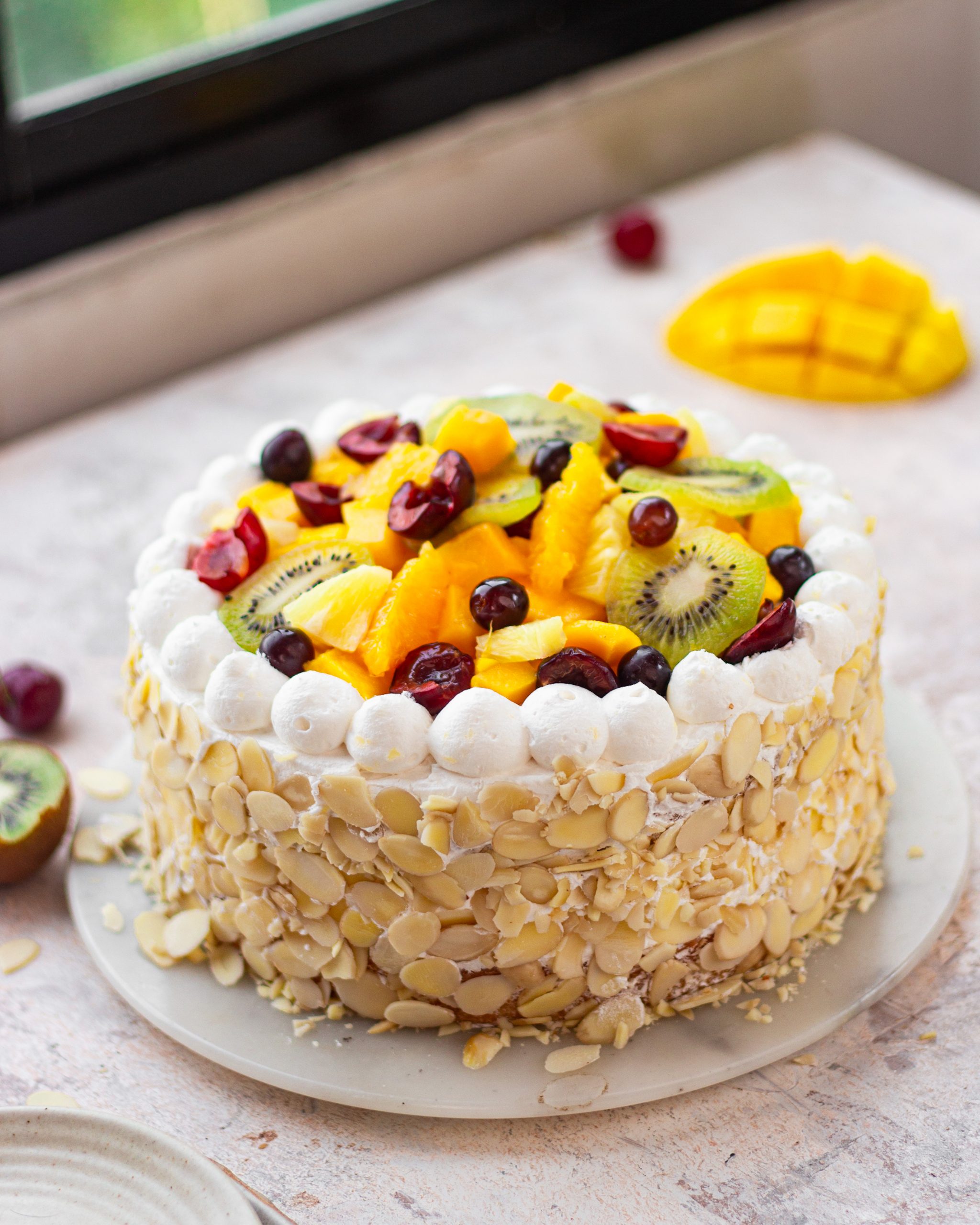 10. Mango Cheesecake
Nothing says celebration better than a rich, creamy cheesecake and this one is one of the best cheesecakes I've ever had (and made). The first layer of the mango cheesecake or the base layer is made with biscuits and butter. Using any kind of digestive, multigrain or hobnobs biscuits here would work amazingly well. I would suggest using biscuits like these itself, as their fibrous taste and texture combined with the creaminess of the cheesecake is just perfect! The second and the most important layer is the mango flavoured cream cheese. This layer we will be setting with gelatine. Now if you know me, you know my love for cream cheese and mangoes, I can seriously just eat this layer by itself. It is SO good! With our homemade cream cheese, we are going to add caster sugar, mango puree, heavy cream and gelatine.
Find the full recipe here.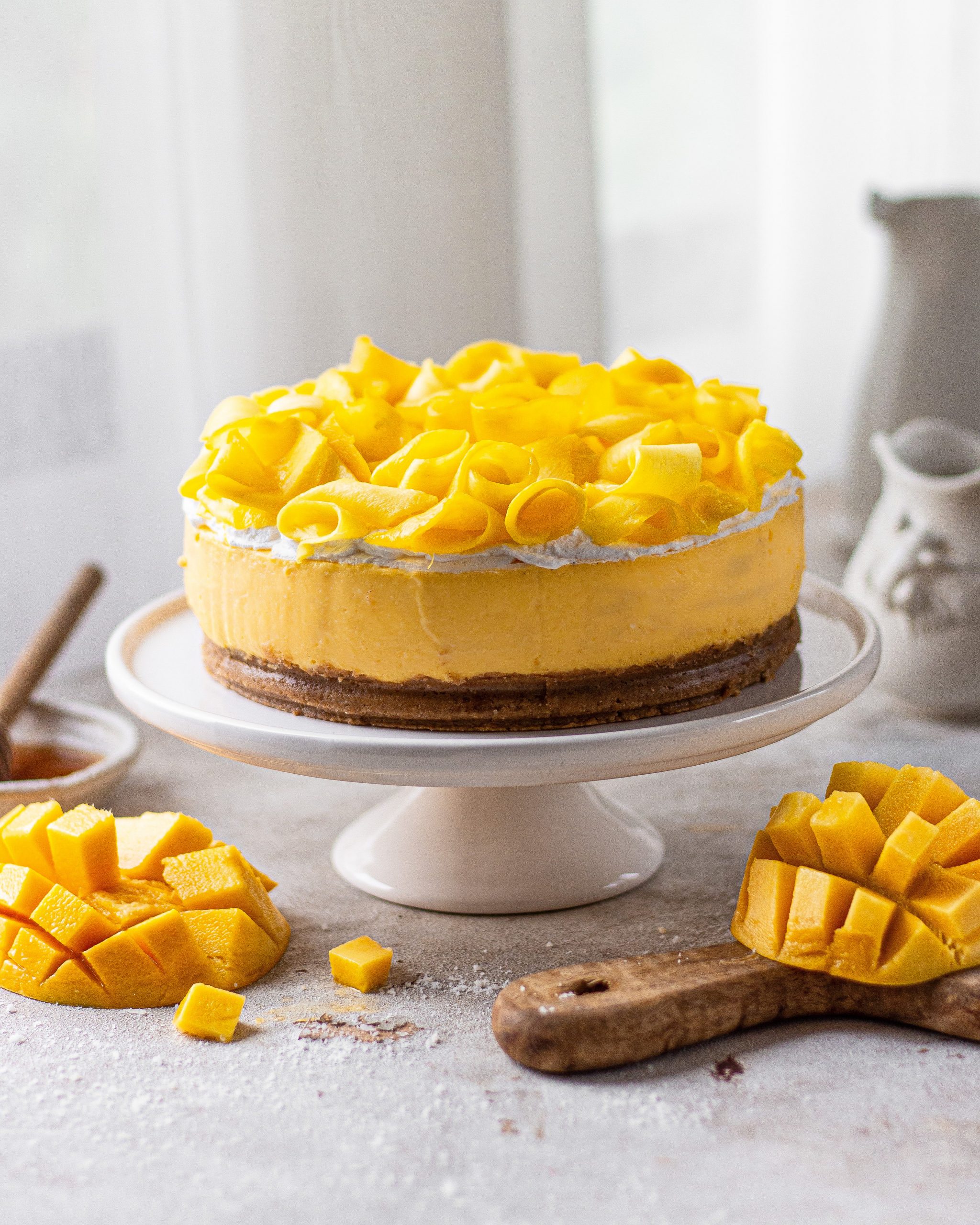 That's my ultimate baking list on what to bake for Father's Day! Make the most important man of your life feel special with a celebratory treat. I hope you have a great day and if you happen to bake any of these recipes, do share pictures by tagging me on Instagram / Facebook using #bakewithshivesh. Happy Baking!