I have been going through so many churros recipe on Tiktok and Instagram, it's crazy! What is crazier is that I made some in this quarantine with my family! That's right- I got together with my family and we certainly had endless amount of fun making these churros for you guys!
For those of you who actually do not know about churros, they are literally small bites of heaven. I really have a fascination for desserts that are cinnamon-sugar coated, like snickerdoodles and these yum churros too! Of course, any fried thing really appeal to me, but when it is a dessert, how do I resist? Haha.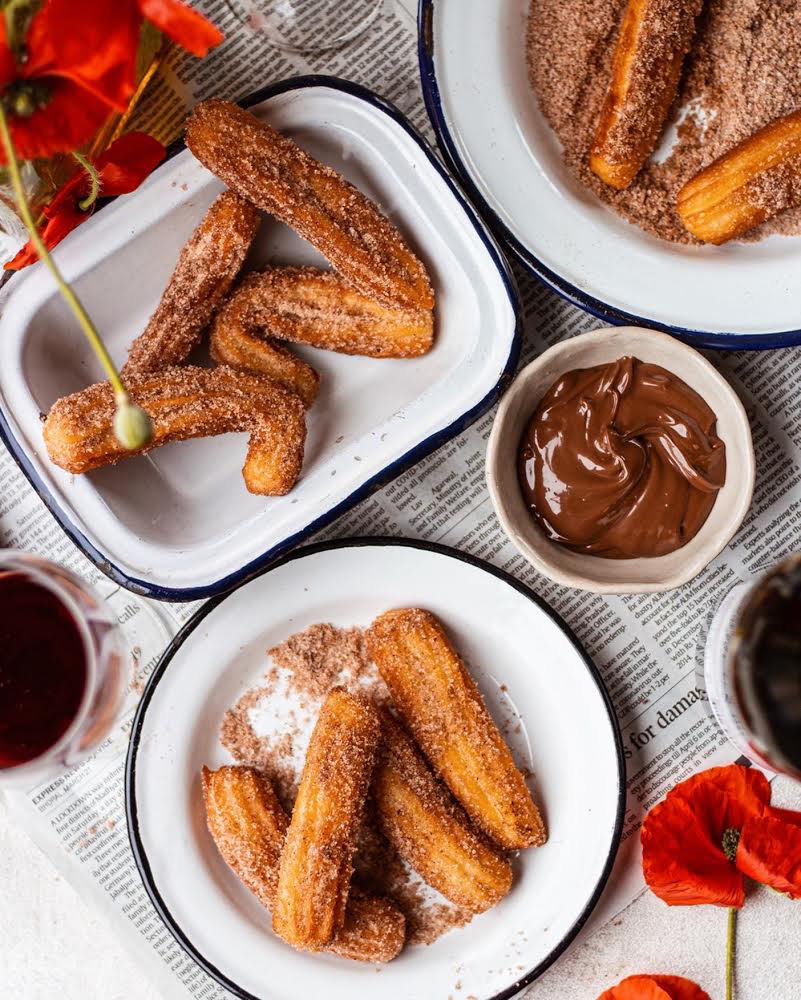 Churros are also known as Mexican fritters. They are thought of to be an easy recipe and it definitely is- once you get the hang of it. But, for some of you, mixing the flour into the warm mixture can be a little overwhelming. Please ensure that you are doing so with the utmost patience and love- the best ingredients for desserts. Basically, with all recipes, just give in all your heart and love. These are the desserts that taste the best!
There is also an eggless version of Churros on the blog. You can find it here. If you bake these, let me know on Instagram!
Tip for making these authentic mexican churros recipe
Measuring the ingredients
Measuring ingredients for this recipe of churros is essential. A tip off here or there will really make the consistency and texture of the churros go haywire.

When to add the flour
The water and butter mixture will come to a boil and that is when you take it off the heat. Post this, proceed to adding the flour and remember to add all in one go. If you don't add the flour altogether, the mixture will turn out to be rather lumpy. Though some lumps are okay, the mixture can not be entirely lumpy.
When to add the egg
If you add the egg to the hot dough, you will end up with a scrambled mess. Pun intended. For best results, allow the dough to cool down completely at room temperature. When it feels cooler, only then should you add the egg. As you do add the eggs, you see that the mixture refuses to completely accept the eggs. At this stage, just keep mixing and mixing. I proceeded to actually mixing with just my hands but most people end up using a blender.
The perfect shape of churros
Now, one thing that might really irritate you is the whole putting the mix into a piping bag and then frying it. But, here are some quick tips for you to get those churros right. Please use a sturdy bag but moreover, use a large tip. If you use a narrow tip, the dough will exert unnecessary pressure on the bag and it will tear. Just in case you don't have a tip or a bag, you can easily use a simple plastic bag (not a flimsy one). Make a small hole and get those churros out!
Frying these churros
Please avoid using any flavored oils for frying these. They will impart their own flavor which becomes undesirable in the end product. Warm some oil- about 1 to 1.5 cups- in a rather deep saucepan/kadhai. Don't throw in the dough in a haste. First, start with a small amount. As soon as it bubble and comes up, then proceed to add the churros to the oil.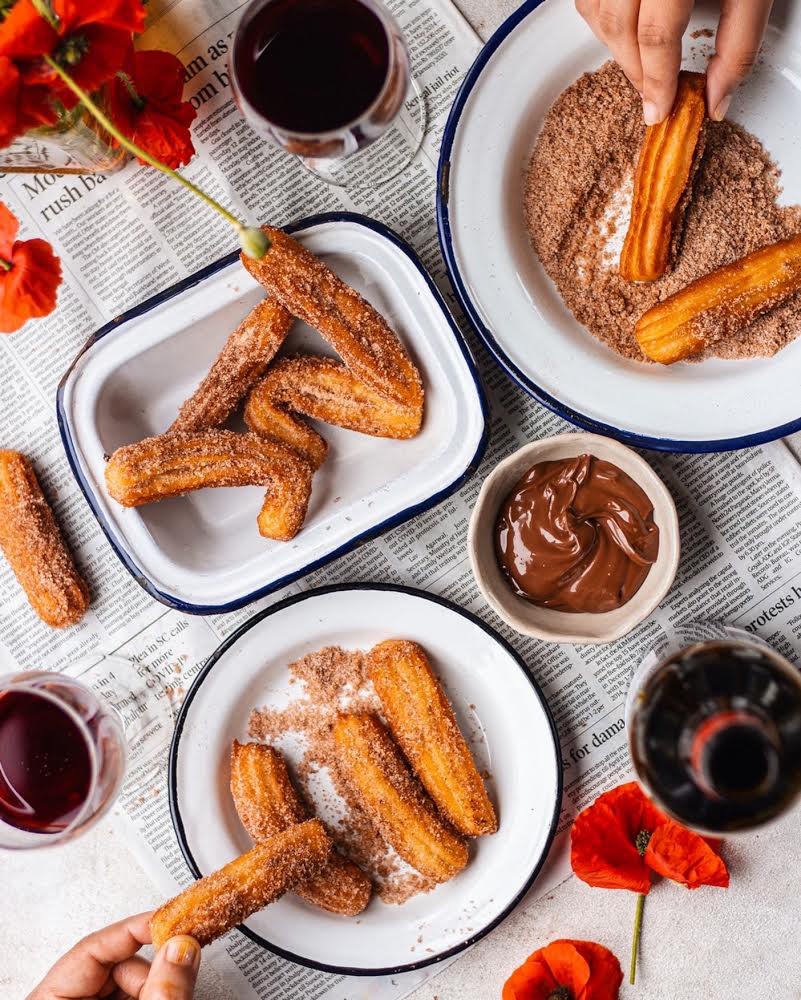 Churros recipe
Churros- quick, easy, and yum!
Ingredients
1 cup water
¼ cup butter
3 tbsp caster sugar
¾ cup flour
1 egg
1 tsp Vanilla (optional)
1-1.5 cups oil (for frying)
½ cup caster sugar (for coating)
2-3 tbsp cinnamon powder
Instructions
Pour the water into a saucepan and then add the butter.
Add the caster sugar to this mixture and bring to a boil. Mix in intervals to ensure that the sugar has dissolved.
When the mixture comes to a boil, take it off the heat and add all the flour at once.
Mix well until the mixture forms into a ball.
Allow the dough to cool at room temperature.
When the dough has sufficiently cooled down, add the egg and mix well until everything comes together.
Add the vanilla and give it one last mix.
Then, in a saucepan, add the oil and allow it to heat up. Meanwhile, transfer the churros dough into a piping bag with a large tip.
When the oil has sufficiently warmed up, carefully pipe equal lines of churros directly into the saucepan. You can use scissors for uniform sizes.
Allow the churros to gain a golden-brown color and then take them out of the oil.
Dab with a tissue to take excess oil out and then directly put it into the combined mixture of caster sugar and cinnamon.
Serve with Nutella, Whipped Cream, or Chocolate sauce.