Ever since the 21 day lockdown has been announced, I can see a lot of us getting anxious and worried about the situation that we are in. It's scary to see the world pause like this but I think we all can make the most of this time if we just try to focus on the things we love and the people we adore. If you have the comfort of being at home and with your family, then use this phase to get back to all the things you had to leave because of the busy lifestyle that we all lead these days. Finally do the things you've been saying you will since a long time now. So many of my friends are getting back to baking, and thus I am doing a new recipe almost every day. These overnight oats are one of the yummiest and the simplest desserts out there!
Sharing a new recipe everyday on my Youtube channel is my way of making the most of social distancing! It makes me really happy to see all of you recreate the recipes that I'm sharing. It just shows how good food is an ultimate comforter like these overnight oats. It brings people together and makes everyone's mood better. To keep the good food and the good mood going, I'm sharing yet another recipe with all you. It is healthy, it's tasty and it's super easy to make! It's overnight oats and it's 3 ways!
These oats are one of the easiest things I have ever made! I love this recipe so much because it requires basic ingredients. So, I know a lot of you will be making it at home! Plus, it is so easy to make it according to your flavor preferences and there is something for everyone!
The three flavors that I'll be sharing with all of you today include : 1. Apple Pie 2. Banana & Chocolate and 3. Peanut Butter and Jelly Overnight Oats.

What are overnight oats?
There are two basic ways of preparing oats. One way involves cooking them with milk on the stovetop right before you want to eat them. Another way of preparing oats is a no cooking method where you soak oats in milk and let the oats absorb the milk. This gives a porridge-like consistency and there is no need to cook oats made in such a way.
Usually, it only takes about 2 hours of time for the oats to absorb the milk. However, for the best flavor and texture, it is advised to leave your oats soaked in milk overnight.
Ingredients for these recipes
As I've mentioned above, the recipe for these overnight oats is very easy and requires the most commonly available ingredients. You will first need to make the basic recipe to which we will add the toppings of different flavors later.
For the basic recipe, all you need is milk, oats, and honey. The milk and oats ratio that I use is 2:1 i.e., two parts milk and one part oats. The 2:1 ratio gives me the perfect consistency of oats the next day. I add a little bit of honey for some sweetness but if you're someone who is not a big fan of sweet oats, then you can leave out the honey.
For this recipe, I used rolled oats and not steel cut or instant oats. The main difference between rolled oats and steel cut oats is with regard to the way they absorb liquid. Rolled oats absorb liquid faster than steel cut oats and eventually get soft and slightly mushy. Steel cut oats on the other hand, absorb lesser liquid. This enables the steel cut oats to maintain their shape. Less absorption of liquid also leads to more of a nutty flavor in steel cut oats.
A lot of recipes for overnight oats also have greek yogurt in their basic recipe. But according to me, milk, honey, and oats are all you need for the basic recipe.
How to make Vegan Overnight Oats
If you want to make vegan oats, then here is what you'll need:
●
I used rolled oats for my recipe. Rolled oats are vegan itself so you can definitely use these.
●
I used cow's milk for my recipe. But using almond milk or soy milk is a good substitute for cow milk.
●
For sweetness I added honey but you can add maple syrup. Honey is taken from honey bees so it's not considered a vegan product.
● Y
ou can add any fruits you like, any seeds you prefer and you can also add some vegan yogurt if you want!
Oats as a healthy meal
Oats make for a perfect breakfast because they have a lot of health benefits. Plus, things like oatmeal definitely fill you up. Thus, there's less scope of munching on snacks and junk! Health benefits of overnight oats include:
Oats are a great source of nutrients. They have fiber, protein, magnesium, potassium, and omega 3 fatty acids.

They 

do not have any pre-added sugar. Some instant flavor varieties might have some sugar, but simple plain oats have zero added sugar.

They

are also high in antioxidants which help lower blood pressure levels.
Oats contains good amounts of healthy carbohydrates.
The vitamins in overnight oats can also help boost brain function.
There are so so many health benefits of these oats and they are so easy to make and I think we all need to make them more often.
Here's my version of overnight oats – 3 ways, to help you get started!

Overnight oats- 3 way!
Ingredients
For basic overnight oats:
1 cup  milk
½ cup rolled oats
2 Tbsp honey
For Apple Pie Oats
½ cup overnight oats
¼ cup chopped apples
2 Tbsp dried cranberries
1 tsp light brown sugar
¼ tsp cinnamon
2 Tbsp water
¼ cup chopped pecans (optional)
For Banana and Chocolate
½ cup overnight oats
1 Tbsp cocoa powder
¼ cup crushed walnuts
1 banana (sliced)
2 tsp chia seeds (to top)
For Peanut Butter and Jelly Overnight Oats
½ cup overnight oats
1 cup diced strawberries
2 Tbsp strawberry chia jam
2 Tbsp peanut butter
Strawberries and pumpkins seeds (to top)
Instructions
To make the basic overnight oats, in a bowl, put rolled oats, milk, and honey. Mix this well and refrigerate it overnight or a minimum of 2 hours.
Once refrigerated, transfer the basic overnight oats into your serving dish and assemble your overnight oats according to your flavor preference.
For Apple Pie overnight oats
In a saucepan add chopped apples, dried cranberries, cinnamon, light brown sugar and water. Cook this apple pie folling on low heat till all the sugar dissolves. Set aside
Take your serving bowl/ glass and add half of the basic overnight oats. Fold in chopped pecans. This is optional. Add the rest of your basic overnight oats and top it with the apple pie filling and some chopped nuts. Serve immediately.
Banana and Chocolate Overnight Oats
In your serving bowl/glass, put the basic overnight oats. Now add cocoa powder to this and mix it well.
Top it with sliced bananas and chia seeds. Serve immediately
Peanut Butter and Jelly Overnight Oats
In your serving bowl/glass, put the basic overnight oats. Fold in chopped strawberries to this.
Add a layer of strawberry chia jam.
Then add a layer of peanut butter.
Top this with fresh strawberries and pumpkin seeds. Serve immediately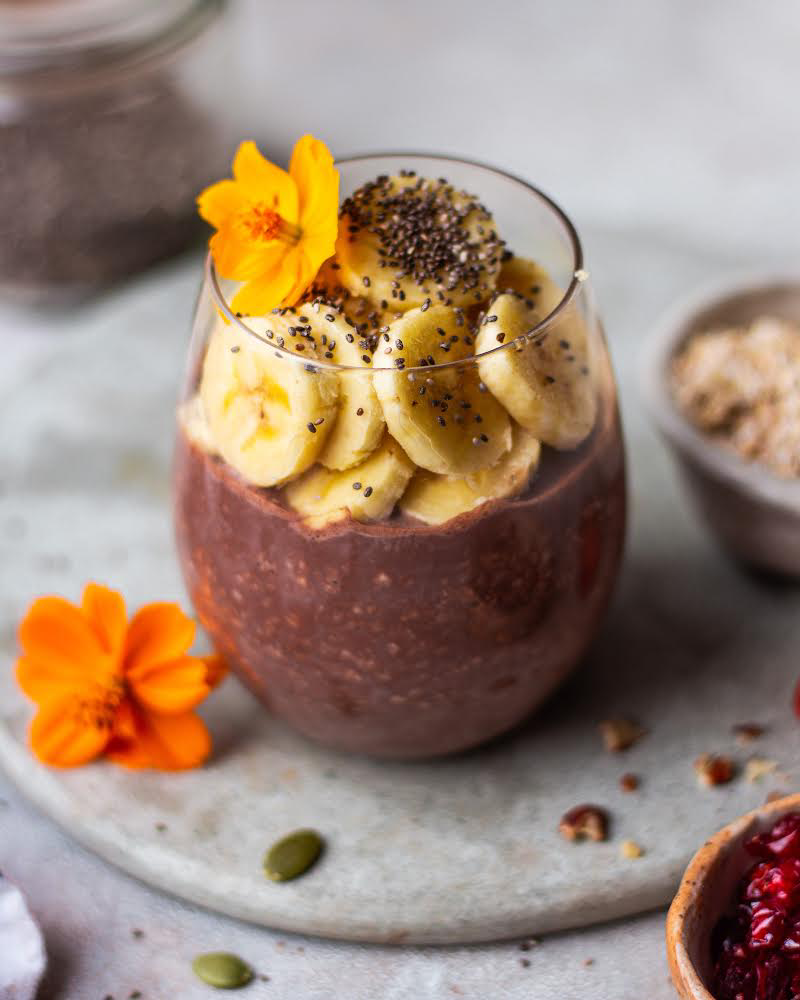 There you have it! My take on making oats the most delicious breakfast option and also one of the most healthy. If you make this recipe, don;t forget to share a picture with me on my Instagram. You can find more oat recipes on the blog here.