Overnight oats- 3 way!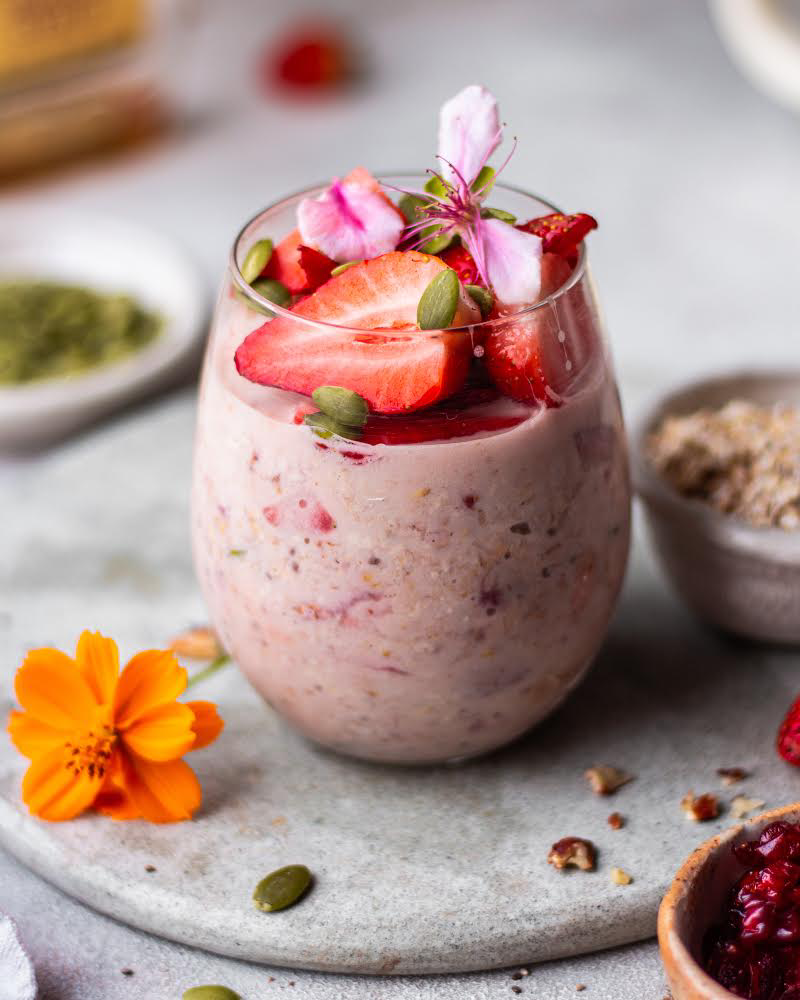 1 cup  milk
½ cup rolled oats
2 Tbsp honey
½ cup overnight oats
¼ cup chopped apples
2 Tbsp dried cranberries
1 tsp light brown sugar
¼ tsp cinnamon
2 Tbsp water
¼ cup chopped pecans (optional)
½ cup overnight oats
1 Tbsp cocoa powder
¼ cup crushed walnuts
1 banana (sliced)
2 tsp chia seeds (to top)
½ cup overnight oats
1 cup diced strawberries
2 Tbsp strawberry chia jam
2 Tbsp peanut butter
Strawberries and pumpkins seeds (to top)
To make the basic overnight oats, in a bowl, put rolled oats, milk, and honey. Mix this well and refrigerate it overnight or a minimum of 2 hours.
Once refrigerated, transfer the basic overnight oats into your serving dish and assemble your overnight oats according to your flavor preference.
In a saucepan add chopped apples, dried cranberries, cinnamon, light brown sugar and water. Cook this apple pie folling on low heat till all the sugar dissolves. Set aside
Take your serving bowl/ glass and add half of the basic overnight oats. Fold in chopped pecans. This is optional. Add the rest of your basic overnight oats and top it with the apple pie filling and some chopped nuts. Serve immediately.
In your serving bowl/glass, put the basic overnight oats. Now add cocoa powder to this and mix it well.
Top it with sliced bananas and chia seeds. Serve immediately
In your serving bowl/glass, put the basic overnight oats. Fold in chopped strawberries to this.
Add a layer of strawberry chia jam.
Then add a layer of peanut butter.
Top this with fresh strawberries and pumpkin seeds. Serve immediately