A cake that is soft, light, moist, creamy, and filled with seasonal fruits sounds like a summer dream cake. Add some almond flavors and whipped cream and you've got a show stopper in your hands! For all dads who are not that big on chocolate, this eggless fresh fruit cake is definitely going to be a treat for them!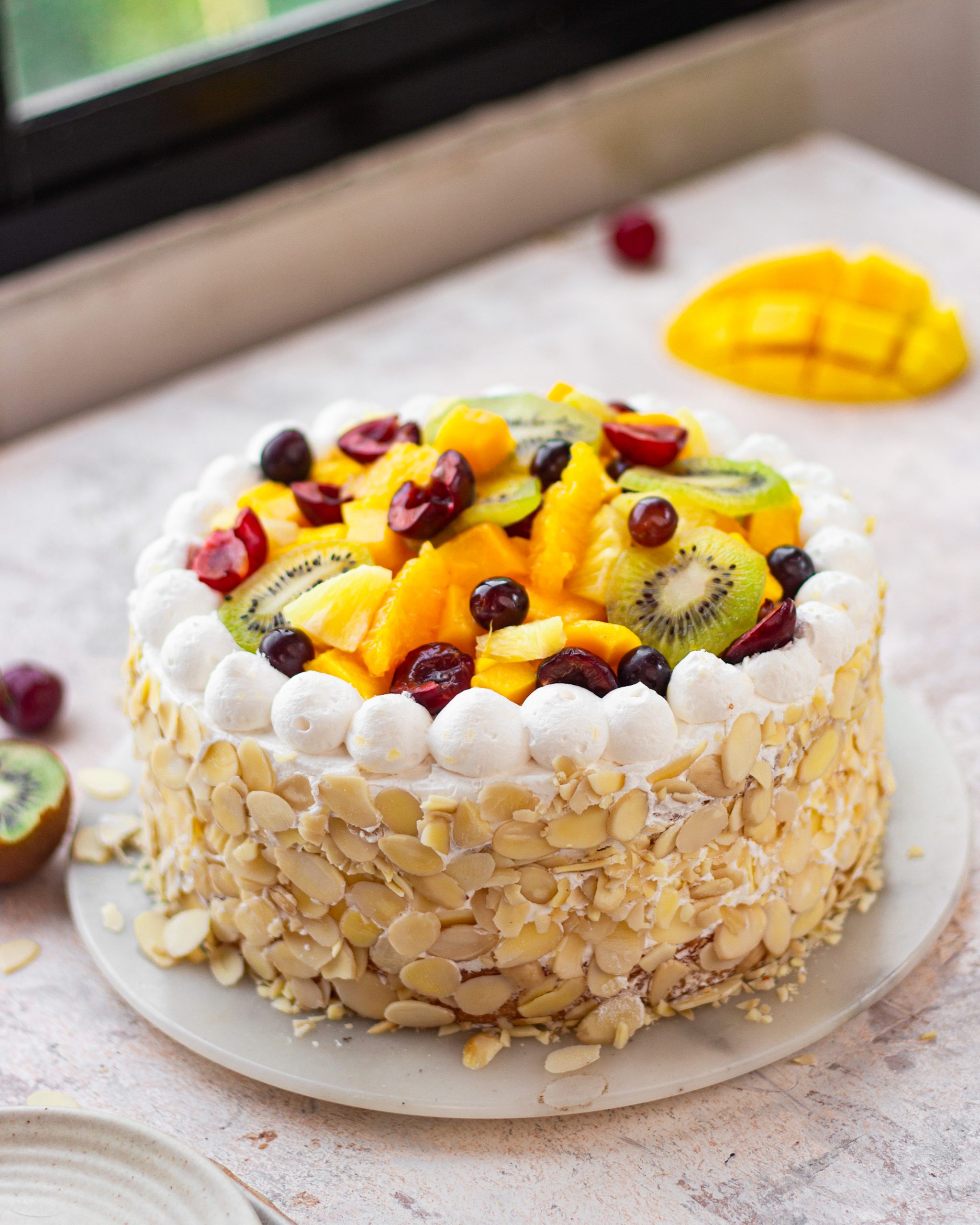 This eggless fresh fruit cake might just be one of the best cakes I have made this season. It has a few different elements going into it and I just love each of them. Let me take you through all of them one by one so that you can make a gorgeous cake this father's day. 
The eggless cake sponge (can also be made with egg)
I made this cake as a two layered cake with the flavors of almond extract and fresh orange zest. This is a great alternative to your everyday vanilla sponge and this really helps take things to the next level. Almond extract can be found in your local grocery stores but if you do not have access to it, you can simply replace it with vanilla extract. 
Since this is an eggless version, I started the cake batter by combining baking soda and yogurt. The acidity in yogurt reacts with baking soda and creates a light and airy mixture. This mixture can take upto 5 minutes to get foamy.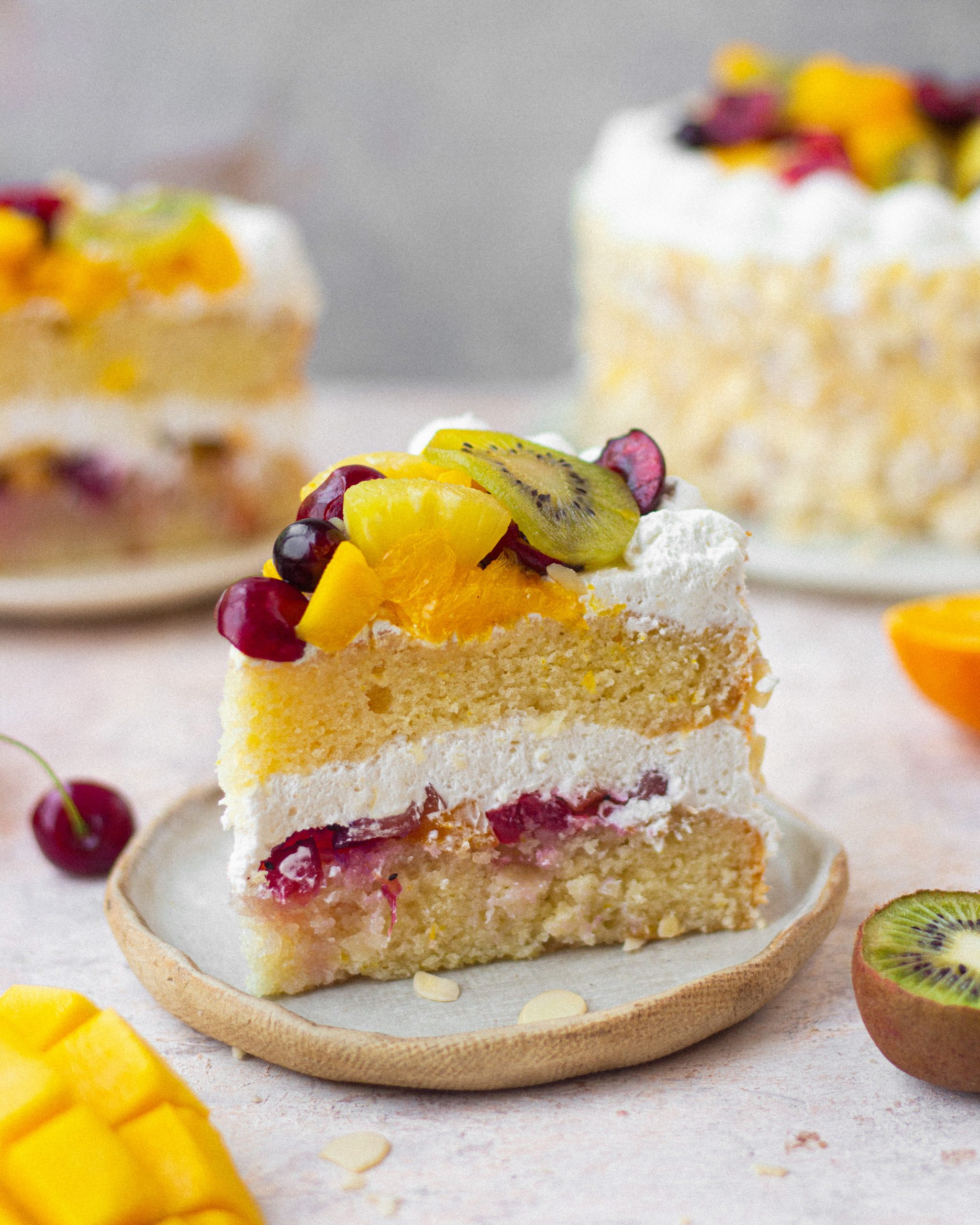 If you want to make this cake with eggs, you can definitely do that too. You will be needing 4 eggs instead of yogurt and baking soda. Start the batter by whisking oil and sugar then adding in eggs and almond extract, and orange zest. For your dry ingredients, whisk all of them together in a separate bowl first and then mix them in with the wet ingredients. 
The fresh fruit filling
This is definitely my favorite part about the whole cake. Making the fresh fruit filling is actually very easy to do. The ingredients you need include granulated sugar, water, and your favorite fruits, chopped in medium sized chunks. If you are making a fruit cake, you want to make sure you are adding fruit that you love. I went ahead and added a bunch of different fruits- 7 to be exact. There was kiwi, pineapple, apple, cherries, mango, grapes, and oranges. You can add as many kinds or as few kinds of fruit as you want.  Just make sure to thoroughly peel the fruits that need to be peeled like mango, orange, and pineapple. And if you are using other stone fruits like peaches and litchi, you want to make sure to remove the seeds from them like I did for cherries.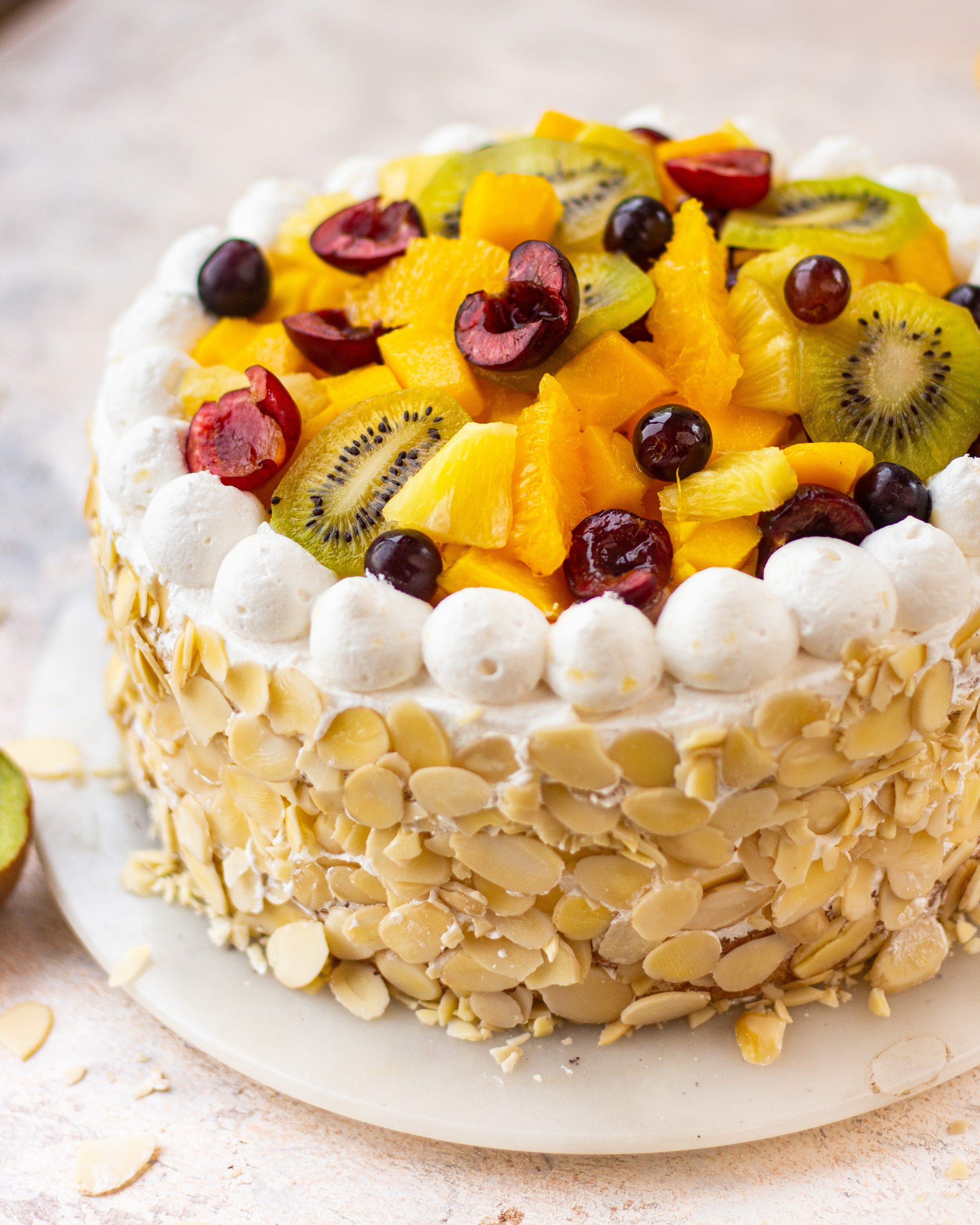 You can keep all your chopped fruit in a bowl together and set it aside. Meanwhile in a saucepan add in granulated sugar and water. Cook this mixture on low medium heat till all the sugar is dissolved. Add in the fruits and coat them in the sugar mixture. Cook this till the fruits become soft and the sugar syrup becomes slightly more thick. Once that is done, immediately strain out the fruits. Remember to save the sugar for later to soak the cakes during assembly. 
Frosting for the eggless fresh fruit cake
No fruit cake is complete without a little bit of whipped cream frosting. Since we are making a layered cake, we want the frosting to be stable so that it can hold the cake sponges and the fruit filling in place. 
To make stabilized whipped cream, you only need two additional ingredients- cream cheese and vanilla essence. Whip your cream to very soft peaks, then add in cream cheese and vanilla and whip again till it reaches stiff peaks. You want to make sure you do not over whip your stabilized whipped cream. Cream cheese might split and the whipped cream coating of the cake will not look so smooth. 
Flaked almond coating for the eggless fresh fruit cake
Flaked almonds are a great element to your desserts to make them look fuller, more chic, and a great way to add a little bit of crunch. I stuck flaked almonds all over the outer covering of my cake. The whipped cream frosting helped stick the flaked almonds on the cake. If you want, you can also light toast the flaked almonds before you add them to your cake. You can get your hands on good quality almond flakes here.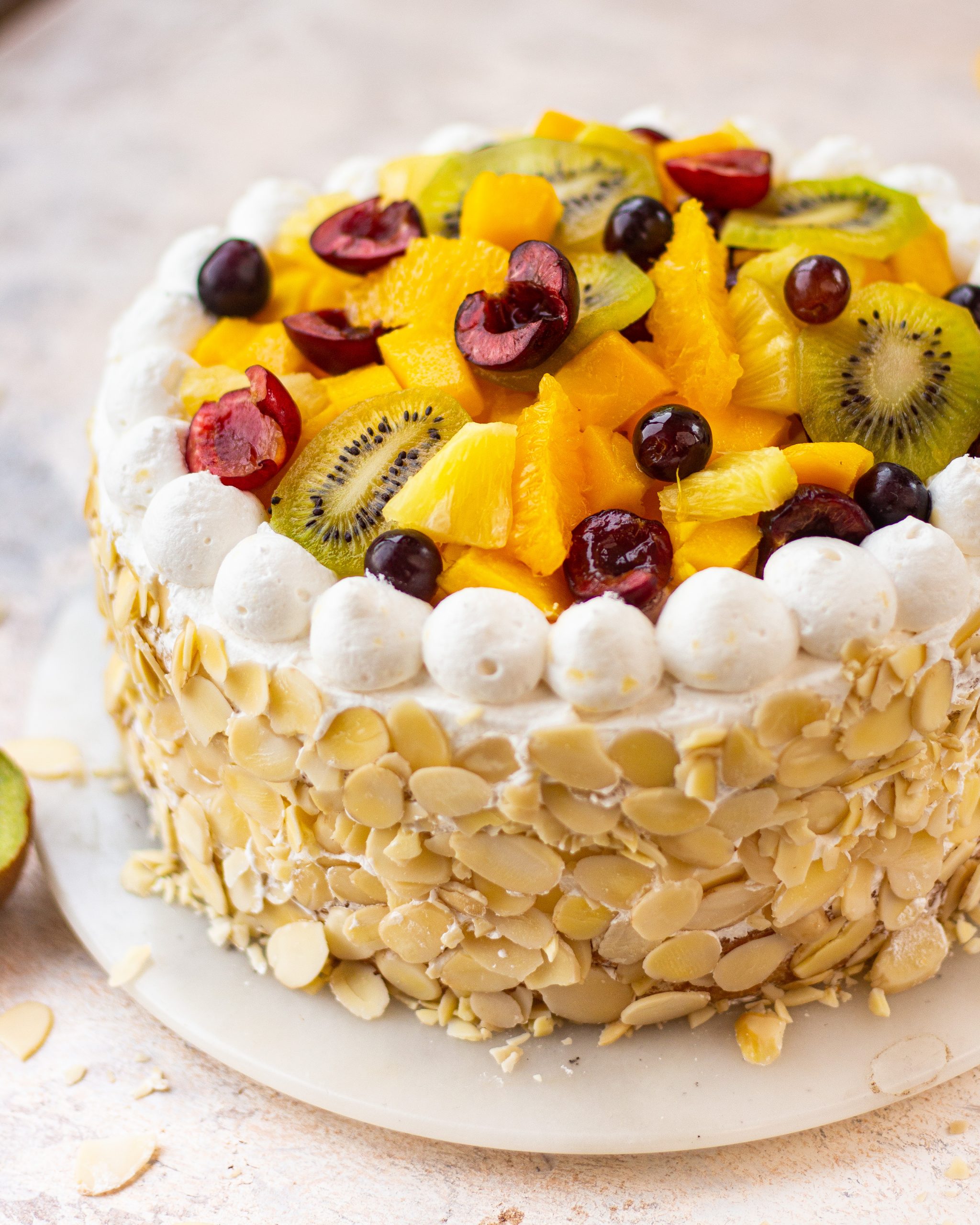 More fresh fruit and sugar glaze for the final touch
To give your cake the beautiful fresh fruit cake look, you want to top it off with more fresh fruit chunks. You can use whatever you have or whatever you like. And for the final touch and a glossy fish, make a sugar glaze simply by combining one tablespoon of corn syrup with one tablespoon of hot water. Use a pastry brush to gently brush all the fruits after you have placed them on top of your cake. I use an induction stovetop for making all my syrups and fillings, you can get it here.
Assembling the eggless fresh fruit cake
When all the hard work has been done, it is time to have some fun with the cake and start assembling it! Before you start assembling, these are the things that should be ready to use: 
Your cakes should have cooled down completely and de moulded from the cake pans. 

The fruit sugar syrup should also be completely cool and you should either have a pastry brush or a spoon to soak the syrup in the cake. 

The cooked fruit filling should also be completely cooled and soft. 

The stabilized whipped cream should be whipped and ready to spread on the cake 

You should also have some more fresh fruit chopped and ready to use to add on top of the cake.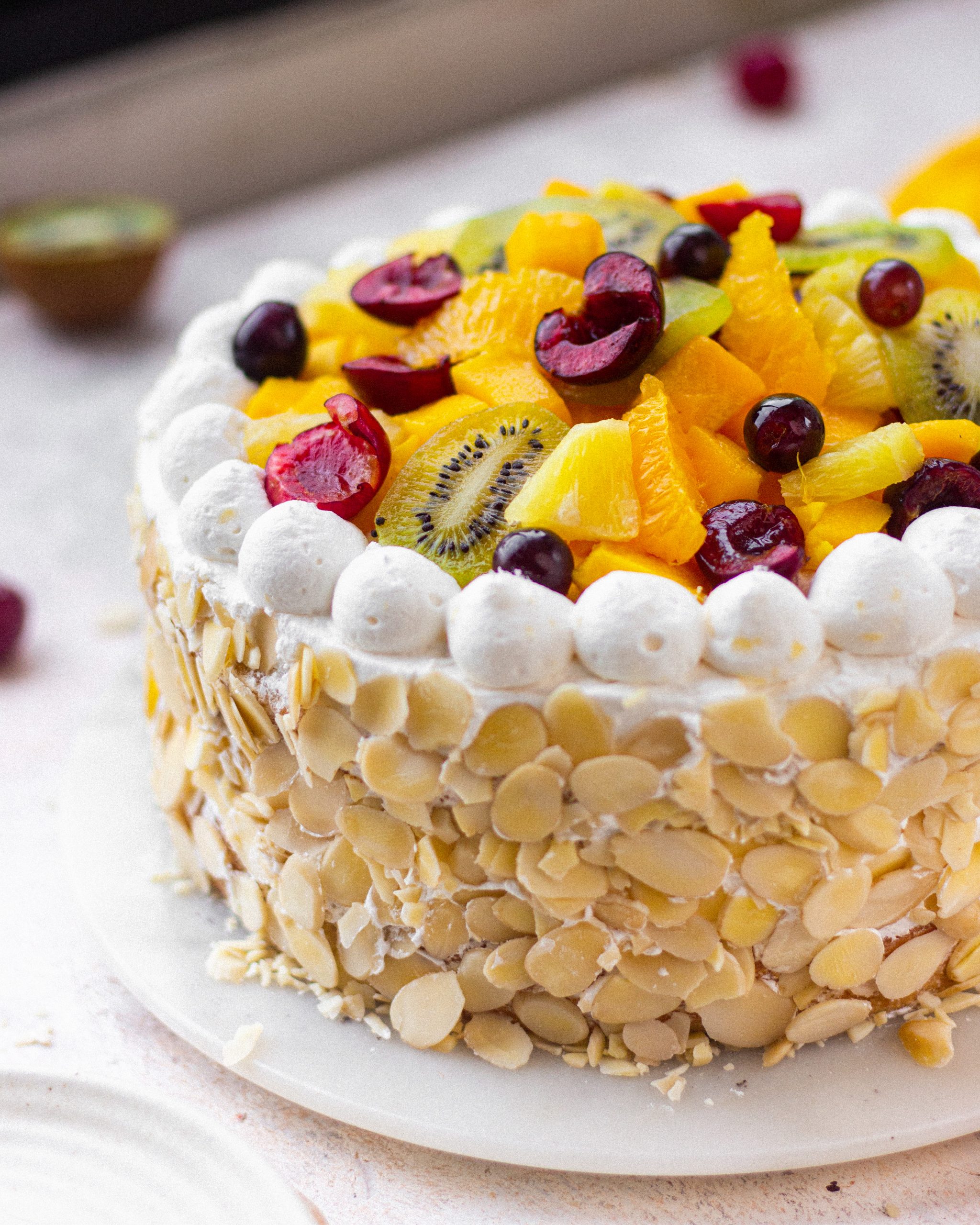 Once all your elements are ready, assembling the cake should not take too much time. 
Start by placing one cake sponge on your cake base. If your cake sponge does not have a smooth even top, use a serrated knife to remove the excess from the top and make a flat surface. 

Then soak the cake in with the fruit syrup. Be careful not to add too much syrup or else the cake will become extremely soft and might crumble once you cut it. 

Next add a generous layer of the fruit filling. Leave just a little space on the edge of the cake so that the filling does not fall off. Use a spoon to flatten them out a little so that our next layer has a smooth base too. 

On the second cake sponge, first spread a layer of whipped cream. Using a turntable will definite help you a lot in the frosting process. Then carefully pick up the sponge, turn it upside down, and place it on top of the first cake sponge. Push it down a little so that all of the whipped cream is in contact with the fruit filling. 

Add some more whipped cream on the top layer and spread it around. I wanted to give the cake a semi naked look so I did not cover the cake fully in whipped cream.

Once the cake is frosted, add flaked almonds all over the sides of the cake. You can use your hands to do this. Take a generous amount of flakes and slightly push them inwards so that they stick to the side. Again, you can add as little or as many flakes as you want. 

For the final touches, transfer some whipped cream into a piping bag with a round nozzle and pipe dollops around the edge of the top layer and finish the cake off by adding in lots of fresh fruit chunks in the empty space in the middle. 

For the professional touch, do not forget to brush the fresh fruits with the sugar glaze that was made by combining corn syrup and water.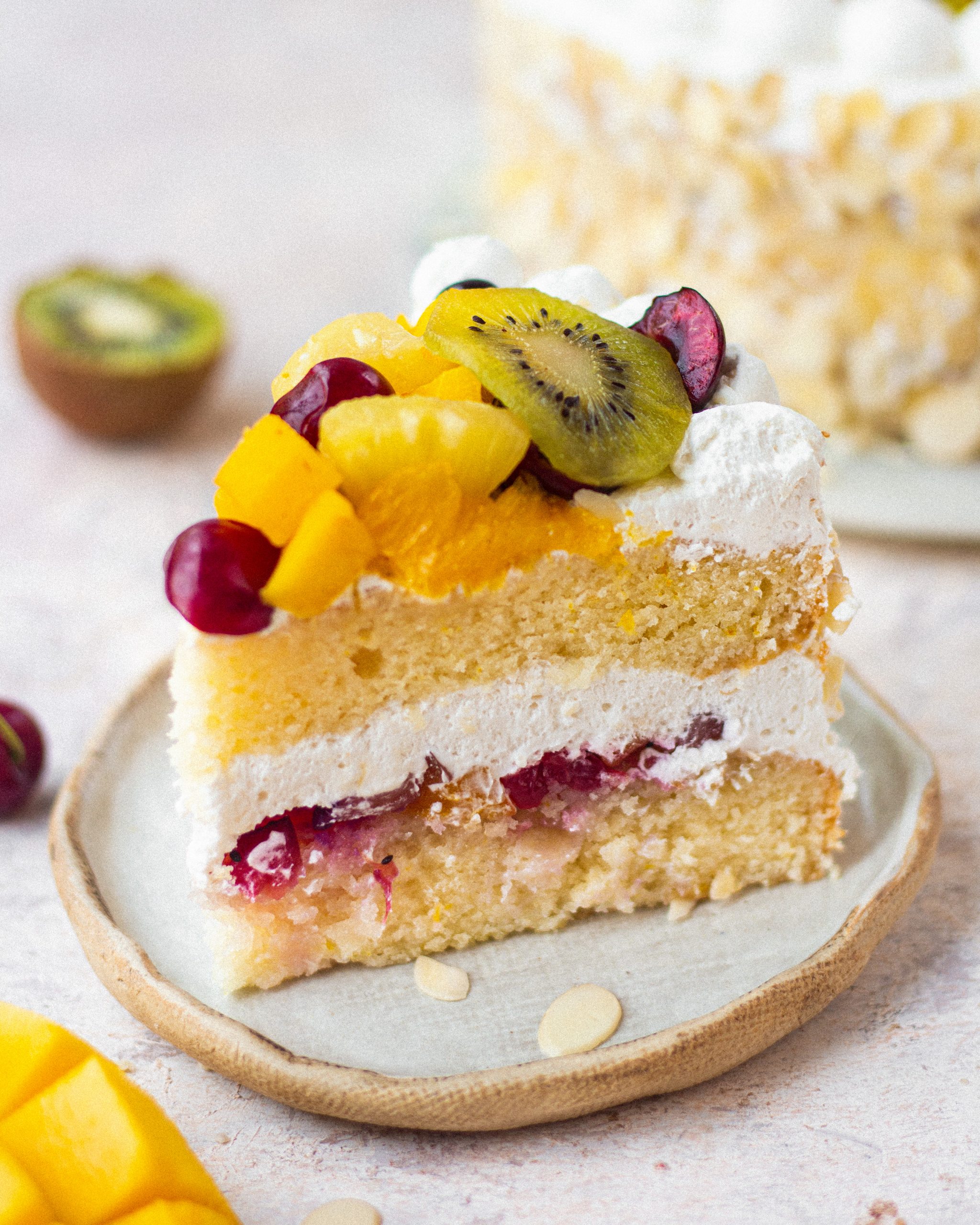 Disclaimer – this article contains affiliate links.
Other eggless cake recipes on the blog
Father's Day Eggless Fresh Fruit Cake
Ingredients
For cake
3 cups (360gms) all purpose flour
2 teaspoon (8gms) baking powder
2 cups (570gms) yogurt
1 teaspoon (6gms) baking soda
1 + ½ cup (300gms) castor sugar
1 cup (240ml) vegetable 0il
2 drops almond extract
Zest of 1 orange
Filling
½ cup (100gms) granulated sugar
¼ cup (60ml) water
1 + ½ cup fresh fruit
Frosting
2 cups (460ml) whipping cream
¼ cup (30gms) cream cheese
1 tsp (5ml) vanilla
To assemble
Fresh fruit
Flaked almonds
For glaze
1 tbsp (20ml) corn syrup
1 tbsp (15ml) water
Instructions
Preheat your oven at 180 degree Celsius and line two round baking pans with parchment paper.
To make the cake, in a small bowl add yogurt and baking soda. Give it a good mix and let it sit for 5 minutes till it gets foamy.
In a large bowl add oil and sugar and whisk till the mixture becomes pale.
Add in the foamy yogurt mixture in the same bowl, along with almond extract and some orange zest.
Put a sieve over the bowl and sift in all purpose flour and baking powder.
Use a spatula to combine the batter and pour in in your prepared baking pans.
Bake at 180 degree Celsius for 25-30 minutes.
While the cakes are baking, to make the fruit filling, add granulated sugar and water in a saucepan over low medium heat and let the sugar dissolve completely. Add in chopped fresh fruit and coat all of it in the sugar mixture and let it cook till the fruit becomes a little soft.
Strain the cooked fruit and reserve the leftover liquid. This liquid will be the fruit syrup that we will use to soak our cakes.
To make stabilized whipped cream, add whipping c ream in a bowl and whisk on high speed till it reaches soft peaks. Add in cream cheese and vanilla and whip again till it reaches stiff peaks. Refrigerate till it is needed.
Once the cakes have baled and cooled completely, de mould the sponges and place one on the base of your cake base. Soak the sponge with some fruit syrup and add 3 spoonfulls of the cooked fruit filling.
Take the second cake layer and spread whipped cream on top of it. Carefully pick it up, flip it over and place it on top of the fruit filling layer. Use your hands to push the layer down a little so that all of the whipped cream is in contact with the filling.
Spread some more whipped cream on the top and the edges of the cake, giving it a semi naked look.
Add flaked almonds all over the edge of the cake, covering all sides. For final touches, pipe some whipped cream dollops on the top and add fresh fruit chunks. Brush the fresh fruit chunks with the glaze that you can make just by mixing corn syrup and hot water.
Refrigerate the cake till you need to cut it.
Enjoy!
That's my take on a fresh fruit cake! If you like the recipe and make it, don't forget to tag me on
Instagram
/
Facebook
using #bakewithshivesh. Happy baking!