Father's Day Eggless Fresh Fruit Cake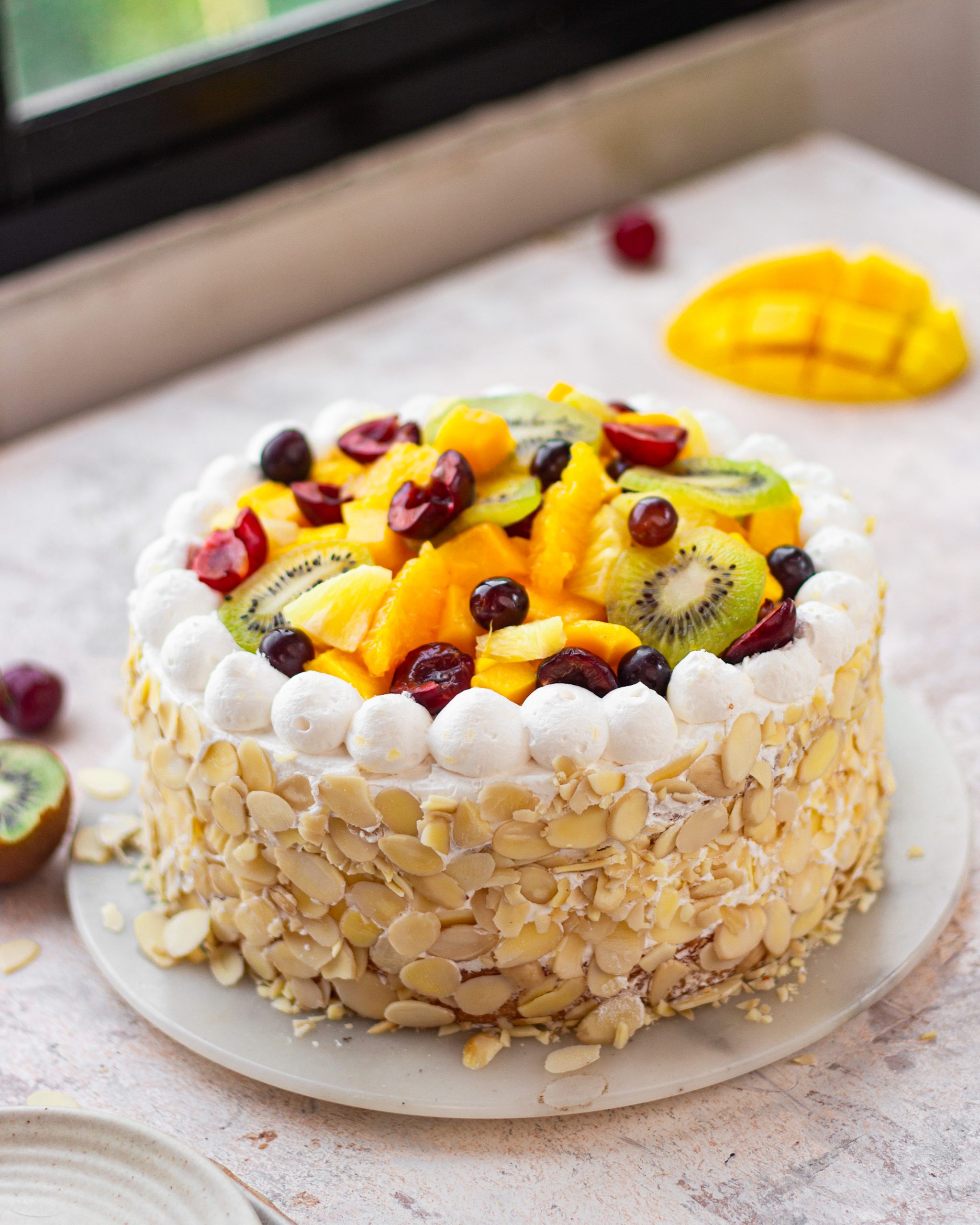 3 cups (360gms) all purpose flour
2 teaspoon (8gms) baking powder
2 cups (570gms) yogurt
1 teaspoon (6gms) baking soda
1 + ½ cup (300gms) castor sugar
1 cup (240ml) vegetable 0il
2 drops almond extract
Zest of 1 orange
½ cup (100gms) granulated sugar
¼ cup (60ml) water
1 + ½ cup fresh fruit
2 cups (460ml) whipping cream
¼ cup (30gms) cream cheese
1 tsp (5ml) vanilla
Fresh fruit
Flaked almonds
1 tbsp (20ml) corn syrup
1 tbsp (15ml) water
Preheat your oven at 180 degree Celsius and line two round baking pans with parchment paper.
To make the cake, in a small bowl add yogurt and baking soda. Give it a good mix and let it sit for 5 minutes till it gets foamy.
In a large bowl add oil and sugar and whisk till the mixture becomes pale.
Add in the foamy yogurt mixture in the same bowl, along with almond extract and some orange zest.
Put a sieve over the bowl and sift in all purpose flour and baking powder.
Use a spatula to combine the batter and pour in in your prepared baking pans.
Bake at 180 degree Celsius for 25-30 minutes.
While the cakes are baking, to make the fruit filling, add granulated sugar and water in a saucepan over low medium heat and let the sugar dissolve completely. Add in chopped fresh fruit and coat all of it in the sugar mixture and let it cook till the fruit becomes a little soft.
Strain the cooked fruit and reserve the leftover liquid. This liquid will be the fruit syrup that we will use to soak our cakes.
To make stabilized whipped cream, add whipping c ream in a bowl and whisk on high speed till it reaches soft peaks. Add in cream cheese and vanilla and whip again till it reaches stiff peaks. Refrigerate till it is needed.
Once the cakes have baled and cooled completely, de mould the sponges and place one on the base of your cake base. Soak the sponge with some fruit syrup and add 3 spoonfulls of the cooked fruit filling.
Take the second cake layer and spread whipped cream on top of it. Carefully pick it up, flip it over and place it on top of the fruit filling layer. Use your hands to push the layer down a little so that all of the whipped cream is in contact with the filling.
Spread some more whipped cream on the top and the edges of the cake, giving it a semi naked look.
Add flaked almonds all over the edge of the cake, covering all sides. For final touches, pipe some whipped cream dollops on the top and add fresh fruit chunks. Brush the fresh fruit chunks with the glaze that you can make just by mixing corn syrup and hot water.
Refrigerate the cake till you need to cut it.
Enjoy!
Recipe by
Bake with Shivesh
at https://bakewithshivesh.com/fathers-day-eggless-fresh-fruit-cake/