I've been having so much fun creating beautiful layered cakes in my kitchen lately and these are truly some of the most classic flavors. These cakes are delicious, yes, but they also have a sense of nostalgia to them because we grew up eating these flavors. We have all had at least one birthday party with a butterscotch cake as the centre of attention. Don't you agree?
And how not, the sweetness of the butterscotch flavor is enough to make any occasion sweeter! Extra points because it's loved by kids and elders alike. So this is what we're doing today, we are making a butterscotch layered cake from scratch. Let's get started.
Elements of butterscotch cake
There are three elements to this gorgeous butterscotch cake which are fairly easy to make with some simple pantry ingredients –
Eggless Butterscotch sponge – The softest eggless sponge studded with sweet butterscotch nuts makes for the first element of this cake. To make my butterscotch sponge eggless, I use yogurt which is the perfect substitute for eggs in a cake. Yoghurt not only adds a great taste to our cakes, but the natural fats in it makes the recipe even more fluffier and rich. In order to bring out that true caramel-y butterscotch flavor, I use brown sugar instead of caster sugar in the sponge.
Butterscotch sauce – This luscious butterscotch sauce is the true essence of this butterscotch cake. It stands out and brings all the flavors of the butterscotch cake together. All it needs is three very simple ingredients that you'll find in your pantry – brown sugar, butter and fresh cream. In 10 minutes, you'll have a sauce that you'll not only be using in this cake but making again and again for your ice creams and other desserts.
Butterscotch flavored Buttercream – We frost this cake with a buttercream that is flavored with the butterscotch sauce we make. Buttercream is probably the best frosting options for a cake because of how smooth it is and it is also absolutely delicious!
I know a lot of you struggle with buttercream and making it smooth, silky, thick and stable. Initially, when I started baking I used to have trouble with it too. I have an article on the blog where I talk all about the do's and don'ts of buttercream and how to make the perfect buttercream. You can check it out here.
If you cannot find butterscotch chips, you can also substitute it with caramelized cashews. To make that, in a saucepan over medium heat, add 1/4 cup sugar and 1 tbsp water and cook till the sugar reaches a nice golden brown color. Immediately add in 1/4 cup cashews and use a spatula to coat them in the sugar completely. Transfer the coated cashews onto a parchment paper or silicon sheet. Let it cool down. Once cooled, chop the cashews and add in between the cake layers.
Tips to keep in mind when making the butterscotch cake
This cake is quite easy to make and assemble once you understand the components of the cake. But here are a few tips and tricks you can keep in mind to make the process even easier –
The temperature of your ingredients is a very important factor effecting your cakes. Make sure all your ingredients including yogurt, milk and cream are at room temperature.
 This step is key to making a perfect cake. Mix really well while mixing your wet ingredients (especially while creaming butter or oil with sugar) This helps in incorporating air into the batter, resulting in a light and fluffy cake.
While making your butterscotch sauce, add only room temperature butter and cream to your melted brown sugar. If you add cold ingredients to a hot pan, your sugar may freeze.
In order to make a smooth buttercream, always sift your icing sugar in batches so that you don't end up with grains of icing sugar in your buttercream.
When making an elaborate cake like this one, I like to prepare my cake sponges a day in advance so that I can divide my work and not stress myself with doing everything in one single day. Having your sponges ready to go makes all the difference. You are less stressed and definitely have more fun assembling and decorating the cake!If you want to make a single layer with a good height, you can just divide the recipe by half and still make a gorgeous single layered butterscotch cake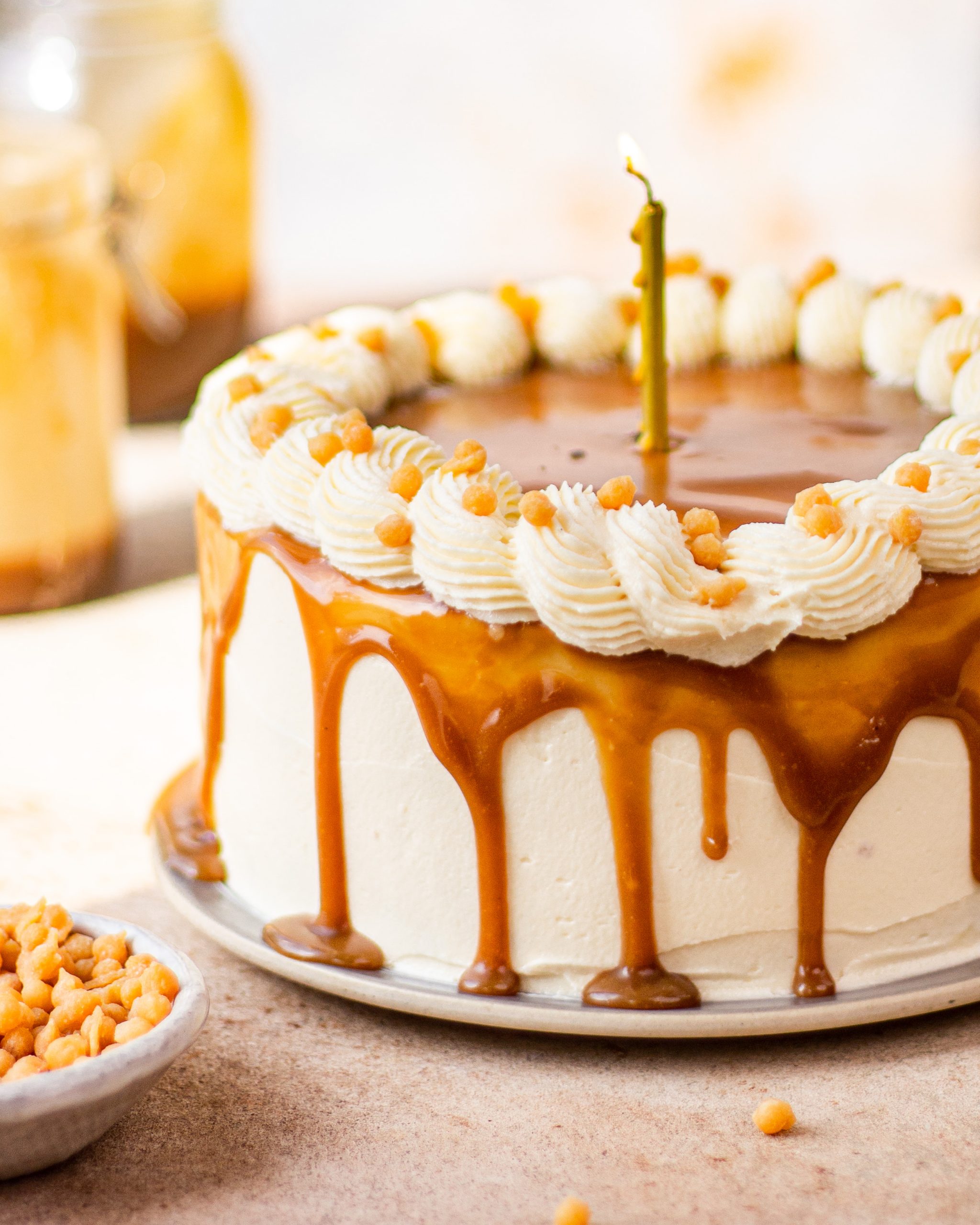 Assembling the butterscotch cake
Now coming to my favorite part of assembling this layered butterscotch cake! Before you start to actually assemble the cake, make sure you have all your elements ready. This includes your cake sponges demolded, butterscotch sauce cooled down, buttercream ready to be frosted and a simple sugar syrup prepared by combining 1:1 ratio sugar and water.
Now the structure of the cake is simple. You take one cake sponge, soak it with the sugar syrup and then frost the top with a thin layer buttercream frosting. Drizzle some butterscotch sauce and add some butterscotch nuts for that crunch.
Once this is done, carefully place the second layer of cake on top. Push it down a little to make sure all edges are in contact with the buttercream. Then soak the second layer with sugar syrup and frost the top as well as the sides of the cake with your beautiful buttercream frosting.
Decorating the butterscotch cake
Once our cake is completely frosted, we now get on to making the cake look beautiful! I add some more butterscotch sauce on top and push it down towards the edges to create a dripping effect. Then I pipe some more buttercream frosting along the sides and top that up with some more butterscotch nuts! Super simple, isn't it?
Now, this is how I would decorate it! You can totally be as creative as you want and play around with how you would want your final cake to look. The key is to have fun and enjoy the process while you're at it.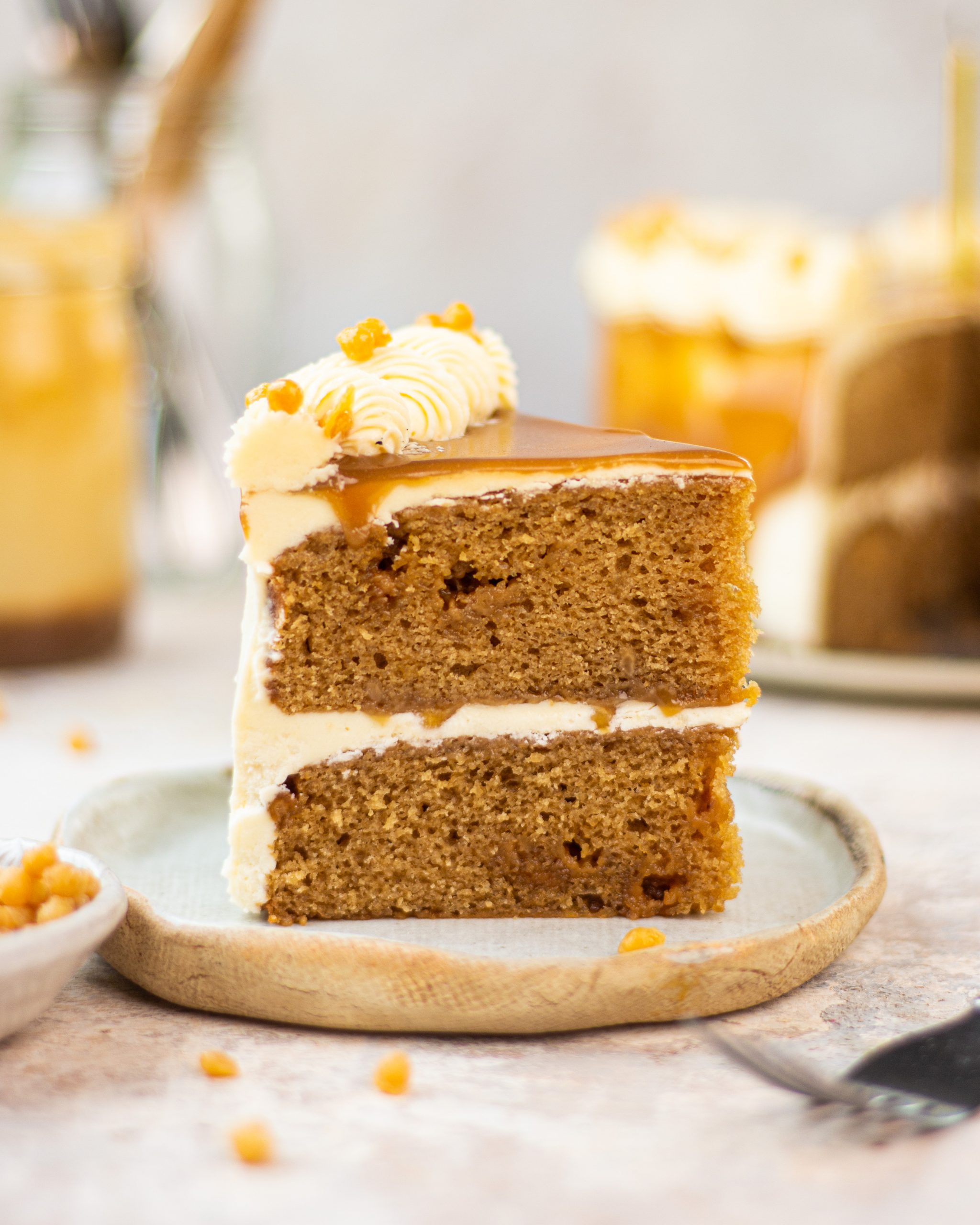 More layered cake recipes on the blog
Eggless Butterscotch cake recipe
Eggless Butterscotch Layered Cake
Eggless Butterscotch Layered Cake
Ingredients
For cake
2 +1/4 cup (270gms) maida
¾ cup (180ml) oil
1 cup (200gms) brown sugar
1 + ½ cup (427gms)yogurt
1tsp (5ml) vanilla
¾ tsp (4.5gms) baking soda
1 + ½ tsp (6gms) baking powder
½ cup (70gms) butterscotch nuts
For Butterscotch sauce
¼ cup (50gms) butter
½ cup (115gms) fresh cream
½ cup (100gms) brown sugar
For buttercream
2 cups (450gms) butter
4 cups (520gms) icing sugar
3 tbsp (45ml) butterscotch sauce
For sugar syrup
¼ cup granulated sugar
¼ cup water
Instructions
Preheat your oven at 180 degree Celsius and line two round 6 inch baking pans with parchment paper.
To make the cake, in a small bowl add yogurt and baking soda. Give it a good mix and let it sit for 5 minutes till it gets foamy.
In a large bowl add oil and brown sugar and whisk till the sugar dissolves.
Add in the foamy yogurt mixture in the same bowl, along with vanilla extract.
Put a sieve over the bowl and sift in all purpose flour and baking powder.
Use a spatula to combine the batter. Add butterscotch nuts and fold them in as well.
Pour in your prepared baking pans.
Bake at 180 degree Celsius for 25-30 minutes.
While the cakes are baking, to make the butterscotch sauce, add brown sugar and butter in pan set over low medium heat. Let the sugar and butter melt completely.
Add in fresh cream and let it cook for 5-7 minutes till the sauce comes to a boil and becomes thick.
Take it off the heat and set aside to cool.
To make the buttercream frosting, in a bowl add softened butter and beat it for 4-5 minutes at high speed until it becomes pale and fluffy.
Add in half of your sifted icing sugar. Turn the mixer on at low speed first and then beat it for a minute or so at high speed. Make sure all the sugar is nicely combined.
Add in the remaining icing sugar, and repeat the same process.
Scrape the sugar from the sides of the bowl and make sure everything is well incorporated.
Add in the butterscotch sauce and give it a final mix.
To make a simple sugar syrup, take sugar and water in a saucepan set over medium heat. Let it cook until the sugar is completely melted.
Once the cakes have baked and cooled completely, demould the sponges and place one on the base of your cake base. Soak the sponge with some simple sugar syrup.
Spread some buttercream frosting on the top and the edges of the cake.
Drizzle some butterscotch sauce on top and add in some
Place the second layer of sponge and soak it in sugar syrup. Add the buttercream frosting and frost the cake completely.
For final touches, add some butterscotch sauce on top of the cake and push it to the sides to create a drip effect, Pipe some more of the buttercream frosting on top and garnish with butterscotch nuts.
Refrigerate the cake till you need to cut it.
Enjoy!
If you enjoyed the recipe and happen to make this layered butterscotch cake at home, then do share pictures with me by tagging me on Instagram / Facebook using #bakewithshivesh.