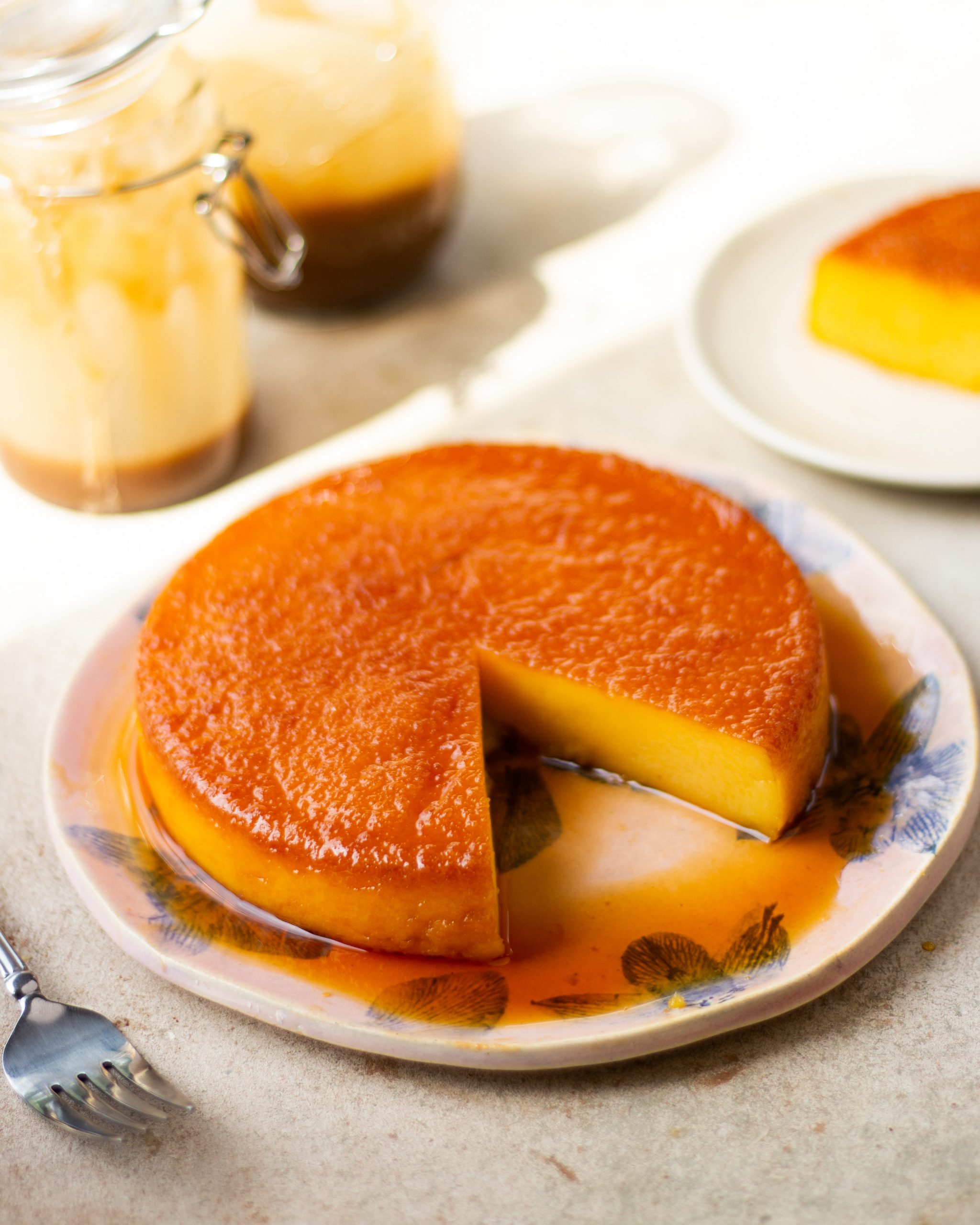 Even though I love intricate desserts for how much they challenge and excite me. Simple desserts give me so much hope and excitement about the fact that so many of you will also be able to recreate a dessert that has brought me happiness. This caramel custard is a perfect example of what a simple, easy homemade dessert is like and everyone, baker or not, can prepare this without any hassle. This caramel custard is a no bake, eggless melt in your mouth kind of dessert. It is perfectly sweet from the golden caramel and has an absolutely soft and smooth mouth feel to it.
This dessert also holds a special place in my heart because my nani would prepare such a lovely version of a caramel custard. In Fact she was the one who introduced me to this dessert. So everytime i prepare this for me and my family I am reminded of her lovely personality and desserts. All you need to prepare this silky caramel custard is just some simple staple kitchen ingredients and a makeshift steamer that can be prepared easily at home. So let me show you how to prepare this super dessert. 
Components of the caramel custard
Caramel for the caramel custard
This is the first layer of our caramel custard and honestly slightly crucial. You will have to be careful while preparing a caramel because it is very very hot and needs to be handled with care. Unlike a caramel sauce, this caramel is just basically caramelized white sugar. So no butter, water or cream is required unlike my caramel sauce. All we have to do is a wide pan, add our granulated sugar and let the heat do its magic. Once caramelized to a golden amber colour, we will take it off the heat and pour it into our 6 inch cake pan. Few things to keep in mind while preparing the caramel:
Spread your sugar into a single layer. Don't pile things up, if the pan you are using is small and all your sugar is getting piled up. Use a bigger pan that has enough room for your sugar to be spread out in a single layer. 

Do not give into the urge of stirring the caramel, i know it can look and feel very satisfying but it is not necessary and can often lead to your caramel seizing. So your best bet would be to just swirl your saucepan to give everything a good mix.

Transfer the caramel into the cake pan as soon as it gets ready, if you wait any longer the caramel will start to harden and there is go saving it. 

Similarly, when you pour the caramel into the cake pan, swirl it immediately to cover all corners evenly. If you wait at this stage, the caramel will begin to set and harden really quickly. So work fast but also safely since the pan will get relatively hot. Have an oven mitt or a rag handy with you/ take adult supervision if need be.
Custard
This second part of the recipe is relatively simpler and stress free. I am sure by now we all know how to prepare custard at home using custard powder. 
Using custard powder will allow the custard to thicken up without the use of eggs. We are also going to add in bread that will make the custard thick and set much better.
Other ingredients for caramel custard
Milk
The main source of creaminess is milk here. I would suggest you milk that is full fat or atleast has some percentage of fat. You can however use milk that is toned/ skinny here but i think this recipe would really benefit from the richness of the milk. If you are trying to veganize this recipe, simply swap cow milk with either soy or coconut. 
Sugar
Since we are going to dissolve the sugar in the milk, you can honestly use any type of sugar be it granulated, castor or even powdered. Whatever you have at hand works. 
Custard powder
A lot of brands nowadays sell custard powder. You can pick whatever is the most accessible to you. I have used weikfield here for my caramel custard. Key factor to always remember while preparing custard is always mixing the powder with a liquid base. For this recipe I am going to be mixing the custard powder with some water until no lumps remain and then add this mixture to the boiling sugar and milk. If you directly add the custard powder to the milk and sugar, there are a lot of chances of your custard having lumps. Doing this simple step ensures that you will have a silky smooth custard at your end.
Bread
This is the surprise ingredient , or at least I felt surprised when I discovered that nani's eggless custard is thick and luscious because of bread being added to it. I have used white bread here, however whole wheat bread also works for this recipe. Make sure to trim the edges or the crust of the bread before adding it to the custard. I have also blended it using my food blender jar since we want fine crumbs. 
Steaming of the caramel custard
To create a steamer at home, the easiest way to go about it is to use a kadhai. Take a large kadhai/wok. To add a separator between the cake pan and the base of a kadhai, you can simply add in a wire rack or an idli make tray. Place the cake pan over the raised surface and fill the kadhai with about an inch of water. We are going to cover this with a lid and cook this on low-medium heat for about 25 minutes.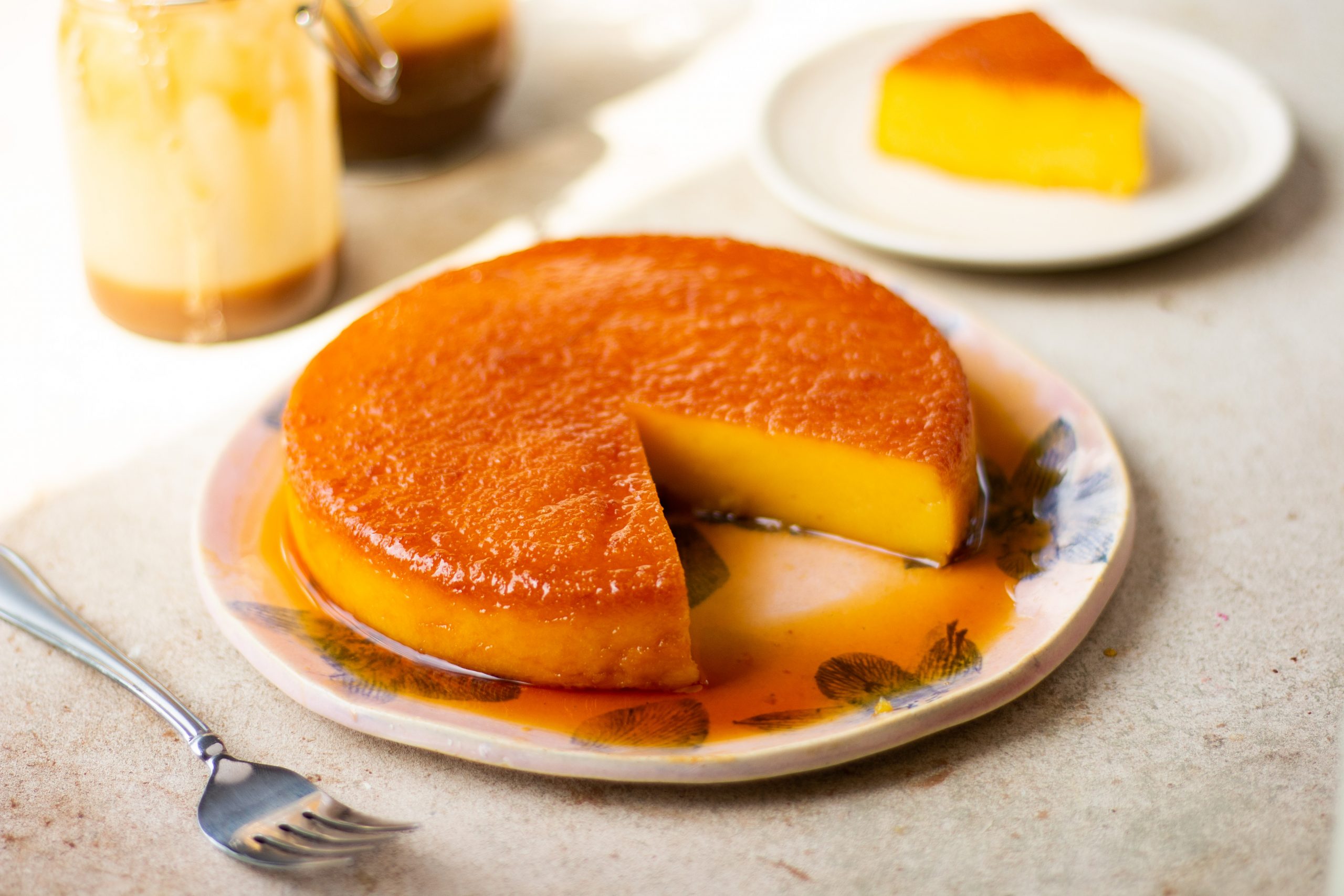 Demoulding the caramel custard
Now I think this can seem to be the most intimating part of this recipe. Don't do not fret at all, it is absolutely easy and stress free. Once your caramel custard is cooked, carefully take it off the heat and remove from the steamer. Allow it to rest at home temperature for 15-20 minutes. While it is still warm, place a plate over the face of the cake pan and flip it over. This caramel custard will flip over the best while it is still warm, do not wait for it to cool down.
If yo make this recipe do not forget to share images with me on my Instagram @shivesh17. Happy baking!

Ingredients
Caramel:
Custard
1 + ½ ((360ml) cup milk
6tbsp (75gms) sugar
1 tsp (5ml) vanilla
½ cup (120ml) water + ¼ cup (60gms) custard powder
Bread crumbs from 6 slices
Instructions
A large pan, add ½ sugar to prepare the caramel. Leave it untouched for 4-5 minutes until the colour starts changing to amber or golden. Take it off the head and immediately transfer to a 6 inch cake pan.
Swirl the caramel around, be careful the pan will get hot. Set this aside.
In a bowl, combine the water and custard powder.
In a sauce pan, add the milk, sugar and vanilla and bring it to slight simmer. Add in the custard powder slurry and bring to a boil.
Lower the heat. Add in the bread crumbs and mix really well.
Transfer the custard on top of the caramel in the cake pan.
To make a steamer, in a Kadhai set a small wire rack and fill it with water upto an inch.
Over the wire rack set the cake pan, cover and steam for 25 minutes on low- medium heat.
Once cooked, allow the cake pan to rest for 15 minutes before flipping the caramel custard over.