It's World Chocolate Day today and I couldn't be feeling happier! A day dedicated completely to chocolate, how cool is that? Among all flavors in existence, chocolate is such a crowd pleaser. I don't know a single person who doesn't like chocolate and truly so! It's so versatile, you can pair it with literally anything and it still tastes wonderful.
I'm definitely celebrating the day with loads and loads of chocolate and I have some treats to share with you as well! Here are my absolutely favorite chocolate recipes that you can make to celebrate the day in all its glory. Hope you enjoy making and then devouring them with your loved ones. Happy World Chocolate Day!
1. Chocolate Coffee Cake
You know those flavor combinations that feel like a match made in heaven? Chocolate and coffee is hands down one of them. It's amazing how the two flavors complement each other and bring out the best taste. This chocolate coffee layered cake is going to be loved by everyone who takes a bite. It is unbelievably soft, moist, and decadent.
I have been having a lot of fun layering cakes this year and if you have ever shied away from making layered cakes, this recipe is the perfect place to start!
The most fun part of this recipe is the assembly of the cake. The cake consists of a eggless chocolate & coffee-infused sponge, whipped ganache frosting and sugar syrup to keep the layers moist.
This cake is super simple to assemble because it only has three elements: chocolate sponges, whipped ganache, and sugar syrup.
First thing you want to do is make sure your cakes have cooled down completely and are not at all warm. If you find the sponges to be too delicate to handle, you can freeze them for 30 minutes or keep them in the fridge before you start assembling the cake.
Place the first sponge on the base of your serving plate. Brush the sponge with the sugar syrup and then add dollops of whipped chocolate ganache on it. If you want to make sure you are adding an event amount of ganache on each layer, you can use an ice cream scoop and add same amount of scoops on each.
Use your offset spatula to the spread the ganache around and cover the surface of the cake.
Add the second layer on top and brush that with sugar syrup too. Add dollops of ganache and coat the entire cake with it. Make sure to cover the edges of the cake as well.
You can put the cake in the fridge so that it sets a little till you have to add the top frosting of milk chocolate ganache. I piped the ganache with an open star tip and only on the edge of the cake. You can use any piping tip you like!
Find the recipe here.
2. Triple Chocolate Donuts
Imagine this, it's the weekend. Sunday morning, you roll out of bed, grab a massive cup of coffee and head to your kitchen to whip up a batch of triple chocolate donuts. Best part? No eggs, no yeast, no long waiting hours and scrumptious chocolate-y donuts at your disposal. These triple chocolate donuts are fluffy, chewy and have a perfect airy bite. They can be your weekend breakfast buddy, or perfect for celebrating your loved ones. You only need around 45 minutes to make these and the recipe calls for just your staple pantry ingredients.
Traditionally donuts are prepared with the help of yeast. When yeast reacts in the batter it creates small air bubbles that bake into fluffy donuts. Recipes that use yeast involve a lot of resting and rising time. Some recipes even suggest resting the dough overnight as well. Which is a test of my patience. Haha! No doubt donuts recipes with yeast are absolutely amazing, however, I understand that using yeast can be tricky for some and would need future planning. Which is why my no yeast double chocolate donuts come into play.
This recipe uses ingredients like baking soda and baking powder to create a similar effect to yeast by creating bubbles of carbon dioxide that make our donuts super fluffy and so so GOOD!
Find the full recipe here.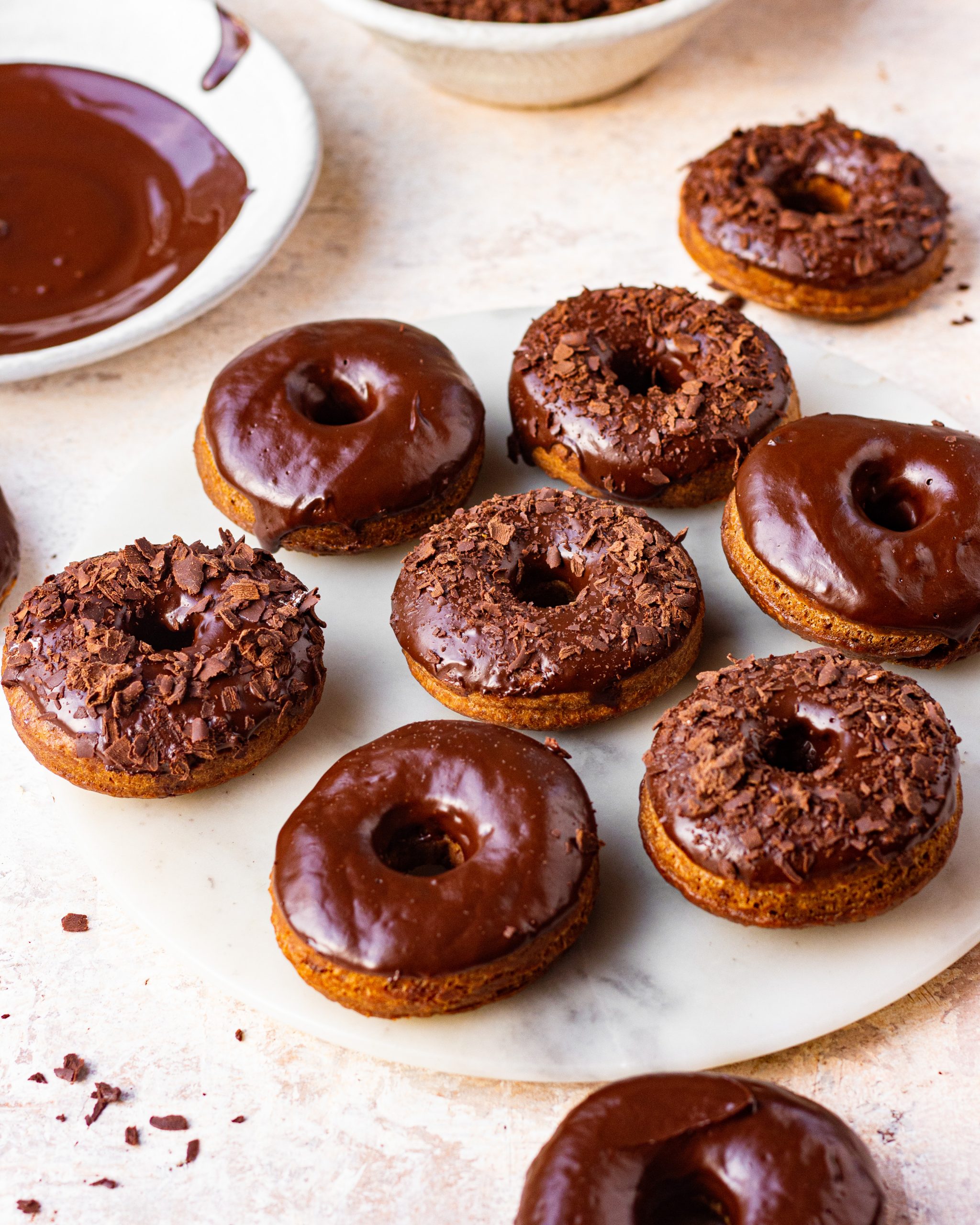 3. Chocolate Pudding Cake
I know I know there are a million chocolate cake recipes out there and on my blog itself, you will see quite  a few variations of it. But the recipe of this chocolate pudding cake is like no other.
This cake defines decadence, indulgence, and the goodness of chocolate desserts. The combination of the luscious pudding with the chocolate sponge is to die for. I have made many chocolate cakes in my life but this one has my heart. To take this cake to the next level and make it extra fancy, I also added some almond praline!
Once all elements are ready, the first thing you want to do is hollow out the centre of your cake, leaving space on the edges. I baked my cake in a 9inch sized cake mould and cut out a circle of around 7 inches in the middle. I used a knife  to help me outline the circumference and then I used a spoon to dig out the cake from the 7 inch circle and make a shallow space. I hollowed out the cake halfway through. I would not recommend going further than that but if you want you can definitely make it shallow.
After you have dug out a good amount of cake, pour the pudding into it and spread it evenly. All that is left to do after that is to top it off with the almond praline. I mean, gorgeous!
Now you can either keep this in the fridge for around 2 hours so that the pudding sets, or you can cut into the cake right away! This way you will almost have a chocolate lava pudding cake and what is not to love in that?
Find the full recipe here.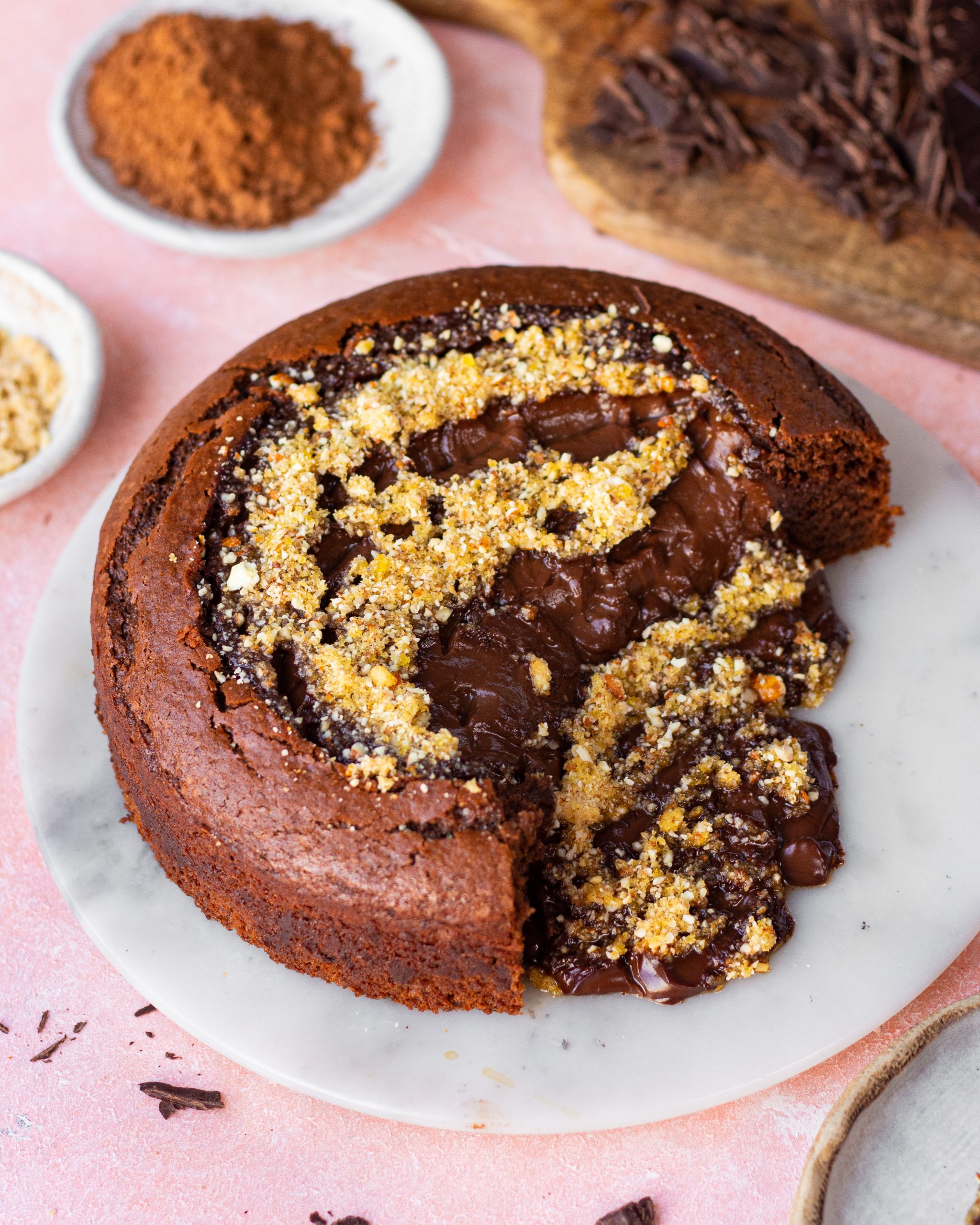 4. 4 layer chocolate heaven
Chocolate layered throughout a dessert, what is a better way to celebrate chocolate?
This 4 layer chocolate heaven is a perfect mix of soft chocolate cake, silky chocolate pudding, and a creamy chocolate ganache. Another thing that goes perfectly well with chocolate is coffee so we are also adding in a coffee soak to round up this beautiful dessert. A few tips to get the 4-layer chocolate heaven right –
1. Make sure to use a good quality saucepan that does not burn easily or else the chances of you burning your chocolate pudding increase.
2. The first step of the recipe is to heat your milk, cream and chocolate. Be careful not to over boil this mixture or else you can end up with an oily mixture in which the fat from the cream gets separated.
3. This recipe will not work if you use compound so make sure to use cooking chocolate only. You can buy it here – https://amzn.to/3fJjiq7
4. Chop your chocolate in even chunks before you add it with the milk and cream. Even chunks will ensure that your chocolate melts nicely and makes sure there are no chocolate chunks in your smooth pudding mixture.
Find the full recipe here.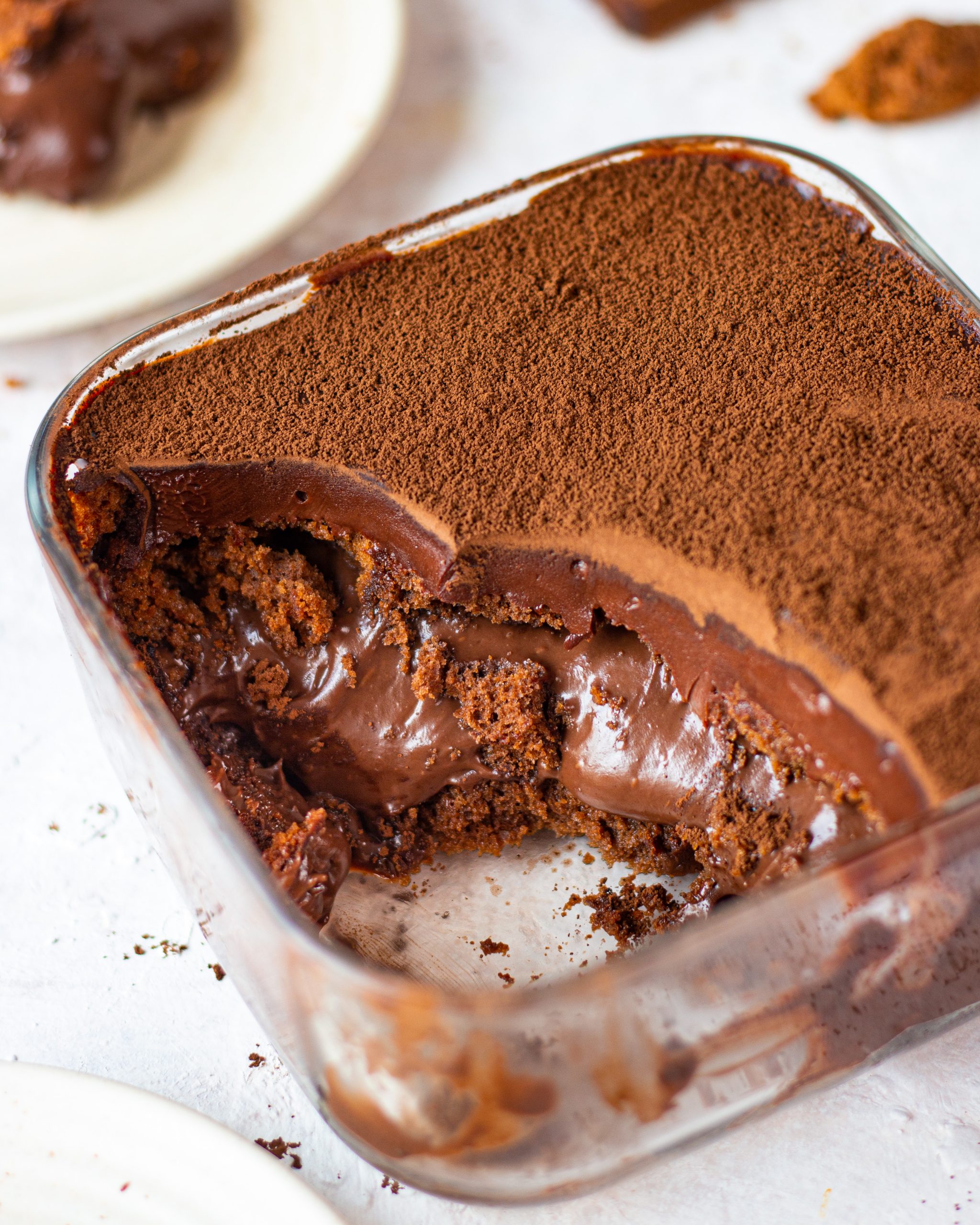 5. Fudgy Chocolate Brownies
I firmly believe that no celebration is complete without good, fudgy chocolate brownies and this is the only brownie recipe you'll ever need. I have many brownie recipes on the blog, from snicker brownies to gluten-free ones. But the classic one remains my favorite till date!
The fudgy texture of these brownies, the flaky layer on top and the rich intense flavor make this recipe a total winner. It is an absolutely no-fuss recipe that is very simple to make.
While I make these brownies with egg, I also share a substitute for it in the recipe. YES! You can now make eggless fudgy chocolate brownies using the same recipe and they're equally delicious. Just keep two things in mind- use the best quality chocolate that you can get your hands on. That makes all the difference. Also, once your brownies are baked, let them cool completely before you try and slice them. They'll crumble very easily when they're still hot.
Find the full recipe here.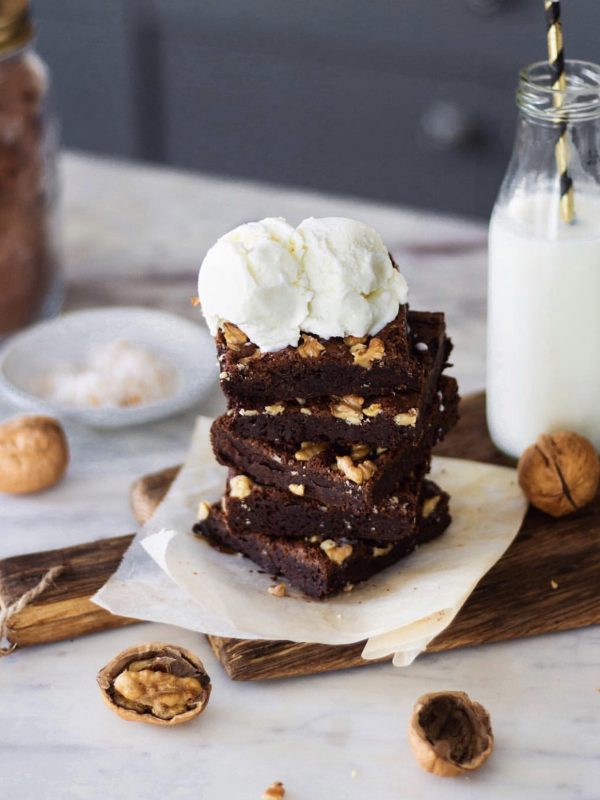 6. Chocolate Cake Ice Cream
Two things that I love the most in the world are chocolate cake and ice cream. Let's face it, we have all had our days when we've craved both only to top our chocolate cake slices with a good scoop of ice cream. But what if I tell you that you can have the best of both worlds in one? Sounds unbelievable, right?
Good ice cream is such a crowd-pleaser. For me, it is the perfect dessert option for a cozy night with family. If you don't want to make something elaborate but still want to indulge in something that's delicious, minimal, and great for summer, then this is the recipe you're looking for – my chocolate cake ice cream.
Traditionally, ice cream is made using humongous churners. But, this is obviously what happens commercially. Oh, by the way, you can get your own mini ice-cream churners too. It just ensures a better homogenous and smoother mixture. But, honestly, there is nothing a hand-mixer can't do in today's world. So, just bother yourself with an easy and affordable hand-mixer and you are good to go! The main mixing tool we shall be using for this Chocolate Cake Ice-cream is a stand mixer or a hand blender. Both work equally fine! You can obviously use a whisk too but it will take endless an eternity to make this Chocolate Cake Ice-cream!
Find the recipe here.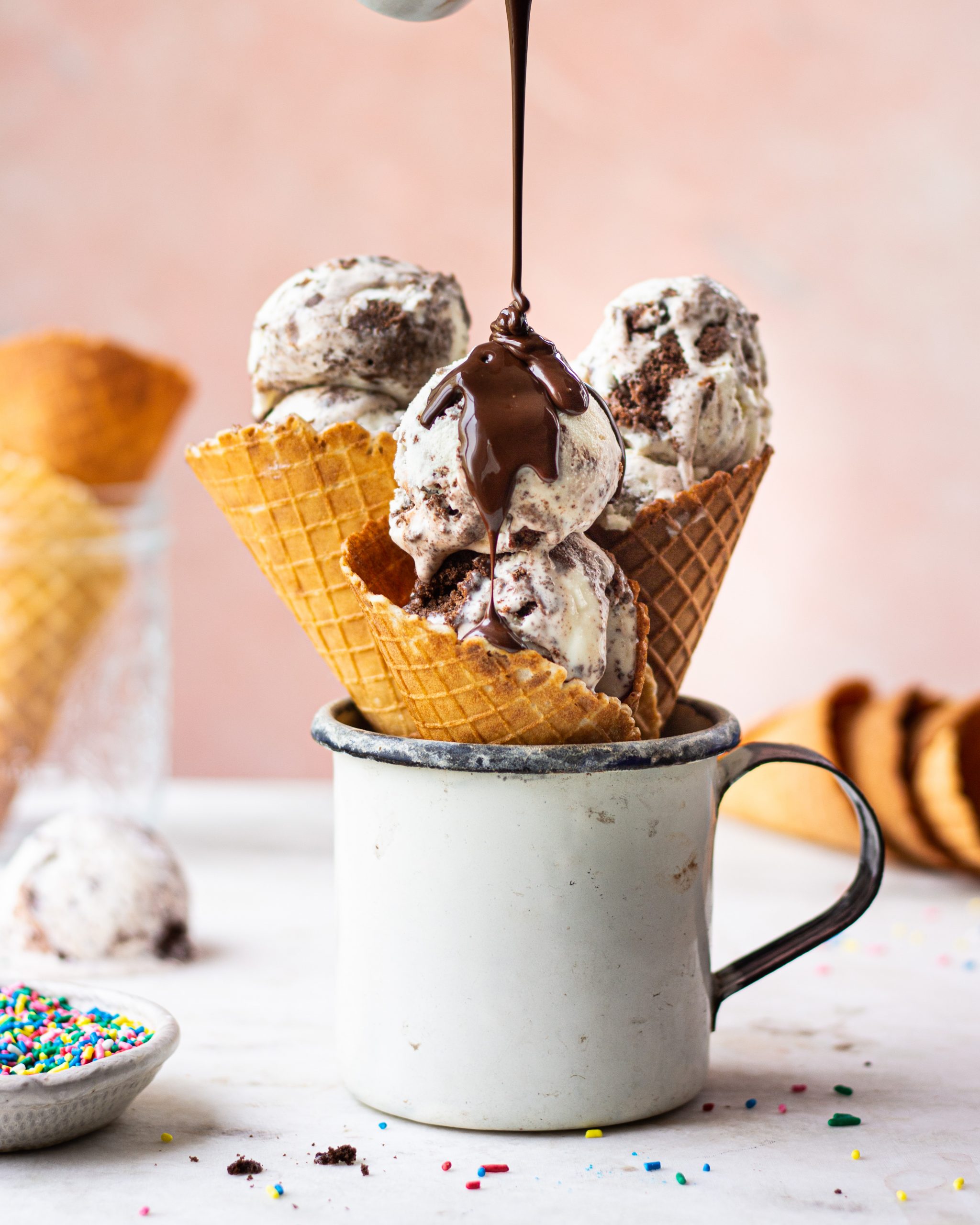 7. Indulgent Chocolate Shake
If you don't have a major liking for desserts, you can go for a simple yet indulgent chocolate shake. It is so warm here in Delhi and a good chocolate shake is definitely what I am craving on such days! All it takes is four pantry ingredients – milk, ice, cocoa powder, and sugar.
You can definitely go all out and make this shake super decadent and over the top! Some ways to do that include:
Add scoops of ice cream 
Adding 2-3 scoops of chocolate ice cream or even vanilla ice cream if you want some variety in flavor is a great way to add some decadence and additional creaminess to your shake.
Add cake crumbs 
Okay, this might seem odd but adding leftover cake chunks to your shakes is a great idea! It adds a whole other texture and really makes a shake indulgent. You know, just like a brownie shake or a cheesecake shake!
Add melted chocolate or chocolate chips 
You can also add in some melted chocolate before mixing everything or you can simply throw in some chocolate chips.
Find the full recipe here.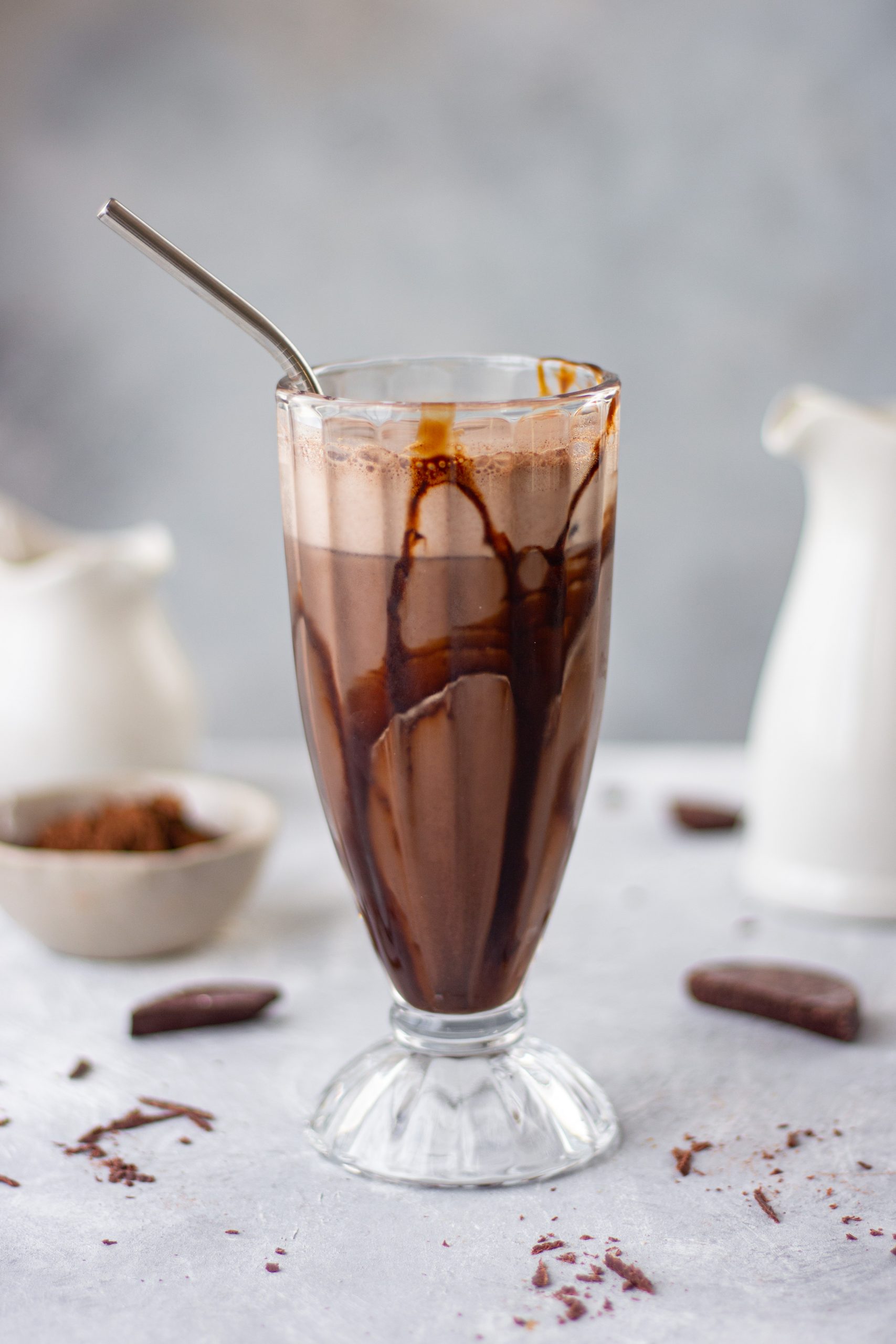 Here are my 7 delicious chocolate recipes for you to make today! If you make any of these recipes, do share pictures with me by tagging me on Instagram / Facebook using #bakewithshivesh. Happy baking!