Everyone needs this banoffee pudding in their lives here and there! If you are an ardent fan of bananas and toffee- a match made in heaven- then you are absolutely going to love this Banoffee Pudding! This easier version of a banoffee pie is absolutely mind-blowing. Not only is the pudding easy to assemble, it also has all the essential components of a banoffee pie. I absolutely love creating such recipes which are easy to compile because not everyone has a thing for baking.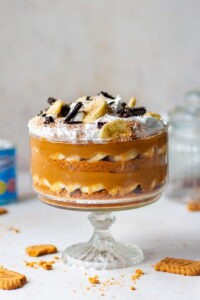 INGREDIENTS USED IN BANOFFEE PUDDING
You  can use any biscuit of your choice for the crunch layer. I have used lotus biscoff biscuits in my recipe.
I have used a can of nestle condensed milk and cooked it in a saucepan with water for the dulche de leche layer.
If you are worrying about whipped cream, don't worry, I have you sorted there because there is an entire blog post on the website on how to make whipped cream which will surely take all your whipped cream nightmares away!
OTHER RELATED RECIPES FROM THE BLOG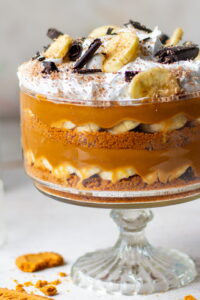 TIPS TO MAKE BANOFFEE PUDDING
You can use any biscuits of your choice. I have used lotus biscoff biscuits in my recipe.
To make dulche de leche, place the condensed milk can in a large saucepan filled with water over low heat. Cook for 3 hours with the submerged can. Once completely cool, open the can and your dulce de leche is ready. A cooker can also be used. Remember to keep an eye on the water level.
Please use fresh and perfectly rice bananas. Using squishy bananas will take away a lot of flavor and texture!
Spread as much cream as you'd like over the pie after whipping it to stiff peaks.
BRANDS FOR THE VARIOUS INGREDIENTS IN THIS BANOFFEE PUDDING
Biscuits- Mc Vities Digestive Biscuit/Marie Biscuit/Parle-G
Condensed Milk- Nestle
Chocolate- Amul Dark Chocolate
Whipping Cream- Rich's Whip Cream
EQUIPMENT USED FOR MAKING BANOFFEE PUDDING
This recipe really easy to make and hardly requires any equipments.
Measuring Cups and Measuring Spoons. are an integral part of any baker's kitchen and its very important to measure ingredients with precision.
BANOFFEE PUDDING
Ingredients
1 can Nestlé MILKMAID
20 biscoff biscuits
3 tbsp melted butter
½ cup whipped cream
4 bananas sliced
Chocolate curls, for garnish
Instructions
Take a cooker filled ¾th with water and carefully place the sealed milkmaid can in the middle. Cover the cooker with a lid and whistle. Once one whistle is blown, then cook it at a low temperature for 15 minutes.
Let the cooker cool down completely and then take out the can.
Take the biscuits in a blender and melted butter, grind till a coarse powder is formed. Don't grind it to a fine powder.
Once the milkmaid is cooked and cooled completely, open the can and transfer the prepared dulce de leche into a piping bag.
For the assembly, pour half of the biscuit mixture in the serving dish. Press the biscuit layer lightly to pack the bottom.
Arrange the sliced bananas over it.
Pipe a generous layer of dulce de leche over the bananas.
Repeat the whole process one more time to create 2 layers.
Cover the top with some whipped cream and top it up with chocolate curls, shavings and sliced bananas.
If you like my banoffee pudding  recipe and happen to make them in your kitchen, do tag me on
Instagram
 and share pictures with me using #Bakewithshivesh. Happy Baking!