Nothing better than a good old banana bread, right? Today I made this healthier version with whole-wheat and oats that screams comfort in every bite. Try this recipe and you'll keep coming back to this deliciousness for sure! This Healthy Banana Bread is very light and fluffy in texture. It's a delightful fusion of ripe bananas, wholesome ingredients, and a touch of creativity, resulting in a slice of heaven that you can enjoy without the slightest hint of guilt. Whether you're a seasoned baker or a novice in the kitchen, this recipe is designed to be accessible and enjoyable for all. So, grab those ripe bananas sitting on your countertop, dust off your mixing bowls, and get ready to bake a banana bread that not only tastes amazing but also fuels your body with the goodness it deserves.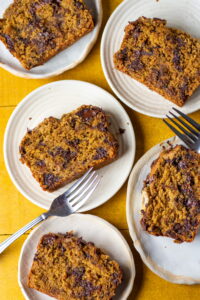 INGREDIENTS USED IN HEALTHY BANANA BREAD
Whole wheat flour is particularly rich in dietary fiber, which is essential for digestive health. Whole wheat flour can add a slightly nutty and hearty flavor to your banana bread. It also contributes to a denser, chewier texture, which some people prefer in their baked goods. However, it's important to note that using too much whole wheat flour can make the bread overly dense, so it's often used in combination with other flours.
Milk, in this recipe is the main wet ingredient. I have used Nestle toned milk for this recipe. You can swatch it with any kind of milk. Milk contains proteins and fats that can tenderize the structure of the bread, making it more delicate and less dense. This results in a softer and more enjoyable texture. Since this recipe includes baking powder or baking soda, milk can help activate these leavening agents, leading to proper rising and a lighter texture in the finished bread.
Bananas, again, are a great egg substitute and give stability to the product. good ripe bananas are the sweetest and best to use for this Healthy Banana Bread. They also provide moisture to the batter and act as a wet ingredient.
Oats flour is made by grinding rolled oats to a powder consistency. They are rich in fiber and goes well with bananas. It provides a nutritional boost to your banana bread, making it a healthier option compared to traditional all-purpose flour. Oat flour can absorb more liquid than regular flour, so you may need to adjust the liquid content slightly in your recipe.
I am using jaggery powder as a sweetener in this recipe. Apart from being a healthier choice, it also gives the banana bread a richer color, an evenly browned crust and better flavor. Jaggery powder has caramel-like undertones due to the way it's processed. This can add a depth of flavor and complexity to your banana bread, making it taste more interesting and slightly nutty.
Butter adds moisture to the banana bread, making it soft and tender. It contributes to the texture of banana bread, giving it a desirable crumb and a pleasant mouthfeel.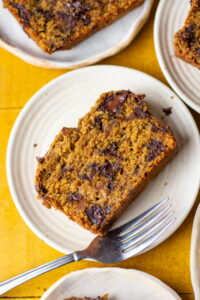 EQUIPMENT USED FOR MAKING HEALTHY BANANA BREAD
The kind of equipment you use can hugely impact the final product. So, make sure to always use the best of the equipment that is available.
Measuring Cups and Measuring Spoons. are an integral part of any baker's kitchen and it's very important to measure ingredients with precision.
I have folded the dry ingredients into the wet ingredients using my Silicon Spatula.
I used an Alda loaf pan to make this Healthy Banana Bread
Finally, I baked these delicious Breakfast Banana Muffins in my Borosil 60L oven.
OTHER RELATED RECIPES FROM THE BLOG
TIPS TO MAKE HEALTHY BANANA BREAD
You can make this recipe with completely all purpose flour as well.
Use ripe to overripe bananas for this recipe. If you feel that the bananas are raw, then simple heat them in the oven for a few mins. Mash the bananas nicely so that they evenly distribute in the batter.
Make sure that the leavening agents are not expired or else, the product will not rise properly and give the desired texture.
Make sure all the ingredients are at room temperature.
Cinnamon is optional in the recipe but is highly recommended as it elevates the overall flavour altogether. You can also add a pinch of nutmeg.
Sprinkle oats on top for crunch.
If you don't have jaggery powder, you can replace it with sugar or muscovado sugar as well.
You can swap the milk for a healthier plant based alternative as well.
HEALTHY BANANA BREAD
Ingredients
2 bananas
6 tbsp jaggery powder
½ cup butter, melted (113g)
1 cup oats flour
1 cup whole wheat flour
1 tsp baking powder
½ tsp baking soda
1 tsp cinnamon powder
½ cup milk
½ cup chocolate chunks
For topping-
Banana slices
Chocolate chips
Instructions
Preheat the oven to 180°C. Grease a 9×4-inch loaf pan with butter and line it with parchment paper.
In a large bowl, mash 2 ripe bananas. Then add jaggery powder and melted butter to it. Mix them well.
Sift in the oats flour, wholewheat flour, baking powder, baking soda and cinnamon powder together.
Fold dry the dry ingredients until you don't see any large flour pockets in the batter.
Whisk in the milk and fold in the chocolate chunks.
Transfer the batter into the prepared loaf pan and top it up with banana slices and chocolate chips.
Bake for 40-50 mins until a skewer inserted comes out clean
If you like my Healthy Banana Bread recipe and happen to make them in your kitchen, do tag me on Instagram and share pictures with me using #Bakewithshivesh. Happy Baking!