Craving a sweet treat but don't want to spend hours in the kitchen? Look no further for the Atta Chocolate Mug Cake recipe! This quick and easy dessert is a game-changer, allowing you to satisfy your sweet tooth in just a few minutes. Made with wholesome ingredients like whole wheat atta, yogurt, and a touch of chocolatey goodness, this mug cake is both delicious and guilt-free. So, let's dive into the world of flavors and discover how to make this delightful dessert! Mug cakes are the quickest desserts to prepare, with the most basic pantry ingredients and minimum tools needed. This recipe is completely safe to recreate since we are making it in a microwave. So let's dive in.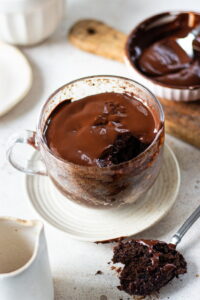 EQUIPMENT YOU NEED FOR THE DOUBLE CHOCOLATE MUG CAKE
A MICROWAVE-SAFE MUG
You can use any mug or even a small bowl that is microwave-safe. One thing to keep in mind is that this recipe has been designed for a 500ml capacity mug, so if the mug that you are using is smaller please adjust the recipe accordingly. Using a smaller mug with the full recipe might lead to overflowing of the batter and creating a huge mess in your microwave, Trust me on this I am telling you from past experience! Haha!
HAND WHISK
You do not need any fancy mixers, all you need is a hand whisk. A hand whisk will allow mug cake ingredients to mix thoroughly with each other. Now even if you do not have a hand whisk, you can simply use a fork to yield similar results. Since there is so intricate creaming of oil and sugar happening a fork will work just fine.
INGREDIENTS USED IN ATTA CHOCOLATE MUG CAKE
Whole Wheat Atta (Whole Wheat Flour):


Atta is a healthier alternative to all-purpose flour. It provides a nutty flavor and added fiber, making this mug cake more nutritious.
Yogurt:


Yogurt adds moisture and a subtle tanginess to the cake. You can use plain yogurt or Greek yogurt for a thicker consistency.
Oil:

I always prefer sunflower oil. I avoid using strongly flavored oils like mustard or sesame cause of the strong taste they tend to leave behind.

Milk:
i have used regular toned milk but any kind of milk will work. You can use almond milk or soy milk- to make this double chocolate mug cake vegan and it will taste equally amazing!

Sugar:

I have used caster sugar for this recipe, however, this is a very forgiving mug cake and you can substitute caster sugar with powdered sugar or brown sugar also.
MICROWAVE COOKING INSTRUCTIONS
We are going to be making this atta chocolate mug cake using the regular microwave heating function. This means please only use glass or ceramic wear that is microwave safe. Do not use steel or cheap quality plastic that can be hazardous for your health and quite dangerous to use.
The cooking time will differ from one microwave to the other. I tried to microwave it for 90 seconds first and discovered that the outside was perfectly cooked but the inside and the middle were still raw. Which is why I cooked it for an additional 30 seconds. Making the full cooking time to come at 120 seconds or 2 minutes.  I recommend that after the 90 seconds mark you try and insert a skewer into the center and see if the mug cake needs more cooking and work accordingly.
ATTA CHOCOLATE MUG CAKE
Ingredients
3 tbsp yogurt
2 tbsp castor sugar
2 tbsp oil
3 tbsp atta
½ tbsp Cocoa powder
⅛ tsp Baking soda
⅛ tsp Baking powder
1 tbsp milk
½tsp Vanilla extract
Instructions
In a microwave safe mug start by adding castor sugar , oil , yogurt ,milk and vanilla extract.
Now add in all the dry ingredients-atta, Cocoa Powder, baking soda and baking powder in the mug.
Make sure to scrape the bottom and mix everything well.
Microwave the mug cake at regular heating mode for 2 minutes and dig right in!!