In the delightful realm of quick and easy desserts, mug cakes have become our go-to indulgence. There's something undeniably magical about the way a few simple ingredients can transform into a warm, comforting cake within minutes. If you've been following my blog, you'll know that I've explored countless versions of mug cakes, each one more delicious than the last. But as any true food lover, I'm always on the lookout for healthier alternatives that don't compromise on taste.
So I thought, why not transform this beloved treat of a chocolate mug cake into a wholesome, guilt-free indulgence? And thus, the journey of creating the perfect Ragi Chocolate Mug Cake began. Ragi, also known as finger millet, is a powerhouse of nutrients, rich in calcium, iron, and fiber. Incorporating this superfood into a mug cake seemed like the ideal way to blend health and indulgence seamlessly. If you're looking for a quick, wholesome, and utterly delicious treat, you're in the right place because this Ragi Chocolate Mug Cake checks all the boxes.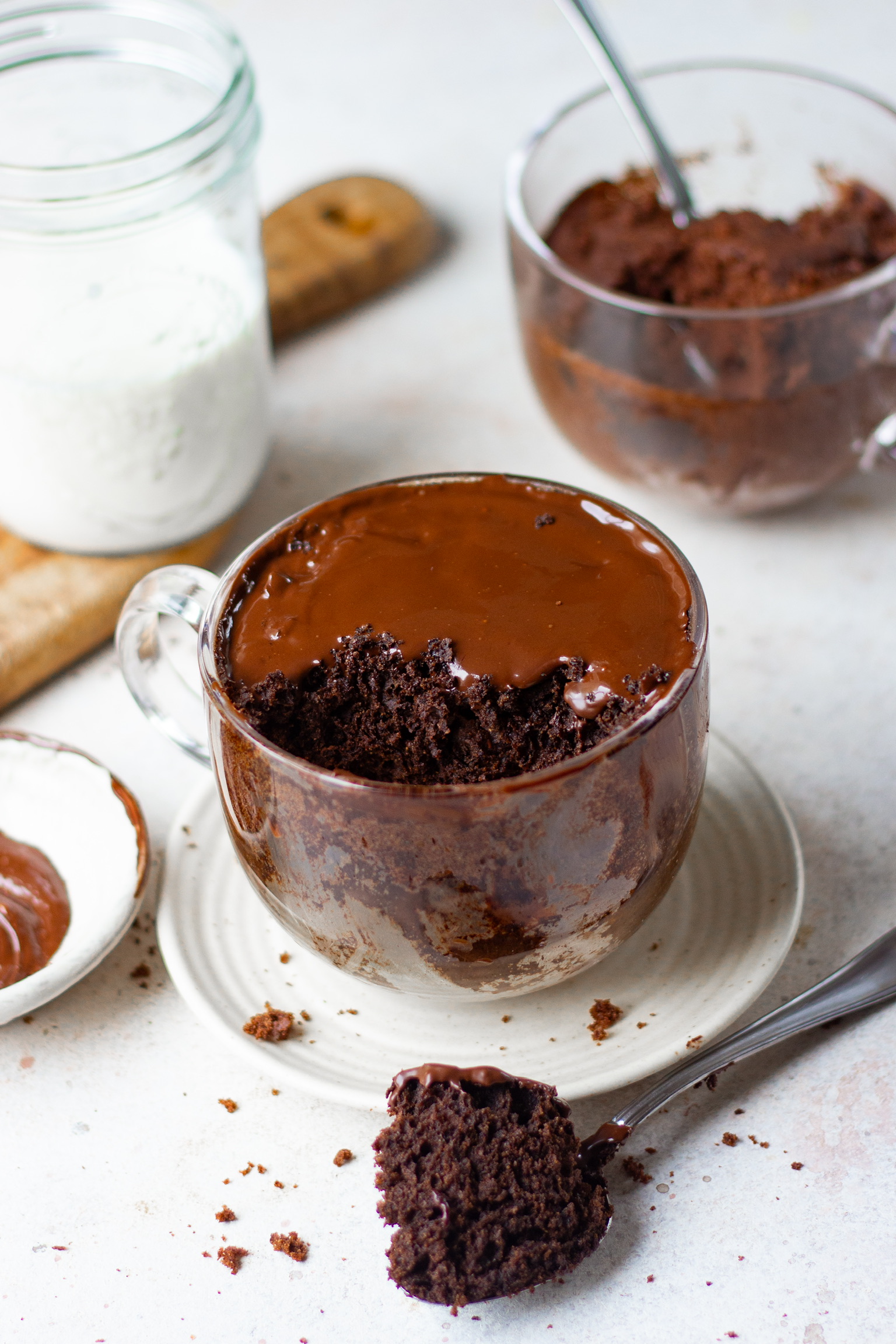 INGREDIENTS USED IN RAGI CHOCOLATE MUG CAKE
RAGI FLOUR

Ragi flour, also known as finger millet flour, is the heart of this recipe. It is a whole-grain flour that's gluten-free and rich in fiber, calcium, iron, and other essential nutrients. Ragi is known for its numerous health benefits, including aiding in digestion, providing energy, and promoting bone health. Using ragi flour in the mug cake not only adds a unique nutty flavor but also boosts the nutritional value of the dessert significantly.

JAGGERY

Jaggery, a natural sweetener made from concentrated sugarcane juice, replaces refined sugar in this recipe. Unlike white sugar, jaggery is unprocessed and retains essential vitamins and minerals. It provides a rich, caramel-like sweetness to the mug cake

MILK
Milk serves as the liquid base in the mug cake, imparting moisture and tenderness to the texture. It also adds a creamy richness to the dessert. Milk is a good source of calcium and protein, essential nutrients for bone health and overall body development. I have used Nestle toned milk but you can use plant-based alternatives like almond milk or soy milk catering to different dietary preferences without compromising the taste.
COCOA POWDER

Cocoa powder is responsible for the chocolatey goodness of the Ragi Chocolate mug cake. It not only enhances the flavour but also provides antioxidants and minerals like iron and magnesium. Its inclusion in the recipe ensures that the mug cake is rich, decadent, and deeply satisfying to chocolate lovers.

OIL

A small quantity of oil, such as vegetable oil or coconut oil, is added to the mug cake for moisture. Oil plays a vital role in keeping the cake tender and preventing it from becoming dry. While it's important to use oil in moderation, the right amount ensures the ragi chocolate mug cake has a soft, velvety texture.
EQUIPMENT YOU NEED FOR THE RAGI CHOCOLATE MUG CAKE
You can use any mug or even a small bowl that is microwave-safe. One thing to keep in mind is that this recipe has been designed for a 500ml capacity mug, so if the mug that you are using is smaller please adjust the recipe accordingly.
You do not need any fancy mixers, all you need is a hand whisk. A hand whisk will allow mug cake ingredients to mix thoroughly with each other. Now even if you do not have a hand whisk, you can simply use a fork to yield similar results.
Measuring Cups and Measuring Spoons. are an integral part of any baker's kitchen and its very important to measure ingredients with precision.
MICROWAVE COOKING INSTRUCTIONS
We are going to be making this ragi mug cake using the regular microwave heating function. This means please only use glass or ceramic wear that is microwave safe. Do not use steel or cheap quality plastic that can be hazardous for your health and quite dangerous to use.
The cooking time will differ from one microwave to the other. I tried to microwave it for 90 seconds first and discovered that the outside was perfectly cooked but the inside and the middle were still raw. Which is why I cooked it for an additional 30 seconds. Making the full cooking time to come at 120 seconds or 2 minutes.  I recommend that after the 90 seconds mark you try and insert a skewer into the center and see if the mug cake needs more cooking and work accordingly.
OTHER RELATED RECIPES FROM THE BLOG
TIPS TO MAKE THE RAGI CHOCOLATE MUG CAKE
Use healthier oil options like olive oil, coconut oil, etc.
You can use natural sweeteners like honey, maple syrup too instead of jaggery.
Pay attention to corners of the mug to avoid any pockets of dry flour while mixing the batter.
Enhance the texture by adding ingredients like chopped nuts, chocolate chips, or shredded coconut. These additions provide a delightful crunch and additional flavour.
Cooking times can vary based on the wattage of your microwave therefore, microwave the mug cake in short intervals and check for doneness to avoid overcooking.
Allow the mug cake batter to rest for a minute or two before microwaving. This helps to improve the overall texture after cooking.
RAG CHOCOLATE MUG CAKE
Ingredients
5 tbsp ragi flour
3 tbsp jaggery
1 tbsp cocoa powder
¼ tsp baking soda
¼ cup milk
2 tbsp oil
½ tsp vanilla extract
Instructions
In a microwave safe mug, start by adding dry ingredients-ragi flour, jagger, cocoa powder, baking soda.
Now add the liquid ingredients- milk, oil and vanilla extract.
Mix everything together and make sure to scrape the bottom.
Microwave the mug at regular heating mode for 2 minutes and dig right in.
If you like my Ragi Chocolate Mug Cake recipe and happen to make them in your kitchen, do tag me on Instagram and share pictures with me using #Bakewithshivesh. Happy Baking!