No Oven! No Microwave! No Maida! No Eggs!
Yes that's right. Today, we're diving into the art of crafting the perfect chocolate brownies using a simple and humble tool – your trusty cooker. These chocolate brownies, baked to perfection in the cozy confines of your stovetop, promise a gooey center, a crisp exterior, and an irresistible aroma that will fill your kitchen with warmth.
I have created this healthy Chocolate Brownie in a Cooker recipe that can be made in a cooker without much hassle. Its chocolaty, its fudgy and mess-free. Just with a few instructions and basic ingredients, this Brownie recipe comes together super easily. Hope you give this version a try and enjoy it as much as I did !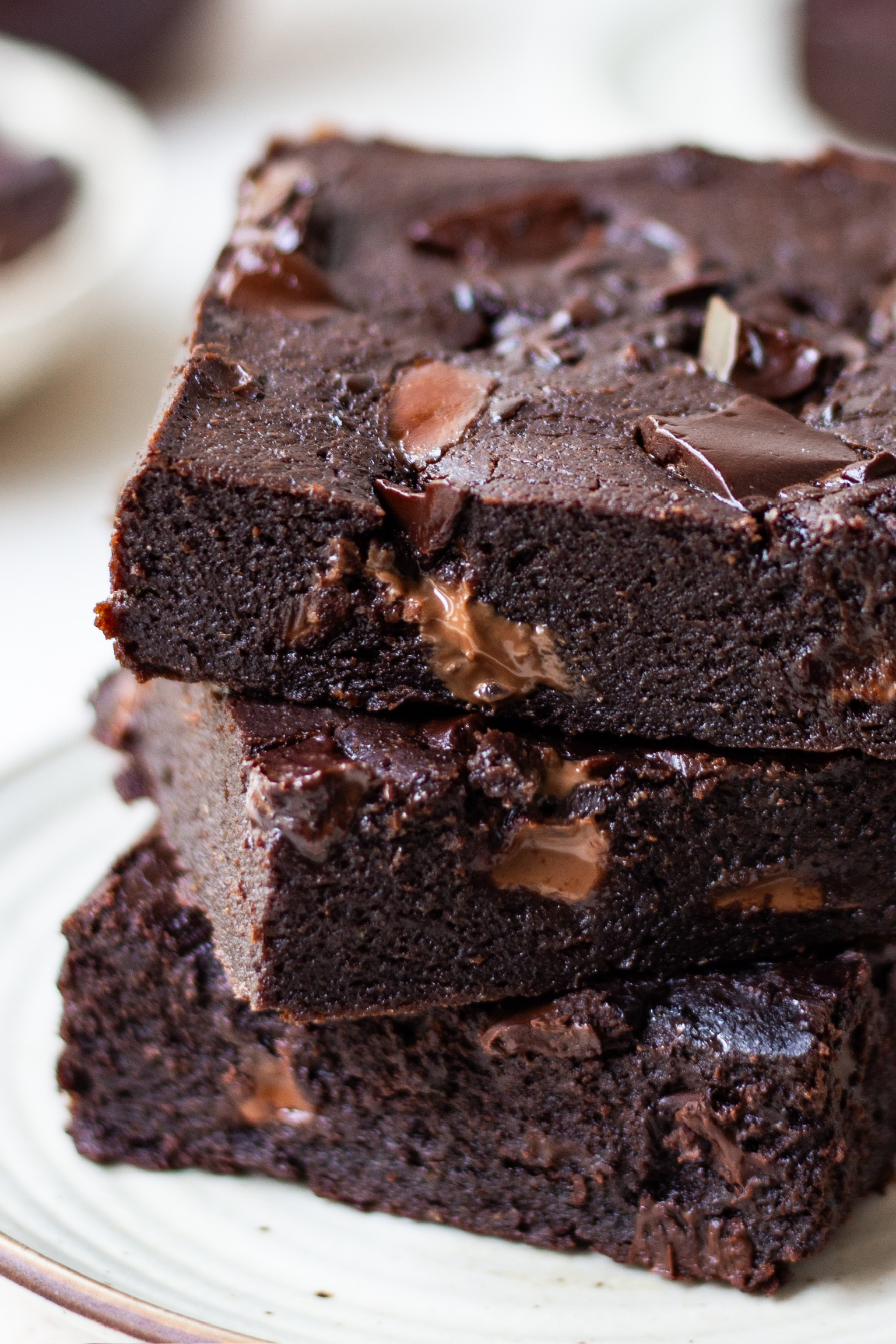 INGREDIENTS USED IN CHOCOLATE BROWNIES IN A COOKER
Butter helps create a moist and tender crumb in the brownie. It adds a level of richness that contributes to the overall texture of the dessert. Butter carries and enhances the flavour of other ingredients. This includes the chocolate, cocoa powder, and any additional flavourings used in the recipe.
Milk helps distribute the dry and wet ingredients evenly throughout the batter, ensuring a uniform consistency and flavour.  If the recipe includes ingredients like cocoa powder or sweeteners, milk can assist in dissolving them, ensuring they mix thoroughly with the other ingredients. In a healthy brownie recipe, you might choose a lower-fat milk or a non-dairy alternative like almond or oat milk to reduce overall fat content.
Sugar is the primary sweetener in brownie recipes. It provides the characteristic sweet taste that balances the bitterness of ingredients like cocoa powder and enhances the overall flavor profile. During baking, sugar caramelizes, creating a desirable golden-brown crust on the top and edges of the brownies. This caramelization adds depth of flavor and visual appeal.
Whole wheat flour retains the bran and germ components of the wheat kernel, which are rich in dietary fibre, vitamins and minerals. This enhances the nutritional content of cakes. The bran in whole wheat flour absorbs more liquid than refined flour, resulting in a dough or batter that may require additional moisture.
Cocoa powder is responsible for providing the rich, chocolatey flavour that is characteristic of brownies. It is the primary source of chocolate flavour in the recipe. Cocoa powder helps to provide structure and thickness to the brownie batter. It absorbs moisture and contributes to the overall texture of the brownie. Cocoa powder can be used in various ways, allowing for customization in the recipe. For example, you can use natural or Dutch-processed cocoa powder, or even experiment with different types of chocolate powders for different flavour profiles.
Chocolate chunks add a delightful contrast in texture to the brownies. As the chunks melt during baking, they create pockets of gooey, molten chocolate within the dense and fudgy brownie. The contrast between the dark, fudgy brownie and the chunks of lighter or contrasting chocolate adds visual interest, making the brownies look even more tempting. You can choose the type of chocolate for your chunks, whether it's dark, milk, or white chocolate, or a combination of these.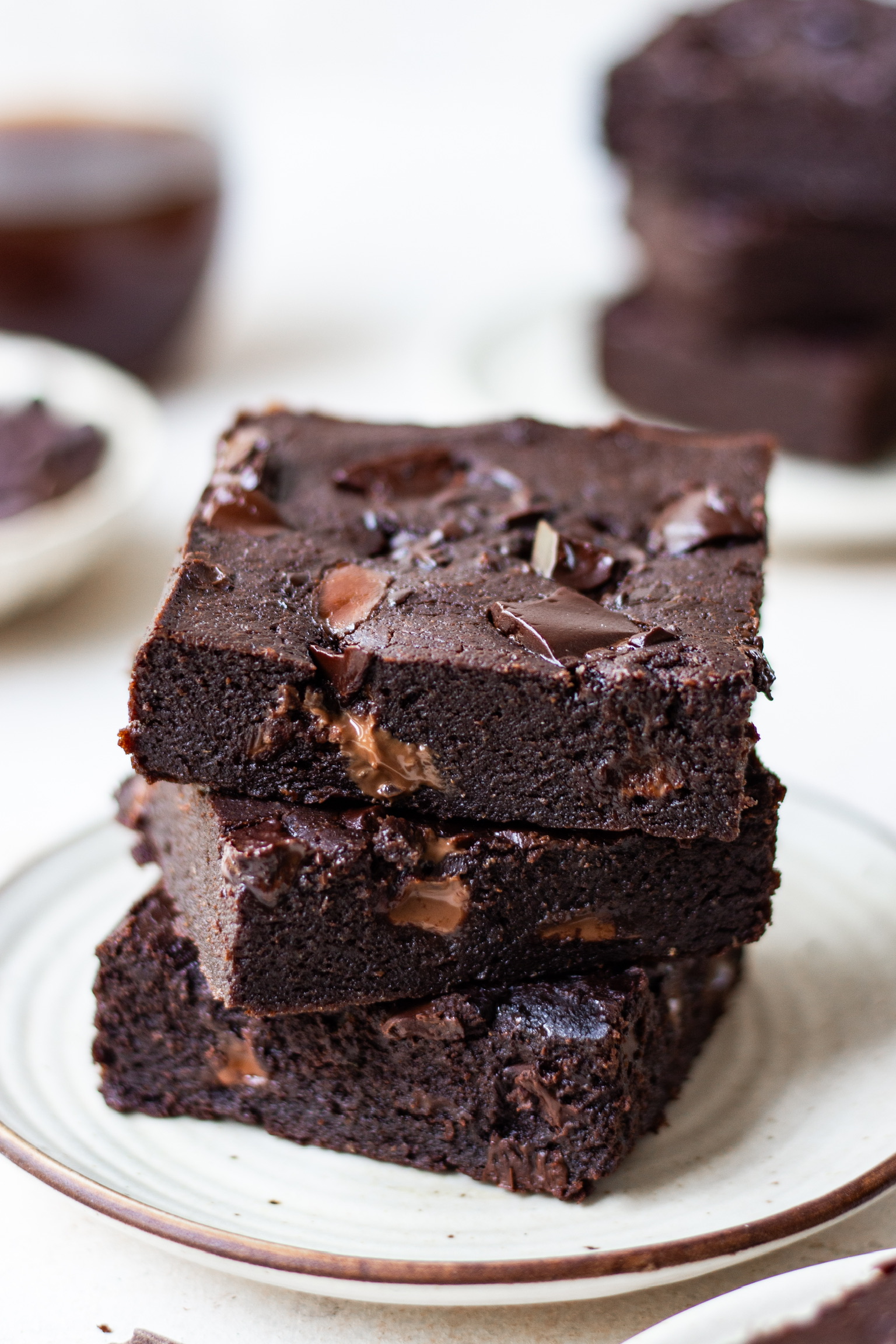 EQUIPMENT USED FOR MAKING CHOCOLATE BROWNIES IN A COOKER
This recipe comes together quickly and hardly needs any equipment.
A good bowl to mix all the ingredients and make the batter is the first thing required.
Measuring Cups and Measuring Spoons. are an integral part of any baker's kitchen and it's very important to measure ingredients with precision.
A spatula and a whisk help to bring in the batter together.
A cooker that fits your desired mould inside it and a stand to put the mould on will be required for the right brownie texture. If the mould touched the base of the cooker, it can get burnt. I used my Stahl cooker to make the brownies.
I used a 6 inch baking pan to cook the brownies in. I also used parchment paper to line my mould.
OTHER RELATED RECIPES FROM THE BLOG
TIPS TO MAKE CHOCOLATE BROWNIES IN A COOKER
Make sure the ingredients are at room temperature. this ensures that the batter does not curdle or take extra time while baking.
You can use melted ghee instead of butter to make the recipe even more healthy.
Make sure the whistle is off the cooker before preheating and while making the brownies.
Allow the brownie to cool for a few minutes before digging in. This helps it set and improves the texture.
Use good quality chocolate chunks for best flavour. You can remove the chocolate chunks altogether too if desired.
Experiment with different toppings if chocolate chunks are not your preference. You can add chopped nuts, dried fruits or hazelnut/caramel spreads.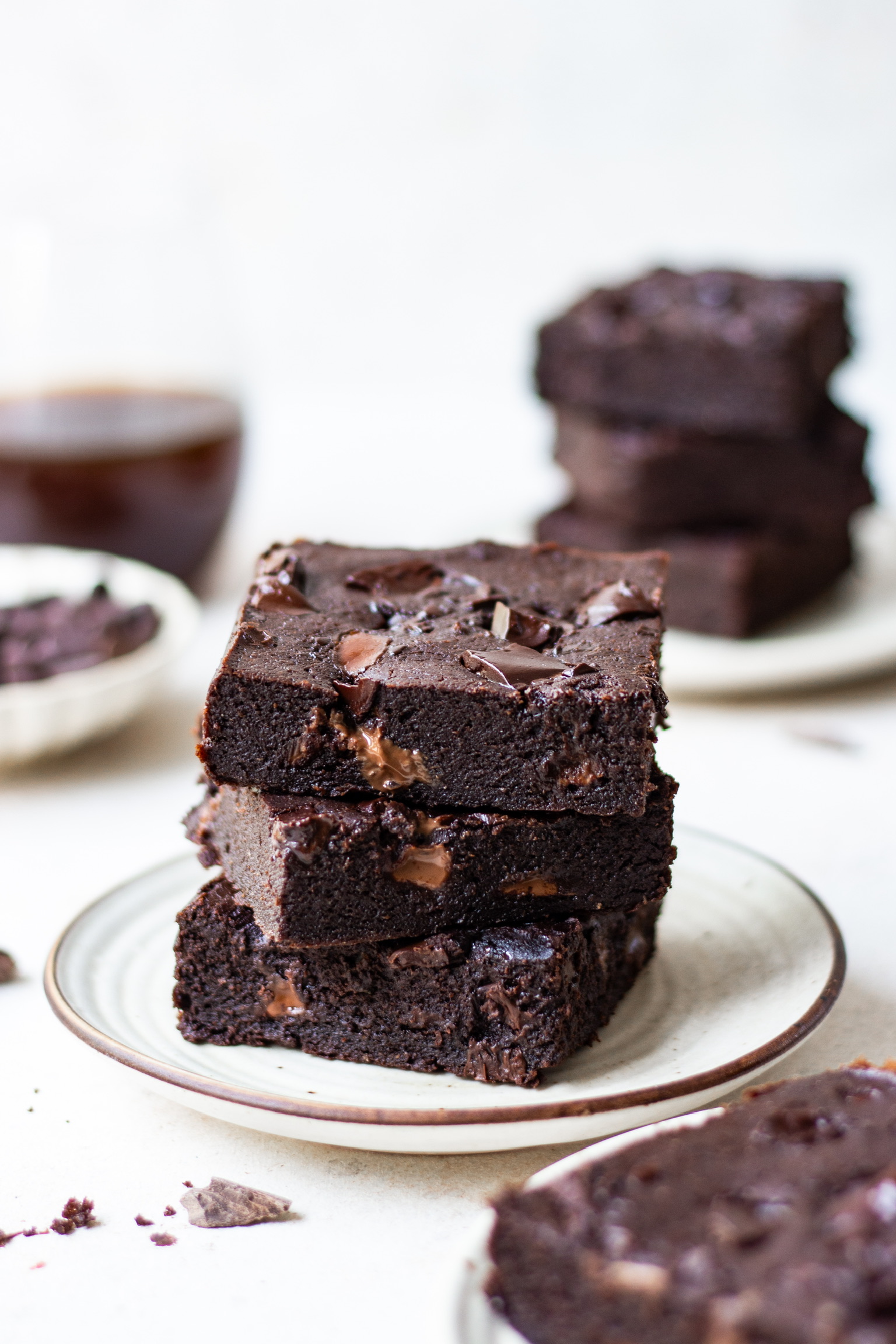 CHOCOLATE BROWNIES IN A COOKER
Ingredients
½ cup melted butter
3 tbsp sugar
¾ cup milk
½ cup whole wheat flour
6 tbsp cocoa powder
¼ cup milk chocolate chunks
¼ cup dark chocolate chunks
Instructions
In a bowl, add melted butter, sugar and milk. Mix thoroughly.
Now add the dry ingredients- whole wheat flour and cocoa powder. Mix till everything is well combined.
Gently fold in milk chocolate chunks into the batter.
Pour the batter in a 6- inch square dish lined with parchment paper and top it up with the dark chocolate chunks.
Preheat the cooker by adding some salt on the botton of the cooker alongwith a small stand and heating in on low-medium with the lid on for 5-7 mins.
Carefully place the brownie pan on the stand and cover it with the cooker lid. Cook on low-medium heat for 25-30 mins.
If you like my Chocolate Brownies In A Cooker recipe and happen to make them in your kitchen, do tag me on Instagram and share pictures with me using #Bakewithshivesh. Happy Baking!