Biscuits are a beloved snack that people across the globe enjoy with their tea or coffee. From crunchy cookies to buttery biscuits, these little treats are perfect for a quick pick-me-up. However, store-bought biscuits often come with hidden sugars and unhealthy fats. So, if you're looking for a healthier option that doesn't compromise on taste, we've got the perfect solution for you: Oats n Atta Biscuits. In this blog, we'll explore the benefits of these wholesome biscuits and provide you with an easy-to-follow recipe to bake them at home.
These biscuits are a fusion of the goodness of oats and the rustic charm of atta, creating a treat that's not only delicious but also nutritious. Join me as I blend the nuttiness of oats with the earthy flavour of atta, resulting in a crunchy, guilt-free indulgence that your taste buds and your health will thank you for.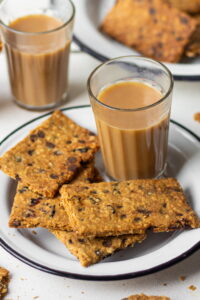 INGREDIENTS USED FOR OATS & ATTA BISCUITS
Butter helps create a tender and crumbly texture in the biscuits. It acts as a binding agent, helping to hold the ingredients together. This is essential for forming a cohesive dough that can be easily shaped into biscuits. Butter aids in the browning of the biscuits during baking, giving them an appealing golden color.
Instead of all-purpose flour, I have used whole wheat flour. I love the nutty and earthy flavor that whole wheat flour adds to baked goods. It is a little more dense in structure but definitely a healthier alternative. Whole wheat flour retains the bran and germ components of the wheat kernel, which are rich in dietary fiber, vitamins and minerals.
I normally use a combination of caster sugar and light brown sugar in my cookie recipes. This time I used jaggery powder which is also commonly known as shakkar. If you don't have jaggery, you can also use coconut sugar. It is very commonly available in the local stores these days.  
This is one of the major ingredients of our recipe. Including oats in the biscuit recipe adds nutritional value to the baked goods, making them a healthier snack option. They are full of fiber and protein and even a small quantity can fill up your stomach nicely. They soak in a lot of liquid and hence, are full of flavour when combined with the right ingredients. I have used rolled oats from Jewel but you can use any, that you like. Oats bring a unique texture to the biscuits. Rolled oats, in particular, have a slightly chewy and hearty texture that adds interest and variety to the otherwise smooth and tender texture of the biscuits.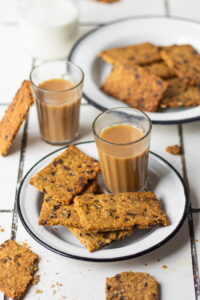 IMPORTANT TO REST OAT & ATTA BISCUITS IN THE FRIDGE
I mean we spend all this time and effort to prepare the dough and then we have to wait more for the biscuits to chill in the fridge? Yes. This is a very crucial step to get these oats & atta biscuits right. Since we are using coconut oil, which is liquid at room temperature and solid in the fridge. We will apply the same logic to our biscuit dough and understand that when our dough gets to rest in the fats in it from the butter will solidify and help our dough retain shape when baked. This will also prevent the biscuits from spreading too much and losing their shape.
ROLLING OUT AND SHAPING OATS & ATTA BISCUITS
Once your dough has chilled, you can start rolling it out. It is very important to be able to roll the dough flat equally from all sides. The best way to do this is between two parchment or silicone mats. This will not only ensure a smooth surface for our biscuits but also help prevent it from sticking to the rolling pins. Now if you are a thin biscuit person by all means roll them as thin as you like. If you are on the team thick biscuits like myself, we will roll them about ½ an inch thick.
Once evenly rolled out, you can simply use a knife and cut of rectangular biscuits. They will look equally cute!
EQUIPMENT USED FOR MAKING OATS & ATTA BISCUITS
The kind of equipment you use when you're baking makes a huge difference to the end result! I would recommend you to use good quality mixing bowls and other equipment so that your Oats and Atta Biscuits come out delicious!
To mix all my ingredients together in, I'm using Borosil's 100% Borosilicate Glass Bowl which is microwave and oven safe, plus the bowls are super easy to clean and handle, which makes my baking process totally hassle free!
An electric whisk to cream the butter and sugar is necessary. I have also used a spatula to combine the rest of the ingredients.
I have used these silicon mats to bake my biscuits on. This ensures that the bottom of my biscuits remain smooth and don't stick to the tray.
To bake my biscuits I have used my Borosil 60L Oven . It's been a part of my kitchen for a few months now and I absolutely love it.
OTHER RECIPES FROM THE BLOG
TIPS TO MAKE OATS & ATTA BISCUITS
Ensure that the butter is softened before creaming it with the sugar. Softened butter contributes to a smoother texture in the biscuits.
Once you add the dry ingredients, avoid overmixing the dough. Overmixing can lead to tougher biscuits. Mix until just combined.
Opt for high-quality oats and whole wheat atta to enhance the flavor and nutritional profile of your biscuits.
Consider chilling the dough for about 30 minutes before shaping and baking. Chilled dough helps the biscuits maintain their shape during baking and results in a better texture.
Allow the biscuits to cool on the baking sheet for a few minutes before transferring them to a wire rack. This helps them set properly.
Store the cooled biscuits in an airtight container to maintain freshness. Adding a slice of bread to the container can help prevent the biscuits from becoming overly dry.
OATS & ATTA BISCUITS
Ingredients
Oats biscuit
½ cup butter, softened
½ cup jaggery powder
½ tsp vanilla extract
1 cup oats
1 cup atta
¼ tsp baking soda
1 tsp baking powder
¼ cup chocolate chips
¼ cup dried berries
2-3 tbsp milk
Instructions
Preheat your oven to 180°C and line a baking tray with silicon mat.
In a bowl, cream together the softened butter and jaggery powder until it becomes light and fluffy.
Add the vanilla extract to the butter-sugar mixture and mix well.
Now add atta, oats, baking powder and baking soda.
Fold in the dried chopped berries and chocolate chips in the dough.
Add milk and knead gently until the dough comes together. Be careful not to over-knead.
Roll the dough onto a parchment paper and cut into rectangle shape.
Place the rectangle shaped cookies on the silicon mat.
Bake in the preheated oven for 12-15 minutes or until the edges of the biscuits turn golden brown.
Remove the biscuits from the oven and let them cool on a wire rack.
If you like my Oats and Atta Biscuits recipe and happen to make them in your kitchen, do tag me on Instagram and share pictures with me using #Bakewithshivesh. Happy Baking!