Indulging in a decadent brownie doesn't have to be a time-consuming affair. With this quick and easy 2-Minute Microwave Brownie recipe, you can satisfy your sweet cravings in no time, all while keeping it on the healthier side. This delightful treat packs a punch of rich, chocolatey flavour without compromising on your commitment to a balanced lifestyle. Using wholesome ingredients and smart substitutions, I and my team have crafted a guilt-free version that's perfect for those moments when you need a little pick-me-up. This 2-Minute Microwave Brownie is so fudgy, moist and soft that you wont be able to resist it. It's a small serve recipe which can serve 2-4 people or maybe just one! *wink wink*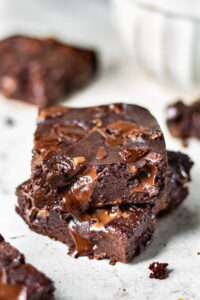 INGREDIENTS USED IN 2-MIN MICROWAVE BROWNIE
Butter helps create a moist and tender crumb in the brownie. It adds a level of richness that contributes to the overall texture of the dessert. Butter carries and enhances the flavour of other ingredients. This includes the chocolate, cocoa powder, and any additional flavourings used in the recipe.
Milk helps distribute the dry and wet ingredients evenly throughout the batter, ensuring a uniform consistency and flavour.  If the recipe includes ingredients like cocoa powder or sweeteners, milk can assist in dissolving them, ensuring they mix thoroughly with the other ingredients. In a healthy brownie recipe, you might choose a lower-fat milk or a non-dairy alternative like almond or oat milk to reduce overall fat content.
Jaggery powder serves as a natural alternative to refined sugars. It imparts a rich, caramel-like sweetness to the 2-minute microwave brownie without the overly processed nature of white sugar. Jaggery powder contains a small amount of moisture, which contributes to the overall texture and moistness of the brownie. This can result in a softer, more tender crumb. Jaggery powder contains trace minerals like iron, potassium, and calcium, which are often absent in refined sugars.
Whole wheat flour retains the bran and germ components of the wheat kernel, which are rich in dietary fiber, vitamins and minerals. This enhances the nutritional content of cakes. The bran in whole wheat flour absorbs more liquid than refined flour, resulting in a dough or batter that may require additional moisture.
Cocoa powder is responsible for providing the rich, chocolatey flavour that is characteristic of brownies. It is the primary source of chocolate flavour in the recipe. Cocoa powder helps to provide structure and thickness to the brownie batter. It absorbs moisture and contributes to the overall texture of the brownie. Cocoa powder can be used in various ways, allowing for customization in the recipe. For example, you can use natural or Dutch-processed cocoa powder, or even experiment with different types of chocolate powders for different flavour profiles.
 EQUIPMENT USED FOR MAKING 2-MIN MICROWAVE BROWNIE
This recipe comes together quickly and hardly needs any equipment.
Measuring Cups and Measuring Spoons. are an integral part of any baker's kitchen and it's very important to measure ingredients with precision.
A spatula and a whisk help to bring in the batter together.
I used a Borosil 5 inch square pan to bake the brownies in microwave.
OTHER RELATED RECIPES FROM THE BLOG
TIPS TO MAKE 2-MIN MICROWAVE BROWNIE
Make sure all the ingredients are at room temperature.
You can use melted ghee to make the recipe even more healthy.
You can use low-fat dairy or dairy alternatives like almond milk or oat milk for a healthier cake.
Allow the brownie to cool for a few minutes before digging in. This helps it set and improves the texture.
Once baked, check with a skewer if it comes out dry. Don't overbake it or the texture will not turn out good.
Use good quality chocolate chunks for best flavour. You can remove the chocolate chunks altogether too if desired.
2-MIN MICROWAVE BROWNIE
Ingredients
½ cup melted butter
3 tbsp jaggery
¾ cup milk
½ cup whole wheat flour
6 tbsp cocoa powder
¼ cup chocolate chunks
Instructions
In a bowl, add melted butter, jaggery and milk. Mix thoroughly.
2. Now add the dry ingredients- whole wheat flour and cocoa powder. Mix till everything is well combined.
3. Gently fold in some chocolate chunks into the batter and reserve some for the top.
4. Pour the batter in a 5-inch glass square dish lined with parchment paper and top it up with the remaining chocolate chunks.
5. Microwave this it for 2 minutes using the regular heating mode.
6. Once baked cut the brownie in equal squares and enjoy.
If you like my 2-Min Microwave Brownie recipe and happen to make them in your kitchen, do tag me on Instagram and share pictures with me using #Bakewithshivesh. Happy Baking!