If you're a dessert enthusiast, you've likely heard of the delightful and decadent dessert known as "Choco Lava Cake." But have you ever tried its adorable miniature counterpart – Mini Choco Lava Bombs? These bite-sized choco lava bombs are like a flavor explosion in your mouth, and they're perfect for satisfying your sweet cravings. In this blog post, we'll take you on a delightful journey into the world of Mini Choco Lava Bombs, from their origins to how you can make them at home.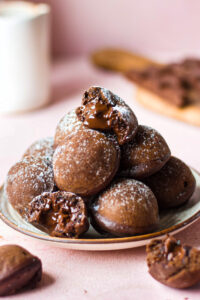 INGREDIENTS USED IN MAKING CHOCO LAVA BOMBS
MILK
This recipe is an eggless recipe and hence milk acts as the binding agent. Milk along with vinegar forms buttermilk, which is a vegetarian egg substitute. Not only that, but milk makes the pancakes more moist and light after cooking.
COCOA POWDER
The chocolate element in this cookies and cream pancake bombs is coming from cocoa powder. I have used Hersheys cocoa powder but you can use any.
RAISING AGENTS
Baking soda and baking powder are used as leavening agents to make the pancake bombs fluffy and light.
TIPS FOR MAKING CHOCO LAVA BOMBS
1. Whisk all the dry ingredients before adding the wet ingredients.
2. Heat the paniyaram pan well enough and grease as well before pouring the pancake batter.
3.. You can switch the filling to your liking as well. This chocolate batter goes well with nutella, lotus biscoff etc.
WHAT MAKES MINI CHOCO LAVA BOMBS SPECIAL ?
Gooey Center: Just like their larger counterparts, Mini Choco Lava Bombs have a rich, gooey chocolate center that oozes out when you take a bite. It's the ultimate indulgence for chocolate lovers.
Bite-sized Bliss: These mini desserts are perfectly portioned, making them ideal for sharing or enjoying as a personal treat. You can have more than one without feeling guilty!
Versatile: Mini Choco Lava Bombs can be customized to your liking. You can experiment with different types of chocolates, fillings, and toppings to create a variety of flavor combinations.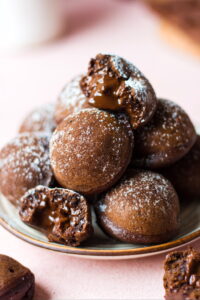 EQUIPMENT USED IN MAKING MINI CHOCO LAVA BOMBS
One equipment that is absolutely necessary to make choco lava bombs is an appe/paniyaram pan.
It is easily available in markets or online.
Not a single day goes in my kitchen when I don't use a Silicon Spatula, this is the one I recommend. Same goes for my set of Measuring Cups and Measuring Spoons.
OTHER RELATED RECIPES FROM THE BLOG
MINI CHOCO LAVA BOMBS
Ingredients
⅓ cup castor sugar
2 tbsp melted butter
½ cup warm milk
¾ cup all purpose flour
¼ cup cocoa powder
½ tsp baking powder
10-12 Chocolate chunks/pieces
Process
1. Take sugar and melted butter in a bowl and whisk well.
2. When incorporated well, add in the warm milk and mix again.
3. Then, add all your dry ingredients that is flour, cocoa powder, and baking powder.
4. Mix everything together and transfer the batter into a piping bag.
5. To make the mini cakes, heat an appe/paniyaram pan and grease it lightly.
6. Carefully fill ½ the cavities with cake batter and then add in chocolate chunk in the centre.
7. Cover the top of the chocolate chunk with some more cake batter and cook nicely from both sides.
If you like my mini choco lava bombs recipe and happen to make them in your kitchen, do tag me on
Instagram
 and share pictures with me using #Bakewithshivesh. Happy Baking!