If I ever had to pick a biscuit that I could eat for the rest of my life, it would be Oreos! Aren't they the best? Creamy goodness sandwiched between 2 chocolate biscuits. Ah! This makes me happy. So what better than taking my favourite biscuits and converting it into a dessert? This 4 ingredient chocolava cake recipe is super easy to make and super delicious to devour. Trust me you will not stop at just one bite. Traditionally chocolava cake , also known as molten chocolate cakes, are warm individual-size chocolate cakes with oozing chocolate centres. Most recipes will simply have you undercooking a chocolate cake batter, so the outside is set like cake but the inside is raw batter that pours out like lava when you cut into it.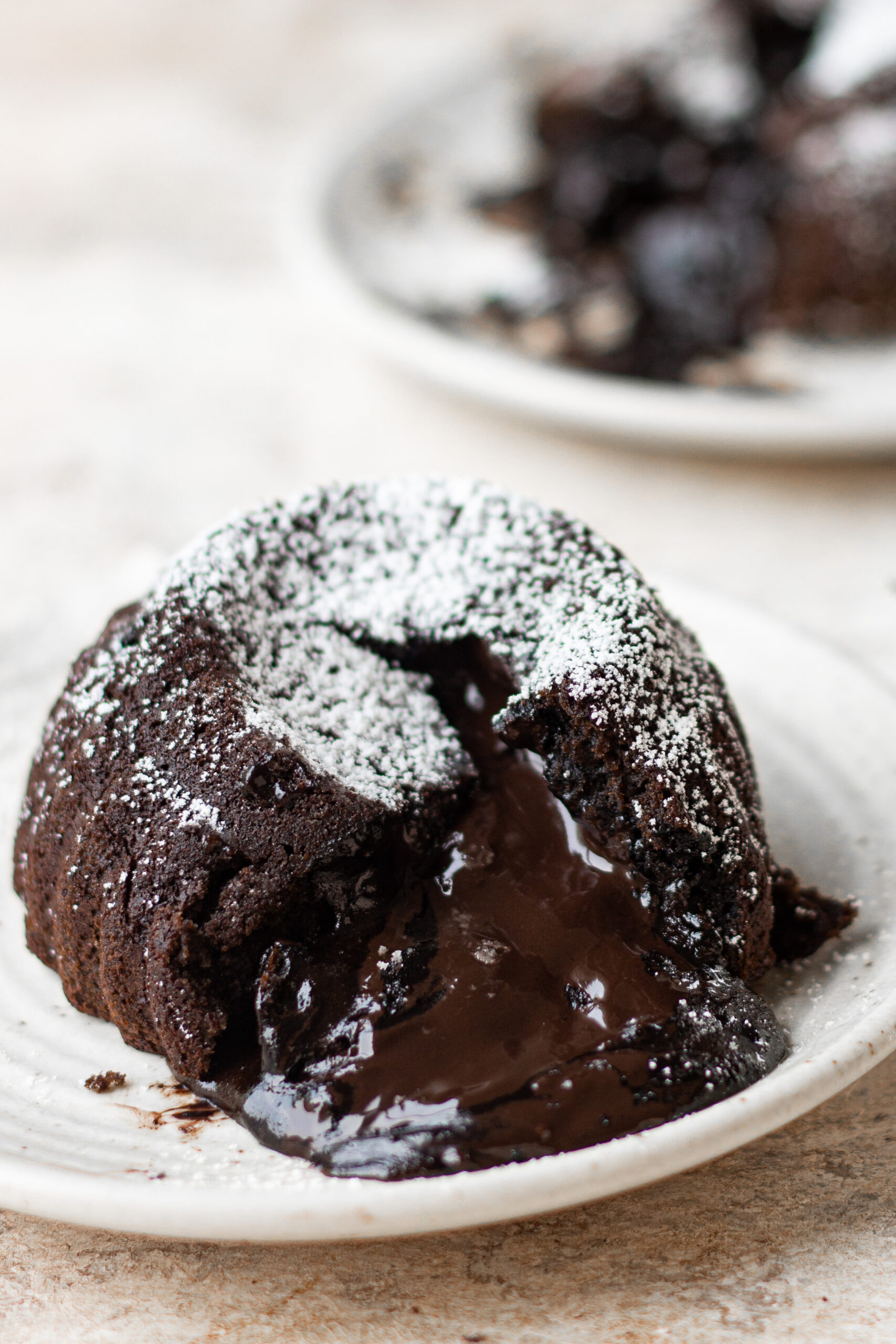 INGREDIENTS USED IN 4 INGREDIENT CHOCOLAVA CAKE.
OREO BISCUITS
As this recipe is flourless oreos are the most impotant ingredient of this recipe.You can use any of the flavours you find at the store. However plain or chocolate will result in the best tasting cakes. But go wild, if that's what you fancy!
HOT MILK
To give my oreos a batter like consistency I have used hot milk. This will melt the oreos and the result will be a smooth and silky chocolatey batter! You can use any milk either tonned or full cream. You can also use almond milk or soy milk which ever you like.
BAKING SODA
As this recipe is flourless and eggless I have added baking soda to my 4 ingredient chocolava cake to give it a cakey texture which is too die for. It also helps with giving the cake a nice structure and height.
CHOCOLATE CUBES
For an ooey gooey chocolately centre I have added few cubes of chocolate. The lava oozing out of the cake is honestly the best part! Warm chocolate paired with some ice cream legit feels like heaven on plate.
TIPS AND TRICKS FOR MAKING THIS 4 INGREDIENT CHOCOLAVA CAKE
Make sure that your milk is piping hot otherwise your oreo biscuits wont melt off completely and you'll end up with a lumpy batter.
You can also crush your biscuits before adding the milk. In this case the milk can still be cold or warm.
Place the chocolate cubes carefully in the centre and covered with batter otherwise chocolate can burn.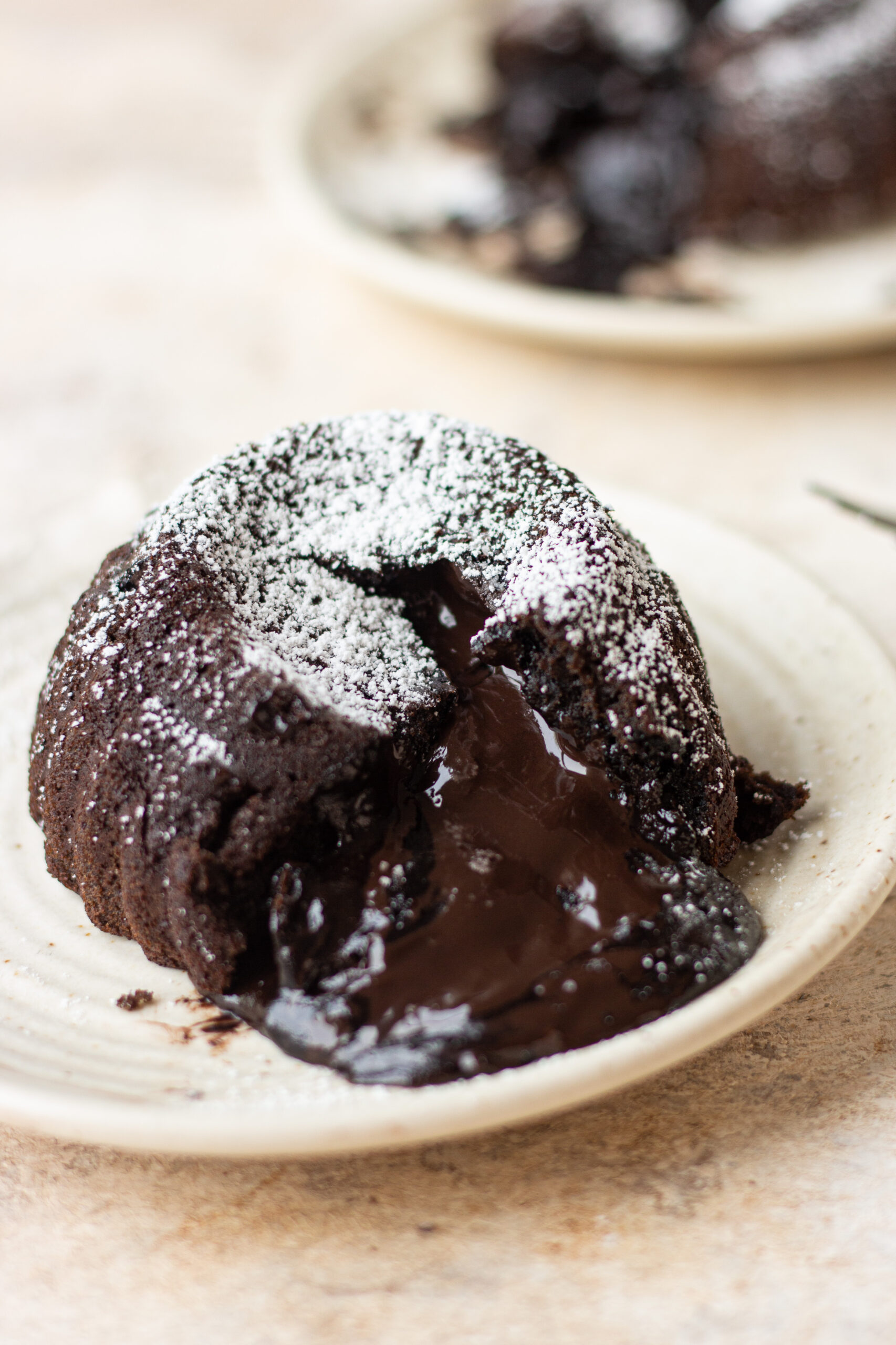 EQUIPMENTS USED IN MAKING THIS 4 INGREDIENT CHOCOLAVA CAKE
The kind of equipment you use when you're baking makes a huge difference to the end result! I would recommend you to use good quality mixing bowls and other equipment so that your baked goods come out delicious!
To mix all my ingredients together in, I'm using Borosil's 100% Borosilicate Glass Bowl which is microwave and oven safe, plus the bowls are super easy to clean and handle, which makes my baking process totally hassle free!
Not a single day goes in my kitchen when I don't use a Silicon Spatula, this is the one I recommend. Same goes for my set of Measuring Cups and Measuring Spoons.
I have cooked this chocolava cake in this borosilandyou air fryer. The more I use the more I realise how versatile it is! I can really end up using it for something or the other in my kitchen everyday. The fact that it's so efficient and easy to use only helps!
SIMILAR RECIPE ON BLOG
EGGLESS CHOCOLATE OREO WAFFLES
EGGLESS OREO CAKE WITH CHOCOLATE GANACHE
CHOCOLATE PUDDING CAKE- THE BEST CHOCOLATE CAKE EVER!
4 Ingredient chocolava cake
Ingredients
10 oreo cookies
¼ cup hot milk
½ tsp baking soda
3 chunks of chocolate
Instructions
Put oreos in a bowl amd add hot milk to it. Let it sit for 1-2 minutes.
Add baking soda and mix everything. Break the lumps if any using the whisk.
In a greased and dusted mould add the batter till the mould is half full. Add chocolate chunks in the middle and cover with some more batter.
Bake/ airfry for 8-10 minutes at 180c. serve hot with some icecream and ENJOY!
If you like my chocolava cake recipe and happen to make it in your kitchen, do tag me on
Instagram
 and share pictures with me using #Bakewithshivesh. Happy Baking!