If you are looking for a quick, easy-to put together Diwali snack made with just a few ingredients, look no further! You have found just the perfect thing. Ghee-roasted, crunchy, deeply caramelized and super addictive caramel makhana or foxnuts have to be one of the healthiest snacks for both adults and kids.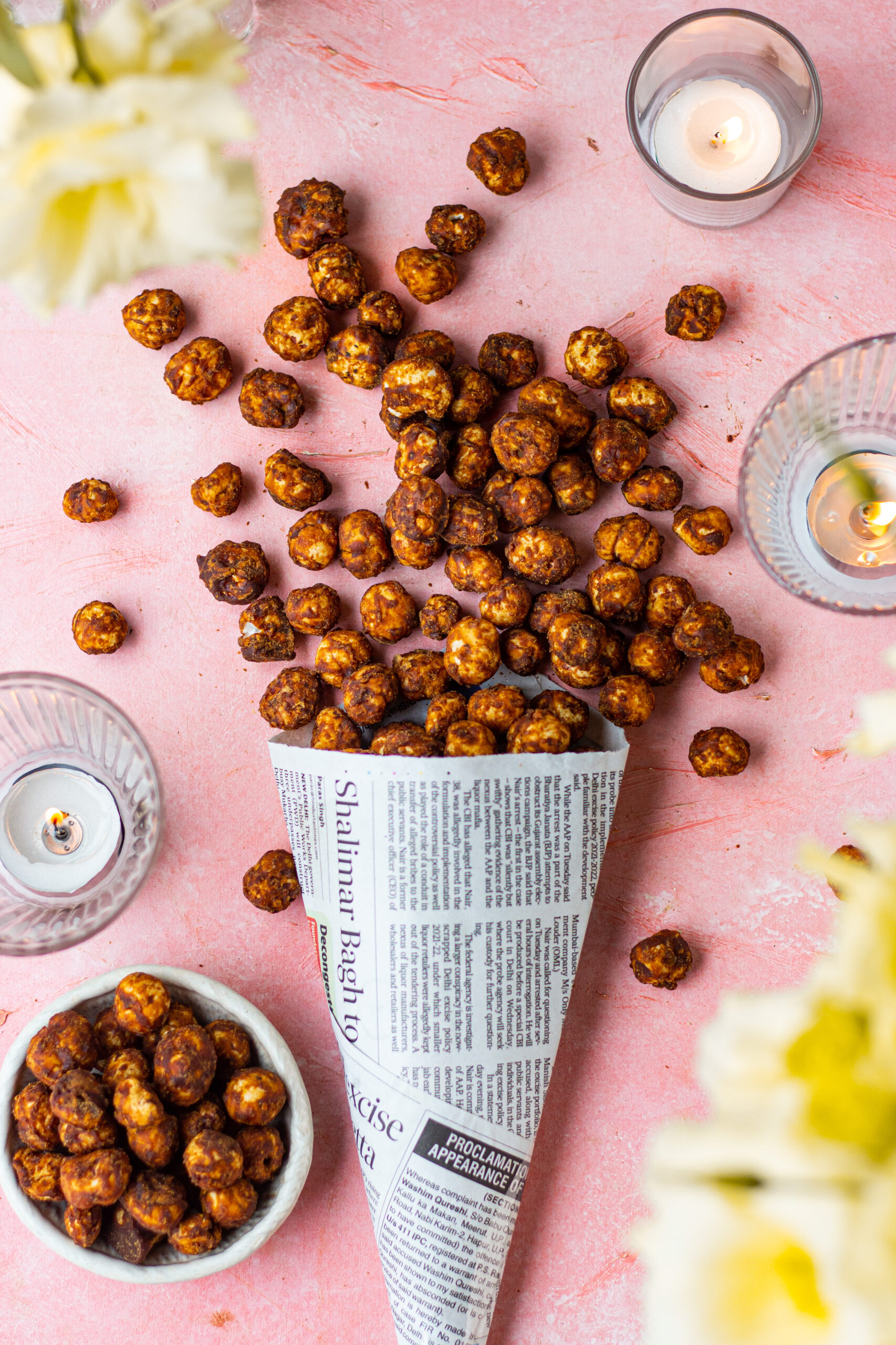 We all spend our Diwali days hogging on a lot of sweets like kaju katli, motichoor ladoo, gulab jamuns and the list is endless. Our Indian traditional mithais are the yummiest for sure but we know they aren't healthy for us! This Diwali, try these healthy caramel makhana which are equally yummy if not more. Made with only three ingredients (water doesn't count right?), these caramel makhana are surely fuss-free and easiest to make. Let's see what we need for the recipe.
INGREDIENTS NEEDED FOR CARAMEL MAKHANA
GHEE
No Indian sweet/mithai or snack is complete without ghee. Ghee is surely the soul and essence of Diwali. To make our caramel makhana, we will start by roasting the makhana in a tea spoon of ghee on medium to low flame. Make sure you are stirring and tossing the makhana at all times so that they roast evenly. Once that is done, we will also use a tea spoon of ghee to make our caramel for the makhana. You can replace ghee with equal quantity of butter or oil if you prefer those.
MAKHANA
Of course, you need makhana to make caramel makhana. Make sure you do not use very old makhanas, as they tend to get bad and leave an odor. If you don't have makhana, you can also replace them with equal quantity of popcorn. Roast the makhana until they turn golden brown and crunchy.
WATER
We will add water to our ghee and jaggery while making caramel for our caramel makhana. Water will help our jaggery to melt evenly and make sure it doesn't burn while doing so. It will also help our caramel dilute a bit so that it's easier to coat the makhana.
JAGGERY
I have used jaggery powder, this one, to make my caramel makhana. If you don't have jaggery powder, you can also use blocks of jaggery that you can easily get in any local market, make sure you finely chop them before adding to the pan so that they melt evenly and easily. To make my caramel makhana healthier, I have used jaggery. Feel free to replace it with castor or brown sugar if you feel like.
EQUIPMENT USED FOR MAKING CARAMEL MAKHANA
The kind of equipment you use when you're baking and cooking makes a huge difference to the end result! I would recommend you to use good quality mixing bowls and other equipment so that your caramel makhana come out delicious!
Not a single day goes in my kitchen when I don't use a Silicon Spatula, this is the one I recommend. Same goes for my set of Measuring Cups and Measuring Spoons.
To roast my makhana for caramel makhana, I have used this pan. It has been a trusted pan in my kitchen for a long time now. If you have seen the video and fancied the wooden handle measuring spoons, this is the one I use. And this is the brown parchment paper I use! That's pretty much all the equipment I used for this recipe.
If you try this recipe and like it, do try other quick sweet snack recipes from the blog. I am sure you are going to love them too!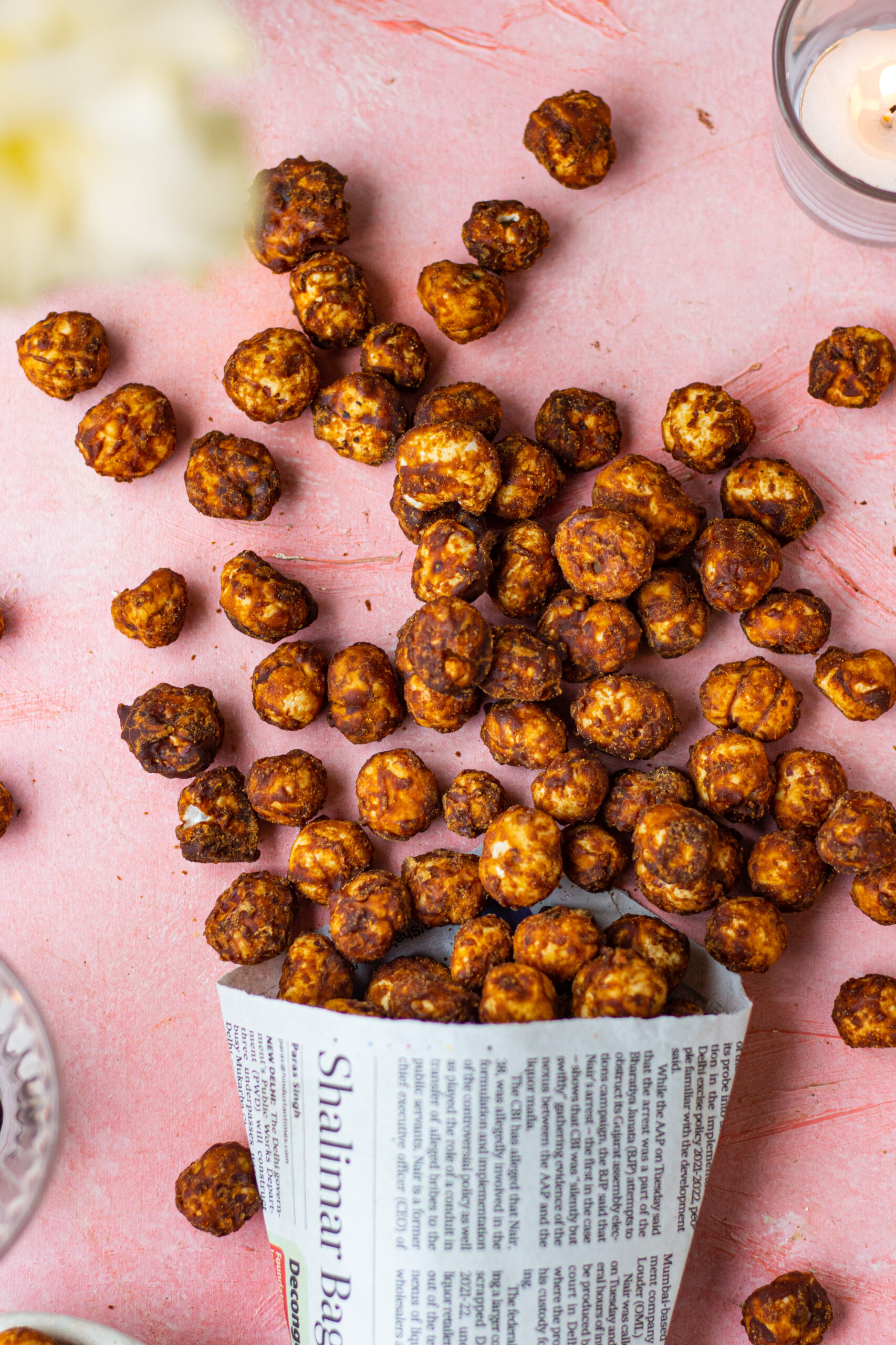 OTHER SWEET SNACK RECIPES FROM THE BLOG
CARAMEL MAKHANA
Ingredients
1 tsp ghee
1 + ½ cup makhana
1 tsp ghee
1 tbsp water
¾ cup jaggery/ sugar
Instructions
Start by adding ghee to a pan set on medium to low heat.
Add makhana and roast them. Make sure you stir continuously while doing so.
Once roasted, remove them from the pan.
In the same pan, add ghee, water and jaggery and keep stirring.
Once the jaggery is melted, cook the mixture for a few more minutes to caramelize the jaggery.
Quickly add the makhana and mix well until all are coated in the mixture.
On a tray lined with parchment paper, spread the makhana and let it cool down and crisp.
They may look like clusters at this stage, break them individually and store in an airtight container.
If you like my eggless aata jaggery brownie recipe and happen to make it in your kitchen, do tag me on Instagram and share pictures with me using #Bakewithshivesh. Happy Baking!