I love experimenting with new kinds of desserts but what i love even more is experimenting with the flavours. I have tried making pancake bombs and they have been a hit ! This time i've come up with Cookies and Cream pancake bombs which are literally THE BOMB ! A bite sized chocolate pancake with cream cheese filling is literally one of the best breakfast recipes i've created. If you love cookies and cream as much as I do, you must try this Cookies and Cream Pancake bombs recipe right away.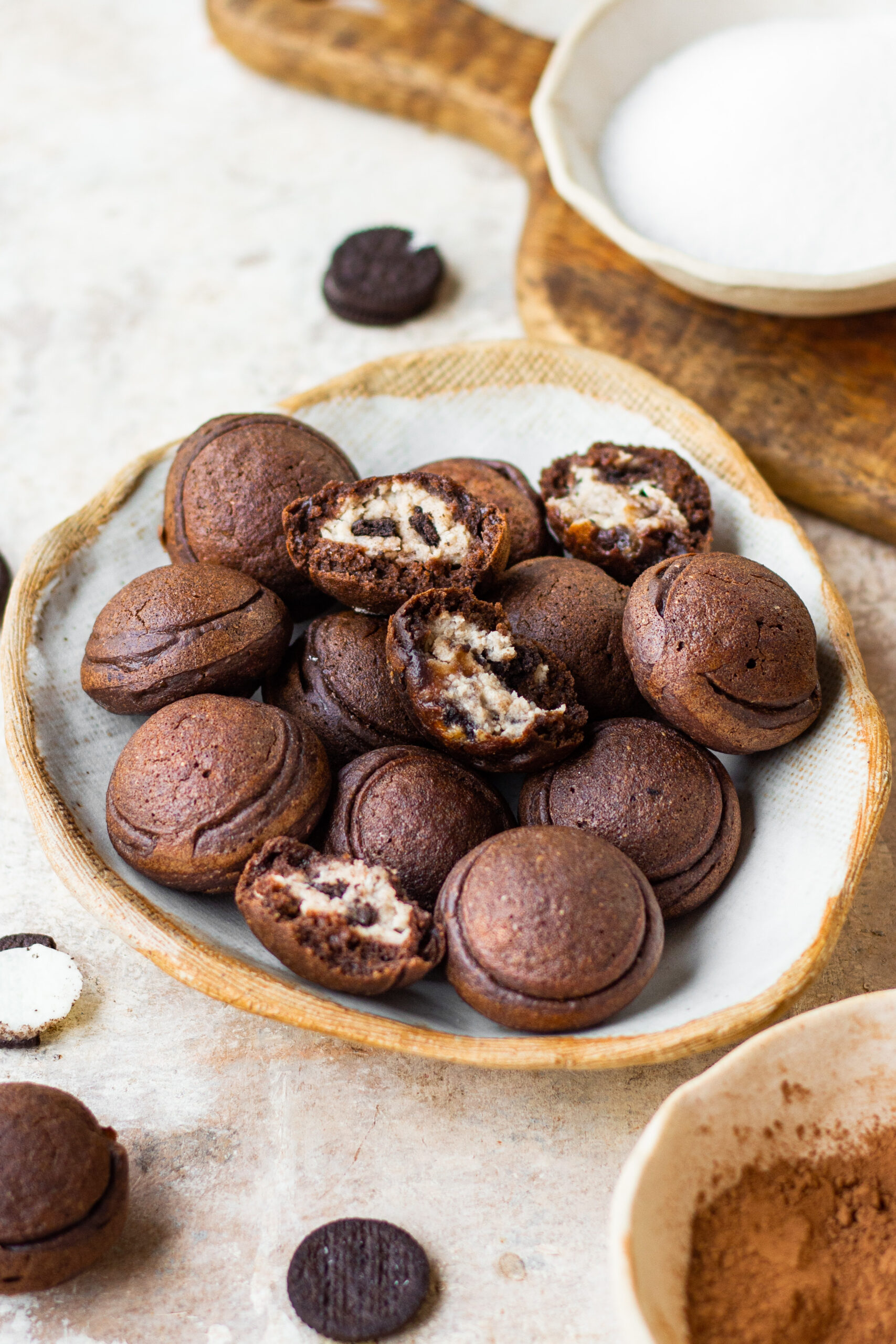 INGREDIENTS USED IN MAKING COOKIES AND CREAM PANCAKE BOMBS
Whole wheat flour
I have used a healthier alternative to all purpose flour in this recipe, which is whole wheat more. It makes the recipe slightly more nutritious and also gives a good texture to the pancake bombs. You can however, always use all purpose flour if you wish to.
Milk
This recipe is an eggless recipe and hence milk acts as the binding agent. Milk along with vinegar forms buttermilk, which is a vegetarian egg substitute. Not only that, but milk makes the pancakes more moist and light after cooking.
Cocoa powder
The chocolate element in this cookies and cream pancake bombs is coming from cocoa powder. I have used Hersheys cocoa powder but you can use any.
Raising agents
Baking soda and baking powder are used as leavening agents to make the pancake bombs fluffy and light.
Cream cheese
This ingredient is what make it so indulgent. The creamy and rich texture of cream cheese makes it the flavour highlight.
Oreo biscuit crumbs
When we're talking about cookies and cream, we of course mean oreo biscuits. Crushed oreo biscuits studded in cream cheese filling enhances the overall look and feel of the pancake bombs.
TIPS FOR MAKING COOKIES AND CREAM PANCAKE BOMBS
1. Let the milk and vinegar sit for 5 minutes so that the milk curdles properly before usage.
2. Whisk all the dry ingredients before adding the wet ingredients.
3. Use softened cream cheese and not straight from the refrigerator.
4. Heat the paniyaram pan well enough and grease as well before pouring the pancake batter.
5. You can switch the filling to your liking as well. This chocolate pancake batter goes well with nutella, lotus biscoff etc.
EQUIPMENT USED IN MAKING COOKIES AND CREAM PANCAKE BOMBS
One equipment that is absolutely necessary to make pancake bombs is an appe/paniyaram pan.
It is easily available in markets or online.
Not a single day goes in my kitchen when I don't use a Silicon Spatula, this is the one I recommend. Same goes for my set of Measuring Cups and Measuring Spoons.
OTHER RELATED RECIPES FROM THE BLOG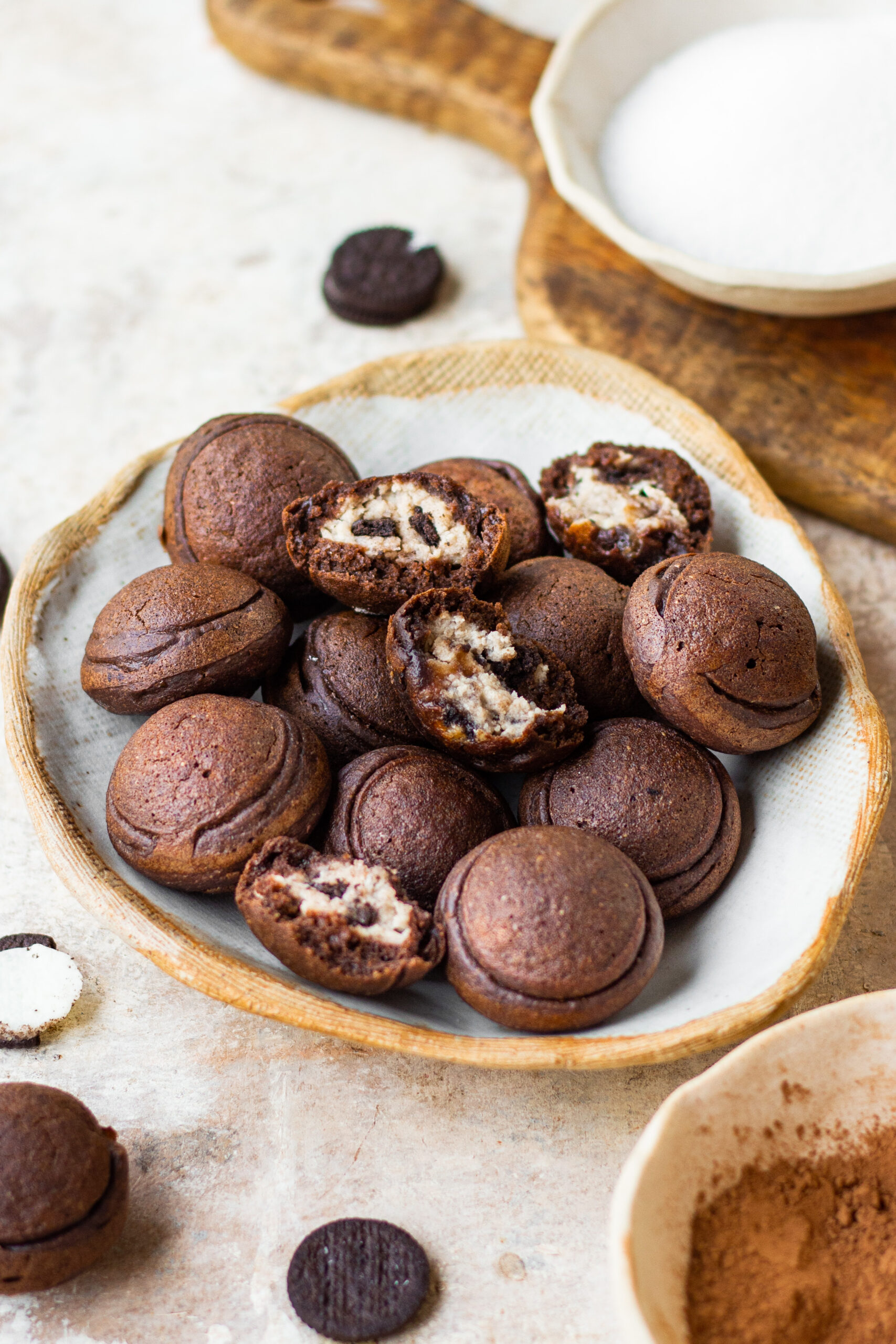 COOKIE AND CREAM PANCAKE BOMBS
Ingredients
1 cup milk
½ tbsp vinegar
1 cup whole wheat flour
3 tbsp cocoa powder
4 tbsp sugar
½ tsp baking powder
¼ tsp baking soda
2 tbsp oil
½ tsp vanilla extract
2 tbsp hot water
Filling
½ cup cream cheese, softened
1 tbsp icing sugar
3-4 oreo cookie crumbs
Instructions
Add vinegar and milk in a bowl and set aside for a few minutes to curdle.
Meanwhile, add all the dry ingredients - wholewheat flour, cocoa powder, sugar, baking powder and baking soda in a separate bowl and mix well.
Make a well in the centre of the dry mixture and add buttermilk, oil, vanilla and water.
Whisk well till a nice thick pancake batter is obtained.
Make the cookie and cream filling by combining cream cheese, icing sugar and oreo crumb.
Transfer both the batter and filling into separate piping bags.
To make the pancake bombs, heat an appe pan and grease it lightly.
Carefully fill half the cavities with pancake batter and then pipe the filling in the centre.
Fill the remaining cavities with the rest of the pancake batter and cook nicely from both the sides.
This recipe makes around 24 pancake bombs.
Serve warm !
If you like my cookie and cream pancake bombs recipe and happen to make them in your kitchen, do tag me on Instagram and share pictures with me using #Bakewithshivesh. Happy Baking!