As you all know, I've been doing a small serve series of different desserts for the past month, and I can't tell you how much pleasure it is to make and display them in front of you. This time, I decided to make an amazing biscoff cheesecake in a ramekin that can be done quickly. So I created this creamy, delicious no-bake Small serve biscoff Cheesecake with a generous layer of biscoff spread on top. This dessert screams cheesecake, with vanilla and cream cheese flavour.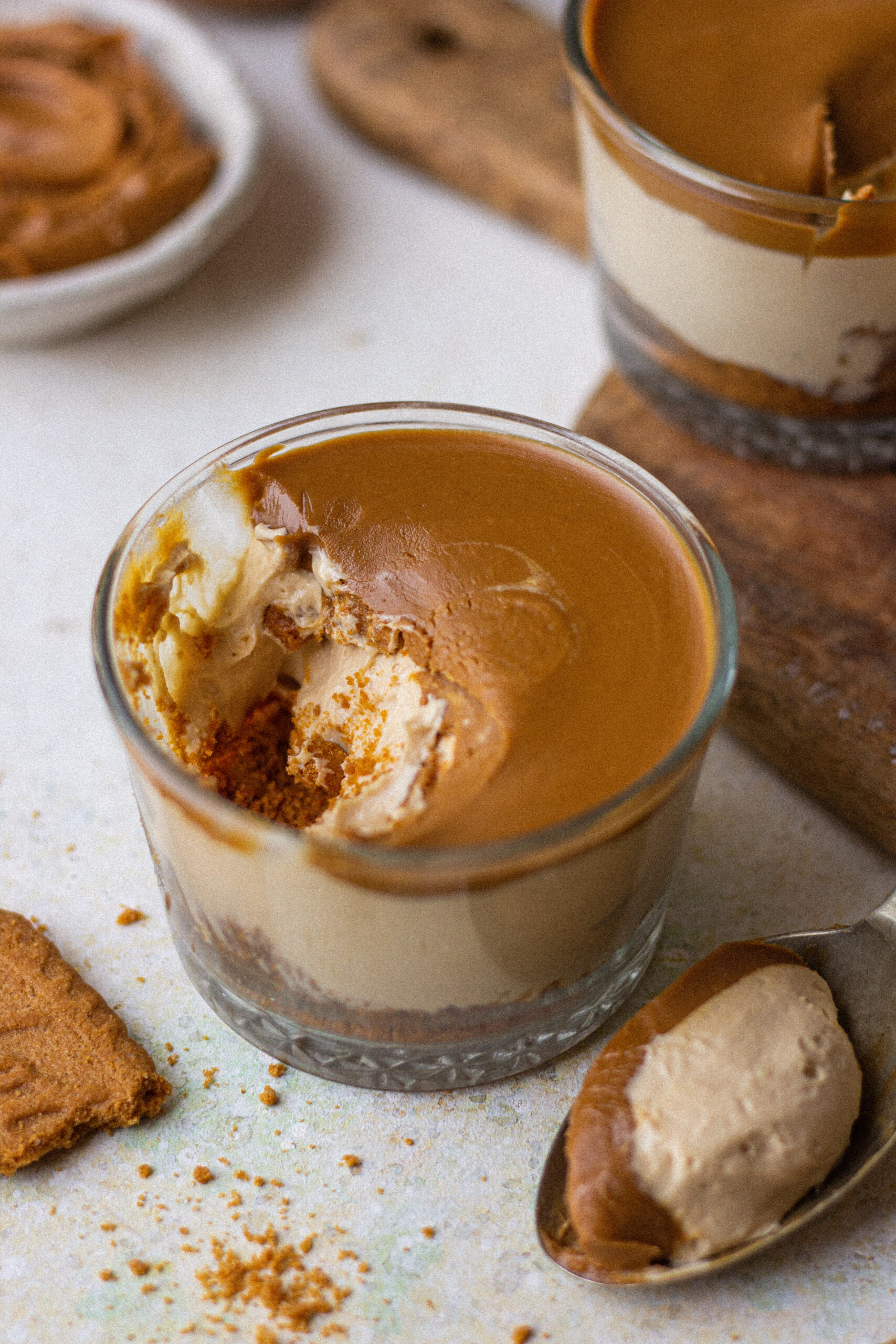 INGREDIENTS USED IN  BISCOFF CHEESECAKE
I have replaced sugar with condensed milk because it acts both as a sweetener and a binding agent. It also provides a concentrated creaminess and milkiness to my small serve biscoff cheesecake. 
To bring that richness and fluffiness and give a body to my small serve biscoff cheesecake, I have used tropolite whipping cream in my recipe.  
For cream cheese, Dlecta or Philadelphia are some of the good brands. It provides the cake a good structure, a creamy texture, and a delectable flavour. 
The incredibly delicious biscoff cookie spread is the icing on the cake of these biscoff brownies. Whilst we prefer smooth, crunchy is also acceptable. Either way, you won't regret it.
EQUIPMENTS USED FOR MAKING SMALL SERVE BISCOFF CHEESECAKE
This recipe comes together quickly and hardly needs any equipment. Just a glass bowl to combine all the ingredients for the batter and a blender to crust my biscoff biscuits.
To set the small serve biscoff cheesecake, I have used glass ramekins .
Not a single day goes in my kitchen when I don't use a Silicon Spatula, this is the one I recommend. Same goes for my set of Measuring Cups and Measuring Spoons.
OTHER RELATED RECIPES FROM THE BLOG
TIPS TO MAKE BISCOFF CHEESECAKE
Let the butter and crushed biscoff biscuit layer set in the freezer for 20-30 mins so that the cheesecake batter doesn't get sinked in.
Whisk condensed milk, cream cheese, icing sugar and whipping cream together to avoid lumps.
Make sure you serve this small serve biscoff cheesecake chilled.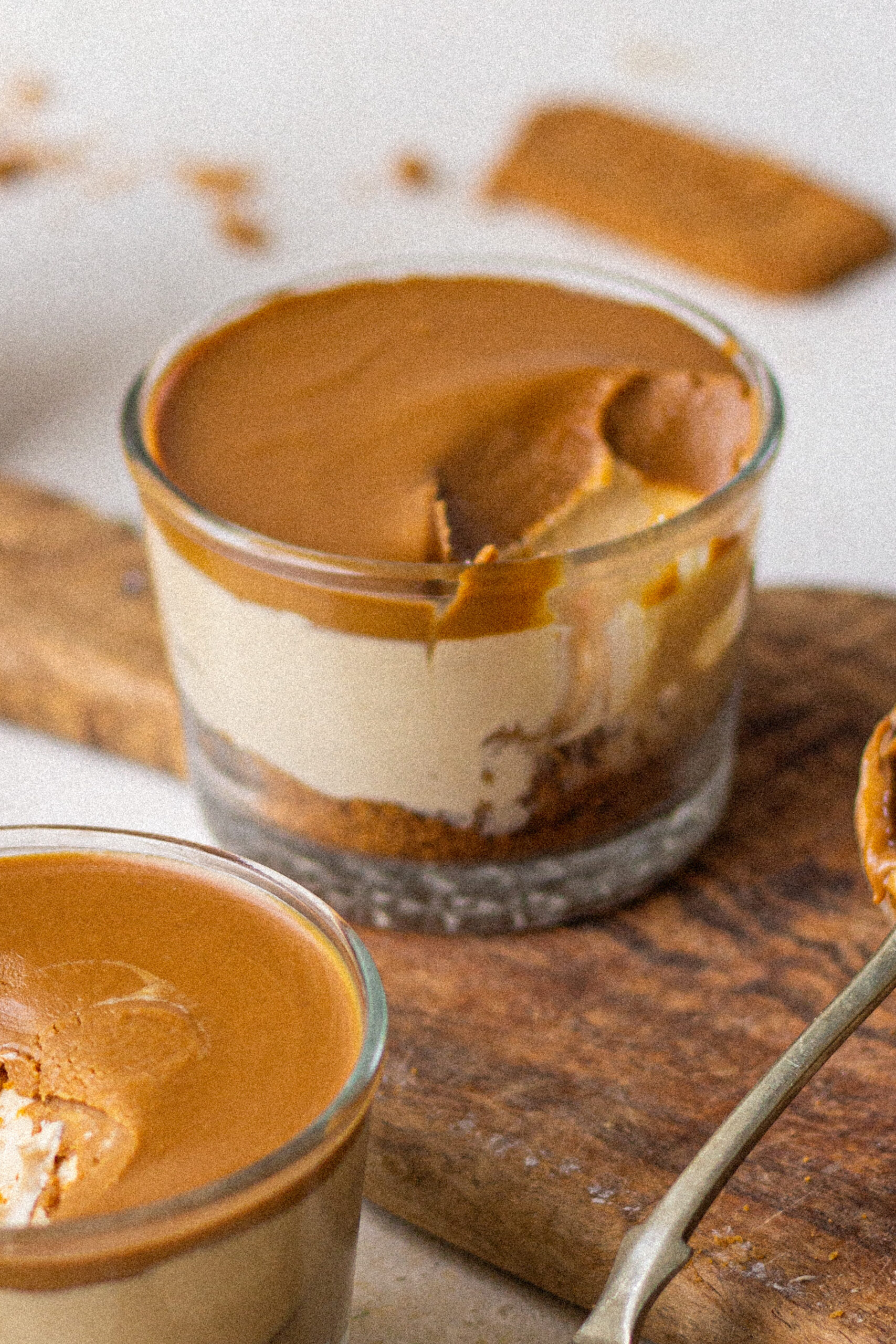 SMALL SERVE BISCOFF CHEESECAKE
Ingredients
5 lotus biscuits
½ tbsp butter, melted
½ cup cream cheese
2 tbsp biscoff spread
2 tsp icing sugar
½ cup whipped cream
Topping- 2 tbsp biscoff spread
Instructions
For the base, crush the biscoff biscuits and transfer to a bowl. Add in melted butter and mix well.
Transfer the biscuit crumbs into two small ramekins and press it down into an even layer. Set it in the fridge for 10-15 minutes.
For the filling, in another bowl add softened cream cheese, melted biscoff spread, icing sugar and whipped cream.
Mix everything until well combined and you see no lumps.
Transfer the mixture over the biscuit base and tap to get rid of all the air bubbles
Pour another 2 tbsp biscoff spread on top of the cheesecake and quickly swirl it around. Set in the fridge for 1-2 hours. Dig in until the cheesecake completely sets.
If you like my small serve biscoff cheesecake recipe and happen to make them in your kitchen, do tag me on Instagram and share pictures with me using #Bakewithshivesh. Happy Baking!