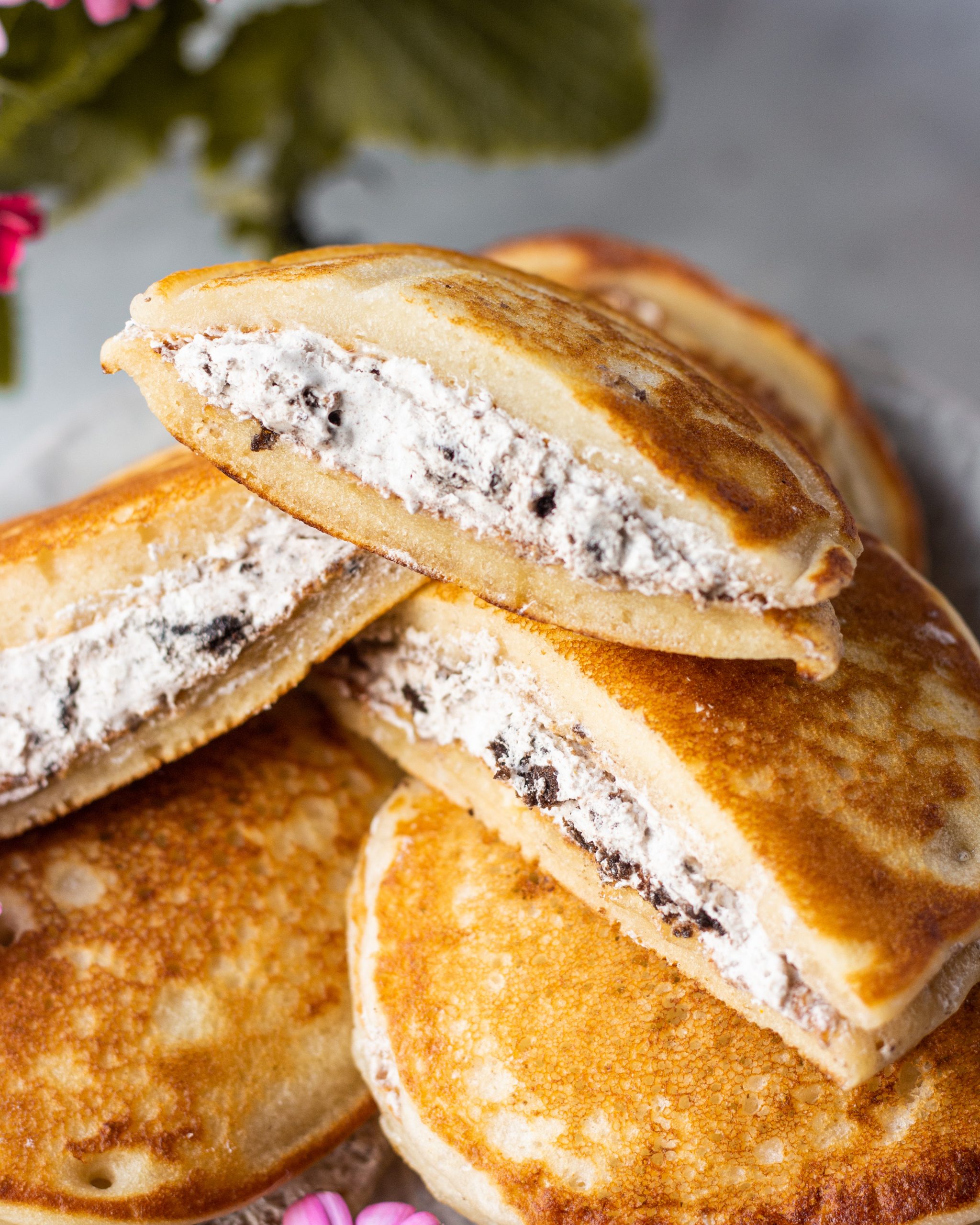 It is so cool when food trends go viral and all of us can connect together on the same level and enjoy the same recipe as a community. So now for the longest while I have been watching this Dora Cake trend and I constantly kept wondering should I make it? How will they taste? I haven't watched a single episode of Doraemon, do I even qualify to make them? Haha! Of Course I did, so I recreated this treneding recipe and gave the filling my own little twist. Also a disclaimer this is not a cake, but simply a pancake sandwich.
So I made my Dora cakes with a cookie and cream filling and trust me when I say this, they were absolutely amazing. The fluffiest pancakes with a creamy dreamy oreo cookie filling is what dreams are made of. So light, airy and fluffy, I do finally understand what the hype was about and I am going to really nudge you in to making this super recipe and enjoying it. Let's get to it!
The pancakes
The crucial and most important part of the Dora cake is the pancake. If you make them too fat and extra fluffy they will not sandwich properly, but if you make them too thin like a crepe they will tear apart because of the pressure from the filling. So my tip for making even sized pancakes every time is to use a measuring cup to pour the batter on to the pan, so that all pancakes are the same in size and cook evenly too.
Which flour to use?
I like to keep it simple for these pancakes and use basic all purpose flour. All purpose flour is light and not dense and it helps with the smooth texture of the pancakes. If you want, you can replace all purpose flour with either whole wheat flour or oat flour but both of these flours are dense and will definitely change the texture of the pancake. 
Every flour absorbs liquid differently. So if you do substitute all purpose flour with another flour, keep in mind that you might have to add more or less liquid to maintain the same batter consistency. Whole wheat flour for example, absorbs a lot more liquid than all purpose so you will have to increase the quantity of the liquid ingredients accordingly.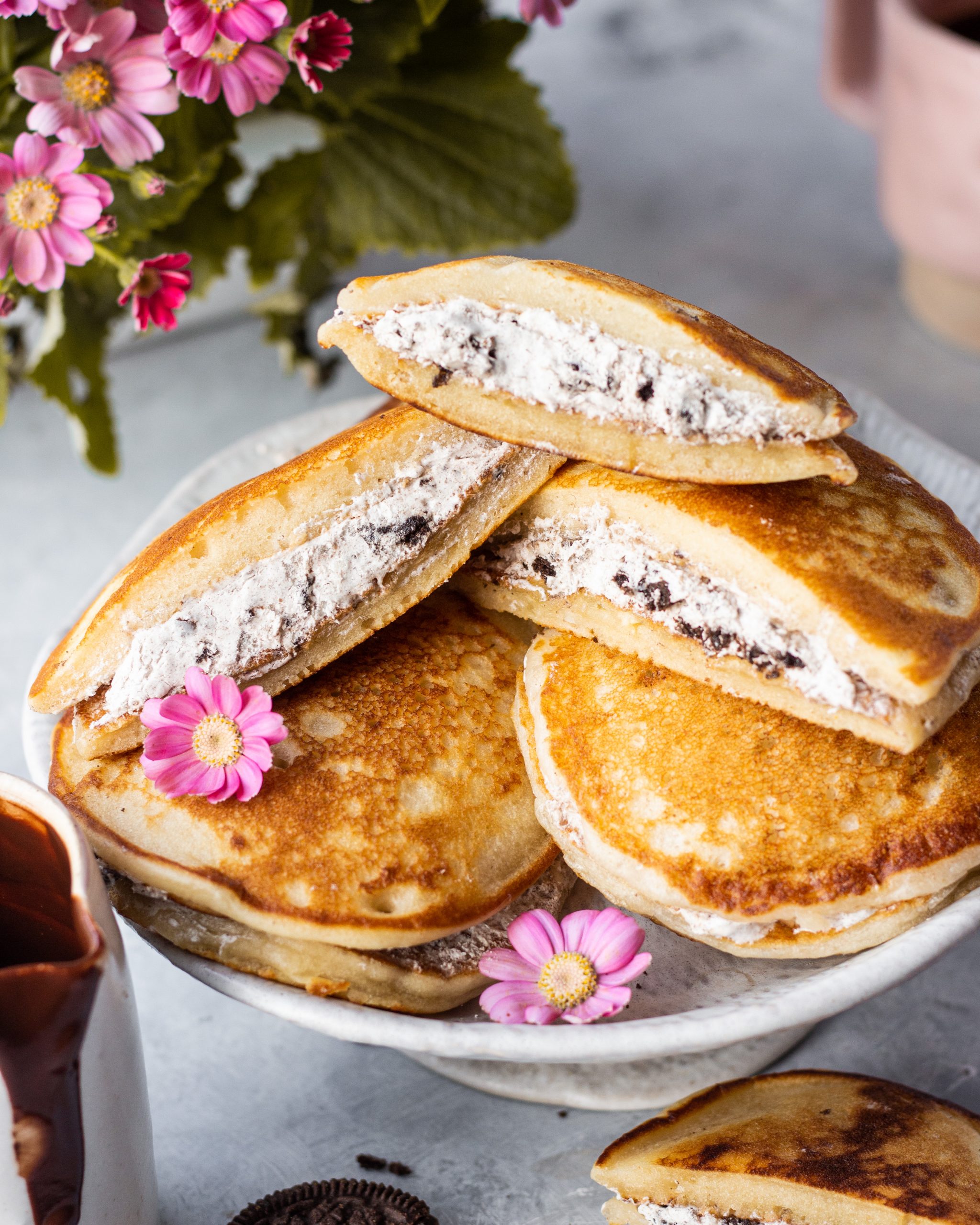 Baking soda for browning
Did you know that baking soda actually helps with the perfect brown top of pancakes? Well now you do! Baking soda is alkaline in nature. It reacts with acetic ingredients and helps with the even browning of every pancake. YAY. 
Milk and vinegar for the fluffy texture
This recipe calls for both milk and vinegar and the process calls for mixing the two together and letting the milk curle for 5 minutes. This curdled milk is called buttermilk and is a great way to make desserts more fluffy. Also, please note that if you do not have vinegar at home, you can easily replace it with lemon juice and still make buttermilk at home. Replace the vinegar with equal parts of lemon juice and let the milk curdle. 
The other ingredients that are in the recipe include sugar for sweetness and sunflower oil for good texture and a smooth batter. If you do not have sunflower oil, you can use any flavourless oil that you might have including vegetable oil and or soya bean oil.
The cookies and cream filling
There are 2 components to this filling- whipped cream and the biscuits.
I have used a dairy whipping cream for this recipe, even though it can be slightly difficult to whip up, it certainly does taste the best. Also, since dairy cream is unsweetened I have added in some caster sugar to help bring out the sweet milky flavours make sure you whip your cream to stiff peaks only. Anything below that will make the filling feel lumpy and goopy and our dora cakes will not hold shape. If you struggle to whip your cream or are uncertain about which whipping cream I have done an in depth video/article on how to whip cream and what creams to buy that you can find out HERE.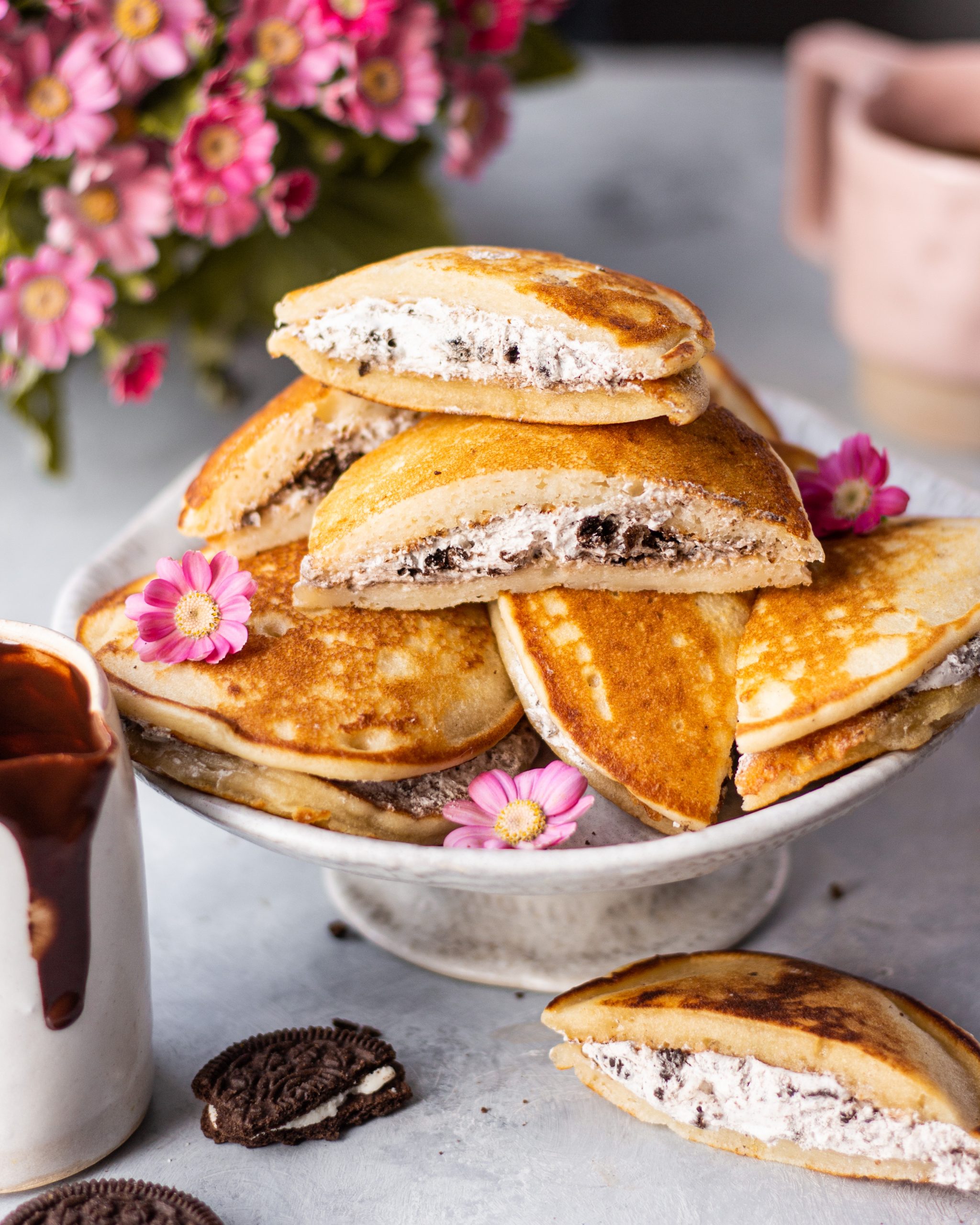 I think Oreo being a sandwich cookie itself was a perfect match for the dora cakes. The crisp chocolate biscuit and the creamy vanilla filling. Since I like to have a lot of different textures in my dessert, I decided to roughly chop my Oreos and fold it in the whipped cream. However if you prefer a smoother consistency, you can simply blitz the Oreos in a food processor and then add the crumbs to your whipped cream. 
May I also suggest that if you are not an Oreo person, any cookie on this planet would be great to replace the Oreos and then you can add your own twist to my cookies and cream Dora cakes! 🙂
Assembling the Dora cakes 
The assembling of the Dora cake may look intimidating but they are super easy to put together.
Lay your cooked pancake on a plate/wooden board.

Add a generous dollop of your cookies and cream filling, filling only ¾ th diameter of the pancake leaving the edges free.

Add another cooked pancake on the top and gently press in the motion of inwards to outwards sealing the edges without spilling the filling. Your Dora cakes should have a dome like shape by the end of this.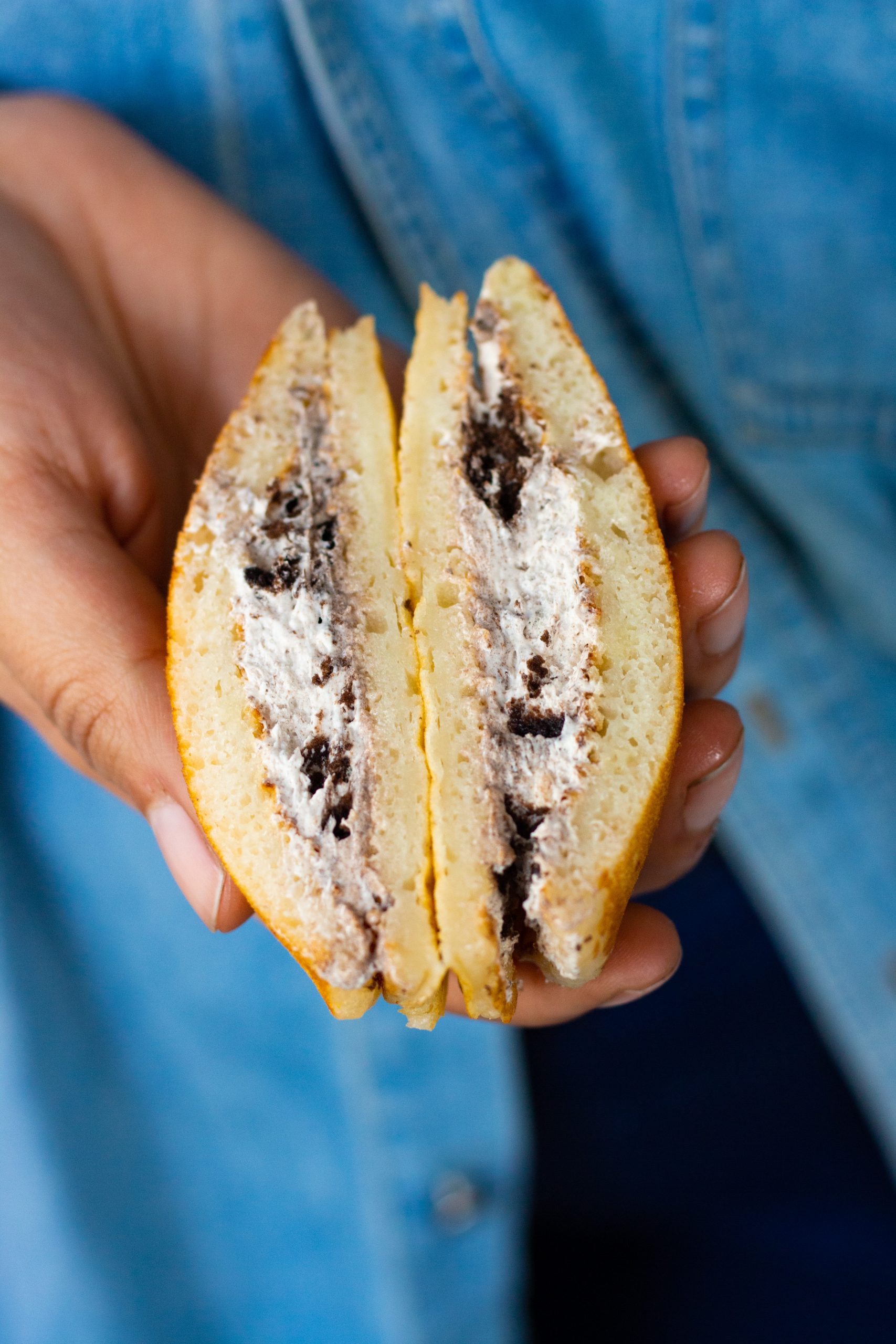 Dora cakes- fluffy pancake sandwich
Ingredients
¾ cup (93gms) all purpose flour
4 tbsp (30gms) milk powder
2 tbsp (25gms) caster sugar
½ tsp (1.5gms) baking soda
¾ cup (180ml) milk
1.5 tsp (5ml) vinegar
2 tbsp (30ml) oil
For filling
2 cups (400gms) whipped cream
15-20 Oreos (chopped)
Instructions
In a bowl, add milk and vinegar to make buttermilk. Rest for 5 minutes.
Take a separate bowl, add all purpose flour, baking soda, milk powder and sugar. Mix until nicely combined.
Add the milk mixture into the dry ingredients along with oil. Give everything a mix to gain a smooth pancake batter.
On a non-stick pan, add vegetable oil and add about ¼ cup of the batter. Let the pancakes cook slowly. When you see bubbles on top, flip the pancakes carefully.
In a bowl with whipped cream, fold in the chopped Oreos to prepare the filling.
To assemble the sandwich, use the Oreo filling to fill 2 pancakes and then press down the edges to make a sandwich.
Repeat this process with all the pancakes and enjoy!
I love sharing pancake recipes because they are such a treat to make and eat! Some other pancake recipes on the bog are
Best Healthy Chocolate Pancakes
,
Oats and Banana Pancakes
Make these recipes and share your pictures with me on my Instagram @shivesh17.