Dora cakes- fluffy pancake sandwich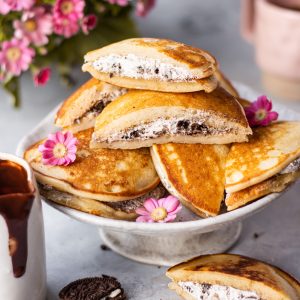 ¾ cup (93gms) all purpose flour
4 tbsp (30gms) milk powder
2 tbsp (25gms) caster sugar
½ tsp (1.5gms) baking soda
¾ cup (180ml) milk
1.5 tsp (5ml) vinegar
2 tbsp (30ml) oil
2 cups (400gms) whipped cream
15-20 Oreos (chopped)
In a bowl, add milk and vinegar to make buttermilk. Rest for 5 minutes.
Take a separate bowl, add all purpose flour, baking soda, milk powder and sugar. Mix until nicely combined.
Add the milk mixture into the dry ingredients along with oil. Give everything a mix to gain a smooth pancake batter.
On a non-stick pan, add vegetable oil and add about ¼ cup of the batter. Let the pancakes cook slowly. When you see bubbles on top, flip the pancakes carefully.
In a bowl with whipped cream, fold in the chopped Oreos to prepare the filling.
To assemble the sandwich, use the Oreo filling to fill 2 pancakes and then press down the edges to make a sandwich.
Repeat this process with all the pancakes and enjoy!
Recipe by
Bake with Shivesh
at https://bakewithshivesh.com/dora-cakes-fluffy-pancake-sandwich/