Valentine's Day is just around the corner and we're all thinking of gifts for our loved ones. Nothing says love better than a freshly baked cake and if you're looking for some Valentine baking to do, then you've come to the right place.
I think we've all heard about this one before, it's an absolute classic! A traditional good old Chocolate Truffle cake is something we all ate growing up and there's so much nostalgia associated with this cake. I had to recreate this Homemade Chocolate Truffle Cake for you guys to make on this very special occasion, that is Valentine's Day! Do tag me on Instagram using #bakewithshivesh if you happen to make this recipe.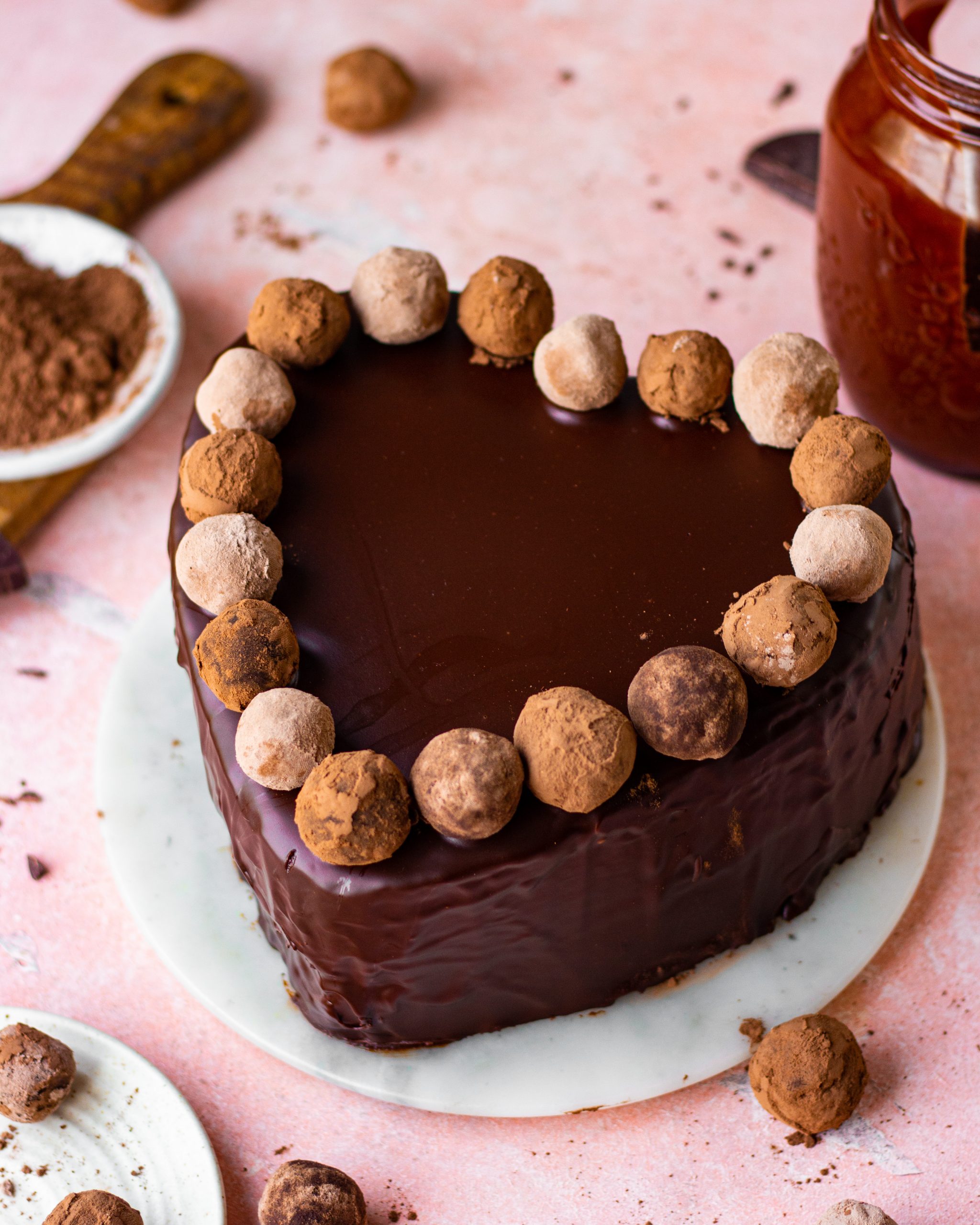 A classic dessert – Chocolate Truffle Cake
I have fond memories of going to local bakeries and stare through glass windows at the beautifully frosted cakes lined up neatly. My gaze was always stuck at the Decadent Chocolate Truffle Cake because how much chocolate is too much chocolate? I think it's safe to say that we've all had this attachment to the old-fashioned chocolate truffle cake and this was one reason why I decided to create this recipe for Valentine's. Let's all share this nostalgia with some homemade Chocolate Truffle Cake!
Elements of Homemade Chocolate Truffle Cake
This cake is incredibly easy to whip up if you understand the three elements of the cake –
Chocolate sponge: We have an eggless chocolate sponge for this homemade truffle cake. I use condensed milk which provides sweetness as well as a good structure to this cake! Make sure you use the best quality cocoa powder you can get your hands on as it makes the cake the perfect amount of chocolatey! We don't want the sponge to be over-sweet.
Chocolate Ganache: I make a whipped ganache for this chocolate truffle cake. I have done an entire section on how to make this whipped ganache and tips and tricks below so that your homemade Chocolate Truffle Cake turns out awesome!
Chocolate Glaze: This is what makes this cake to another level! Just four ingredients and you have a fancy dessert ready on the table. Just make sure that you use good quality chocolate for everything you make in this recipe to get the best results!

Whipped ganache for homemade chocolate truffle cake
In between the beautiful chocolate cake layers, I have added some whipped chocolate ganache for extra decadence. A whipped chocolate ganache is great for layering tall cakes. It is an extremely stable frosting and the taste, of course,is out of this world. 
I like to use dark chocolate for my whipped chocolate ganache. Since the ganache is a combination of chocolate and heavy cream, I like to balance out the sweetness with dark chocolate. If you like, you can replace the equal quantity of dark chocolate with either milk or white chocolate. 
While making the ganache, make sure to chop the chocolate really nicely. Bigger chocolate chunks will take much longer to melt and it also increases the chances of leaving tiny chunks into your ganache that never got melted in the first place. 
I recommend using heavy cream only for this and not fresh cream. Since we need to whip up the ganache, the high-fat content in heavy cream will make it whip up really nicely and it will also make the ganache reach stiff peaks and make it stable. 
Chill your ganache for at least half an hour before you start whipping it up. The warm ganache will not whip up and you will end up with a very sloppy frosting. Don't rush the refrigeration step. It is crucial for a smooth and stable finish to your layered cakes. 
How to make the perfect chocolate glaze 
This might just be my favorite part of my cake. I loved making this chocolate glaze because it gave my cake the most beautiful finish. If you want to make any dessert fancy, I recommend covering it in chocolate glaze. You only require three or four ingredients for it and it comes together really quickly. 
Use only chocolate for this and not compound. You need the glaze to super smooth and shiny. That will only come by using chocolate. 
Corn syrup can get really messy to use. One great hack is to wet your fingers and then touch corn syrup so that nothing sticks to your hands. 
If you do not have corn syrup you can replace it with honey. However, I have never tried the same for myself but some people like to do it that way. 
Adding in butter will also help in setting of the glaze. So make sure you don't forget to add butter. 
You want to make sure your cake is super chilled before you glaze it. The glaze, when it comes into contact with the cold temperature of the cake will start setting immediately and stick to the cake. 
Sometimes the glaze starts to set before you pour it. Simply microwave the glaze for 5-10 seconds and you will have the silky smoothness back. Work fast while glazing so that everything sets properly.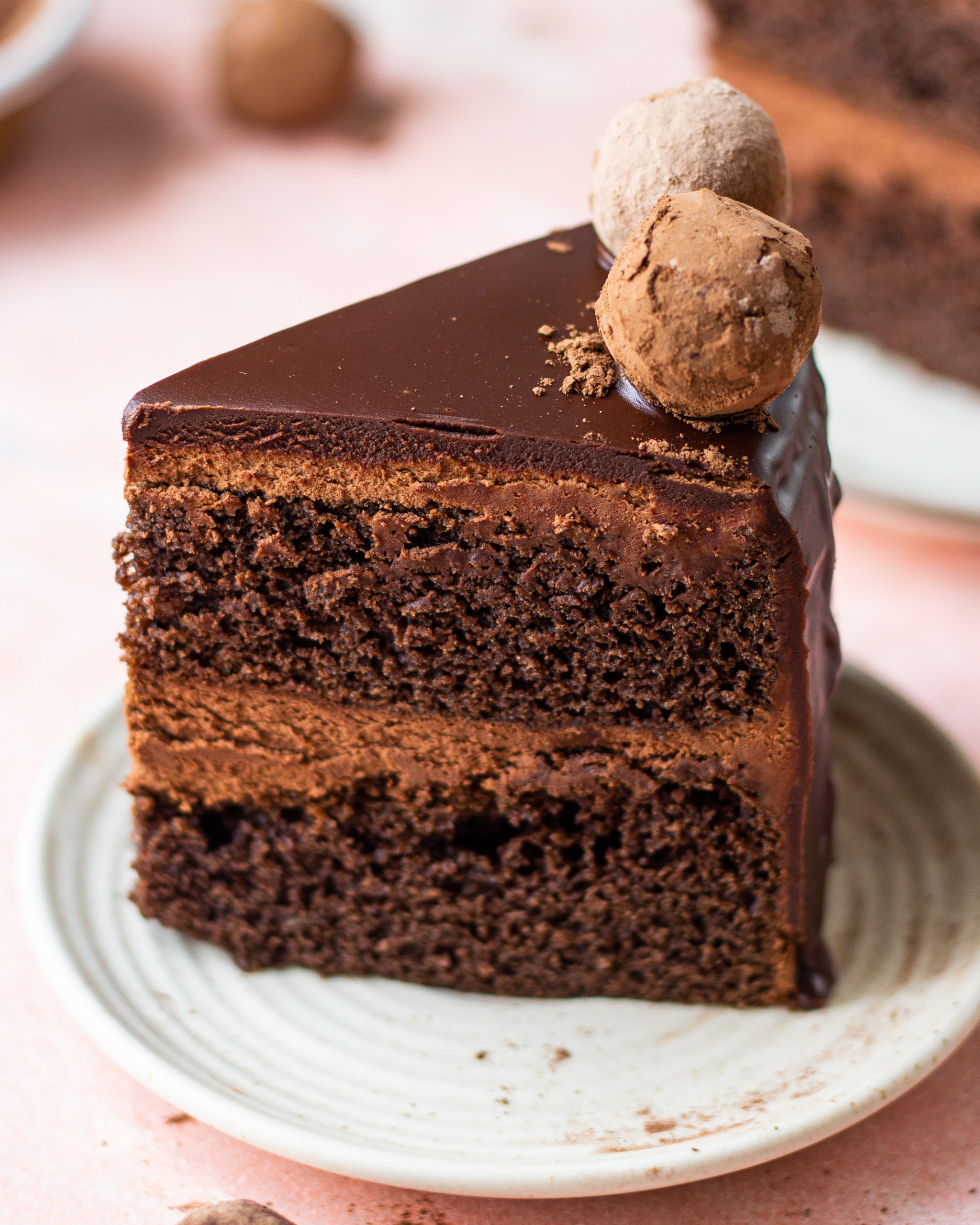 More Valentine's recipes on the blog
If chocolate isn't your thing, you can go for these recipes-

Homemade Chocolate Truffle Cake Recipe
Homemade Chocolate Truffle Cake- Valentine's special
Ingredients
For sponge
2 + ¼ cup (270gms) maida
¾ cup (90gms) cocoa powder
1 + ½ tsp (6gms) baking powder
1 + ½ tsp (9gms) baking soda
1 + ½ can (600gms) condensed milk
¾ cup (150gms) melted butter
¾ cup (180ml) milk
1 + ½ tsp (7ml) vanilla
For ganache:
1 + ¾ cup (300gms) chocolate
1 + ½ cup (270gms) heavy cream
For Glaze
1+ ½ cup (260gms) chocolate
6 tbsp (75gms) butter
2 tbsp (40gms) corn syrup
Instructions
Preheat your oven at 180 degree C and line two 8inch cake pans with oil and parchment paper.
In a bowl add in dry ingredients. This includes maida, cocoa powder, baking powder and baking soda.Give a good mix and set aside.
In another bowl add in melted butter and condensed milk. Give this a good mix and add in milk and vanilla. Whisk to combine all wet ingredients.
Now combine the wet and the dry ingredients. Use a spatula to evenly mix everything together.
Transfer the batter into the prepared baking dish and bake these for around 30 minutes.
Once baked, let them cool completely.
For ganache:
Meanwhile, to make the chocolate ganache, in a saucepan over low medium heat, heat your cream till it reaches a slight simmer.
Pour the hot cream over chopped chocolate. Let it sit as is for 30 seconds. Then using a spatula or a whisk, combine the chocolate and cream till it reaches a smooth consistency.
Refrigerate the ganache for at least 30 minutes.
Once chilled, whisk the ganache on high speed for 3-4 minutes or until it forms peaks.
Demould the cooled cakes and layer it with the whipped ganache.
Cover the cake with ganache on the edges too.
Freeze the frosted cake for at least one hour before adding chocolate glaze over the top.
For chocolate glaze:
Over a double boiler, add in chopped chocolate, corn syrup and butter. Slowly let everything melt and just mix to combine.
Take the glaze off the heat and pour it over the cooled chocolate cake.
Keep pouring till all edges are covered with the chocolate glaze.
Set this in the refrigerator for some time.
Decorate with chocolate truffles or anything you like.
Slice and enjoy!