Homemade Chocolate Truffle Cake- Valentine's special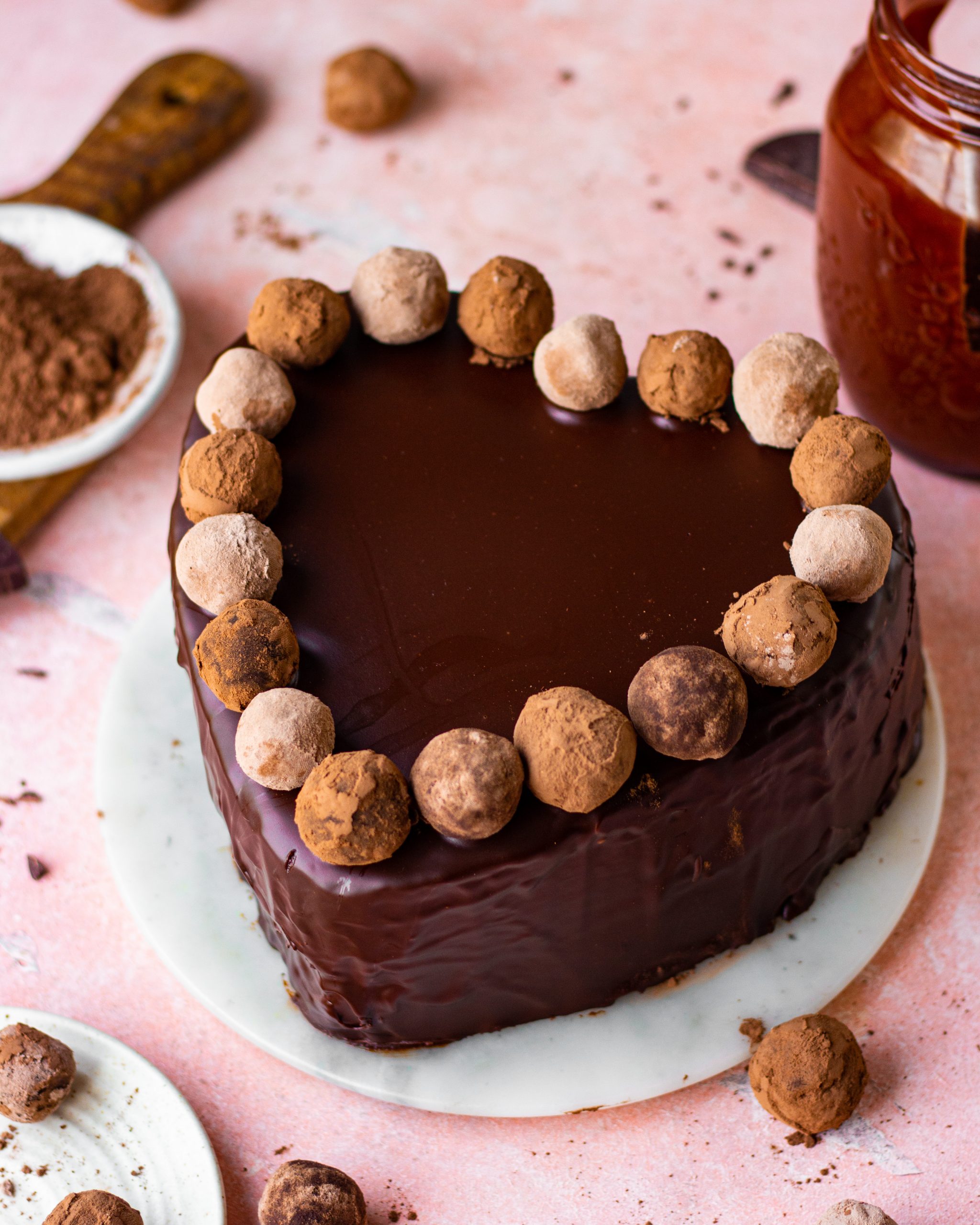 2 + ¼ cup (270gms) maida
¾ cup (90gms) cocoa powder
1 + ½ tsp (6gms) baking powder
1 + ½ tsp (9gms) baking soda
1 + ½ can (600gms) condensed milk
¾ cup (150gms) melted butter
¾ cup (180ml) milk
1 + ½ tsp (7ml) vanilla
1 + ¾ cup (300gms) chocolate
1 + ½ cup (270gms) heavy cream
1+ ½ cup (260gms) chocolate
6 tbsp (75gms) butter
2 tbsp (40gms) corn syrup
Preheat your oven at 180 degree C and line two 8inch cake pans with oil and parchment paper.
In a bowl add in dry ingredients. This includes maida, cocoa powder, baking powder and baking soda.Give a good mix and set aside.
In another bowl add in melted butter and condensed milk. Give this a good mix and add in milk and vanilla. Whisk to combine all wet ingredients.
Now combine the wet and the dry ingredients. Use a spatula to evenly mix everything together.
Transfer the batter into the prepared baking dish and bake these for around 30 minutes.
Once baked, let them cool completely.
Meanwhile, to make the chocolate ganache, in a saucepan over low medium heat, heat your cream till it reaches a slight simmer.
Pour the hot cream over chopped chocolate. Let it sit as is for 30 seconds. Then using a spatula or a whisk, combine the chocolate and cream till it reaches a smooth consistency.
Refrigerate the ganache for at least 30 minutes.
Once chilled, whisk the ganache on high speed for 3-4 minutes or until it forms peaks.
Demould the cooled cakes and layer it with the whipped ganache.
Cover the cake with ganache on the edges too.
Freeze the frosted cake for at least one hour before adding chocolate glaze over the top.
Over a double boiler, add in chopped chocolate, corn syrup and butter. Slowly let everything melt and just mix to combine.
Take the glaze off the heat and pour it over the cooled chocolate cake.
Keep pouring till all edges are covered with the chocolate glaze.
Set this in the refrigerator for some time.
Decorate with chocolate truffles or anything you like.
Slice and enjoy!
Recipe by
Bake with Shivesh
at https://bakewithshivesh.com/homemade-chocolate-truffle-cake/