I don't think I've ever met someone who doesn't like cookies. What's better than cookies though is a combination of cake and cookie – a cookie dough cake! Soft, gooey in the center and crisp golden on the edges- this cake is perfect for family dinners, house parties, or a simple midnight pick me up!
This recipe is a part of my new book "Desserts for Every Mood" and I am so happy that you guys will now get to make it too! It's one dessert that we always end up going back to in the kitchen. It's so versatile, you can add anything to the dough and top it with anything you like.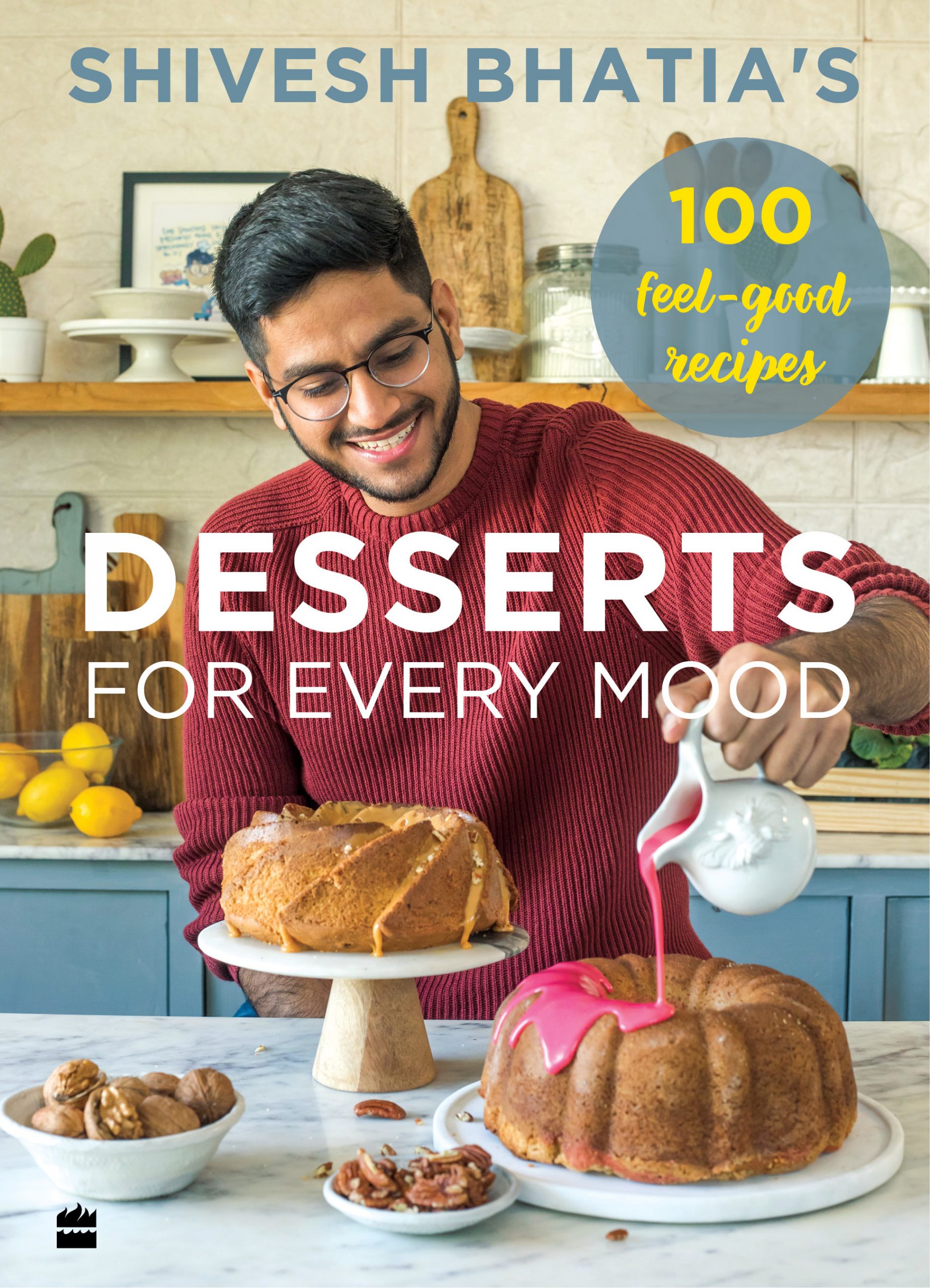 A lovely recipe from my new book
This cookie dough cake, among others, is one of my favorite recipes from the new book. We spent two years working on "Desserts for Every Mood" and I cannot express how grateful I am for having written and published two books. This book contains 100 feel-good recipes- from cakes to cookies to tarts, you'll find everything!
Whether it's a celebration or the blues, nothing lifts you up better than a delicious dessert. For me, baking has come to mean many things over the years: memories of seeing my grandmother make cakes to spending hours experimenting in the kitchen, and sharing the joy with friends to baking becoming my quiet refuge after a hectic day. And through this book, I hope I'm able to make you all feel the same way!
Ingredients in Cookie Dough Cake
This cookie dough cake is very simple to make and combines two of my most favorite things in the entire world- cake and cookies!
Flour – A good quality all-purpose flour or maida makes the base of this cookie dough cake. I use Rajdhani maida for all my recipes.
Baking soda – Baking soda helps the cookie rise and give it a proper structure. It's important that you use fresh and not old baking soda or else your cookies won't rise.
If you're confused about how baking soda works and the importance of it, check out my article on Baking powder vs Baking soda.
Butter – I use room temperature Amul Butter for this recipe. Don't use melted or hard butter or else you'll end up with hard/flat cookies
Sugars – I use a combination of caster and brown sugar. The flavor of molasses takes the cookies to a whole new level and makes them moist and delicious.
Vanilla – I cannot emphasize how important a good quality vanilla extract is for a cookie recipe. It brings the cookie dough cake together. I use Sprig Vanilla extract, but you can use any nice vanilla extract that you like.
Toppings and additions for the cookie dough cake
In my book, I add chocolate chips to the dough and after it's baked, add some whipped cream and sprinkles. This time, I thought of changing it a bit and adding white chocolate chips. The world is your oyster when it comes to this cookie dough cake. You can add almonds, cashews, walnuts, raisins, cranberries, sprinkles, candies, or even some toasted cornflakes!
Moreover- you can top it with whipped cream (my favorite!), fruit compotes, melted chocolate, peanut butter – YUM! I'm honestly so excited to see your recreations for this recipe, do tag me on Instagram and don't forget to use #BakewithShivesh.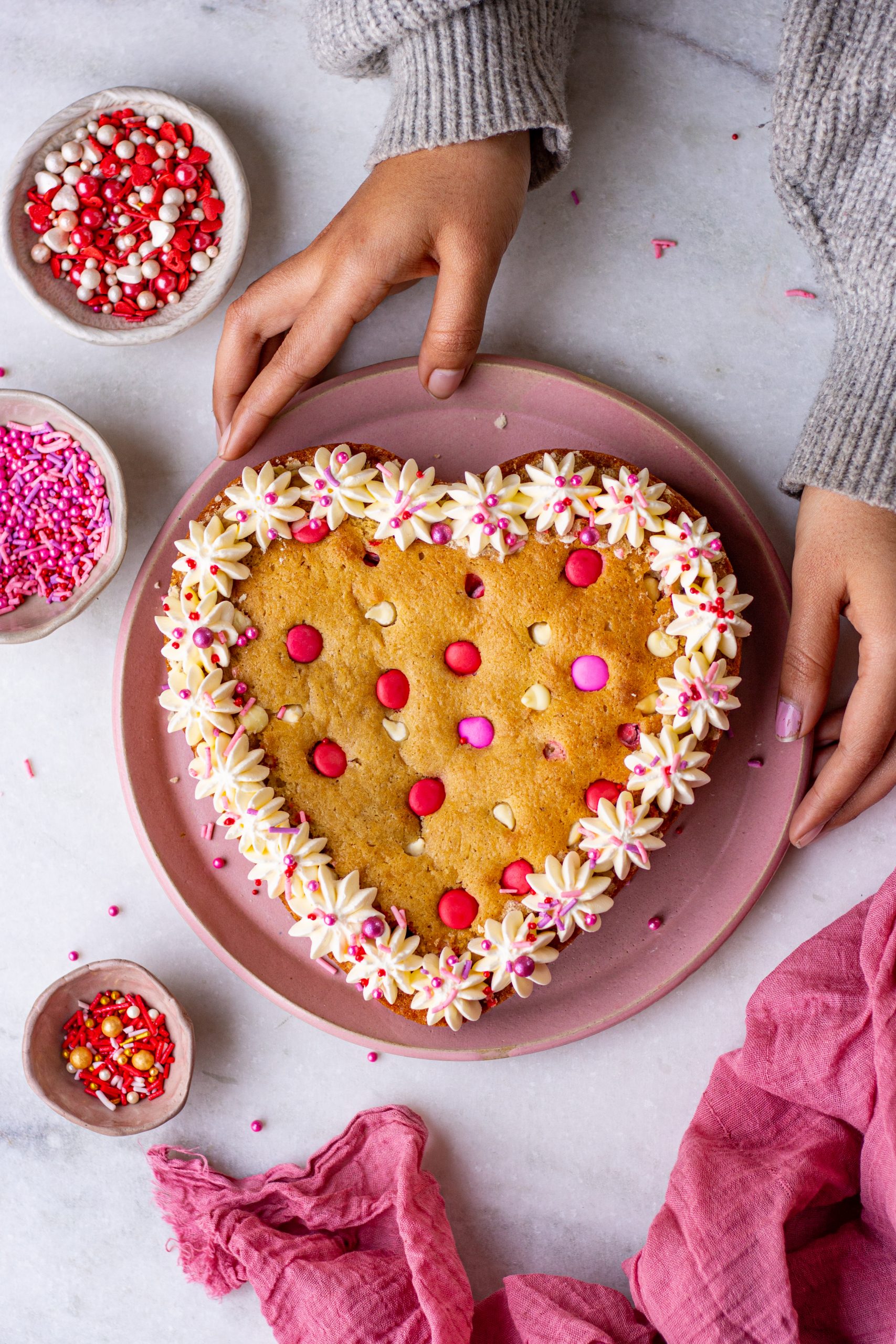 Can I bake this cake in the microwave?
Yes, this cookie dough cake can easily be made in the microwave's convection mode at 180 degrees celsius. Just keep an eye on the cake for golden edges and you'll know that it's done.
Tips for cookie dough cake
1. The recipe requires you to beat different ingredients at different stages. Beating butter and sugar for example will lead to even creaming and a perfect texture of the cookie cake
2. Adding eggs one at a time ensures that it's evenly mixed in and more mixing ensures more air into the batter which will give the cake a good height.
3. If you don't have brown sugar at home, it can easily be replaced with either jaggery or caster sugar. You can replace it with the same quantity. However, missing out on brown sugar will bring about a slight change in the taste and texture of the cake. Brown sugar adds a caramelized flavor and some chewiness to a dessert. So substitute sugars keeping this in mind.
4. I added chocolate chips and gems to my cookie dough cake but you can add whatever you desire. Nuts, mixed chocolate chips, some butterscotch nibbles, whatever you want.
Cookie Dough Cake Recipe
Cookie Dough Cake
Ingredients
For the cake
1+ ½ cup (180gms) all-purpose flour
¾ tsp (2.5gms) baking soda
1 cup (200gms) butter
½ cup (100gms) brown sugar
½ cup (100gms) caster sugar
2 eggs
1 tsp (5ml) vanilla extract
¼ cup (60ml) milk
¼ cup (40gms) white chocolate chips
Gems
For topping
½ cup whipped cream
Sprinkles
Instructions
Preheat the oven to 180 degrees celsius. Line a 9-inch cake pan with parchment paper.
In a bowl, combine the flour and baking soda and set aside.
In another bowl, beat the butter, brown sugar and caster sugar together until the mixture is light and fluffy. Whisk in the eggs, one at a time, and add the vanilla extract.
Gently fold the dry ingredients into the wet ingredients and mix until combined. Add the milk and mix until the dough comes together. Add some of the white chocolate chips and gems and mix well.
Spread the cookie dough into the prepared cake pan. Sprinkle the remaining white chocolate chips & gems on top and gently press them down into the dough.
Bake for 25-30 minutes or until the edges become golden brown.
Let the cookie dough cake cool completely before turning it out. Decorate it with whipped cream and sprinkles.