I am not a coconut fan but pairing it with chocolate has changed my perceptions for it altogether. I have made a bounty chocolate inspired shake which I have also named Bounty Cold Cocoa. This shake is a total game changer and is a very good and refreshing option to drink in the summers. Bounty cold cocoa is absolutely a delight to your tastebuds and whether you have it as a breakfast smoothie or an evening drink, it's a total blast. The texture of this smoothie is like you are drinking a chilled hot chocolate with coconut flavour which is so so yum.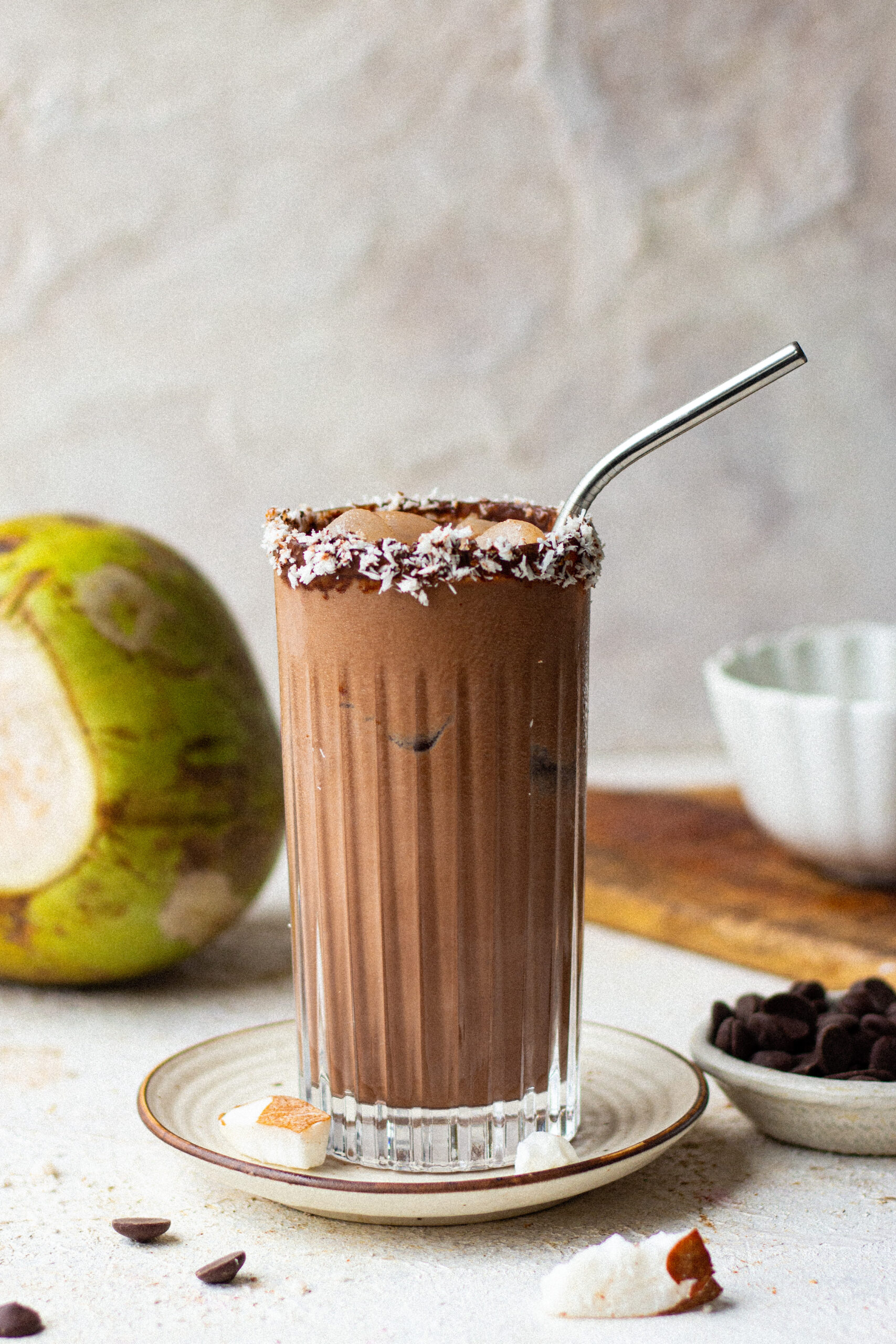 INGREDIENTS USED IN THIS BOUNTY COLD COCOA
COCONUT WATER
I have used fresh coconut water from tender coconut, but you can use packaged one also. Also, tender coconut water helps your body to cool down and helps in beating the summer heat. 
MILK
I have used normal milk in this recipe. If you want more coconut flavour in your bounty cold cocoa, you can use coconut milk also.  
 COCOA POWDER
To give that intense chocolate flavour to my bounty cold cocoa, I added Hershey's cocoa powder in it. I used combination of chocolate and cocoa powder in this recipe because I love their taste together.  
CORNFLOUR 
For the chocolate slurry and to give that thickness to my bounty cold cocoa I have used cornflour in it, but you can totally skip it while making if you wish to. 
HOW TO MAKE THIS SMOOTHIE HEALTHIER?
A

void using cornflour while making the chocolate slurry.

 

Either use cocoa powder or chocolate chips. I will suggest using chocolate chips because it's a better option to use.

 

You can add flaxseeds, chia seeds etc to your smoothie which tastes nice.

 

You can add coconut flesh to this smoothie for more coconutty taste.

 

Replace sugar with honey or coconut sugar.

 
EQUIPMENTS USED TO MAKE BOUNTY COLD COCOA
This recipe comes together quickly and hardly needs any equipment. 
Measuring Cups and Measuring Spoons. are an integral part of any baker's kitchen and its very important to measure ingredients with precision 
For my Bounty Cold Cocoa, you only need a heavy bottom saucepan to combine all the ingredients.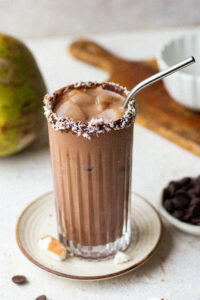 OTHER COCONUT RECIPES ON THE BLOG:
BOUNTY COLD COCOA
Ingredients
1 cup coconut water
¼ cup milk
1 tbsp cocoa powder
1 tbsp cornflour
1 cup milk
2 tablespoon sugar
3 tablespoon Dark chocolate chips
Instructions
Pour the coconut water in an ice cube tray and freeze overnight for the ice cubes.
Take a bowl and add ¼ cup of milk, corn flour and cocoa powder to make a slurry. Mix it properly and set aside.
In another saucepan, set over medium heat, pour 1 cup of milk and add sugar to it. Let the sugar dissolve properly and give it a stir in between. You can also substitute regular milk with coconut milk for a more prominent coconut flavour.
While it is heating, add the slurry to the simmering milk and sugar mixture and give it a good mix.
Keep stirring everything so the milk doesn't burn from the bottom.
As it thickens add chocolate chips and stir again.
Once the mixture thickens, take it off the heat and let it cool at room temperature or you can even refrigerate it for 10 minutes.
Serve it in a glass with lots of coconut ice cubes and enjoy!
If you like this BOUNTY COLD COCOA RECIPE and happen to make it in your kitchen, do tag me on Instagram and share pictures with me using #Bakewithshivesh. Happy Baking!