Are you looking for an easy-peasy lemon squeezy biscuit recipe to accompany your morning tea or coffee? Look no further! These 4 ingredient eggless coconut biscuits are perfectly crisp with a subtle coconut flavour and a smooth chocolate coating on all sides to finish. It cannot get easier than this. With little to no chilling time, you can whip up these biscuits last moment when your friends and relatives come unnounced. Let's see the 4 ingredients we need for this delicious coconut biscuit.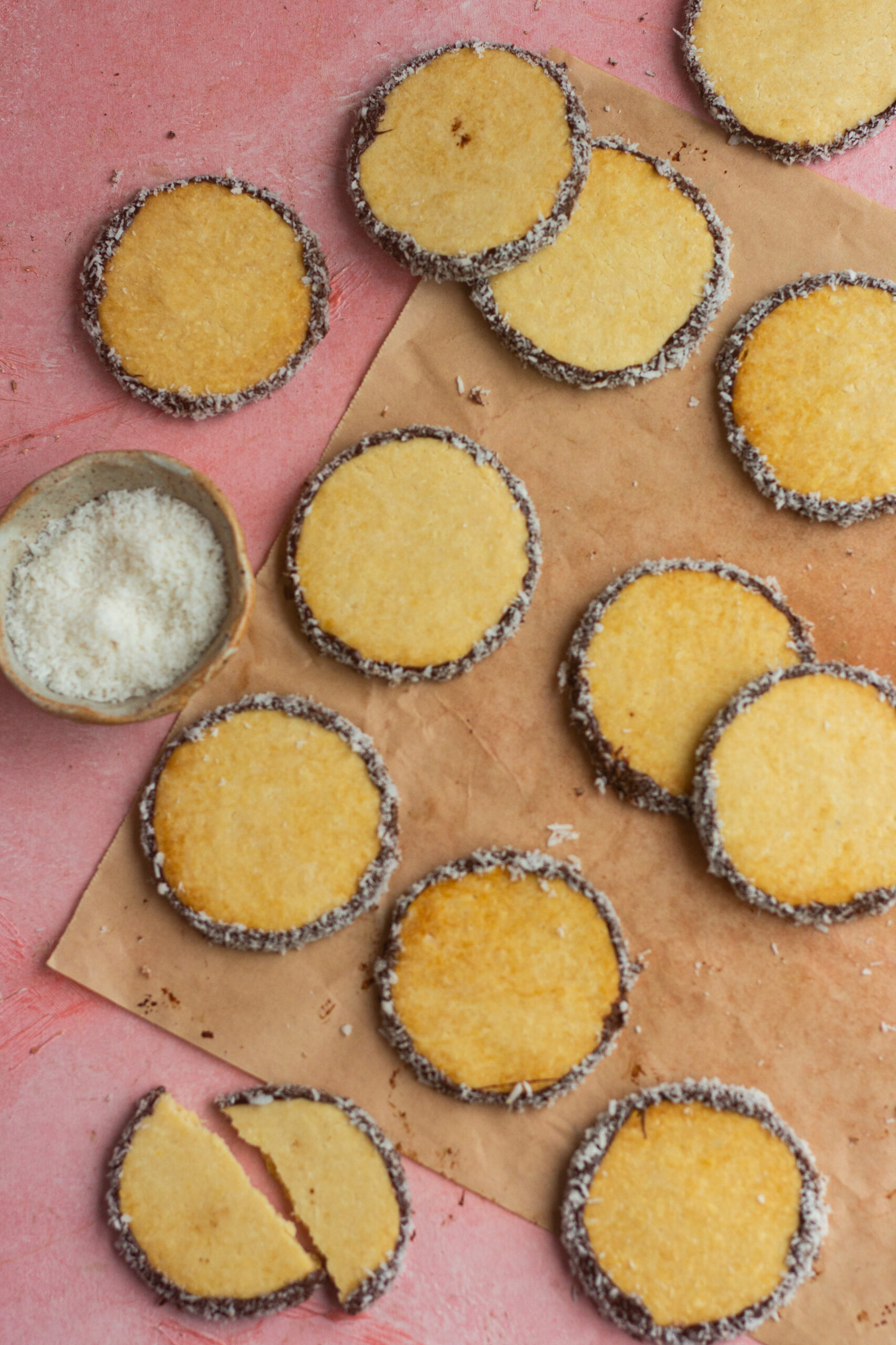 INGREDIENTS USED IN EGGLESS COCONUT BISCUITS
ALL PURPOSE FLOUR
I have used regular maida in these eggless coconut biscuits. Feel free to swap it for whole wheat flour or oat flour. Make sure you increase the quantity of condensed milk in that case as these flour absorb more liquid in a recipe.
DESICCATED COCONUT
To add that beautiful flavour of coconut, I have used the dry desiccated coconut in these eggless coconut biscuits. Please don't use freshly grated coconut in it's place, if you do the recipe would completely change. The desiccated coconut is not only is easier incorporate in a dough, it also bakes beautifully and the smell of it is just amazing.
BUTTER
I have used this salted butter for these eggless coconut biscuits. Feel free to use unsalted if that's what you have in hand. Make sure you add a pinch of salt in case you are using unsalted butter.
CONDENSED MILK
For that sweetness in my coconut biscuits, I have used sweetened condensed milk. You can use any condensed milk as long as its sweetened. It not only does add sweetness to the recipe but also the much-needed moisture and liquid for the dough to come together.
DARK CHOCOLATE
I have used this dark chocolate chips for that chocolatey goodness on the edges in these eggless coconut biscuits. Feel free to use milk chocolate chips in place of dark if that's your game.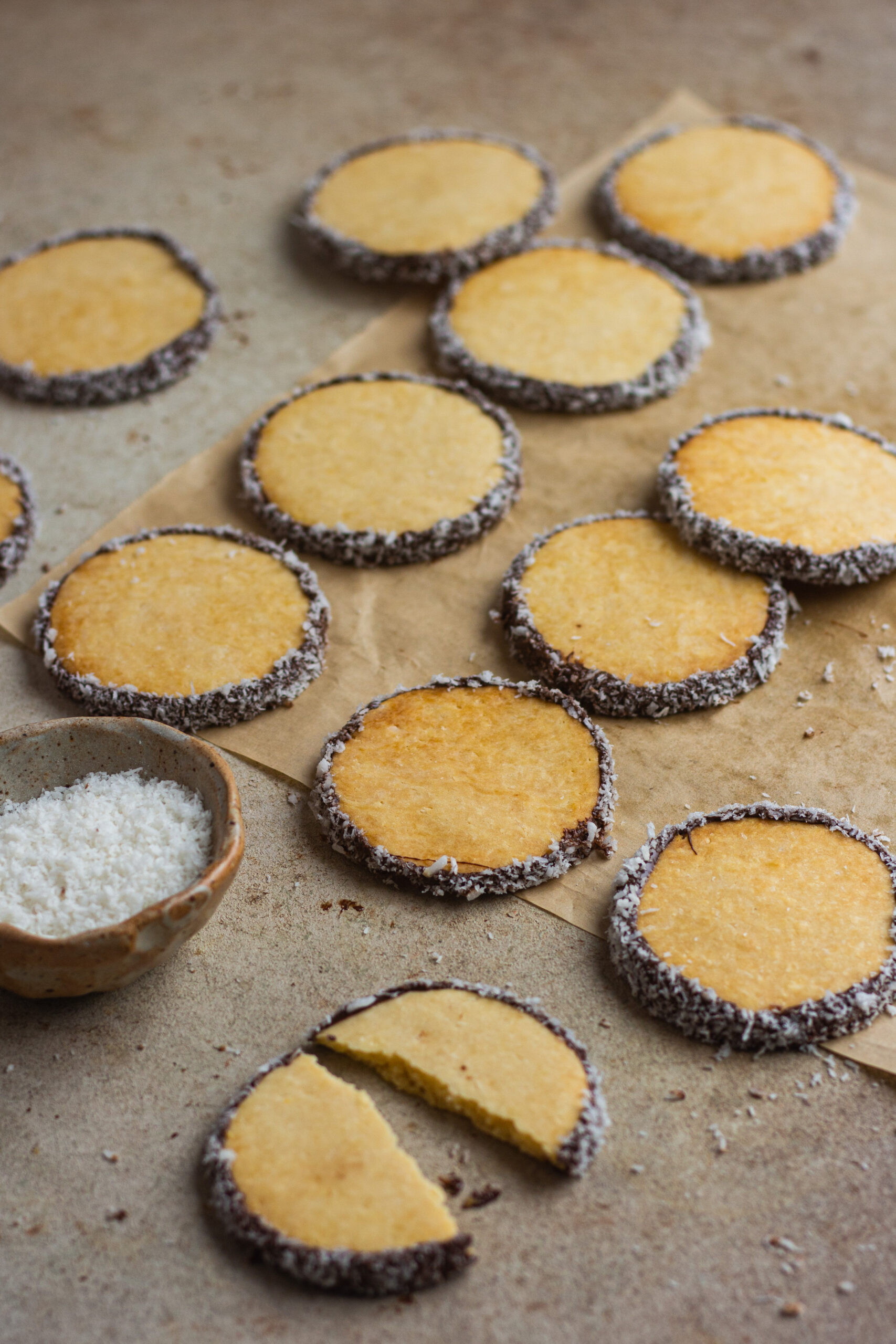 HOW TO MAKE EGGLESS COCONUT BISCUITS
The process is a fairly simple one. Start by adding all purpose flour or maida along with desiccated coconut in a medium sized mixing bowl. Give it a quick mix. Next add in cold butter and rub it in the flour using your hands. Make sure its evenly distributed throughout the dough and there are no large chunks of butter anywhere. Lastly, add the condensed milk. Mix to form a soft dough. Don't knead the dough just bring it together. Gently roll it out between two parchment papers or silicone mat. Using a round cutter shape these biscuits. If you don't have a round cutter, give them any desired shape and you are good to go. Once shaped, let it chill in the fridge for just 10 minutes until your oven is preheating. Bake them at 180C for 15-18 minutes or until they turn golden from the edges. Let them cool for sometime before coating the sides in melted chocolate of your choice and then rolling in desiccated coconut for that beautiful final look. Serve them with a hot beverage!
EQUIPMENT USED FOR MAKING EGGLESS coconut biscuits
The kind of equipment you use when you're baking makes a huge difference to the end result! I would recommend you to use good quality mixing bowls and other equipment so that your eggless coconut biscuits come out delicious!
To mix all my ingredients together in, I'm using Borosil's 100% Borosilicate Glass Bowl which is microwave and oven safe, plus the bowls are super easy to clean and handle, which makes my baking process totally hassle free!
To bake my biscuits I have used my Borosil 60L Oven . It's been a part of my kitchen for a few months now and I absolutely love it.
And if you try this eggless coconut biscuit recipe and like it, do try other biscuit recipes from the blog. I am sure you are going to love them too!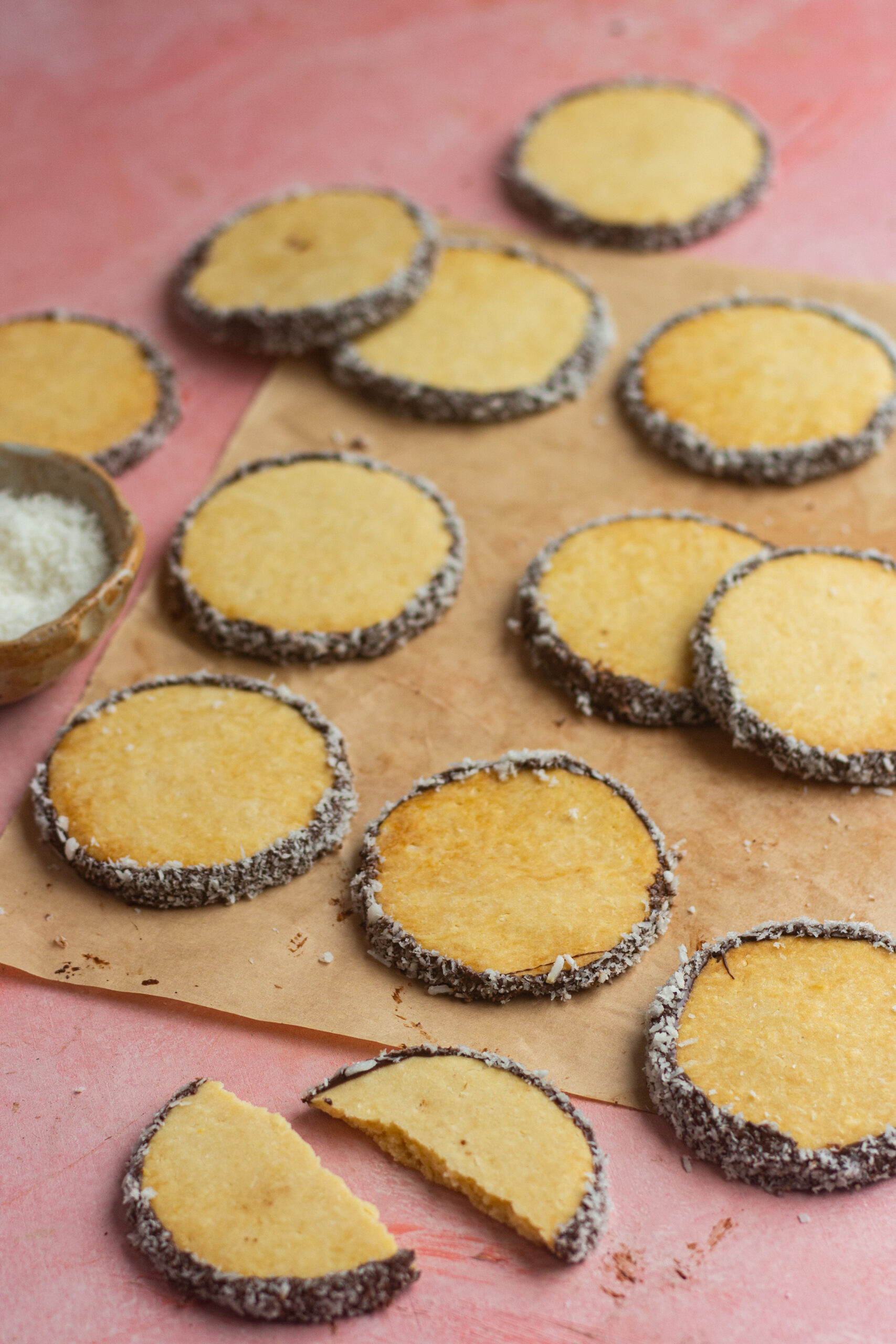 OTHER RECIPES FROM THE BLOG
eggless coconut biscuits
Ingredients
1¼ cup maida
⅓ cup desiccated coconut
5 tbsp cold butter
½ cup condensed milk
dark chocolate
Instructions
Add in the flour, desiccated coconut and cold butter in a bowl and rub them together using your fingers until you achieve a good sandy texture where there are no lumps of butter.
Add in the condensed milk and give it a good mix until everything is combined. Don't overmix.
Roll the dough evenly between two parchment papers. Ideally the thickness should be 1 cm.
Cut them in any shape of your preference with a cookie cutter.
Keep them on a baking tray and freeze for atleast 10 mins.
Bake at 180C for about 15-18 minutes.
Take them out of the oven and transfer them to another tray or a wire wrack and let them cool.
You can garnish them with anything of your choice. Here I have used dark chocolate and desiccated coconut on the edges.
If you like my eggless coconut biscuits recipe and happen to make it in your kitchen, do tag me on Instagram and share pictures with me using #Bakewithshivesh. Happy Baking!