If you are looking for an easy-going and smooth recipe to make during this time because there is just too much housework to do and too many meals to cook on your own, then this 1-minute Chocolate Fudge cake recipe is the recipe for you! For everyone who shies away from making too much of an effort in the kitchen, I got you covered. Each and every bite of this  fudge cake is like a party in my mouth. It is so decadent and so tasty, that you will fall in love with it. Oh, and did I mention this is a 1-minute recipe and doesn't require oven?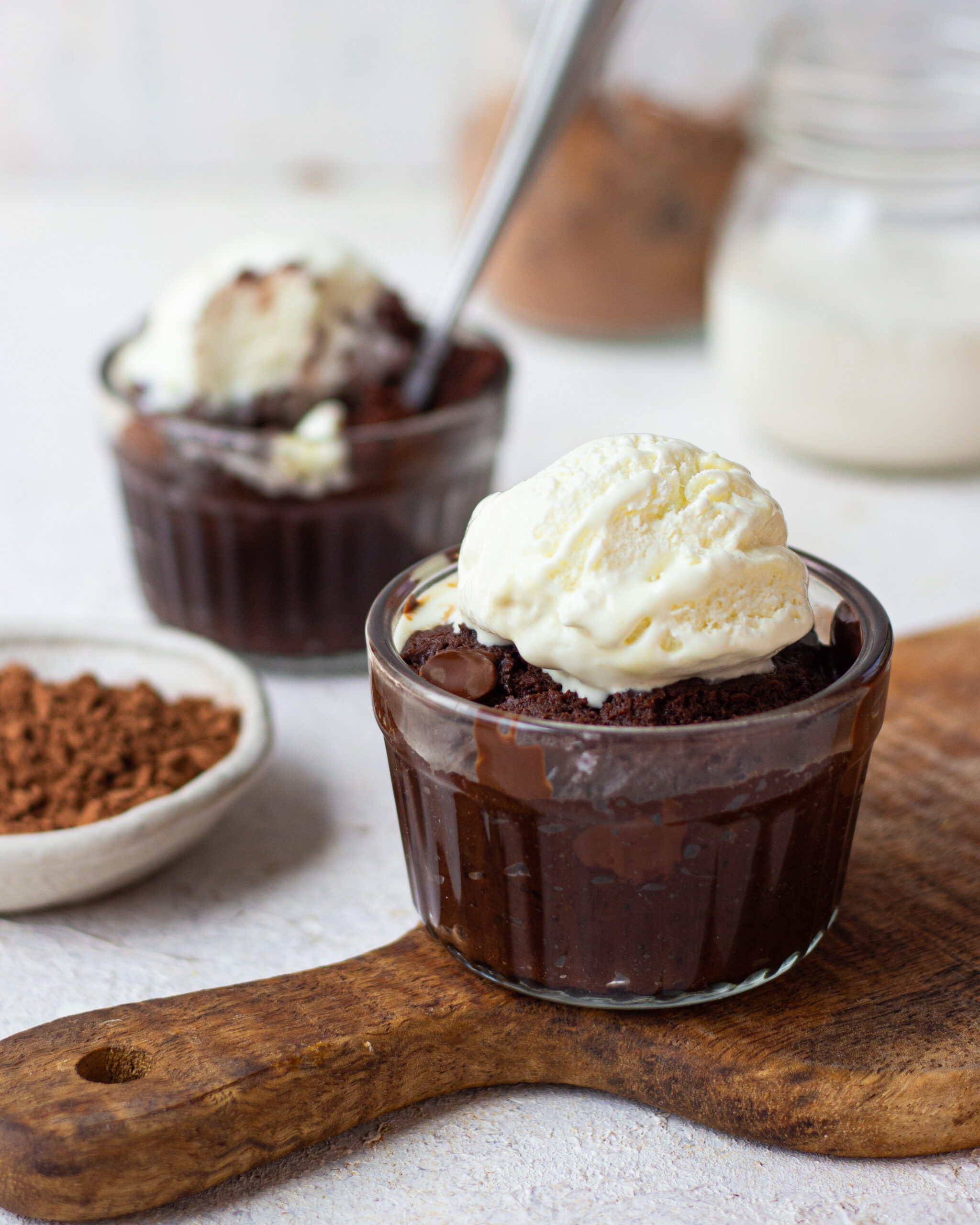 INGREDIENTS USED IN CHOCOLATE FUDGE CAKE
ALL PURPOSE FLOUR
I am using all- purpose flour to make my easy chocolate fudge cake. It gives that nice hold and structure to the cake. You can use whole wheat flour also in same proportion for a healthier version of this 1 minute chocolate fudge cake.
COCOA POWDER
To make this chocolate cake even more chocolatey I'm using this unsweetened cocoa powder by Cadbury. It gives that immense chocolate flavour to any baked good. You can use any good quality cocoa powder which is easily available to you in nearby grocery stores.
BUTTER
Butter is one of the most important ingredients for baking. Butter is the solid fat that you get from churning cream. That being said, the role of butter is not just to give a delicious flavor but also to give richness and structure to all your desserts. The butter in baked goods makes them retain moisture, keeping them tender and soft so that you get a buttery mouthfeel when you bite into the dessert. I have used this salted butter which will give slky pillowy texture to this 1 minute chocolate fudge cake.
DARK CHOCOLATE
I used this  dark chocolate. You can use any chocolate you like. Milk and white chocolate will also work well here. If you're wondering about which chocolate to buy, then the most commonly available brands are Morde and Amul. I specifically used callebaut Dark chocolate for this fudge. You can use compound chocolate also which ever is accessible to you.
SUGAR
For this super fudgy cake , I am using this caster sugar as it is perfect for this chocolate fudge cake in microwave. If you want you can also use the powdered sugar which is made by blending granulated sugar in the blender.
YOGURT
This chocolate fudge cake also has yogurt in it as to make it fluffier and moister than
usual chocolate cakes. Because of cocoa powder, generally chocolate cakes tend to get dry but
because of yogurt, this chocolate cake in a pan is very soft. I am using home-made dahi, you can
use that or store bought; just take the thick part from the yogurt.
BAKING POWDER
For the leavening agents, I am using baking powder here to get the best results out of this fudge cake in microwave. It will make the cake fluffy and dense at the same time.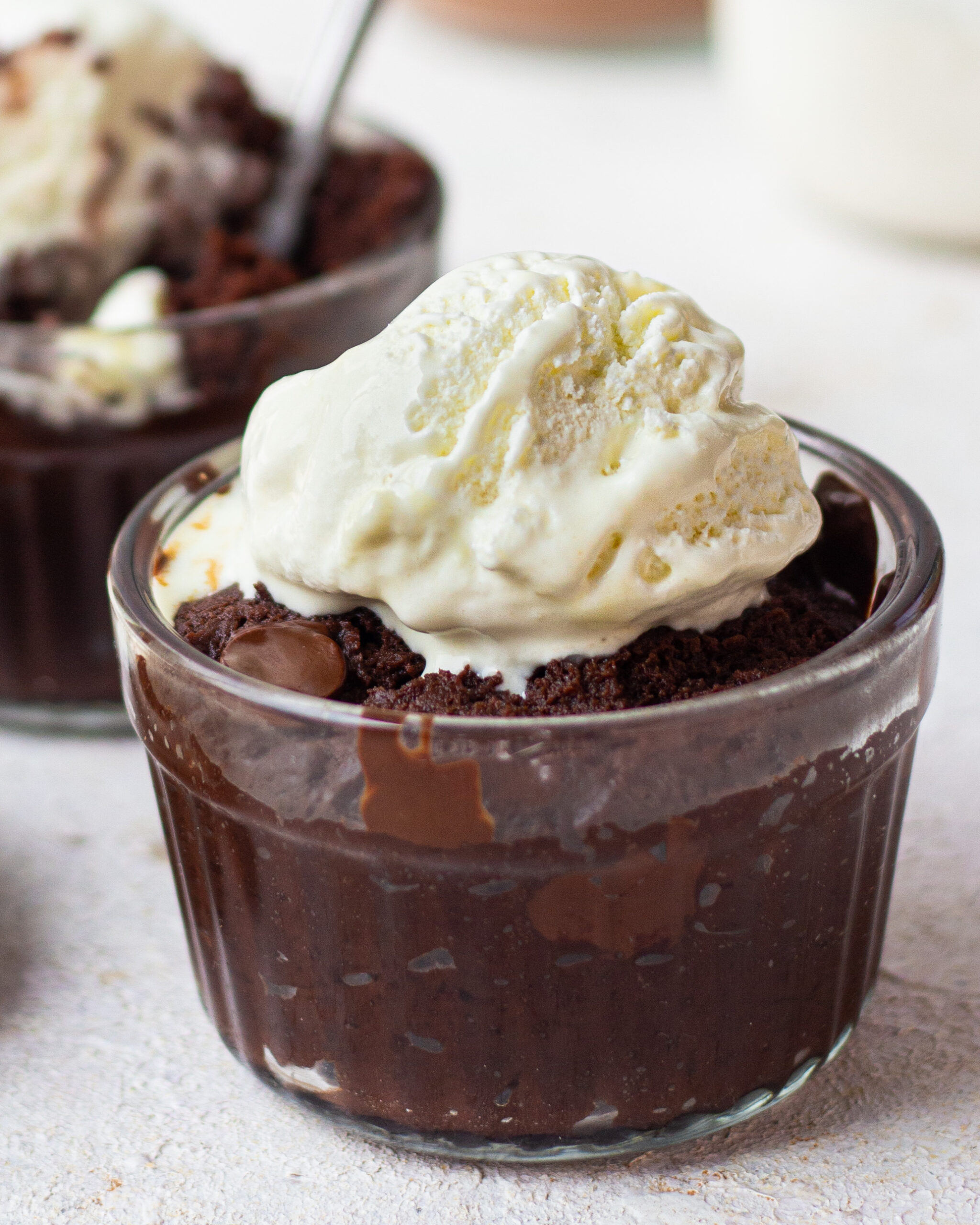 THINGS TO KEEP IN MIND WHILE MAKING 1 MINUTE CHOCOLATE FUDGE CAKE
MELTING YOUR CHOCOLATE
It is important to melt your chocolate nicely and evenly. My preferred way of melting chocolate is on a double boiler but you can also do it in the microwave in 10 second intervals. Be careful not to overheat and seize your chocolate.
BAKING IN MICROWAVE
Do not over-mix your vanilla cupcake batter. My microwave fudge cake gets ready in 1  minute, yours can be done in less or more time as all microwaves behave differently and the cooking also depends on how much quantity you are making in one go; so keep an eye on your microwave while they are getting cooked.
DON'T OVERMIX THE BATTER
Overmixing the batter can cause your chocolate fudge cake get cooked denser than usual and will have an off crumb. Mix until everything is combined and there are no flour or chocolate lumps and your fudge cake is good to go.
EQUIPMENTS USED IN MAKING 1 MINUTE CHOCOLATE FUDGE CAKE
The kind of equipment you use in the kitchen makes a huge difference to the end result! I would always recommend you to use quality gadgets and other equipment to make your cooking and baking game strong.
For making my 1 minute chocolate fudge cake I have used  ramekin this  mould. It's perfect for a single serve dessert and to scoop the ice-cream on top to take this chocolate fudge cake at another different level I this have used this scooper.
I have cooked my fudge cake in this microwave for 1 minute and normal temperature.
And if you try this eggless 1 minute chocolate fudge cake and like it, do try other recipes from the blog. I am sure you are going to love them too!
SIMILAR RECIPES ON BLOG
1 MINUTE CHOCOLATE FUDGE CAKE
Ingredients
2 tbsp dark chocolate
1 tbsp butter
2 tbsp caster sugar
2 tbsp yogurt
¼ cup all purpose flour
1 tbsp cocoa powder
⅛ tsp baking powder
chocolate chips to top
vanilla icecream to serve
Instructions
Melt chocolate and butter in the microwave
Add in the sugar and yogurt and mix well
Lastly fold in all the dry ingredients and top some dark chocolate chips
Cook in microwave for 1 minute , add some vanilla icecream and serve hot.
If you like my 1 minute chocolate fudge cake recipe and happen to make them in your kitchen, , do tag me on Instagram and share pictures with me using #Bakewithshivesh. Happy Baking!