I think the title says it all. It is a combination of Nutella and pancakes and it doesn't get better than this. Oh wait, maybe it does because I made these without eggs and with whole wheat flour! You're welcome. Seriously though, a simple pancake recipe is something that everyone should have up their sleeves.
And if you want to make things more fun and still make easy pancakes, this Nutella bomb pancake recipe is a must try. They're like small sized fluffy pancakes that are filled with absolute deliciousness of Nutella. 
A perfect pancake recipe for your sunday breakfast/ brunch plans or even for your midnight cravings. Make this and don't forget to share pictures with me on my Instagram @shivesh17.
What are pancake bombs?
Pancake bombs are nothing but small fluffy pancake balls that are filled with delicious fillings. You can fill it with whatever you want, but I chose Nutella. The chocolate-hazelnut filling oozing out from warm pancakes is something no one should resist. 
You can also fill your pancake bombs with pastry cream, peanut butter, or some chocolate ganache. Seriously, add whatever you want and make the best breakfast treat ever! 
Can I use any pancake recipe to make pancake bombs?
One of the main reasons I love a pancake recipe is because of it's versatility. There is so much you can do. Making pancake cereal is a trend right now and everyone's breakfast consists of it these days. Another great way to customize a pancake recipe is by making pancake bombs. 
Like I said, pancakes bombs are simply mini stuffed pancakes. So technically, you can use any pancake recipe and use that as the base. But make sure it is a recipe that gives you fluffy pancakes. Mine promises to give you just that. 
What equipment do I need to make pancake bombs?
Since we are making individual pancake boms, you will need a special pan called the bubble waffle maker which is easily available on amazon. You can use an appam pan which works exactly the same way. This is also easily available on amazon. 
But if you don't have access to these pans, you can use this recipe to make normal pancakes and still fill nutella inside them. If you want to make the best pancakes, you need to keep some tips in mind.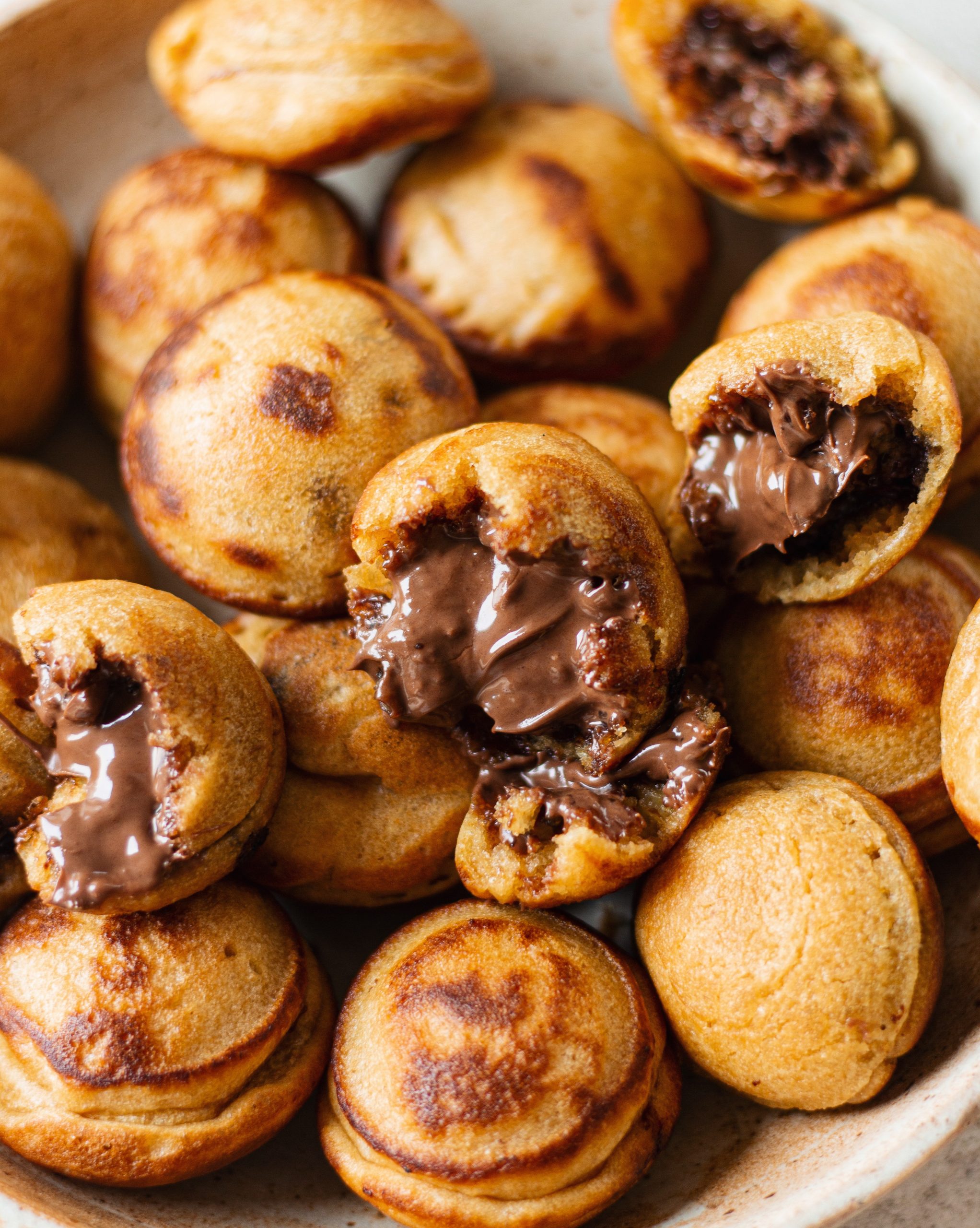 Tips for the best pancake and pancake recipe
Always use room temperature ingredients
When it comes to eggs, milk and butter, I always ensure that they are at room temperature. This will help combine all your ingredients evenly.
Never Overmix your pancake batter
Over-mixing will lead to formation of gluten which will make your pancakes dense and chewy instead of light and fluffy. If you have a few lumps in your pancake batter, that is completely okay. When you cook your batter, these lumps will melt away.
Let your batter rest 
Once your pancake batter is ready, it is always advisable to let your pancake batter rest for 5-10 minutes. This helps the baking powder and soda to get activated and a rested batter will always lead to better and lighter pancakes than a non rested batter. 
Do not skip the buttermilk 
If a pancake recipe calls for buttermilk, always incorporate it. Buttermilk is what makes the pancake super fluffy. Usually buttermilk is made with milk and vinegar. If you don't have vinegar, you can always substitute it with lemon juice. 
Get the quantity right 
It's very important to make sure you're dropping the equal amount of batter on the pan for each pancake. That way you'll be able to assure that all your pancakes are of the same size. I prefer using a ladle to measure and pour my batter. If you're making smaller pancakes, using an ice-cream scoop could be a great idea.
The right pan and patience-
Always use a heavy bottomed, non-stick pan to make your pancakes. You don't want to burn them. Also, always keep your flame on medium low while making pancakes. Be patient and let your pancakes take their own sweet time. If you're impatient with your pancakes and flip them before time, you run the risk of encountering under-cooked pancakes.
Get the perfect flip
Flip your pancakes only when the underside is brown and the bubbles on the top have popped. Also, don't flip it immediately in one go. Always lift the edge slightly with the spatula before an entire 180 degree flip. Remember that in doing so, you have to be as gentle as lifting a sleeping baby out of its cradle.
The first one isn't always perfect
Whether you're making pancakes or crepes, the first one will never be perfect. Don't let that disappoint you! It'll keep getting better as you figure out the temperature of the pan and consistency of your batter.
Pancake Recipe Collection 
I love pancakes and I think they make the perfect weekend breakfast. This is why I have shared quite a few pancake recipes that I think you will love once you try them out. Some of these are 
Best Healthy Chocolate Pancakes, Oats and Banana Pancakes – No Sugar!, One Bowl Orange Pancakes. 

Nutella bomb pancake recipe
Ingredients
2 cups milk
1 tbsp vinegar
2 cups whole wheat flour / all purpose flour
¼ cup sugar ( add more if you want your pancakes to be sweeter)
1 tsp baking powder
½ tsp baking soda
1 tsp vanilla extract
¼ cup oil / melted butter
¼ cup hot water
½ cup Nutella
Instructions
In a bowl, pour in milk and add vinegar to make buttermilk. Mix this well and let it sit aside for 5-10 minutes.
In a big bowl, combine your flour, baking powder, and baking soda. Mix this well and make a well in the centre of the bowl. Add in the buttermilk, vanilla extract and melted butter/oil. Combine well.
Now add in some hot water and mix the batter just enough. Be careful not to overmix here.
Pour your batter in a squeezy bottle and set this aside.
Now microwave nutella for just 10 seconds, to get it to a smooth and pipeable consistency. Transfer this to a piping bag.
Squeeze out the pancake batter into your pan and fill it only halfway through. Quickly pipe over nutella in the middle of each pancake. Fill as much nutella in as you want.
Squeeze out some more pancake batter over this to cover the surface completely.
After a few minutes, flip over the pancake bomb and let it cook completely on the other side as well.
Serve these warm and fresh!