Eggless Suji Cake, also known as Semolina Cake, is a delightful dessert that has a special place in the hearts of many. It's a moist and spongy cake with a unique texture, and the best part is that it doesn't require any eggs. This cake is perfect for those who have egg allergies or prefer eggless baking. Suji, or semolina, forms the heart and soul of this cake, bringing a unique granular texture and a subtle nutty essence to the table. Eggless Suji Cake is a recipe worth exploring. So, let's roll up our sleeves and delve into the world of this eggless delight, one spoonful at a time.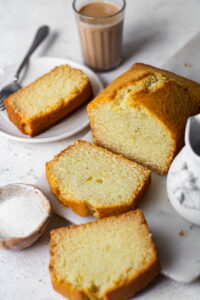 EQUIPMENT YOU NEED FOR THE EGGLESS SUJI CAKE
To mix and blend everything together nicely you'll need a good quality mixer or grinder. I have used Hamilton beach juicer, mixer and grinder to blend everything perfectly.
Measuring Cups and Measuring Spoons. are an integral part of any baker's kitchen and it's very important to measure ingredients with precision.
I have used Aldo loaf pan to make this eggless suji cake. But, you can use any loaf pan but make sure it's a good quality pan.
The kind of equipment you use can hugely impact the final product. So, make sure to always use the best of the equipment that is available.
INGREDIENTS USED IN ATTA CHOCOLATE MUG CAKE
Suji (Semolina):

Suji, also known as semolina, is the star of this cake. It's a coarse wheat product with a granular texture that gives the cake a unique crumb. Suji adds a nutty flavor and helps create a slightly dense yet satisfyingly hearty bite.

Ghee:

Ghee, or clarified butter, brings a rich, buttery flavor to the Suji Cake. It enhances the overall taste and aroma of the cake. For a vegan version, you can substitute ghee with a plant-based oil like coconut or vegetable oil.

Leavening Agents (Baking Powder and Baking Soda):

These are the unsung heroes of eggless baking. Baking powder and baking soda work together to give the cake its lift and fluffiness. They create tiny air pockets within the batter, making the cake soft and airy.

Milk

Milk plays a vital role in adding moisture to the cake. It keeps the cake tender and prevents it from becoming overly dry. You can also use plant-based milk alternatives for a vegan version.

Cardamom Powder:

Cardamom, ground from the aromatic seeds of the cardamom plant, is the secret ingredient that elevates Suji Cake to a new level.
TIPS TO KEEP IN MIND WHILE BAKING EGGLESS SUJI CAKE:
Use Fresh Ingredients:
Always use fresh ingredients, especially leavening agents like baking powder and baking soda, to ensure your cake rises properly.
Avoid Overmixing:
Overmixing the batter can make the cake tough. Mix until the ingredients are just combined for a tender cake.
Preheat the Oven:
Make sure your oven is preheated to the correct temperature before placing the cake inside. This ensures even baking.
Mix Thoroughly:
Use a spatula or your hands to mix everything together. Ensure that the cocoa powder is evenly distributed, and the mixture starts to come together.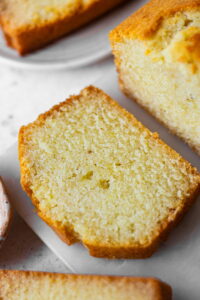 EGGLESS SUJI CAKE
1 cup suji ¾ cup sugar 1 cup all-purpose flour ½ tsp baking powder ½ tsp baking soda 1 tsp cardamom powder 1 + ½ cup milk ½ cup ghee 1 tbsp rose water
Instructions
Preheat the oven to 180 degrees and grease a loaf pan
Blend suji and sugar for a few seconds in a blender.
In a bowl, sift all the dry ingredients flour, baking powder, baking soda, sugar, cardamom powder, and suji.
Now add ghee, milk, and rose water and whisk together until there are no lumps.
Pour the batter into the lined pan and bake it for 40-45 mins or until a toothpick inserted in the center comes out clean.
If you like my eggless suji cake recipe and happen to make them in your kitchen, do tag me on
Instagram
 and share pictures with me using #Bakewithshivesh. Happy Baking!