Indulgence takes on a whole new meaning with our delectable Biscoff pudding recipe. This  Biscoff Pudding is a delightful marriage of creamy, velvety texture and the distinctive, spiced flavor of Biscoff spread. Whether you're a die-hard fan of these caramelized wonder or a newcomer to its enchanting taste, this Biscoff pudding is bound to leave you craving for more.
Biscoff spread, the star of this show, transforms a simple pudding into a culinary masterpiece. Its rich, caramelized notes infuse every spoonful with warmth and depth, while the smooth texture adds a luxurious touch. So, whether you're preparing this dessert for a special occasion or simply to satisfy your sweet tooth, rest assured that each bite will be a symphony of spice and sweetness.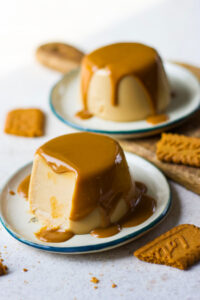 INGREDIENTS USED IN BISCOFF PUDDING
The star ingredient in this Biscoff pudding is of course, Biscoff Spread. It is caramely and full of flavour. The spices and caramelized flavor in the Biscoff spread contribute to the overall aroma of the pudding. It adds a warm, inviting scent to the dessert. The spread is creamy and smooth, which helps in creating a silky texture in the pudding.
Milk is the base for any pudding, mousse or set cold dessert. Milk is heated along with a few other ingredients and is then refrigerated to let it set. It gives structure and creaminess to the whole pudding. I have used Nestle milk but you can use any of your choice.
This is the setting agent in this recipe. They help thicken the mixture when heated and brings all the other ingredients together. They absorb water and gives the final texture to the dessert. It also makes the pudding wobbly and jiggly.
Castor sugar is added to the Biscoff pudding to impart the right amount of sweetness to this dessert. Sugar contributes to the texture of the pudding. When combined with liquid ingredients and heated, it helps to dissolve and create a smooth, creamy consistency.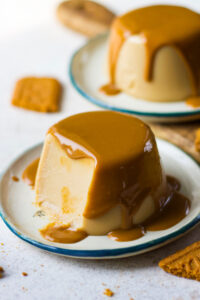 EQUIPMENTS USED IN MAKING BISCOFF PUDDING
It's an easy recipe so it doesn't require a lot of equipment.
My set of Measuring Cups and Measuring Spoons always come in handy and are the most important part of any recipe.
Apart from this, a good heavy bottomed saucepan to combine everything is necessary.
You also need am induction or a heat source to heat the mixture and combine all the ingredients.
I used glass ramekins to set the pudding.
RELATED RECIPES FROM THE BLOG
TIPS TO MAKE THIS BISCOFF PUDDING
A full fat milk will give better texture and flavour so prefer using that.
Add corn starch separately with 1/2 cup milk and make sure there are no lumps.
Make sure that the sugar melts completely before adding the rest of the milk.
Remove the mixture from heat as soon as it starts to thicken or else it will become lumpy.
Sieve the final mixture as a precautionary step to have a smooth final texture of the Biscoff pudding.
BISCOFF PUDDING
Ingredients
3 tbsp Biscoff spread + more for garnish
1 + ½ cup milk
3 tbsp cornflour
¼ cup sugar
Instructions
In a bowl, add Biscoff spread, ½ cup milk and cornflour. Whisk to form a slurry with no lumps.
In a Saucepan, add 1 cup milk and sugar and heat till the sugar dissolves.
Add the cornflour slurry to the mix and keep on mixing on low-medium heat till the mixture starts to thicken.
Once it becomes thick, remove from heat and divide it between two ramekins. Tap on the counter a few times and refrigerate the pudding for 3-4 hours.
Demould the pudding carefully and pour some melted Biscoff spread over it.
If you like my Biscoff Pudding recipe and happen to make them in your kitchen, do tag me on Instagram and share pictures with me using #Bakewithshivesh. Happy Baking!