Pannacotta is traditionally a creamy vanilla dessert that is cold set, molded and plated. In this recipe I have given it a twist by adding the sweet and rich dark chocolate which gave it a push and it was a total hit. It is decadently creamy as the original recipe. Panna cotta traditionally means cooked cream. It is one of the easiest desserts to make, you just have to cook it and chill in the fridge. You can prepare it for sudden get-togethers or parties and give it a twist of flavor of your own choice.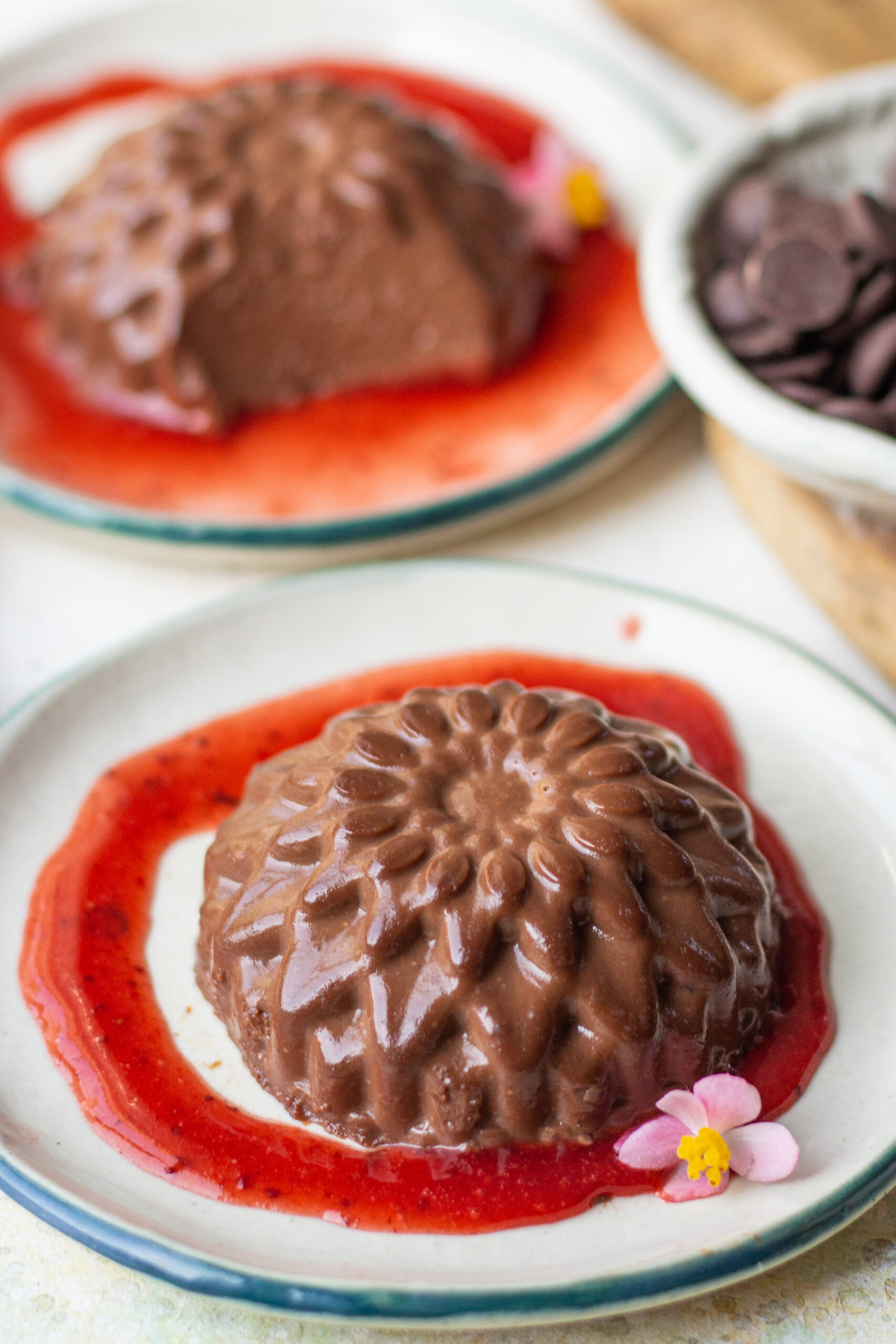 INGREDIENTS USED IN CHOCOLATE PANNACOTTA
Cocoa powder
I have used Hersheys cocoa powder in making of this chocolate pannacotta. Also, I have used dark chocolate chips for the rich flavor. You can use the easily available cocoa powder in the recipe. 
Cream
This is the main ingredient around which the pannacotta revolves. It is responsible for giving heaviness and creaminess to the chocolate pannacotta. 
  Agar- agar
It helps in setting the chocolate pannacotta. You can substitute it with 1.5x of gelatin in the recipe. 
TIPS FOR MAKING THE PERFECT CHOCOLATE PANNA COTTA
When you add agar-agar to boiling water, whisk it vigorously and make sure it is completely dissolved before turning off the heat.

 

If your panna cotta is stuck in your ramekin after chilling it, partially dip your ramekin in luke-warm water and tap it gently from the behind with your hand or the back of a spoon.

 

To check the texture of the panna cotta and in order to ensure that it is properly done, rub the mixture between your fingers and ensure that there is nothing gritty in the mixture

 
EQUIPMENTS USED FOR MAKING SMALL SERVE CARAMEL PUDDING
This recipe comes together quickly and hardly needs any equipment. 
I have made my small serve Chocolate Pannacotta mixture in a stahl saucepan. 
To set the small serve Chocolate pannacotta, I have used glass ramekins . 
Not a single day goes in my kitchen when I don't use a Silicon Spatula, this is the one I recommend. Same goes for my set of Measuring Cups and Measuring Spoons 

OTHER RELATED RECIPES FROM THE BLOG
4 INGREDIENT CHOCOLATE PUDDING 
SMALL SERVE CHOCOLATE PANNACOTTA
Ingredients
½ cup+2 tbsp milk
1 tbsp cocoa powder
¼ cup fresh cream
2 tbsp castor sugar
2 tbsp chocolate chips
½ tsp agar agar
2-3 tbsp strawberry sauce
Instructions
In a saucepan, set over medium heat, heat milk, cream, cocoa powder, castor sugar and chocolate chips till well combined.
Once the mixture is a bit warm, add agar agar to it and heat till a single boil comes. Continuously whisk the mixture to avoid burning.
Take the saucepan off the heat and pour the final mixture into a silicon mold. You can also use a glass ramekin or any other mold to set the panna cotta. Tap the ramekin gently to remove the air bubbles.
Refrigerate the mold for 20-25 minutes or till it sets completely
Demould the set panna cotta on a plate and pour the strawberry syrup. Serve it cold!
If you like my small serve chocolate pannacotta recipe and happen to make them in your kitchen, do tag me on Instagram and share pictures with me using #Bakewithshivesh. Happy Baking!