If there's one thing that I love more than ice cream in summers is a cold cheesecake. And here's a recipe that simply combines the two in the most amazing way. Mango Cheesecake Ice Cream is a dream come true recipe. Its sooooo good that I can't stop indulging. Its all the flavours of cheesecake in the form of ice cream along with real flavours of mango. I'd always prefer to make this recipe in mango season but you can freeze some mangoes for the off season and make it any time. The recipe includes the condensed milk, cream cheese, whipping cream, some mangoes and biscuits. That's all it takes to make this incredible Mango Cheesecake Ice Cream.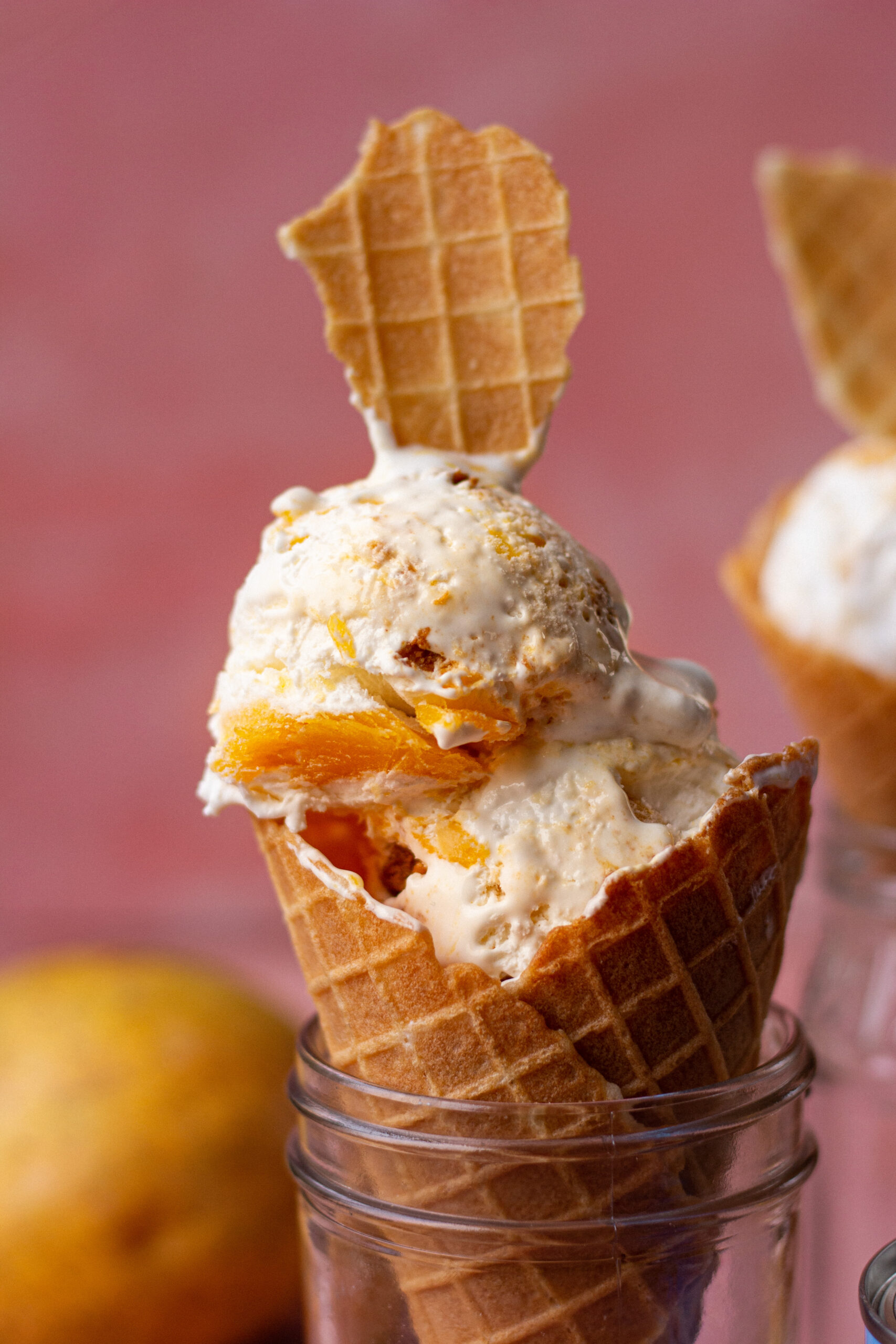 INGREDIENTS USED IN MANGO CHEESECAKE ICE CREAM
I have to be honest, when I first tried this recipe, I was a little skeptical about using condensed milk since I did not know how the frozen texture will turn out. But after a few trials, I'm 100% sure that adding condensed milk makes a huge difference and that too in all the right ways I have used Nestle Milkmaid to make this recipe but you can use any kind of condensed milk that is readily available to you.
The main ingredient that gives the ice cream its entire structure and base is the whipping cream. Whipping cream is whipped upto stiff peaks before any other ingredient is added to it so that it maintains its light and airy texture. This makes the ice cream get its real texture and feel. I have used this whipping cream to make this recipe.
Since it's a cheesecake flavoured recipe, it can't go without adding the main ingredient for cheesecake, which is the cream cheese. Cream cheese adds the smoothness and extra creamy texture the ice cream and makes it more flavourful. Cream cheese is necessary to call it an authentic cheesecake flavoured ice cream. I have used D'lecta cream cheese to make this Mango Cheesecake Ice Cream but you can make use any cream cheese of your choice.
The best flavour to combine with the base ingredients of cheesecake is the delicious mango. I have used local mangoes in this recipe in two different forms. One is in the form of chunks and the other is in the form of puree. Both contribute a different texture and mouthfeel to the ice cream and I would recommend to use both the forms to get the best of the flavours. Apart from that, the different layering of mangoes gives a dual colour to the Mango Cheesecake Ice Cream and thus, makes it more appetising.
Lotus Biscoff Biscuits/Graham Crackers
A cheesecake is incomplete without a biscuit base. Hence, to make this Mango Cheesecake Ice Cream an authentic one, we add biscuit crumbs as well. I have used Lotus biscoff biscuit crumbs to give this recipe an extra crunch and caramel flavour but you can add any sort of biscuit crumbs to this recipe.
EQUIPMENTS USED IN MAKING MANGO CHEESECAKE ICE CREAM
Not a lot of equipment is required to make this Mango Cheesecake Ice Cream. However, a few kitchen staples that should always be there in the kitchen are mentioned below.
Measuring Cups and Measuring Spoons are the first thing that anybody who in cooking or baking needs. The right quantities will help in the desired outcome so these two things are a must.
An electric beater is necessary to blend all the ingredients into a smooth ice cream base batter.
You also need a few mixing bowls to combine the ice cream base. And spatulas to do the mixing.
A blender is required as well to make the mango puree.
Finally, a solid utensil in which you'll freeze the ice cream is also required. I used a Borosil container to set my ice cream.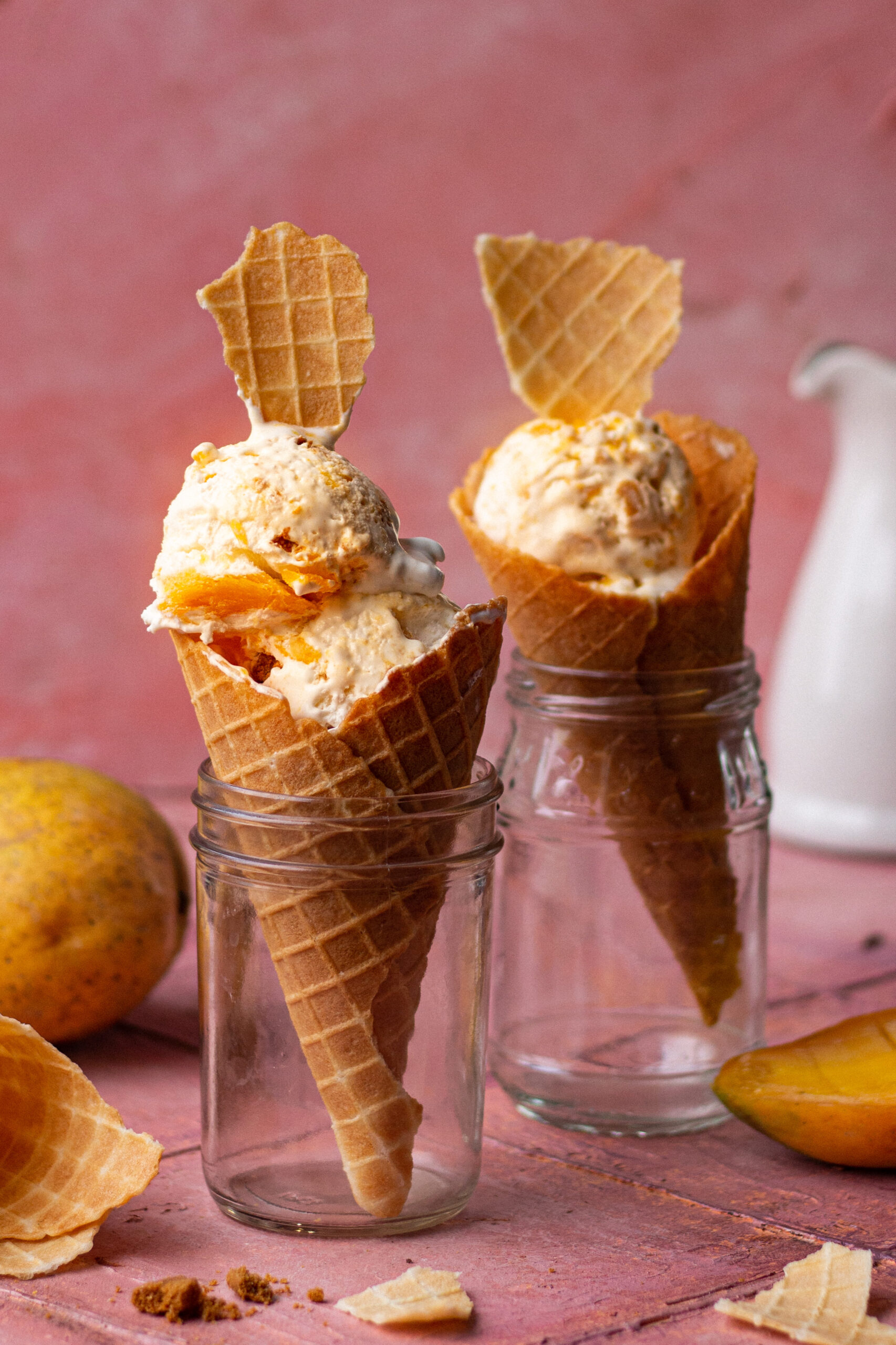 RELATED RECIPES FROM THE BLOG
TIPS TO MAKE THIS MANGO CHEESECAKE ICE CREAM
Make sure the whipping cream is completely thawed and is at room temperature.
Whip the cream till stiff peaks are achieved. Do not over whip or under whip or you'll not get the desired texture.
Ensure that all the ingredients are at room temperature.
Use softened cream cheese so that the final ice cream batter doesn't have lumps.
Use an electric beater to bring everything together.
Make sure to add the different elements generously and at equal portions so that the final scoop has all the textures, flavours and colours.
Serve it in a fresh waffle cone, preferably.
MANGO CHEESECAKE ICE CREAM
Ingredients
1 + ½ cup whipping cream
¾ cup condensed milk
½ cup cream cheese
2 cup mango pulp
½ cup mango chunks
10-12 crushed biscuits
Instructions
Take whipping cream in a bowl and use an electric beater to whip the cream until it reaches stiff peaks.
Add in the condensed milk and cream cheese. Mix really well until you achieve a smooth mixture. This is the base for the ice cream.
To assemble your mango cheesecake ice cream, transfer half of the ice cream base in a freeze-safe container.
Onto this, add dollops off mango puree, some mango chunks and biscuit crumbs. Use the back of a spoon to make swirls and repeat the layering process one more time.
Freeze the ice cream overnight or for a minimum of 8 hours. The mango cheesecake ice cream is ready!
If you like my Mango Cheesecake Ice Cream recipe and happen to make them in your kitchen, do tag me on Instagram and share pictures with me using #Bakewithshivesh. Happy Baking!