Who doesn't love nutella ? Ah! I can't stop myself from eating nutella straight from the jar. Yesterday I made a small serve nutella cake that was incredibly soft, moist, and delicious. I was especially impressed with the design of the nutella cake with toasted chopped hazelnuts and a chocolate glaze on top.
I am sure you will enjoy this small serve nutella cake recipe. Also it's a one-bowl recipe that's very simple to make and tastes delicious. Let's get started on the ingredients for this nutella cake.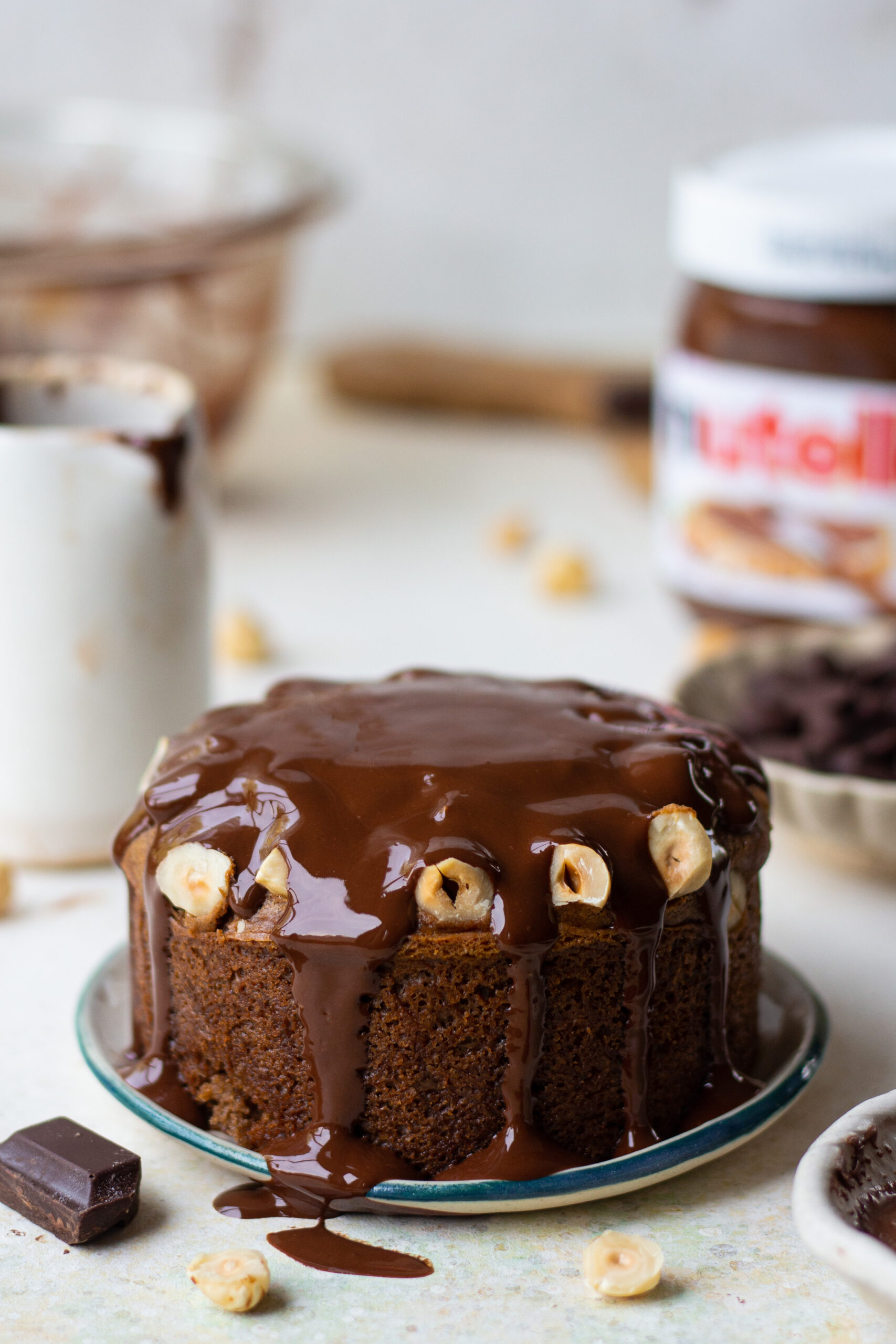 INGREDIENTS NEEDED TO MAKE EGGLESS NUTELLA CAKE
Regular flavour less oil is your best bet while baking. Any other oil usually leaves an aftertaste which you do not want in your dessert. I have used olive oil with chocolate in a chocolate cake recipe and it didn't leave any after taste so if you would want to give it a try, you sure can in this recipe of eggless nutella cake.
I usually prefer castor sugar in all my recipe until mentioned otherwise. Castor sugar melts evenly unlike granulated sugar. If you don't have castor sugar in hand, feel free to substitute it with powdered sugar in this eggless nutella cake.
To replace eggs in this recipe, the best substitute is yogurt or homemade dahi. When eggs are replaced with dahi, you get the perfect tender moist crumb which is achieved with eggs. In this eggless nutella cake, you can either use regular homemade dahi (do not hang and remove water from it) or store brought yogurt. Both of them works well.
To make my eggless nutella cake moist, soft and light, I have regular milk in this recipe. Make sure it is a little warm and not cold straight from the fridge. Since every flour is different, you might need a tablespoon less or a tablespoon more of milk to adjust the consistency of the batter.
Well of course you need Nutella to make this soft and delicious eggless nutella cake. Make sure you don't use one straight out of the fridge. Let it either sit on the counter for a while or microwave it so it's soft and smooth and easily mixes with the other wet ingredients.
Using good quality cocoa powder is very important. I personally really like using Hershey's but you can use any good dark cocoa powder. Cocoa powder is actually one of the significant ingredients in this eggless nutella cake, so make sure you use a good one.
I have used regular maida in this eggless nutella cake. Feel free to swap half of it for whole wheat flour or oat flour. Make sure you increase the quantity of milk in that case as these flours absorb more liquid in a recipe.
BAKING POWDER AND BAKING SODA
I have used both baking powder and soda in this eggless nutella cake. Baking soda will react with the yogurt or homemade dahi and baking powder would react with the rest of the liquid in this recipe of eggless marble cake. I use this baking powder and this baking soda.
EQUIPMENTS USED FOR MAKING SMALL SERVE NUTELLA CAKE
The kind of equipment you use when you're baking makes a huge difference to the end result! I would recommend you use good quality mixing bowls and other equipment so that your eggless nutella cake comes out delicious!
To mix all my ingredients together in, I'm using Borosil's 100% Borosilicate Glass Bowl which is microwave and oven safe, plus the bowls are super easy to clean and handle, which makes my baking process totally hassle-free!
Measuring Cups and Measuring Spoons. are an integral part of any baker's kitchen and its very important to measure ingredients with precision.
I have used my 4" circle cake tin to bake these small serve Nutella cake in my Borosil 60L oven.
OTHER RELATED RECIPES FROM THE BLOG
TIPS TO MAKE SMALL SERVE NUTELLA CAKE
You can also decorate your cake with Nutella mousse or Nutella with nozzle fitted piping bag.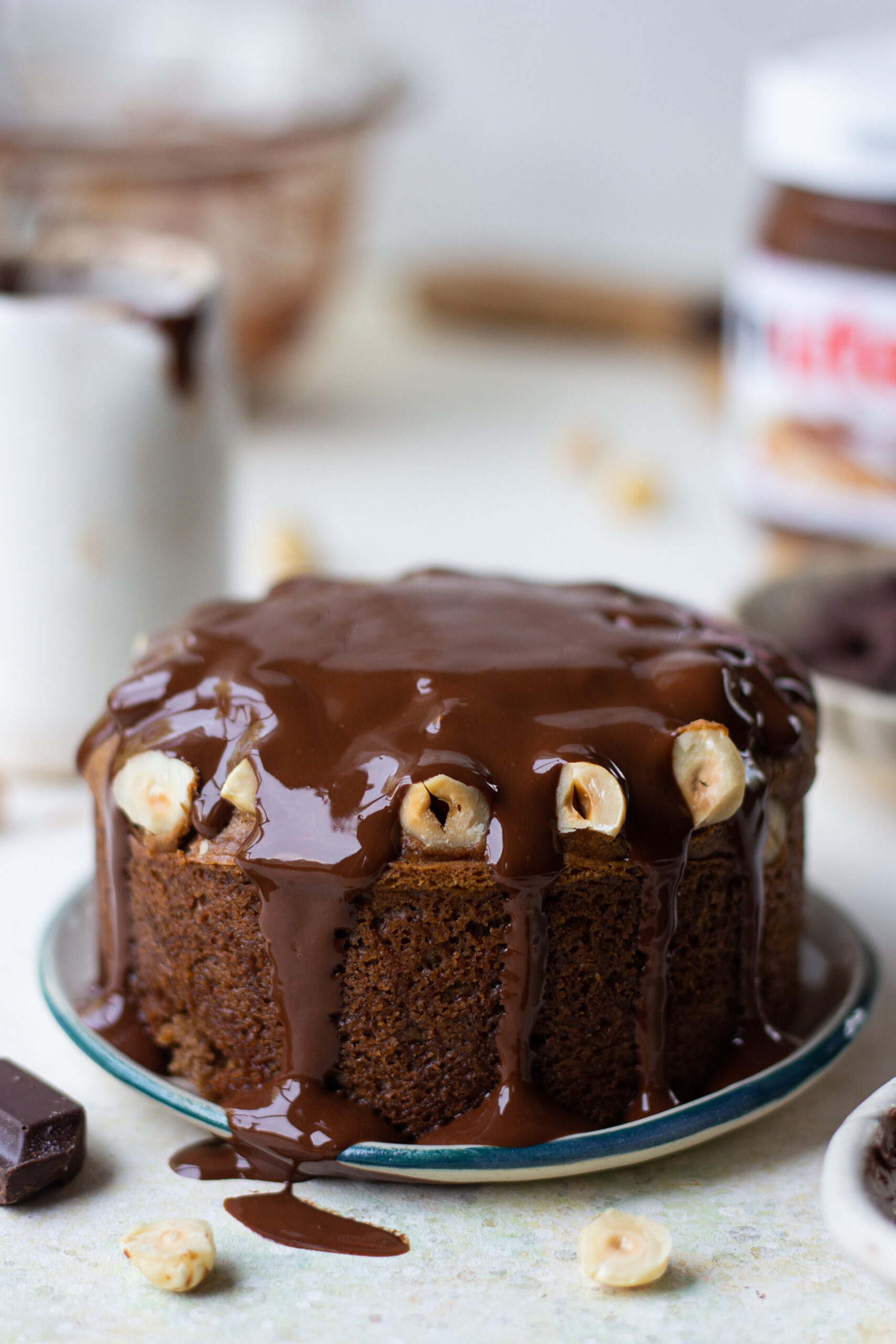 SMALL SERVE NUTELLA CAKE
Ingredients
¼ cup sugar
2 tbsp vegetable oil
½ cup yogurt
1 tbsp Nutella
1 tbsp milk
¾ cup maida
½ tsp baking powder
¼ tsp baking soda
For topping
Chopped hazelnuts
Glaze
¼ cup dark chocolate chips
1 tbsp nutella
1.5 tbsp oil
Instructions
Preheat the oven at 180 degrees celsius and line a 4" springform pan with parchment paper.
In a bowl, whisk together castor sugar and oil. Then add yogurt, nutella, and milk. Mix everything well till we get a homogeneous mixture.
Sift in maida, baking powder, and baking soda combine everything well with a spatula. Do not overmix at this stage.
Pour the batter into the lined pan, top with the hazelnuts and bake it for 25-30 minutes.
For the glaze- melt the chocolate completely and mix nutella and oil in it. Your glaze is ready.
Wait for the cake to come at room temperature and then decorate it with the chocolate glaze.
If you like my small serve Nutella cake and happen to make them in your kitchen, do tag me on Instagram and share pictures with me using #Bakewithshivesh. Happy Baking!