Mango season is at its peak and how can I not try my favourite mango baked cheesecake. I gave a tropical twist to my original baked cheesecake recipe. The base is made from crushed digestive biscuits, then mango cheesecake curd and topped with mango jelly. It's like a sunshine on a plate! Super creamy and smooth mango cheesecake recipe is on your way. Also, you can make this recipe in small serve if you don't feel like making a big batch. 

INGREDIENTS USED IN MANGO BAKED CHEESECAKE 
DIGESTIVE BISCUITS 
For the crumbly biscuit base for this small serve strawberry cheesecake, I have used digestive biscuits. Feel free to replace it with any other biscuits, any of them works perfectly. I have used these biscuits because they are easily available and give a good biscuit base to my baked mango cheesecake.  
BUTTER 
I have used salted butter for this baked mango cheesecake. You can use unsalted if that's what you have in hand with a pinch of salt. You will need to melt the butter before combining it with crushed digestive bisuits.  
MANGO PUREE
Pick the ripe mangoes in your home to give the maximum taste to your cheesecake or you can also increase the quantity according to your taste. 
HEAVY CREAM 
To bring that richness and fluffiness and give a body to my baked mango cheesecake, I have used heavy cream.   
CREAM CHEESE 
For cream cheese, Dlecta or Philadelphia are some of the good brands. It provides the cake a good structure, a creamy texture, and a delectable flavour.  
CONDENSED MILK 
I have replaced sugar with condensed milk because it acts both as a sweetener and a binding agent. It also provides a concentrated creaminess and milkiness to my baked mango cheesecake.  
CORNFLOUR 
It prevents the cheesecake from getting cracked and helps in giving a neat finish while cutting, but it does not change the taste.  
TIPS FOR MAKING A PERFECT BAKED MANGO CHEESECAKE 
Use good quality ingredients for this.

 

All the ingredients should be at room temperature.

 

Use riped mangoes because they give maximum taste to your cheesecake.

 

Your mixture should be lump free 

 

Use a water bath to get a perfect cheesecake 

 

Bake at low temperature for a longer period.

 

To check if the cheesecake is done, you should shake it a bit and see if its wobbly. The side should set but it should wobble from the centre 

 

To stop your cheesecake to sink, allow it to rest it in the oven for half an hour before chilling it in the fridge. 

 

Cool it first at room temperature and then in the refrigerator before serving. 

 
OTHER CHEESECAKE RECIPES FROM THE BLOG 
EQUIPEMENTS USED IN SMALL SERVE STRAWBERRY CHEESECAKE 
To combine all the ingredients for this recipe, I have used glass bowl.   
Measuring Cups and Measuring Spoons. are an integral part of any baker's kitchen and its very important to measure ingredients with precision.  
I have used a 7'' springform mould and baked in my borosil oven.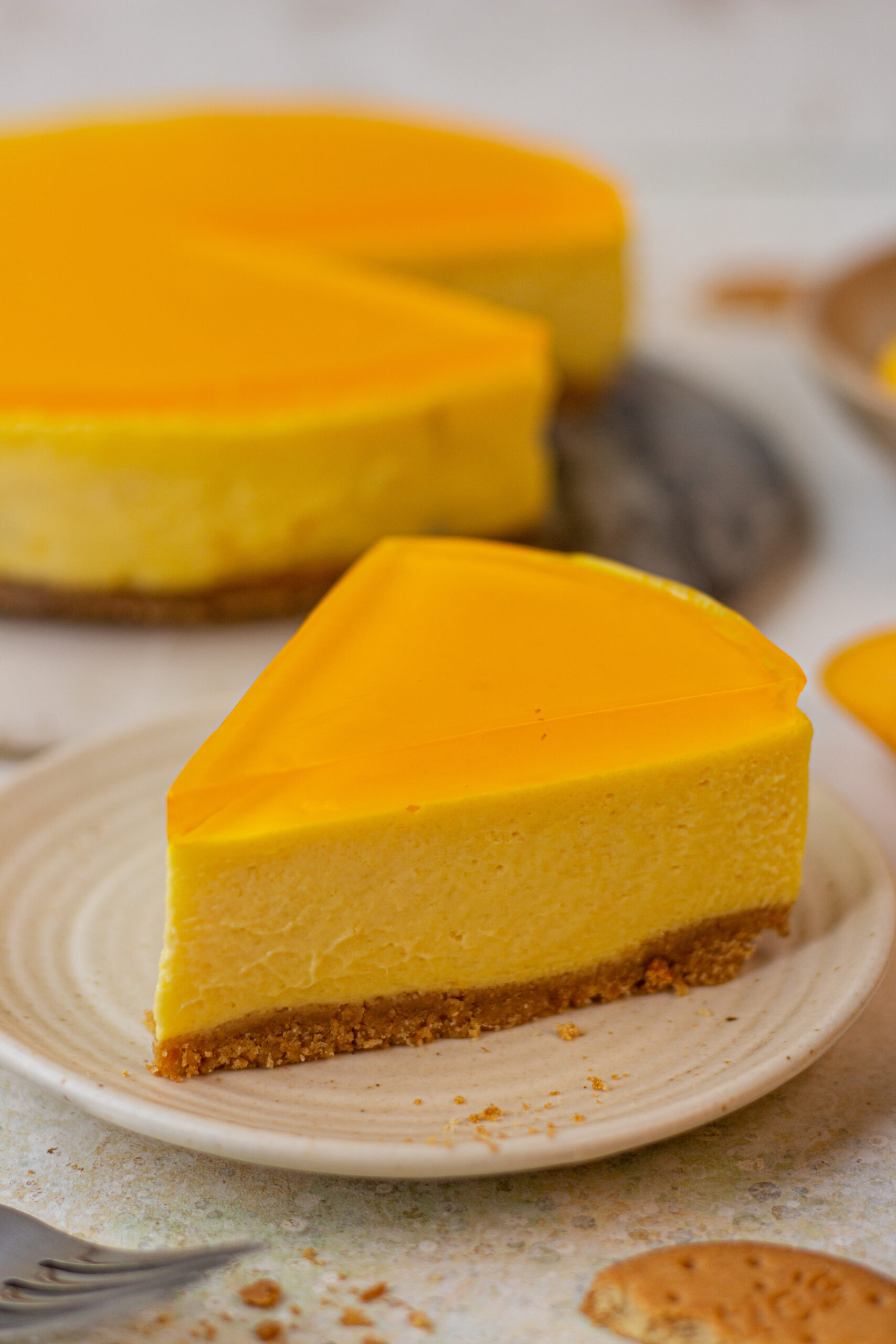 BAKED MANGO CHEESECAKE
Ingredients
2 cups crushed biscuits
½ cup melted butter
1-1/2 cup cream cheese
½ cup whipping cream
2 tbsp cornflour
½ cup mango puree
1 cup condensed milk
Instructions
In a blender, add biscuits and process them until fully crushed. Now add melted butter and blend again.
Transfer the biscuit crumbs into a 7" inch springform pan and press down evenly. Set it in the fridge for 10-15 minutes.
In another bowl, add cream cheese, heavy cream, condensed milk, mango puree and cornflour.
Mix until the batter is fully combined.
Now transfer this on top of the biscuit base. Seal the bottom of the springform pan with two layers of aluminum foil so nothing leaks out.
Place the cheesecake tin in a bigger baking dish with hot water creating a water bath.
Bake in a preheated oven @160 celsius for about 40-45 mins.
Once baked fully run a knife around the edges while the cheesecake is still warm.
Transfer the cheesecake into the fridge to cool for about 7-8 hours.
For the jelly- in a bowl, add half of the weikfield jelly mixture and mix hot water as mentioned in the packet.
Pour the jelly mixture on top and refrigerate for 40-45 mins.
Slice it and enjoy!
If you like my baked mango cheesecake recipe and happen to make it in your kitchen, do tag me on Instagram and share pictures with me using #Bakewithshivesh. Happy Baking!