I always love making desserts in boxes like this because it just adds so much fun to the process. Just since strawberry season is about to end, I wanted to say goodbye with a box of strawberry cheesecake, which is easy to prepare.
When you're really in the mood to cheat, this cheesecake recipe is the ideal no-bake option. It turned out delicious! So if you're looking for the most delectable, easiest-to-make strawberry dessert, stop right here!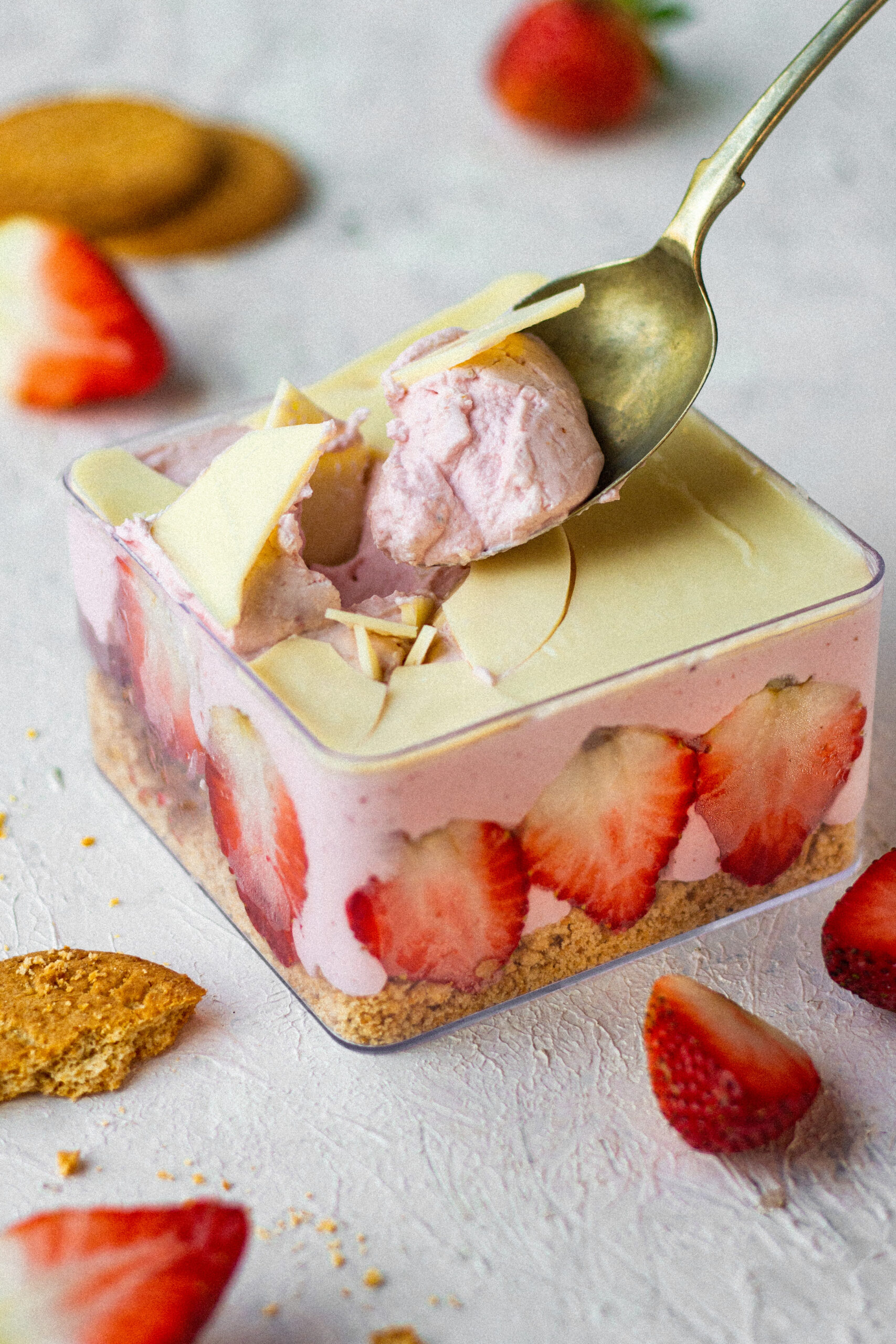 INGREDIENTS USED IN STRAWBERRY CHEESECAKE BOX
I love the fluff, sweet, and creamy texture of whipped cream because it is so light and airy. Whipping cream should be added in a steel bowl that has been refrigerated and beaten until stiff peaks form. I have used
You can use any fruit puree if you want and combine it with batter. I have blended 4-5 strawberries and made strawberry cheesecake batter.
EQUIPMENTS USED FOR STRAWBERRY CHEESECAKE BOX
In a small blender, prepare strawberry puree. Also I used a blender to make the layer of crushed biscuits. You may also crush them using a ziplock bag.
Measuring Cups and Measuring Spoons. are an integral part of any baker's kitchen and its very important to measure ingredients with precision.
For setting my strawberry cheesecake, I have used square acrylic box .
OTHER RELATED RECIPES FROM THE BLOG
TIPS TO MAKE STRAWBERRY CHEESECAKE BOX
First, whisk the cream cheese in a bowl to avoid lumps then add the other ingredients.
Whip the whipping cream till stiff peaks in a chilled steel/ glass bowl.
Make sure all the strawberries are blended well. You can use chunks also if you want the strawberry cheesecake batter to have chunks.
To ensure proper setting, refrigerate each layer before adding the next one.
STRAWBERRY CHEESECAKE BOX
Ingredients
4-5 digestive biscuits
1 cup whipped cream
¼ cup strawberry puree
¼ cup cream cheese
¼ cup white melted chocolate
Fresh strawberries for decoration
Instructions
Crush the digestive biscuits in a grinder and set the first layer in the box.
Cut fresh strawberries in half and stick them on the walls of the tub
For the filling, mix whipped cream, strawberry puree and cream cheese together
Pipe the filling over the biscuit layer.
Refrigerate the box for 1-2 hours and then pour a thin layer of melted white chocolate on top
Serve the tub when the chocolate hardens. Crack the top and dig in!
If you like my strawberry cheesecake box recipe and happen to make them in your kitchen, do tag me on Instagram and share pictures with me using #Bakewithshivesh. Happy Baking!