There's nothing I love more than good and simple chocolate ice cream during summers. Combine it with some chocolate cake and I'm in chocolate heaven! Over the last few years, I've come to love layered desserts which take simple pantry ingredients and come together in a jiffy – they are great for midnight cravings as well as for elaborate parties or get togethers.
So if you're looking for the easiest to put together summer dessert, decadently delicious and super chocolatey, stop right now. This chocolate ice cream cake is the dessert you would fall in love with this summer. It's light, it's decadent, it's creamy, it's got a chocolate shell on top. Basically all yum things put together. Let's get to the recipe!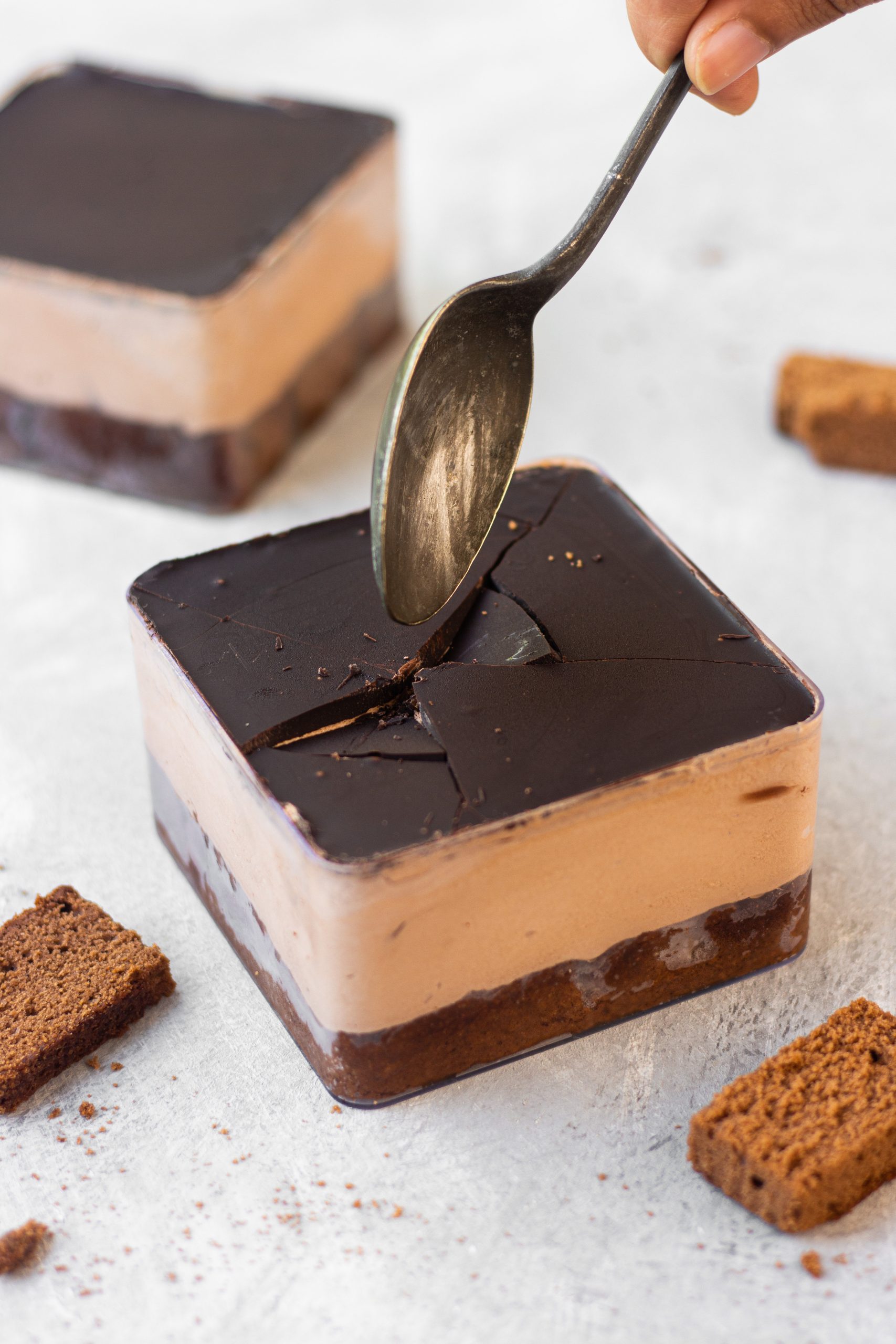 COMPONENTS OF CHOCOLATE ICE CREAM CAKE
This dessert has three layers of chocolatey goodness. The base is a store brought chocolate cake soaked in coffee syrup, the second layer is a chocolate ice cream made from scratch without icecream machine and the final layer is a chocolate shell made by simply melting and pouring chocolate over cold set icecream.
Coffee Soak – The store brought cake used as a base layer in this dessert is first soaked in coffee syrup and then lined with chocolate ice cream made from scratch. For the soak, you will need some water, castor sugar and coffee powder. You can replace castor with granulated sugar. Just make sure it is melted properly.
Chocolate Ice Cream – The chocolate ice cream is made from absolute scratch and without an ice cream maker machine. Start by combining condensed milk with cocoa powder. Make sure there are no lumps and this is a smooth mixture. In another large bowl add whipping cream and whip until soft peaks. Once whipped, carefully fold the condensed milk-cocoa mixture into the whipped cream. Once you get a homogenous mixture, transfer it into the container you are making your final dessert in. Let this set in the fridge for a few hours.
Chocolate Shell – This layer takes the whole dessert to another level. Just melt compound dark chocolate and top the ice cream with it. Let it sit and set for a while before digging in.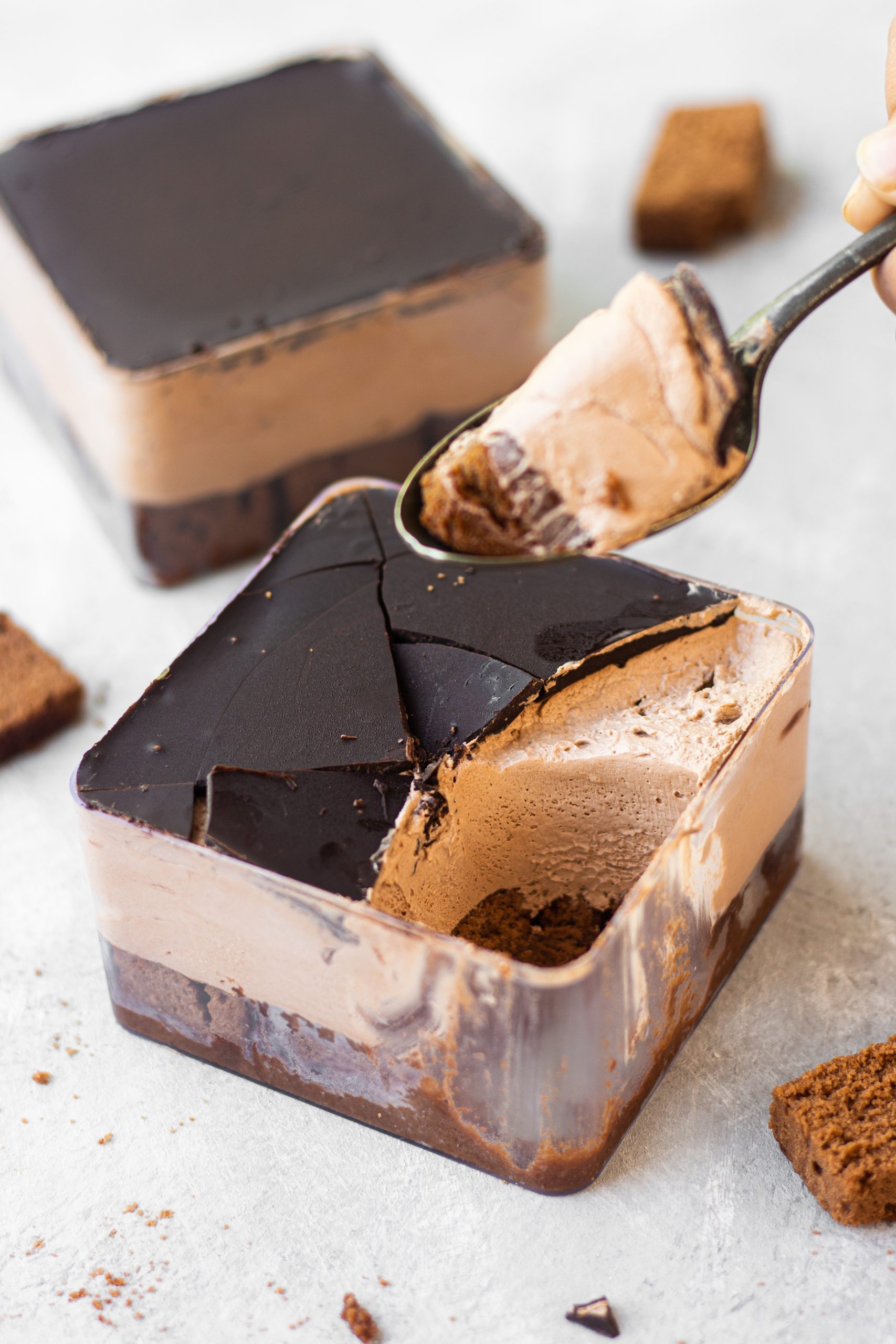 INGREDIENTS REQUIRED TO MAKE CHOCOLATE ICE CREAM CAKE
The best thing about this recipe is that it uses minimal, easily available ingredients to form this glorious celebratory dessert. Before you start working on the recipe, make sure you have the following ingredients –
Chocolate cake – I use chocolate cake to build the base for this recipe. Without the cake, this dessert is basically just ice cream. Upon soaking in the coffee soak, the texture of the cake goes so perfectly with the creamy ice cream! But if you don't have homemade chocolate cake, you can use store-bought cake or even rusks to make this recipe.
Good quality Coffee – I use Davidoff / Nescafe Gold for making for luscious coffee soak but you can get your hands on any good quality coffee. You can even brew your coffee at home and use that for making this chocolate ice cream cake.
Whipped cream, condensed milk and cocoa powder – When we think about ice cream, a big churning machine and hours of toiling in the kitchen comes to mind. But with my quick homemade chocolate ice cream recipe, you can make ice cream in less than 10 minutes (excluding the freezing process). Just mix condensed milk and cocoa powder and fold it in some whipped cream. Freeze overnight and your creamy chocolate ice cream is ready!
Compound Chocolate – This is the last layer of this chocolate ice cream cake. It's quite easy to make a shell using compound chocolate as you just need to melt it and set it over the chocolate ice cream cake. With couverture chocolate, you've to go through the tedious process of tempering and let's face it, nobody has the time for that!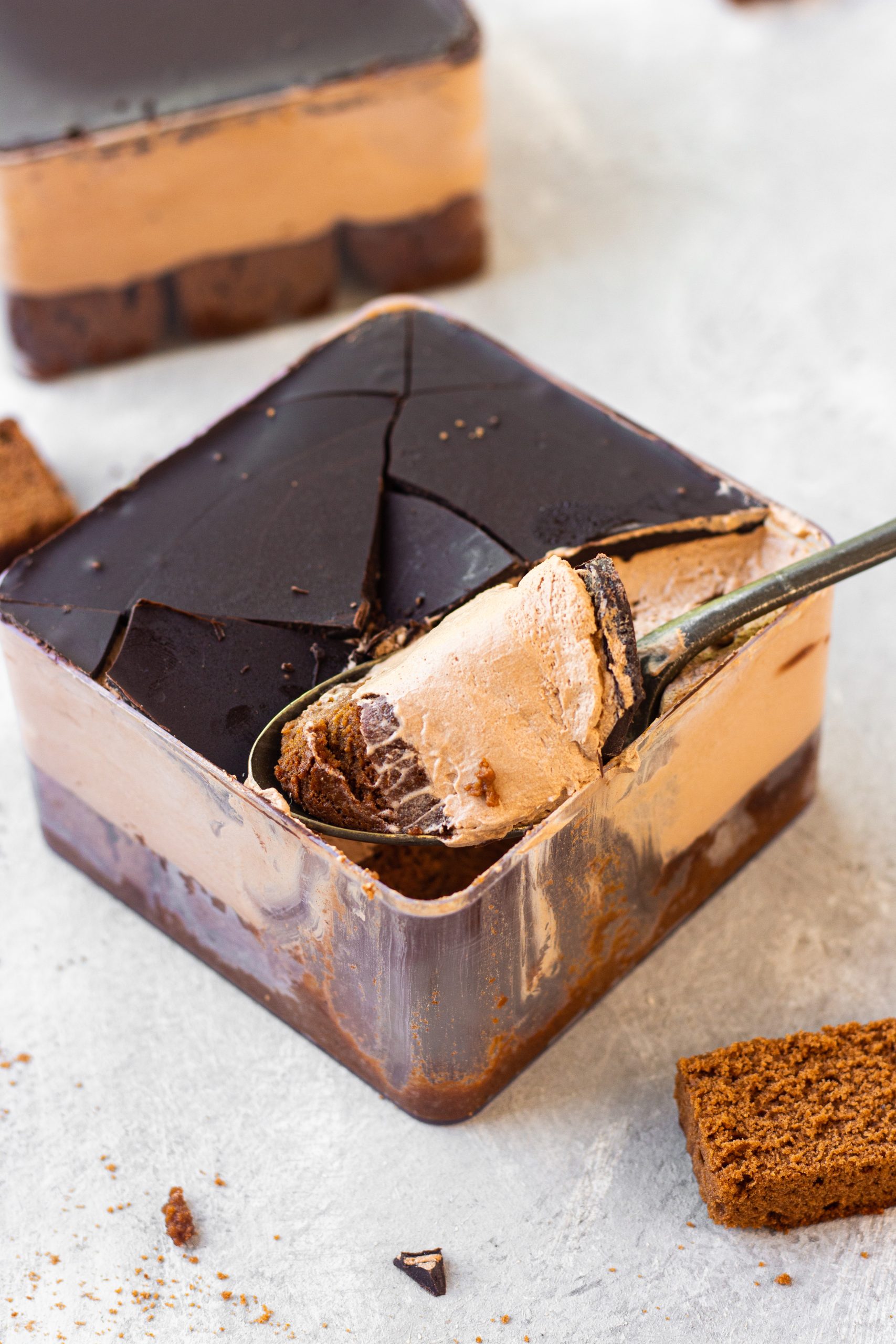 HOW TO DECORATE CHOCOLATE ICE CREAM CAKE?
This has to be everyone's favorite part where all that is left to do is decorate the cake, make it look pretty and then serve and eat! I used some compound chocolate to create a chocolate shell and it ended up looking super cute!
But you can use any garnish you wanna use- more than a recipe, this dessert is all about innovating and experimenting what works best for you. So go crazy with flavors and looks! You can use chocolate sprinkles or even create more layers of chocolate ice cream cake by alternating with more layers of cake.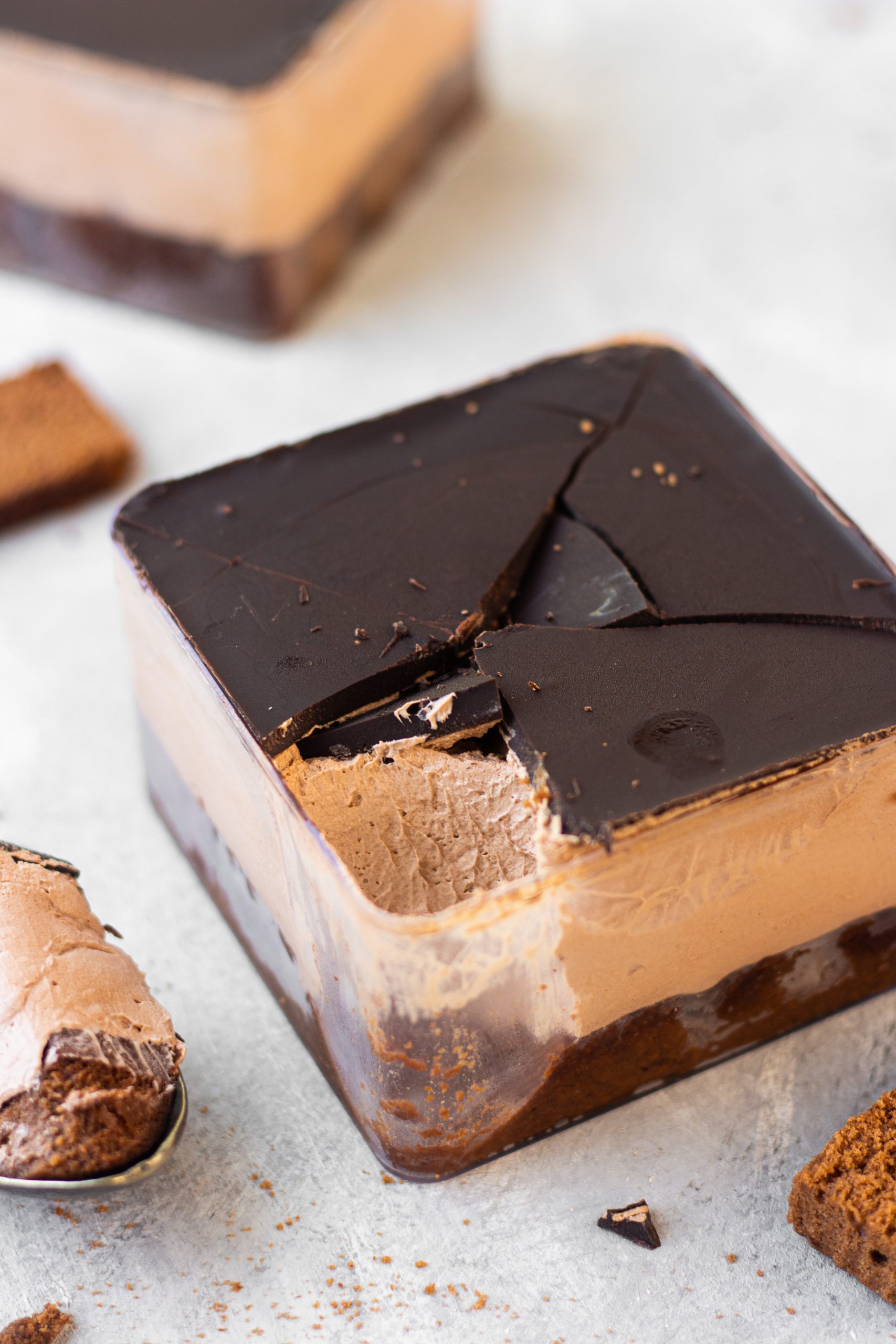 EQUIPMENTS USED TO MAKE CHOCOLATE DREAM ICE CREAM CAKE
The kind of equipment you use when you're baking makes a huge difference to the end result! I would recommend you to use good quality mixing bowls and other equipment so that your icecream cake comes out delicious.
I have used Borosil Smartmix Hand Mixer 300W to make icecream for my cake.
OTHER ICE CREAM RECIPES ON THE BLOG
There you go, that's one of the awesome desserts I made this summer! It's so easy to make, no-bake and the best part about this recipe is that you can choose any flavor of ice cream you want and any biscuit / cake you like as the base. The sky is your limit when it comes to experimenting with this chocolate ice cream cake.
Chocolate Ice Cream Cake Recipe
Chocolate Dream Cake Ice Cream
Ingredients
For the Soak:
¾ cup water
1 tbsp sugar
1 tbsp coffee powder
For Chocolate Ice cream:
200g condensed milk
¼ cup cocoa powder
1 cup whipping cream
For Chocolate shell:
Instructions
Start by making coffee soak for the cake. Just combine water, sugar and coffee for that.
Layer your dessert box/container with stroe bought chocolate cake and pour the coffee soak using a spoon.
Let the cake absorb the coffee soak.
For the next layer that is chocolate icecrem, start by combining condensed milk with cocoa powder in a bowl.
In another bowl, whip whipping cream to soft peak. Fold the condensed milk-cocoa powder mixture to this.
Pipe the chocolate ice cream onto your cake and let it chill in the fridge for a few hours.
For the final layer, melt dark compound chocolate and pour over icecream. Spread it out evenly and let it set.
Enjoy this dessert cold.
If you like this recipe and happen to make it in your kitchen, do share pictures with me by tagging me on
Instagram
using #bakewithshivesh.