I am extremely grateful for this year because, not only have I achieved so much in my professional career but also for all the changes I have made in my personal life. One of the most important and beneficial one being – Eating Healthy. And so, for my small serve series, I tried this healthy oats cake which is perfect for a single person or two who wants to start eating healthy but can't give up on desserts. Like me. Hehe. Chocolate Oats cake is the simplest all- in-one blender recipe that takes hardly anytime to prepare and can be made vegan too!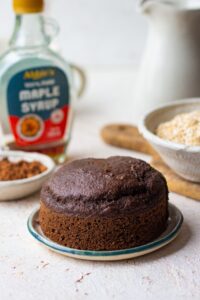 INGREDIENTS USED IN SMALL SERVE CHOCOLATE OATS CAKE
This is the base of our recipe. Oats are full of fiber and protein and even a small quantity can fill up your stomach nicely. They soak in a lot of liquid and hence, are full of flavour when combined with the right ingredients. I have used rolled oats from Jewel but you can use any, that you like.
Milk, in this recipe is the main wet ingredient. It adds as a great egg replacer and still adds protein to the dish. You can replace it with any nut milk and make it vegan too. The milk is what gets absorbed by the oats and adds keeps the whole thing moist. I have used Nestle toned milk for this recipe.
Yogurt, again, is a great egg substitute and gives stability to the product. It also adds a little flavour to the Chocolate Oats Cake and is another protein source going in the recipe.
I am using maple syrup as a sweetener in this recipe. Apart from being a healthier choice, it also imparts a great flavor and I, personally prefer it over honey. But if you want to switch it with honey, you easily can with the same quantity. I have used this maple syrup.
Baking powder and baking soda are used in this cake recipe as raising agents. There are no other ingredients, as such, in this recipe that contribute to the rising of the cake and give it a lighter crumb and texture. Hence, both of these leavening agents are added to the batter.
Since it's a Chocolate Oats Cake recipe, one of the main ingredients to impart chocolate flavor is cocoa powder. It gives that immense chocolate flavour to any baked good. You can use any good quality cocoa powder which is easily available to you in nearby grocery stores.
EQUIPMENT USED FOR MAKING SMALL SERVE CHOCOLATE OATS CAKE
This recipe comes together quickly and hardly needs any equipment.
One blender is all that is required to make the Chocolate Oats Cake batter.
I have used a 4-inch springform pan to bake this cake since it's a small-serve recipe.
Measuring Cups and Measuring Spoons. are an integral part of any baker's kitchen and it's very important to measure ingredients with precision.
OTHER RELATED RECIPES FROM THE BLOG
TIPS TO MAKE SMALL SERVE CHOCOLATE OATS CAKE
Make sure to grind the oats separately first, otherwise they will not form a smooth batter later.
Make sure there are no lumps in the mixture after the final blending.
You can always double or triple this recipe to adjust to your needs and the mould you're using.
You can add some dried fruits on top as well.
Once baked, check with a skewer if it comes out dry. Don't overbake it or the texture will not turn out well.
You can swap normal milk with a vegan alternative to make this a vegan cake.
SMALL SERVE CHOCOLATE OATS CAKE
Ingredients
• ½ cup oats
• 1 tbsp cocoa powder
• ¼ tsp baking powder
• ⅛ tsp baking soda
• 2 tbsp yogurt
• 2 tbsp maple syrup
• 6 tbsp milk
Instructions
Add oats in a blender jar and grind till it becomes a powder.
Add all the other ingredients to the same jar and blend again to make the cake batter.
Pour the batter in a lined 4 inch springform pan or any other small mould.
Bake at 180 degree Celsius for about 20 minutes till a skewer comes out clean.
If you like my Small Serve Chocolate Oats Cake recipe and happen to make them in your kitchen, do tag me on Instagram and share pictures with me using #Bakewithshivesh. Happy Baking!