If you like chocolate and ombré desserts, this triple chocolate mousse is for you. This eggless ombre chocolate mousse involves only three types of chocolate and cream, and requires no special ingredients or equipment, and it will be the creamiest and most chocolaty dessert you've ever made in no time.
I loved the ombre hue and final appearance of this mousse recipe. If you try this recipe, please tag me on Instagram at @bakewithshivesh.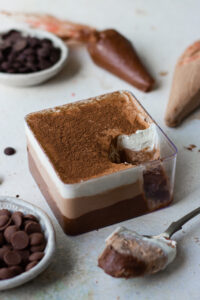 INGREDIENTS USED IN TRIPLE CHOCOLATE MOUSSE
Since the entire recipe is based on a chocolate mousse, a good-quality chocolate is a must. Chocolate chips or a bar of couverture chocolate are my go-to options for any chocolate dessert. They have a much better flavour. I have used Callebaut Dark Chocolate Callets , milk, and white too. You can also use a compound bar if there's no availability.
Some amount of fresh cream is also added to the chocolate before adding it all to the whipped cream. Fresh cream gives a smooth and homogenous texture when combined with chocolate and doesn't let the chocolate solidify when mixed with whipped cream. It also gives a rich flavour to the whole dessert. I use D'lecta fresh cream to make this chocolate mousse cake.
A good whipping cream gives the entire structure to the mousse cake. It should be stable enough to hold and set in the refrigerator and also have a good fat content so that it can whip well. Whipped cream is what makes the mousse so light and airy.
EQUIPMENTS USED FOR MAKING TRIPLE CHOCOLATE MOUSSE
The kind of equipment you use when you're baking makes a huge difference to the end result! I would recommend you to use good quality mixing bowls and an electric beater so that your whipping cream tends to whip properly. To beat my whipping cream, I'm using Borosil's 100% Borosilicate Glass Bowl and borosil electric beater , plus the bowls are super easy to clean and handle, which makes my process totally hassle-free! Measuring Cups and Measuring Spoons. are an integral part of any baker's kitchen and it's very important to measure ingredients with precision.
OTHER RELATED RECIPES FROM THE BLOG
TIPS TO MAKE TRIPLE CHOCOLATE MOUSSE
Whip up your whipping cream till stiff peaks.
Make sure your ganache is at room temperature before you combine it with the whipped cream or else the whipped cream will deflate.
OMBRE CHOCOLATE MOUSSE
Ingredients
Dark chocolate mousse
¼ cup dark chocolate chips
2 tbsp fresh cream
½ cup whipped cream
Milk chocolate mousse
¼ cup milk chocolate chips
2 tbsp fresh cream
½ cup whipped cream
White chocolate mousse
¼ cup white chocolate chips
2 tbsp fresh cream
½ cup whipped cream
Garnish
Cocoa powder
Instructions
For the dark chocolate mousse, heat 2 tbsp of cream and pour over ¼ cup of dark chocolate chips.
Let it sit for a few seconds and then mix well until the chocolate melts completely.
Let this cool for a few minutes and then gently fold in ½ cup of whipped cream until no white streaks remain.
Transfer this dark chocolate mousse into a piping bag and keep aside.
Repeat the above steps in a similar manner for milk and white chocolate mousse as well.
For the assembly, take an acrylic box or any container/glass of your choice and start by piping the dark chocolate mousse as the bottom layer.
Spread it evenly and let it set for a few mins. Pipe the milk chocolate mousse over it and finally the white chocolate mousse.
Refrigerate the mousse cake for 1-2 hours. Dust it with some cocoa powder and enjoy chilled.
If you like my triple chocolate mousse and happen to make them in your kitchen, do tag me on Instagram and share pictures with me using #Bakewithshivesh. Happy Baking!