With summer and mango season around I am sharing my recent favourite Mango Bhappa Doi recipe on the blog. Mango Bhappa Doi is nothing but a 4-ingredient mango baked yogurt which is very creamy and refreshing in taste. It is traditionally made with normal curd, but I gave it a slight twist by pairing it with mango. This is best served cold with some fresh fruits on the top. I have made it in the earthen pot, but you can substitute it with normal cake pan or any deep bottom pot which is available at your home. Mango bhappa doi has a texture that is somewhere in between a mousse and a baked cheesecake. This recipe doesn't require any special ingredient and it is a very simple recipe to enjoy with your family in summers. Isn't it a perfect dessert to share around where people can enjoy mango in different ways? 
WHAT IS BHAPPA DOI?
Bhappa doi is a very famous dessert from west bengal which is prepared by steaming the curd and condensed milk.  It is part of the elaborate Durga Puja festival that occurs once a year in this part of India, when Mother Durga is worshipped throughout ten days of the festival. It can be flavoured with various fruits and spices and is loved all around the country.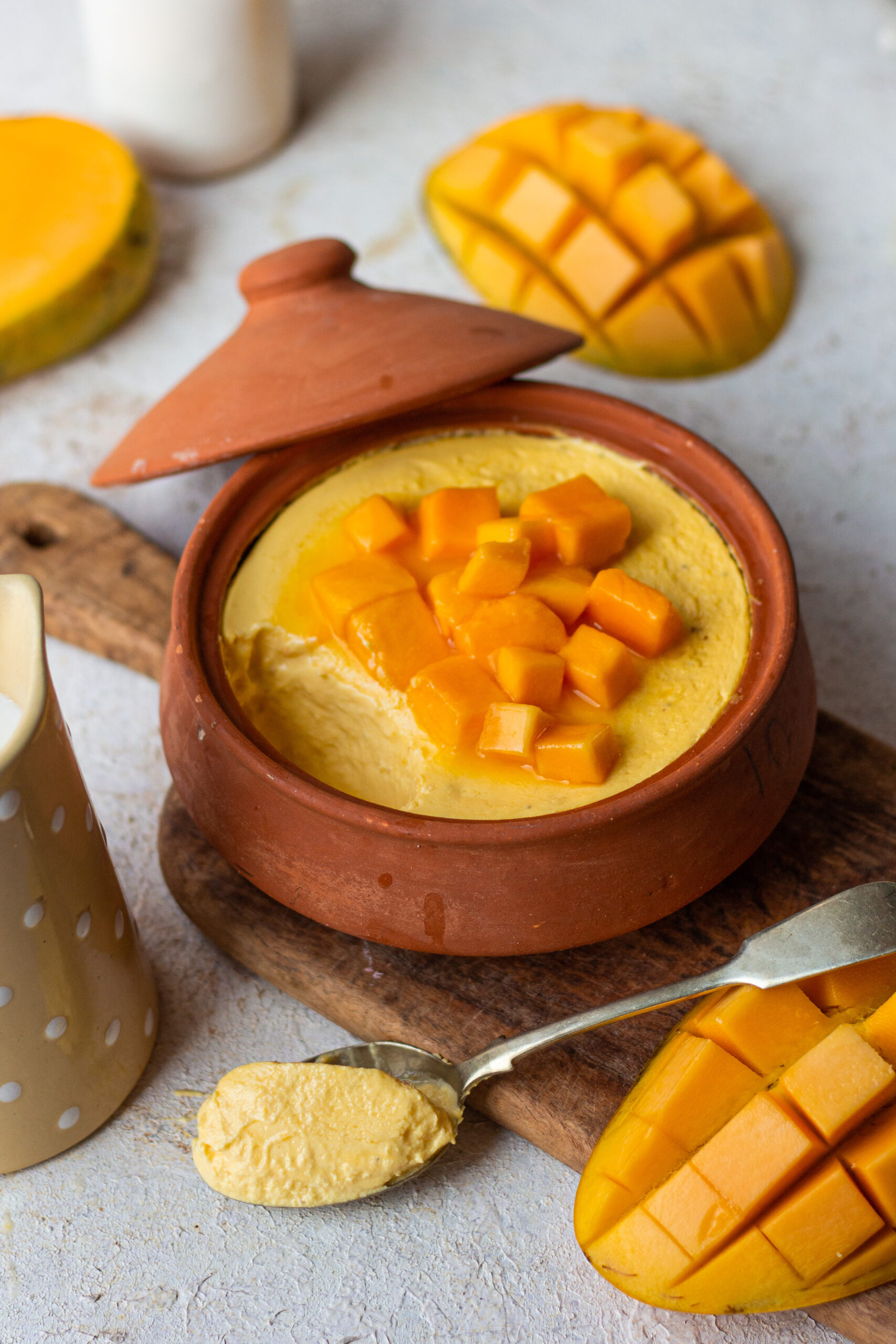 INGREDIENTS USED IN THIS MANGO BHAPPA DOI
CURD
This plays a major role in this recipe because it is responsible for fermentation. I have used normal home curd, but you can use store bought too. 
Condensed milk
I have used Nestle's milkmaid. Condensed milk adds the sweetness to this mango bhappa doi. 
Mango puree
Selecting a sweet, ripe mango is crucial. The flavour of the mango will be lost if the fruit is not fully ripe and mature. 
Cream
It helps in giving the body and the creamy texture to the mango bhappa doi. 
THINGS TO NOTE
!
Use the hung curd or Greek yogurt for this recipe and it should not be sour for a good bhappa doi.

 

Adjust the quantity of condensed milk according to the sweetness of the mangoes.

 

For the best mango flavour, try to use alphonso mangoes or ripped juicy mangoes.

 

When putting the earthen pot for steaming, make sure it is sealed from everywhere so that steam does not escape, otherwise your doi won't get steamed properly

 

It is served best chilled.

 
EQUIPMENTS USED TO MAKE MANGO BHAPPA DOI
This recipe comes together quickly and hardly needs any equipment. 
Measuring Cups and Measuring Spoons. are an integral part of any baker's kitchen and its very important to measure ingredients with precision 
For my mango bhappa doi, you need a glass bowl to combine all the ingredients and a heavy bottom pressure cooker for steaming.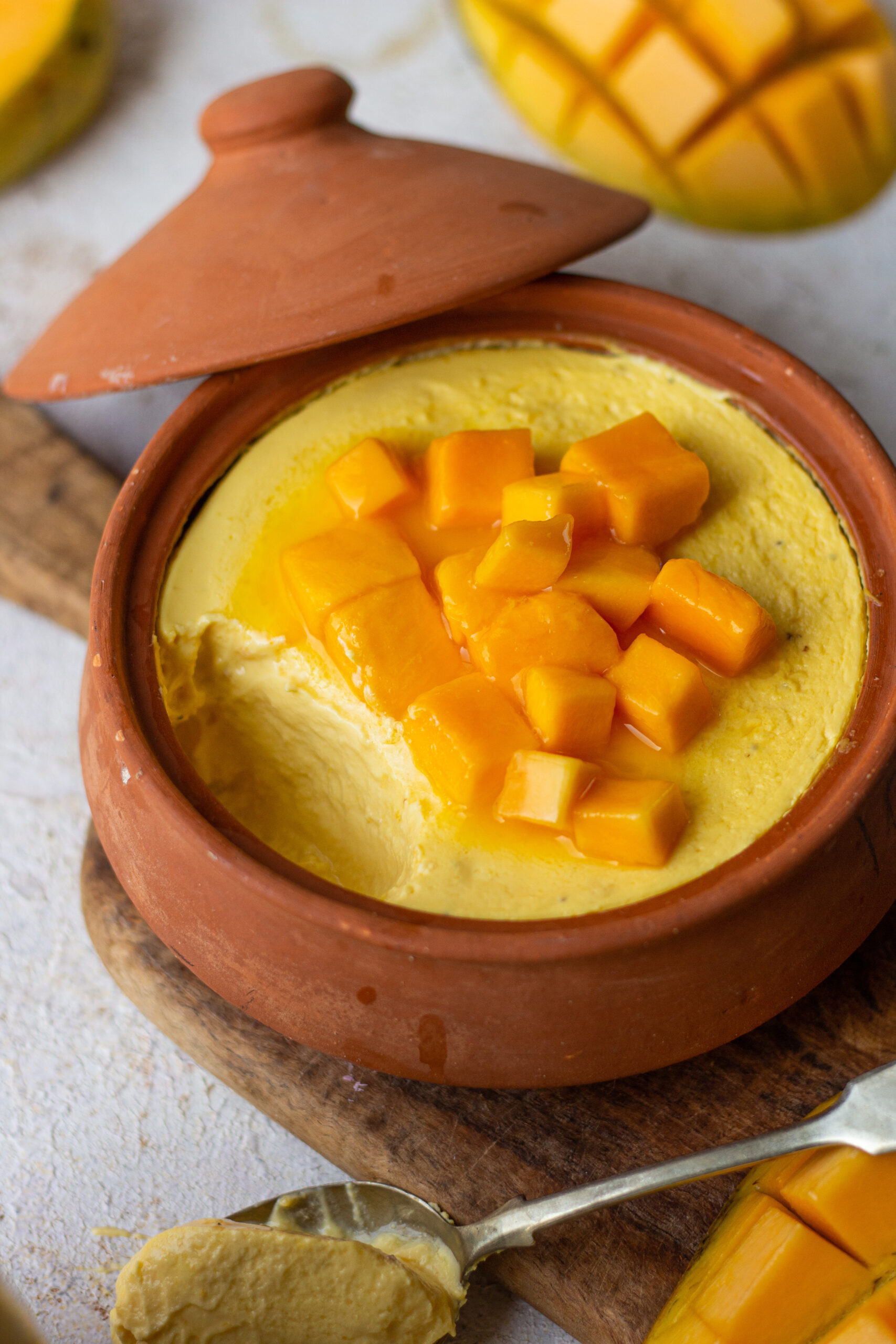 OTHER MANGO RECIPES ON THE BLOG:
MANGO BHAPPA DOI
Ingredients
3 cups curd
6 tbsp condensed milk
½ cup mango puree
1+1/2 cup fresh cream
¼ tsp cardamom powder (optional)
Instructions
Wrap 3 cups or curd in a muslin cloth and hang it for a few hours till all the water is drained and you are left with 1+1/2 cups of thick hung curd.
Take the hung curd in a bowl and add condensed milk, mango puree, fresh cream and cardamom powder.
Whisk nicely till no lumps are left.
Transfer the mango curd into an earthen pot and cover it with aluminium foil.
Place a cooker on the lowest heat, place a stand in the middle and add water upto 3 inches. Close the lid and let it steam for 5-10 minutes. Open the cooker and carefully place the earthen pot inside it. Close the lid again and let it steam for about 25-30 minutes.
After that, refrigerate the curd for about an hour to get the best flavours of mango doi !
If you like this MANGO BHAPPA DOI RECIPE and happen to make it in your kitchen, do tag me on Instagram and share pictures with me using #Bakewithshivesh. Happy Baking!