Mangoes are in season and this year, I wanted to experiment with things I've never made before! It's often humbling how going out of my comfort zone ends up giving me something magical and this Easy Mango Sago Drink turned out to be one such drink for me.
Creamy, rich mango sago topped with fresh, juicy mangos chunks, this dessert will blow your mind and is SUPER easy to make!
This easy but insanely delicious dessert is a must-try; make sure to make extra because you won't believe how delicious it is!
SAGO VS TAPIOCA
Sago is an edible starch that comes from tropical palm trees. On the other hand, Tapioca pearls are made with tapioca or starch from the cassava plant. Both are white in color and are used often for making delicious puddings and other recipes. When cooked, they become spongy and gelatinous. In India, tapioca pearls are commonly known as Sabudana, but only the pearls of Sabudana are slightly bigger than that of Tapioca. I've used Sabudana for making my Mango Sago drink, you can use Sago pearls if you have them.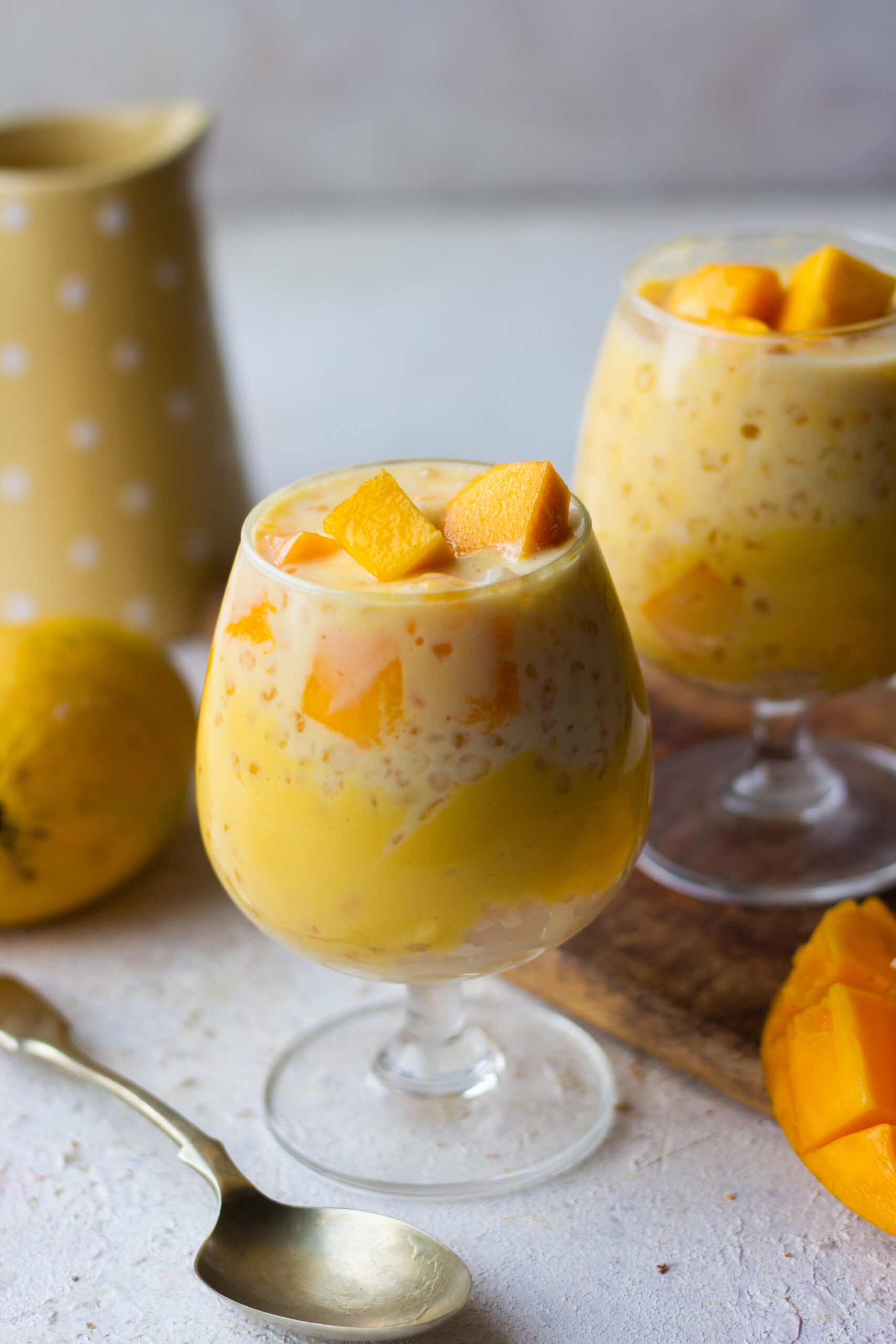 INGREDIENTS USED IN MANGO SAGO DRINK
I have replaced sugar with condensed milk because it acts as a sweetener and provides a concentrated creaminess and milkiness to my mango sago drink. 
The main source of creaminess is milk here. I have used coconut milk in this recipe. You can however use full fat milk also. I have used dabur coconut milk for this recipe. 
EQUIPMENTS USED FOR MAKING MANGO SAGO DRINK
This recipe comes together quickly and hardly needs any equipment.
I've used my stahl saucepan for boiling the sago pearls.
Not a single day goes in my kitchen when I don't use a Silicon Spatula, this is the one I recommend. Same goes for my set of Measuring Cups and Measuring Spoons.
OTHER RELATED RECIPES FROM THE BLOG
TIPS TO MAKE MANGO SAGO DRINK
Even though this drink is quite easy to whip up, I'll still mention some tips that will help you get that Mango Sago drink perfect in the first attempt-
·    USE GOOD QUALITY MANGOES
This is extremely important as mangoes are the base of this drink. The mango is blended with milk and coconut milk, which is then topped with Sago pearls and grapefruit. This means that we need to choose the sweetest mangoes we can get our hands on! Do not use different variants of mango when making this pudding as it will change the flavor of the dessert.
·    COOK YOUR SAGO PROPERLY
The sago pearls/sabudana needs to be cooked an appropriate amount of boiling water in order to make this pudding. Once put in boiling water, remember to keep stirring the pearls so that they are uniformly cooked and translucent. Don't overcook them, as it would lead to a big, gluggy lump of pearls. The cooked sago pearls need to be rinsed in cold water to get rid of excess starch before putting them in the blended mango and milk mixture.
·    CHILL YOUR DRINK
Since this drink has a plethora of different flavors, it's necessary to chill it after all the elements are combined. In other words, have patience! Let all the ingredients blend with each other and you'll absolutely enjoy how it turns out to be.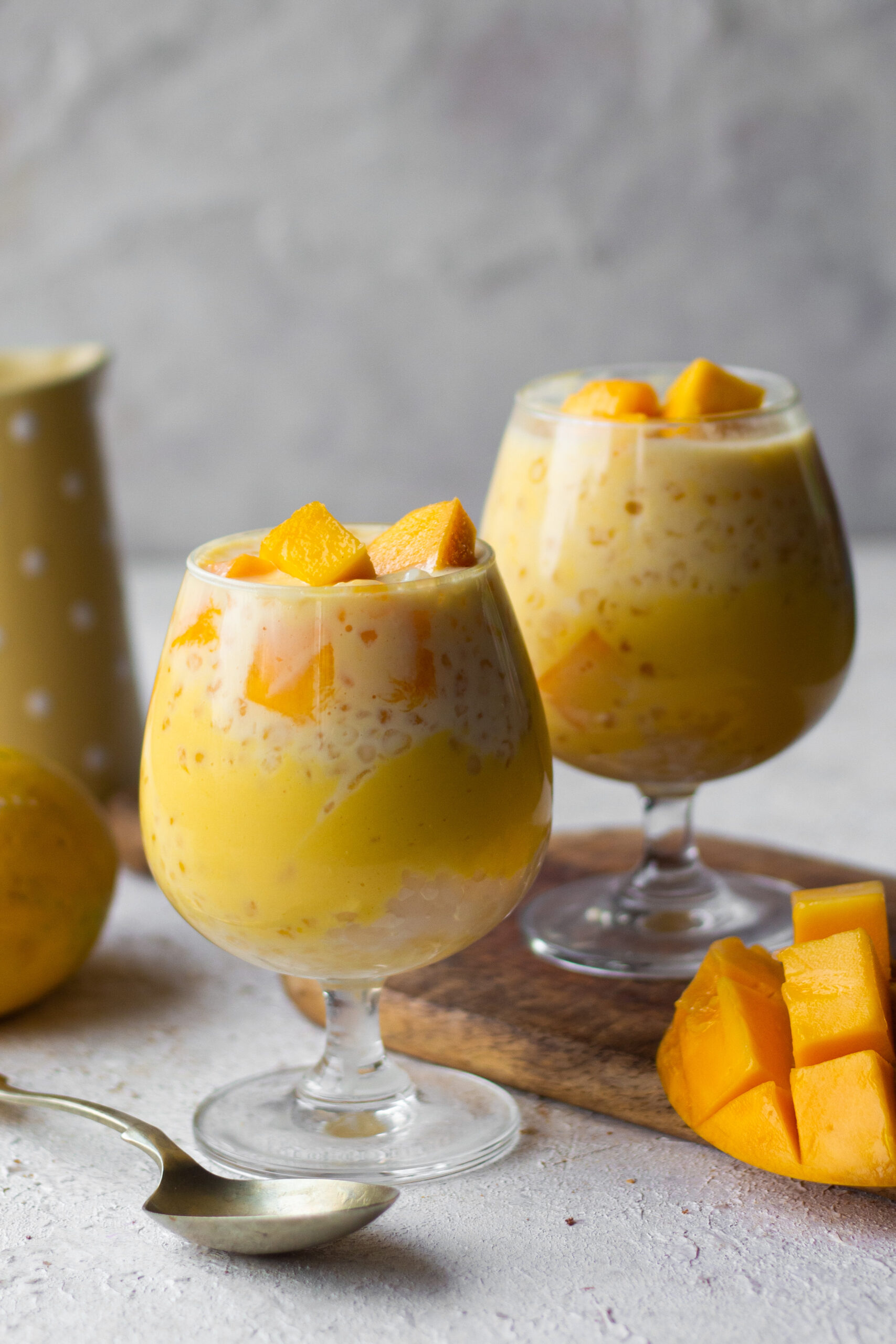 EASY MANGO SAGO DRINK
Ingredients
½ cup sago pearls, soaked
1-1/2 cup mango cubes
¾ cup coconut milk
2 tbsp condensed milk
¼ cup milk
Instructions
Soak ½ cup of sago pearls for minimum of 2 hours or till they soften a bit.
Boil the sago pearls in water for about 15-20 minutes till they become translucent. Strain and run under cold water so that they don't stick together.
Now, add mango cubes, coconut milk and condensed milk in a blender and make a smooth purée.
For the final assembly, pour half of the sago pearls in a glass, then the mango puree and then the rest of the sago pearls.
Top it off with normal milk and some mango chunks.
Serve this chilled!
If you like my mango sago drink recipe and happen to make them in your kitchen, do tag me on Instagram and share pictures with me using #Bakewithshivesh. Happy Baking!